Navigation
LakesnWoods.com
Home Page
Contact Us
Privacy
Minnesota Gift Guide

Lake George Guide:
Photo Gallery
Location
Geography
Demographics
History
Government
Post Office
News
Weather
Street Map
Events
Attractions
Recreation
Lakes
Health Care
Schools
Churches
Media
Motels
Resorts
Campgrounds
Businesses
Aerial Photo
Topographic Map
© 2004-2023
Lakeweb1 Internet Services
All Rights Reserved
DCMA, Defamation, Copyright and Trademark Infingement Policy
WANTED!
Do you have photos, historical accounts or other items pertaining to the Lake George area? Would you like to share this historical information with the world? LakesnWoods.com would like to publish your Lake George photos (current or historical) or historical accounts on this website. Original materials can be returned and your privacy will be respected.


(design available on over 100 different items!)

Lake George Minnesota Community Guide
---
Location:
George Lake is a lake located in Lake George Township. It is known for its panfish, northern pike, and walleye. Each year, Lake George Township holds the Blueberry Festival to benefit the local volunteer firefighters. Whispering Winds, a popular resort on George Lake, was recently sold to a family of doctors from Little Falls, Minnesota. It was the last resort on the lake available to the public. The Wigwam is a popular souvenir shot located in Lake George Township.
---
Population:
Lake George Township
1970
1980
1990
2000
2010
2000-2010 Change
Actual
Percent
Population
226
319
320
383
378
-5
-1.31
Land Area (sq. mile)
33.60
34.12
33.79
33.79
33.79
0
0.00
Density (persons per sq. mile)
6.73
9.35
9.47
11.33
11.19
-0.14
-1.31
Housing Units
130
147
178
239
308
+69
+28.87
Households
--
112
123
152
165
+12
+7.89
Persons Per Household
--
2.85
2.60
2.52
2.29
-0.23
-9.13
---
Geography:
Lake George Township is a township in Hubbard County, Minnesota, United States. According to the United States Census Bureau, the township has a total area of 36.2 square miles (94 km2), of which 33.8 square miles (88 km2) is land and 2.4 square miles (6.2 km2) (6.61%) is water.
From Wikipedia, the free encyclopedia.
---
Demographics:

As of the census of 2000, there were 383 people, 152 households, and 115 families residing in the township. The population density was 11.3 people per square mile (4.4/km˛). There were 239 housing units at an average density of 7.1/sq mi (2.7/km˛). The racial makeup of the township was 93.73% White, 0.52% African American, 3.92% Native American, 0.26% Asian, and 1.57% from two or more races. Hispanic or Latino of any race were 1.83% of the population.

There were 152 households out of which 28.3% had children under the age of 18 living with them, 67.1% were married couples living together, 5.9% had a female householder with no husband present, and 24.3% were non-families. 21.1% of all households were made up of individuals and 10.5% had someone living alone who was 65 years of age or older. The average household size was 2.52 and the average family size was 2.90.

In the township the population was spread out with 22.5% under the age of 18, 6.5% from 18 to 24, 25.6% from 25 to 44, 29.5% from 45 to 64, and 15.9% who were 65 years of age or older. The median age was 42 years. For every 100 females there were 108.2 males. For every 100 females age 18 and over, there were 98.0 males.

The median income for a household in the township was $35,078, and the median income for a family was $35,625. Males had a median income of $27,813 versus $18,750 for females. The per capita income for the township was $16,320. About 5.9% of families and 7.4% of the population were below the poverty line, including 15.2% of those under age 18 and 8.3% of those age 65 or over.

From Wikipedia, the free encyclopedia.
---
---
History:
LAKE GEORGE Township has a large lake at its center, which was thus named by Glazier in 1881 for his brother, a member of his first expedition to Lake Itasca, in July of that year. A post office in section 16 began as Yola, in section 5, in 1903, and changed to the present name in 1933.
Courtesy Minnesota Historical Society
---
Government:
Lake George Township
37137 US Highway 71
PO Box 1594
Lake George, MN 56458
Phone: (218) 699-3055

Regular Business Hours:
not available

Town board meetings:
1st Tuesday of each month at 7:00 pm



Title
Term Ends
Name and Address
Phone
Clerk
12/31/2022
Joyce Harvey
37558 US Highway 71
Lake George, MN 56458
(218) 699-3338
Treasurer
12/31/2024
Wendy Bittman
36418 New Melahn Drive
Lake George, MN 56458
(218) 699-3819
Supervisor - Seat A
12/31/2024
Burton Manz
17146 344th Street
Park Rapids, MN 56470
(218) 699-3001
Supervisor - Seat B
12/31/2024
Henry Kahlstorf
21213 County Road 95
Laporte, MN 56461
(218) 224-2439
Supervisor - Seat C
12/31/2022
Calvin Johannsen
38179 US Highway 71
Lake George, MN 56458
(218) 699-3344
(218) 252-3344
---
Post Office:
US Post Office
37307 County Road 4
Lake George, MN 56458-4044
Phone: (218) 266-3389
Toll Free: (800) ASK-USPS

Regular Business Hours:
Week Days 9:30 am - 1:30 pm
Saturday 12:00 pm - 2:00 pm


---
---
Utilities:
---
Major Employers:
Employer
Products/Services
Employees

n/a
---
---
News:
---
Weather:
---
Map: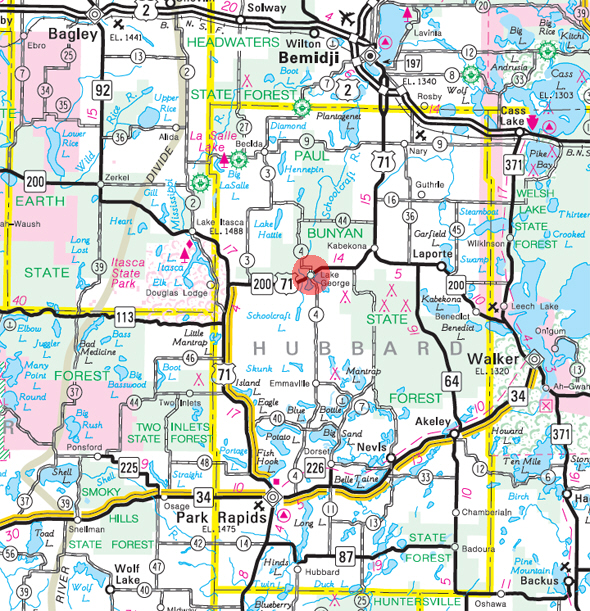 Minnesota State Highway Map of the Lake George Minnesota area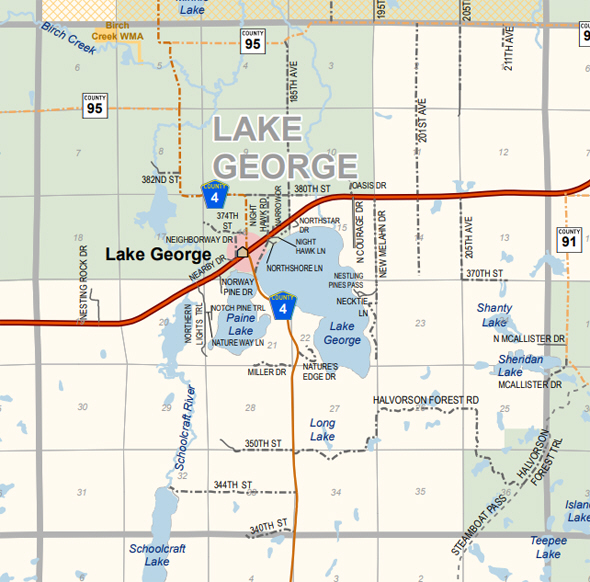 Hubbard County Map of Lake George Township Minnesota
---
Events:
---
---
Attractions:
---
Recreation:
Lake George Community Park
Lake George, MN 56458


---
Lakes:
Lake Name
Size
(acres)
Lake info
Lake Map
Rec Map
Topo Map
George
798
Halvorson
22
n/a
Kahlstorf
n/a
n/a
n/a
n/a
n/a
McCarty
13
Paine
259
n/a
Schoolcraft
116
Shanty
n/a
n/a
n/a
n/a
n/a
Sheridan
n/a
n/a
n/a
n/a
n/a
---
Health Care:
---
Schools:
---
Churches:
Lake George Bible Chapel
37285 US Highway 71
Lake George, MN 56458-4005


Phone:

(218) 699-3013‎

Trinity Lutheran Church
37115 US Highway 71
Lake George, MN 56458
Phone: (218) 266-3330
---
Media:
---
Motels:
Lake George Pines Motel
37197 US Highway 71
Lake George, MN 56458
Phone: (218) 266-3914
---
Resorts:
Georges Cabins
37261 Night Hawk Road
Lake George, MN 56458
Phone: (218) 699-3101
---
Campgrounds:
---
---
Businesses:
Bessler Brothers Electric
37455 County Road 91
Lake George, MN 56458
Phone: (218) 224-2472
Georges Cabins
37261 Night Hawk Road
Lake George, MN 56458
Phone: (218) 699-3101
Itasca Moccasin and Leather Goods
37144 US Highway 71
Lake George, MN 56458
Phone: (218) 266-3978
John Schrader Construction
36776 Nesting Rock Drive
Lake George, MN 56458
Phone: (218) 252-0689
Kahlstorf Lumber Co
37851 US Highway 71
Lake George, MN 56458
Phone: (218) 266-3320
Lake George Cafe
37550 Night Hawk Road
Lake George, MN 56458
Phone: (218) 266-2995
Lake George Fire Department
37129 US Highway 71
Lake George, MN 56458
Phone: (218) 699-3600‎
Lake George Mini Storage
37621 US Highway 71
Lake George, MN 56458
Phone: (218) 699-3649
Lake George Pines Motel
37197 US Highway 71
Lake George, MN 56458
Phone: (218) 266-3914
Realty Sales
37851 US Highway 71
Lake George, MN 56458
Phone: (218) 266-3320
Schoolcraft Gallery
37124 US Highway 71
Lake George, MN 56458
Phone: (218) 266-3977
Stitch & Sew
37000 Norway Pine Drive
Lake George, MN 56458
Phone: (218) 266-3358
US Post Office
37307 County Road 4
Lake George, MN 56458-4044
Phone: (218) 266-3389
Toll Free: (800) ASK-USPS
Web: www.usps.com
Wigwam Gifts & Souvenirs
37324 County Road 4
Lake George, MN 56458
Phone: (218) 266-2915
Woodland Store
37303 US Highway 71
Lake George, MN 56458-4044
Phone: (218) 266-3468
---
---
Aerial Photo:
---
Topographic Map: [click map to enlarge, zoom in or zoom out]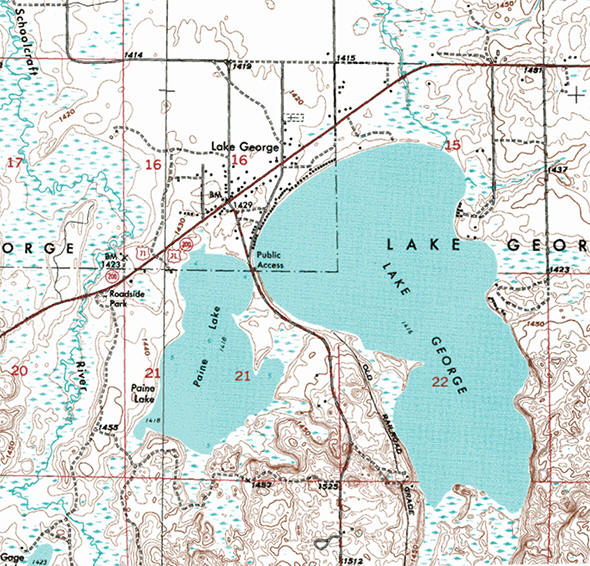 Topographic map is courtesy of the Minnesota DNR -
click map
to zoom or enlarge