Navigation
LakesnWoods.com
Home Page
Contact Us
Privacy
Minnesota History Shop

Visit The Minnesota History Shop
www.minnesotahistoryshop.com
Historic maps
Historic books
Historic framed art
Historic postcards
Clothing with historic images
And much more!!!


Kiester Guide:
Photo Gallery
Location
Geography
Demographics
History
Government
Post Office
News
Weather
Street Map
Events
Attractions
Recreation
Lakes
Health Care
Schools
Churches
Media
Motels
Resorts
Campgrounds
Businesses
Aerial Photo
Topographic Map
© 2004-2023
Lakeweb1 Internet Services
All Rights Reserved
DCMA, Defamation, Copyright and Trademark Infingement Policy
WANTED!
Do you have photos, historical accounts or other items pertaining to the Kiester area? Would you like to share this historical information with the world? LakesnWoods.com would like to publish your Kiester photos (current or historical) or historical accounts on this website. Original materials can be returned and your privacy will be respected.

Kiester Minnesota Community Guide
---
Location:
Kiester is a small town nestled among some of the highest hills, known as glacial moraines, in Southern Minnesota. The tallest of these "Kiester Hills" is at an altitude of 1,432 feet above sea level.

We are a thriving community with many vital businesses tied to agriculture, two fine churches, a spectacular movie theatre (Kee Civic Theatre), very active main street businesses and much, much more. You will find we have some of the friendliest folks around, making Kiester a great place to raise a family!
---
Population:
Kiester (city)
1970
1980
1990
2000
2010
2000-2010 Change
Actual
Percent
Population
681
670
606
540
501
-39
+7.22
Land Area (sq. mile)
0.00
0.42
0.45
0.44
0.44
0
0.00
Density (persons per sq. mile)
--
1,595
1,346
1,217
1,139
-78.0
-6.41
Housing Units
271
312
296
278
281
+3
+1.08
Households
--
298
276
254
246
-8
-3.15
Persons Per Household
--
2.25
2.20
2.13
2.04
-0.09
-4.23
---
Geography:
Kiester is a city in Faribault County, Minnesota. Minnesota State Highway 22 and County Highway 2 are two of the main routes in the community. According to the United States Census Bureau, the city has a total area of 0.44 square miles (1.14 km2), all of it land. The elevation is 1,253 ft (382 m) above sea level.
From Wikipedia, the free encyclopedia.
---
Demographics:
As of the census of 2010, there were 501 people, 246 households, and 141 families residing in the city. The population density was 1,138.6 inhabitants per square mile (439.6 /km2). There were 281 housing units at an average density of 638.6 per square mile (246.6 /km2). The racial makeup of the city was 97.2% White, 0.4% Asian, 1.2% from other races, and 1.2% from two or more races. Hispanic or Latino of any race were 4.2% of the population.
There were 246 households of which 20.3% had children under the age of 18 living with them, 42.3% were married couples living together, 9.3% had a female householder with no husband present, 5.7% had a male householder with no wife present, and 42.7% were non-families. 40.2% of all households were made up of individuals and 20.7% had someone living alone who was 65 years of age or older. The average household size was 2.04 and the average family size was 2.67.
The median age in the city was 47.8 years. 17.2% of residents were under the age of 18; 8.6% were between the ages of 18 and 24; 18.8% were from 25 to 44; 29.4% were from 45 to 64; and 26.1% were 65 years of age or older. The gender makeup of the city was 51.5% male and 48.5% female.
---
---
History:
KIESTER Township, settled in May 1866, organized in January 1872, was named Lake by the county commissioners in 1858 from their supposition that it had a number of lakes. Because another Minnesota township had previously received this name, it was changed January 4, 1859, in honor of Jacob Armel Kiester, who later became the historian of this county. He was born at Mount Pleasant, Pa., April 29, 1832, and died in Blue Earth, December 13, 1904. He was a student in Mt. Pleasant and Dickinson Colleges, Pa.; studied law, and was admitted to practice, 1855; came to Minnesota in 1857, settling in Blue Earth, which ever afterward was his home; was a representative in the legislature in 1865, and during many years was an officer of this county, being successively county surveyor, register of deeds, county attorney, and from 1869 to 1890 was judge of probate; was a state senator, 1891-93. He collected materials during more than 20 years for The History of Faribault County, before mentioned as the source of much information for this chapter; and he also wrote a continuation of that work, from 1880 to 1904 inclusive, of which typewritten copies (717 pp.) are in the library, Blue Earth, and the library of the Minnesota Historical Society, St. Paul. The city of Kiester, sections 21 and 22, was platted in 1899 and incorporated as a village on November 19, 1900. It had a station of the Minnesota and North Western Railway and a post office from 1882.
Courtesy Minnesota Historical Society

The Kiester Hills of the Algona Glacial Moraine have brought people to the community for centuries. Early residents certainly walked up all 1,432 feet of the Kiester Hills and back down again as they made their homes on and around what is commonly known as Tveitís Pit southeast of present-day Kiester. Later, high-spirited investors flung money after the oil they believed the Kiester Hills contained. To know Kiester, one must know the hills. They signify one is, once again, home.Both the City of Kiester and the Kiester Township land which surrounds it were named for Judge J. A. Kiester, a prominent figure in Faribault County history. Although the cityís name has been a topic of conversation for both residents and friends, all Kiester residents are proud of its origin and even prouder of this progressive, beautiful community built on the rolling Kiester Hills.
Early settlers first lived in the surrounding Kiester Township countryside, with Eli and A. W. Judd filing the first land claim in the fall of 1865. Today, their claim would run from the Almberg farm southwest of Kiester into the southwest corner of the city.
When the Iowa, Minnesota and North Western Railroad began marking their trail through this area in 1899, beginning in Belle Plaine, IA, through Mason City and on to Blue Earth and Fairmont, it left behind many villages platted on its tracks, including the City of Kiester. By June of 1900, the combined population of the city and township was 896, and the city already boasted several general stores, a state bank, a hardware store, implement store, railroad depot, two blacksmith shops, a dray line, a newspaper, and a livestock dealer.
Kiester has enjoyed a progressive community status throughout its lifetime, maintaining a strong business base and enjoying unending support from its residents. Progressive city fathers worked hard to plan a complete curb and gutter system, paved streets, built a sanitary sewer system and an upgraded water system during mid-century. With that infrastructure in place, new projects became the focus.
A city-sponsored renewal project on Main Street in the 1990′s brought a newly-constructed retail complex to town, including a grocery store unrivaled in a community of Kiesterís size and comparable to markets found in larger cities. That progress shows its face today in Kiester Clinic-Mayo Health Systems, located in a building owned by the city, which provides a health facility connected to the Mayo Clinic.
Communality volunteerism, fostered with the cityís progressivism, makes an impact. The annual Farming of Yesteryear show, the summer Kiester days celebration, the Kiester City Park holiday lights festival, the Kee Theatre, the fire and ambulance services, and the many community-service clubs are possible because of talented residents and friends who donate their time and skills.
The cooperative, progressive spirit continues to make history in the Kiester Hills. Like the rolling hills, the community has found itself looking uphill at times and enjoying a downhill coast during others. But the ride, like the hills, continue to be a source of pride and enjoyment.
Courtesy City of Kiester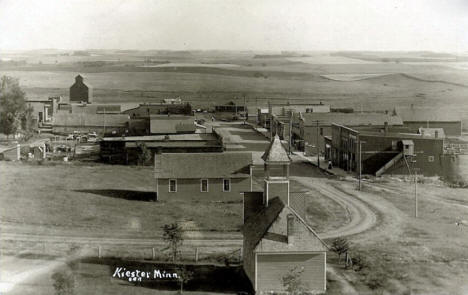 General view, Kiester Minnesota, 1911


LakesnWoods.com Postcard and Postcard Image Collection - click to enlarge

Visit the Kiester Gallery for many more historic and recent photos

---
Government:
Kiester City Hall
116 N Main Street
Kiester, MN 56051
Phone: (507) 294-3161

Regular Business Hours:
Monday Tuesday Thursday Friday 8:00 am - 5:00 pm, Wednesday. closed

City Council Meetings:
2nd and 4th Monday of the month
Title
Term Ends
Name and Address
Phone
Mayor
12/31/2022
Richard A Goggin
401 N Main Street
Kiester, MN 56051
(507) 424-9941
Clerk
appointed
Doris Troll
116 N Main Street
Kiester, MN 56051
(507) 294-3161
Council Member
12/31/2022
Jason Kluender
701 W North Street
Kiester, MN 56051
(507) 294-3143
Council Member
12/31/2022
Larry A. Dahleen
100 N 6th Street
Kiester, MN 56051
(507) 300-7555
Council Member
12/31/2024
Brandon Lee Hagenson
102 S 6th Street
Kiester, MN 56051
(507) 383-7458
Council Member
12/31/2024
Hope Bauman
404 S 1st Street
Kiester, MN 56051
(507) 402-5808
---
Post Office:
US Post Office
100 N Main Street
Kiester, MN 56051-4401
Phone: (507) 294-3707
Toll Free: (800) ASK-USPS

Regular Business Hours:
Week Days 10:00 am - 2:00 pm
Saturday 10:00 am - 10:30 am
---
---
Utilities:
---
Major Employers:
---
---
News:
---
Weather:
---
Map: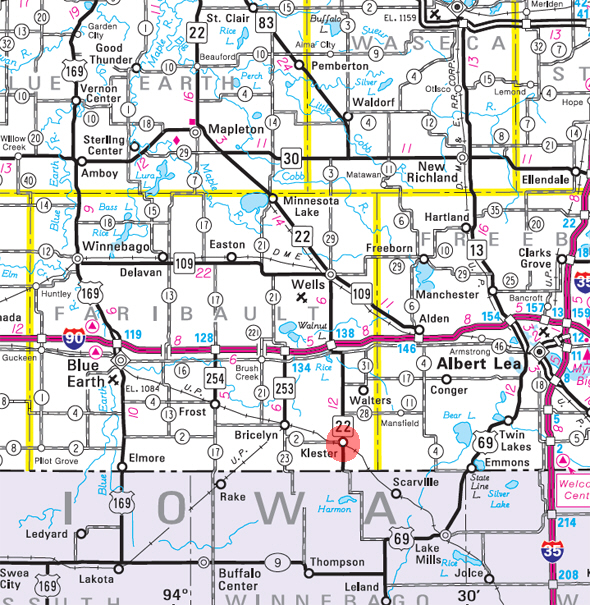 Minnesota State Highway Map of the Kiester Minnesota area
---
Events:
---
---
Attractions:
---
Recreation:
---
Lakes:
Lake Name
Size
(acres)
Lake info
Lake Map
Rec Map
Topo Map
none in the immediate area
---
Health Care:
Kiester Medical Center
120 N Main Street
Kiester, MN 56051
Phone: (507) 294-3693
Web:

www.mayoclinichealthsystem.org/locations/kiester





Your health care needs always come first at Mayo Clinic Health System in Kiester, whether that means primary care or specialty care services. Mayo Clinic Health System delivers trusted Mayo Clinic care close to your home.
---
Schools:
United South Central Public Schools
250 2nd Avenue SW
Wells, MN 56097
Phone: (507) 553-5819
Web: www.usc.k12.mn.us

United South Central is a K-12 public school including the communities of Bricelyn, Easton, Freeborn, Kiester, Walters, and Wells. We have just completed our 22nd year! Next fall we will welcome the class of 2026 to begin their educational experience at USC.
---
Churches:
Bethel Trinity Church
308 N Main Street
Kiester, MN 56051
Phone: (507) 294-3721

Pastor: n/a
Sunday Worship: n/a
Grace United Methodist Church
116 N 3rd Street
PO Box 369
Kiester, MN 56051
Phone: (507) 294-3300

Pastor: Rev. Cherie Daniel
Sunday Worship: 8:00 am
Our Saviour's Lutheran Church
605 W State Street
Kiester, MN 56051
Phone: (507) 294-3606

Pastor: Katie Pals
Sunday Worship: 8:45 am
Trinity Lutheran Church - ELCA
500th Street
PO Box 239
Kiester, MN 56051
Phone: (507) 402-3524

Pastor: Katie Pals
Sunday Worship: 10:30 am
---
Media:
Courier-Sentinel
405 W Center Street
PO Box 250
Kiester, MN 56051
Phone: (507) 294-3400



Weekly newspaper published on Thursdays with a circulation of 1,599.
---
Motels:
Check for motel rates and availability on:
---
Resorts:
---
Campgrounds:
---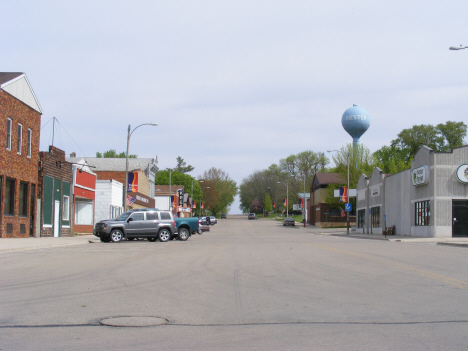 Street scene, Kiester Minnesota, 2014


LakesnWoods.com photo - click image to enlarge

Visit the Kiester Gallery for many more historic and recent photos

---
---
Businesses:
American Legion Post 454
State Street
PO Box 527
Kiester, MN 56051
Phone: (507) 294-3734
Borderline Siding and Windows
801 W North Street
Kiester, MN 56051
Phone: (507) 294-3474
Web:

www.borderlinesidingandwindows.com





We are a family owned siding & window business, established in Kiester in 1954, that celebrated its 50th anniversary in 2004. We service southern Minnesota and northern Iowa. We are a company that prides itself on giving individual attention to each job and providing you with fine workmanship.

Bradley M. Soma Accounting
308 W Center Street
Kiester, MN 56051
Phone: (507) 294-3288
Brownie's Plumbing and Heating
307 N 2nd Street
Kiester, MN 56051
Phone: (507) 294-3392
Courier-Sentinel
405 W Center Street
PO Box 250
Kiester, MN 56051
Phone: (507) 294-3400
Duane's Felco Service
103 S Main Street
Kiester, MN 56051
Phone: (507) 294-3717
Eileen Johnson Insurance
101 N Main Street
Kiester, MN 56051
Phone: (507) 294-3815
Farm Bureau Financial Services
119 S Main Street
Kiester, MN 56051
Phone: (507) 294-3050
Web:

www.kiesterinsurance.com





Farm Bureau Financial Services is an insurance company serving Kiester, MN. We are committed to helping you prepare for the future and protect what matters most. We offer business, auto, life, and health insurance.

Farmers Cooperative Association
100 W Front Street
Kiester, MN 56051
Phone: (507) 294-3697
Web: www.farmersca.com
First State Bank
101 N Main Street
Kiester, MN 56051
Phone: (507) 294-3621
Web: www.fsbkiester.com



Locally owned and independently operated since being established in 1899, First State Bank has been committed to adding to the quality of life in the communities we serve.

Forever Berma's
130 S Main Street
Kiester, MN 56051
Phone: (507) 294-3344
Fure's Welding and Repair Service
4686 State Highway 22
Kiester, MN 56051
Phone: (507) 294-3515
Goermann Insurance
501 W Center Street
Kiester, MN 56051
Phone: (507) 294-3458
Kee Civic Theatre
108 N Main Street
Kiester, MN 56051
Phone: (507) 294-3410
Kee Kafe
117 N Main Street
Kiester, MN 56051
Phone: (507) 294-3900
Kee Lanes & Grill
504 W State Street
Kiester, MN 56051
Phone: (507) 848-6947



[Closed February 2014]

Kee Valley Apartments
408 N Main Street
Kiester, MN 56051
Phone: (507) 402-7678
Web:

www.smrrental.com/property/Kee_Valley_Apartments

Kibble Equipment
214 E State Street
Kiester, MN 56051
Phone: (507) 294-3244
Web: www.kibbleeq.com



Kibble Equipment is a family-owned business and has been serving our farming communities for over 35 years. We work with operations big and small, and take pride in the work we do. With Kibble Equipment you can count on top-notch service and support, combined knowledge of highly trained people and a solutions-based approach. With 12 stores to draw upon for parts, service and sales, you get immediate access to our experience and efficiency. Our goal is to be your go-to John Deere equipment dealership.

Kiester City Library
119 S Main Street
Kiester, MN 56051
Phone: (507) 294-3944
Kiester Fire Hall
State Highway 22
Kiester, MN 56051
Phone: (507) 294-3563
Kiester Implement, Inc.
110 N Main Street
Kiester, MN 56051
Phone: (507) 294-3387
Web: www.kiesterimp.com



At Kiester Impement we provide service, repair and agricutlure equipment sales. If you see something you like or can't find what you're looking for make sure you contact us so we can help you out!

Kiester Liquor Store
202 N 1st Street
Kiester, MN 56051
Phone: (507) 294-3501
Kiester Market
Main Street
PO Box 176
Kiester, MN 56051
Phone: (507) 294-



Kiester lost its only grocery store in 2012. Since then a group of residents have worked to revive the store not only for convenience but also for the health and wellness of their hometown.

Kiester Medical Center
120 N Main Street
Kiester, MN 56051
Phone: (507) 294-3693
Web:

www.mayoclinichealthsystem.org/locations/kiester





Your health care needs always come first at Mayo Clinic Health System in Kiester, whether that means primary care or specialty care services. Mayo Clinic Health System delivers trusted Mayo Clinic care close to your home.

Kiester Welding
2556 State Highway 22
Kiester, MN 56051
Phone: (507) 294-3567
Monty's
202 S 1st Street
Kiester, MN 56051
Phone: (507) 294-3017



We are a small town automotive repair trying to offer good & reliable service at a fair and affordable price.

Schumann Sales and Service
5336 State Highway 22
Kiester, MN 56051
Phone: (507) 402-1106
Square Yard
404 S 1st Street
Kiester, MN 56051
Phone: (507) 294-3739
Web:

www.thesquareyard.net





We take pride in our business that we started in 1986. Since that time we have had the privilege to help many customers with their floor covering needs. Are there projects lingering in the back of your mind? Well, help is on the way. Our business is dedicated to providing residences in Southern Minnesota and Northern Iowa with floor covering of the highest quality at truly competitive prices. We have professional, certified installers and are fully insured.

State Line Farm Supply
139 S Main Street
Kiester, MN 56051
Phone: (507) 294-3442
Tanks and Tummies
100 N 1st Street
Kiester, MN 56051
Phone: (507) 294-9950
Ultimate Design II
119 S Main Street
Kiester, MN 56051
Phone: (507) 294-3005
US Post Office
100 N Main Street
Kiester, MN 56051-4401
Phone: (507) 294-3707
Toll Free: (800) ASK-USPS
Web: www.usps.com
---
---
Aerial Photo:
---
Topographic Map: [click map to enlarge, zoom in or zoom out]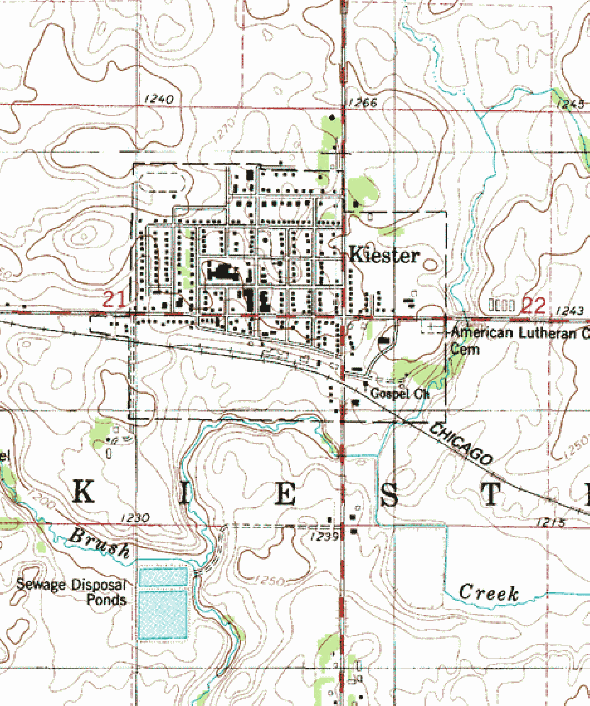 Topographic map is courtesy of the Minnesota DNR - click map to zoom or enlarge