Navigation
LakesnWoods.com
Home Page
Contact Us
Privacy
Minnesota Gift Guide
Kerkhoven Guide:
Photo Gallery
Location
Geography
Demographics
History
Government
Post Office
News
Weather
Street Map
Events
Attractions
Recreation
Lakes
Health Care
Schools
Churches
Media
Motels
Resorts
Campgrounds
Businesses
Aerial Photo
Topographic Map
© 2004-2023
Lakeweb1 Internet Services
All Rights Reserved
DCMA, Defamation, Copyright and Trademark Infingement Policy
WANTED!
Do you have photos, historical accounts or other items pertaining to the Kerkhoven area? Would you like to share this historical information with the world? LakesnWoods.com would like to publish your Kerkhoven photos (current or historical) or historical accounts on this website. Original materials can be returned and your privacy will be respected.

Kerkhoven Minnesota Community Guide
---
Location:
---
Population:
Kerkhoven (city)
1970
1980
1990
2000
2010
2000-2010 Change
Actual
Percent
Population
641
761
732
759
759
0
0.00
Land Area (sq. mile)
0.30
0.75
0.74
0.74
0.82
+0.08
-10.81
Density (persons per sq. mile)
2,136.67
1,014.67
989.19
1,023.47
925.61
-97.86
-9.56
Housing Units
220
310
315
338
352
+14
+4.14
Households
--
294
299
313
329
+16
+5.11
Persons Per Household
--
2.53
2.39
2.42
2.31
-0.11
-4.55
---
Geography:
Kerkhoven is a city in Swift County, Minnesota, located roughly 100 miles (160 km) west of the Twin Cities region of Minneapolis/St. Paul along U.S. Route 12. According to the United States Census Bureau, the city has a total area of 0.82 square miles (2.12 km˛), all of it land. The elevation is 1,099 ft (335 m) above sea level.
From Wikipedia, the free encyclopedia.
---
Demographics:
As of the census of 2010, there were 759 people, 329 households, and 206 families residing in the city. The population density was 925.6 inhabitants per square mile (357.4/km2). There were 352 housing units at an average density of 429.3 per square mile (165.8/km2). The racial makeup of the city was 97.1% White, 0.3% Native American, 2.5% from other races, and 0.1% from two or more races. Hispanic or Latino of any race were 12.3% of the population.
There were 329 households of which 31.0% had children under the age of 18 living with them, 49.5% were married couples living together, 9.7% had a female householder with no husband present, 3.3% had a male householder with no wife present, and 37.4% were non-families. 34.7% of all households were made up of individuals and 16.2% had someone living alone who was 65 years of age or older. The average household size was 2.31 and the average family size was 2.97.
The median age in the city was 40.1 years. 26% of residents were under the age of 18; 8.6% were between the ages of 18 and 24; 21.1% were from 25 to 44; 26.4% were from 45 to 64; and 17.8% were 65 years of age or older. The gender makeup of the city was 49.7% male and 50.3% female.
---
---
History:
KERKHOVEN Township, first settled in 1865, and the city of this name in section 21 of Pillsbury Township, platted in 1870 and incorporated on March 3, 1881, as Pillsbury, received this Scottish name on February 17, 1883, in honor of Johannes Kerkhoven, who with his brother, Theodores, was given the contract to build rail lines west from St. Paul to Willmar to Kerkhoven; their company was the Kerkhoven Brokerage Company of Amsterdam, Holland. The post office was established in 1871 in Chippewa County, with Matts Rasmussen, postmaster, and was transferred to Swift County, with J. B. Jacobson as postmaster; it had a station of the Great Northern Railway. Monson Lake State Park, established in 1937 in the southeast corner of the township, originated as a memorial to two white families killed in the Dakota Conflict of 1862.
Courtesy Minnesota Historical Society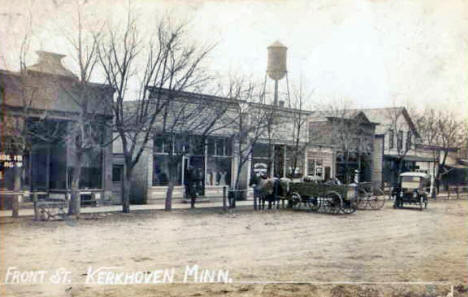 Front Street, Kerkhoven Minnesota, 1915
LakesnWoods.com Postcard and Postcard Image Collection- click image to enlarge

Visit The Kerkoven Photo Gallery for more recent and historic area photos
---
Government:
Kerkhoven City Hall
208 10th Street N
PO Box 116
Kerkhoven, MN 56252
Phone: (320) 264-2581


Regular Business Hours:
Monday - Thursday 8:00 am - 5:00 pm
Friday 8:00 am - 12:00 pm

City Council Meetings:
2nd and 4th Monday of the month at 6:30 pm

Title
Term Ends
Name and Address
Phone:
Mayor
12/31/2020

Kordell VanHeuveln
1408 Pacific Avenue
Kerkhoven, MN 56252

(320) 894-8519
Clerk/Treasurer
appointed
Kim Harkema
208 10th Street N
Kerkhoven, MN 56252
(320) 264-2581
Council Member
12/31/2022
Brian Thompson
403 N 8th Street
Kerkhoven, MN 56252
(320) 264-1195
Council Member
12/31/2022
Andrew Thorson
310 N 6th Street
Kerkhoven, MN 56252
(320) 264-5694
Council Member
12/31/2020
Bob Kappes
308 N 14th Street
Kerkhoven, MN 56252
(320) 894-7784
Council Member
12/31/2020
Naomi Baker
404 N 9th Street
Kerkhoven, MN 56252
(320) 905-6576
---
Post Office:
US Post Office
903 Atlantic Avenue
Kerkhoven, MN 56252-5000
Phone: (320) 264-8421
Toll Free: (800) ASK-USPS

Regular Business Hours:
Week Days 8:00 am - 2:00 pm
Saturday 9:00 am - 9:45 am





---
---
Utilities:
---
Major Employers:
---
---
News:
---
Weather:
---
Map: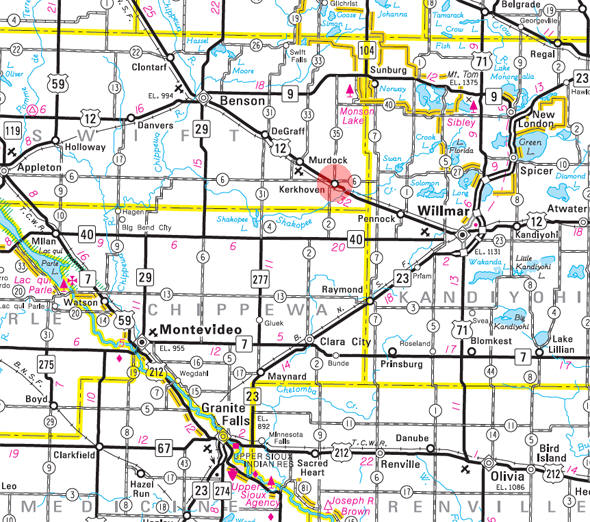 Minnesota State Highway Map of the Kerkhoven Minnesota area
---
Events:
---
Attractions:
---
Recreation:
---
Lakes:
Lake Name
Size
(acres)
Lake info
Lake Map
Rec Map
Topo Map
none in the immediate area
---
Health Care:
---
Schools:
KMS Public Schools
Independent School District #775
302 N 15th Street
Kerkhoven, MN 56252
Phone: (320) 264-1411
Fax: (320) 264-1410
Web: www.kms.k12.mn.us

Grades: PK-12
Students: 631

KMS High School
302 N 15th Street
Kerkhoven, MN 56252
Phone: (320) 264-1411
Fax: (320) 264-1410

Grades: 7-12
Students: 237

KMS Elementary School
408 Hollis Street
Murdock, MN 56271
Phone: (320) 264-1411
Fax: (320) 875-2226

Grades: PK-6
Students: 394

---
Churches:
Bethel Baptist Church
405 S 9th Street
Kerkhoven, MN 56252
Phone: (320) 264-2857
Web: www.bethelbaptistkerkhoven.org

Pastor: Mark Wanhoff
Sunday Worship: 10:00 am
Evangelical Free Church
301 N 7th Street
Kerkhoven, MN 56252
Phone: (320) 264-3346
Web: www.kerkefc.org

Pastor: David Wick
Sunday Worship: 10:30 am
Kerkhoven Lutheran Church - ELCA
402 N 12th Street
Kerkhoven, MN 56252
Phone: (320) 264-2823
Web: www.kerkhovenlutheran.com

Pastor: Rev. Bill Miller
Sunday Worship: 8:30 am
United Presbyterian Church
302 N 8th Street
Kerkhoven, MN 56252
Phone: (320) 264-2319



Closed April 19th, 2015
---
Media:
---
Motels:
Check for motel rates and availability on:
---
Resorts:
---
Campgrounds:
---
---
Businesses:
American Legion Post 223
PO Box 314
Kerkhoven, MN 56252
Phone: n/a
Art's Repair and Sales LLC
401 S 14th Street
Kerkhoven, MN 56252
Phone: (320) 264-3561
Benson Gravel
202 S 12th Street
Kerkhoven, MN 56252
Phone: (320) 264-5326
Web: www.bensongravel.com



For all your gravel needs, contact Benson Gravel of Kerkhoven, MN. Our family owned and operated company has been serving the area since 1956. We have a friendly and knowledgeable staff to serve you. We accommodate residential and commercial customers. Benson Gravel Offers: Black dirt / clay Crushed rock C5 gravel Site work Crushed granite River rock. Call Benson Gravel today at 320-264-5326 to schedule a delivery, or you can come in and pick up your gravel.

Bob's Garage
202 S 10th Street
Kerkhoven, MN 56252
Phone: (320) 264-3163
Carlson Manufacturing Inc.
1495 90th Street SE
Kerkhoven, MN 56252
Phone: (320) 264-8101
Web: www.carlsonmfg.com



Custom Laser Cutting and Sheet Metal Fabricators. In just the past few years, the landscape of the manufacturing industry has changed dramatically. Do your suppliers have the cutting-edge technologies and superior service levels to keep up with your needs? It has become more difficult than ever to find that supplier who has strong capabilities and experience, yet still manages to keep your costs low. How do we do it? Simply stated, we know manufacturing. We get the job done. We have the experience and resources to overcome the challenges you are facing.

Let us show you how.

Collins Construction Company LLC
209 N 12th Street
Kerkhoven, MN 56252
Phone: (320) 264-8601
Web: www.collinsconstructionco.com



Collins Construction is extremely proud of being in business for more than 30 years. Chuck Collins and Keith Collins bring a level of professionalism and detailed craftsmanship that is easily seen in every home they build. Chuck, Keith and their entire staff of skilled craftsmen take great pride in every project and stand behind the work they do. Whether building a new home, remodeling or adding on to an existing home, you can expect personal attention, honesty and service in every detail.

Doggy Day Spa
202 N 10th Street
Kerkhoven, MN 56252
Phone: (320) 264-0202
Don's Building Center
1109 Atlantic Avenue
Kerkhoven, MN 56252
Phone: (320) 264-3011
Web: www.donsbuildingcenter.com



Don's Building Center offers a full line of building products, materials, and services. Donovan and his knowledgeable staff are committed to providing customers with quality products at competitive prices while providing the best in customer service. Don's Building Center is proud to be an integral part of helping Kerkhoven and the surrounding area grow and develop.

Dwayne J. Riley, CPA
108 N 10th Street
Kerkhoven, MN 56252
Phone: (320) 264-0070
Financial Security Bank
1011 Atlantic Avenue
Kerkhoven, MN 56252
Phone: (320) 264-2161
Web: www.financialsecuritybank.com



When it comes to choosing a banking partner we know you have a lot of choices. Most people assume all banks are the same. But, at Financial Security Bank, we work hard to be a different kind of bank. We believe it's all about relationships…not just accounts.

Freetly Electric
303 N 3rd Street
Kerkhoven, MN 56252
Phone: (320) 264-3121
Web: www.freetlyelectric.com



Professionally well-run jobs are a Freetly Electric trademark. Make sure your commercial and residential electrical projects are done right. From new wiring to electrical maintenance, and troubleshooting, our highly qualified technicians are ready to help you. Tom Freetly personally over sees each project in residential, commercial and industrial designing and installations.

Glacial Plains Cooperative
1008 Atlantic Avenue
Kerkhoven, MN 56252
Phone: (320) 264-3831
Web: www.glacialplains.com



Glacial Plains business philosophy is to concentrate on our local trade area. We will strive to become more competitive and offer the highest levels of service all the while maintaining profitability so that we can continue to return cash to our owners. It's your cooperative that looks to return the money from profits that result from you entrusting us with your business and it's the one thing that you won't get back from many of our competitors. Thank you for your business

.
Hair Connection
1003 Atlantic Avenue
Kerkhoven, MN 56252
Phone: (320) 264-1543
Harvey Anderson and Johnson Funeral Home
307 N 14th Street
Kerkhoven, MN 56252
Phone: (320) 264-3261
Web: www.hafh.org



At Harvey Anderson & Johnson Funeral Homes we can assist in helping you personalize services for your loved one. Whether you are planning ahead or have experienced a loss, our Funeral Directors and Staff are prepared to help you with any questions you may have. From the moment you first call upon Harvey Anderson & Johnson Funeral Home until well after services are completed we pay attention to every detail. When you need us, Harvey Anderson & Johnson Funeral Home is there, 24 hours a day, every day.

Jon's Body Shop
1350 US Highway 12 SE
Kerkhoven, MN 56252
Phone: (320) 264-5667
Kerkhoven & Hayes Mutual Insurance Company
909 Atlantic Avenue
Kerkhoven, MN 56252
Phone: (320) 264-0201
Web: www.kerkhovenhayesmutual.com



Starting over 125 years ago, Kerkhoven & Hayes Mutual Fire Insurance Company was formed, issuing insurance policies in the townships of Kerkhoven and Hayes, in Swift county MN. Since then the name has been changed to Kerkhoven & Hayes Mutual Insurance Company, and has expanded operations to nine counties in central and western Minnesota. The company mission is provide prompt, fair claims service at a reasonable price. STRAIGHTFORWARD, TRUSTWORTHY AND REASONABLE best describes the goal and mission of the company, and how we wish to be perceived.

Kerkhoven Banner
1001 Atlantic Avenue
Kerkhoven, MN 56252
Phone: (320) 264-3071
Web: www.kerkhovenbanner.com



The Kerkhoven Banner is your hometown newspaper, covering local events, sports and interests since 1896. We believe that no news is NOT good news!

Kerkhoven City Offices
208 9th Street N
PO Box 116
Kerkhoven, MN 56252
Phone: (320) 264-2581
Web:

www.cityofkerk.com

Office Hours 9 am to 5 pm Monday -Thursday and 8 am to 12 pm Friday

Kerkhoven Fire Department
202 9th Street N
Kerkhoven, MN 56252
Phone: (320) 264-5547
Kerkhoven BP
608 Atlantic Avenue
Kerkhoven, MN 56252
Phone: (320) 264-1246
Kerkhoven Public Library
208 N 10th Street
Kerkhoven, MN 56252
Phone: (320) 264-2141
Web: www.kerkhoven.lib.mn.us
Lamecker's General Store
907 Atlantic Avenue
Kerkhoven, MN 56252
Phone: (320) 264-3711



Locally owned and operated General Store,Groceries and Hardware all in one Store in Kerkhoven, MN.

Miller and Miller
307 N 15th Street
Kerkhoven, MN 56252
Phone: (320) 264-3911
Nolan Baker Ford
901 Atlantic Avenue
Kerkhoven, MN 56252
Phone: (320) 264-2871
Web: www.nolanbakerford.com



Nolan Baker Ford Sales Inc., a Ford dealer in Kerkhoven, Minnesota offers new Ford Cars, Crossovers, SUVs and Trucks online at http://www.nolanbakerford.com. Search for all new 2016, 2017 and 2018 Ford, including C-MAX, Edge, Escape, Expedition, Explorer, F-150, Fiesta, Flex, Focus, Fusion, Mustang, SuperDuty, Taurus, Transit Connect, Transit Connect Wagon and Transit VanWagon.

Pacific Body Works
206 S 12th Street
Kerkhoven, MN 56252
Phone: (320) 264-5402
Pastures A Plenty Farm
4075 110th Avenue NE
Kerkhoven, MN 56252
Phone: (320) 367-2061
Web: www.pasturesaplenty.com



Pastures A Plenty Farm is home to a hog farrow to finish operation as well as free range chickens and a seasonal cattle grazing business. Our pork is available at several Twin Cities food co-ops and also at local restaurants. Order today!

RDJ Auto Sales
1350 US Highway 12 NE
Kerkhoven, MN 56252
Phone: (320) 264-2211
Web: www.rdjauto.com
Rugs N Such
309 N 8th Street
Kerkhoven, MN 56252
Phone: (320) 264-1307
Rustad Tours
208 N 12th Street
Kerkhoven, MN 56252
Phone: (320) 264-2987
Web: www.rustadtours.com



A family owned bus company traveling the roads since 1947. Rustad Tours offers premium motorcoach tours throughout the United States and Canada.

Sherrie's Cafe
1005 Atlantic Avenue
Kerkhoven, MN 56252
Phone: (320) 264-1060
Sophie's Ice Cream Station
102 N 10th Street
Kerkhoven, MN 56252
Phone: n/a



Sophie's Ice Cream Station is located on Highway 12, right next to the Kerkhoven Banner. Stop by and try some of our delicious hard serve ice cream!

US Post Office
903 Atlantic Avenue
Kerkhoven, MN 56252-5000
Phone: (320) 264-8421
Web:

www.usps.com

West Central Crane
202 N 14th Street
Kerkhoven, MN 56252
Phone: (320) 413-0311
---
---
Aerial Photo:
---
Topographic Map: [click map to enlarge, zoom in or zoom out]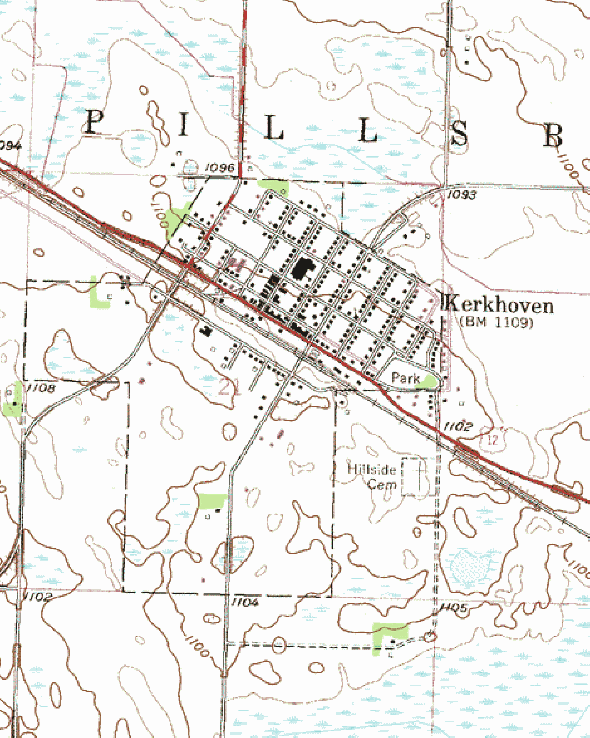 Topographic map is courtesy of the Minnesota DNR - click map to zoom or enlarge