Navigation
LakesnWoods.com
Home Page
Contact Us
Privacy
Minnesota History Shop

Visit The Minnesota History Shop
www.minnesotahistoryshop.com
Historic maps
Historic books
Historic framed art
Historic postcards
Clothing with historic images
And much more!!!


Kensington Guide:
Photo Gallery
Location
Geography
Demographics
History
Government
Post Office
News
Weather
Street Map
Events
Attractions
Recreation
Lakes
Health Care
Schools
Churches
Media
Motels
Resorts
Campgrounds
Businesses
Aerial Photo
Topographic Map
© 2004-2023
Lakeweb1 Internet Services
All Rights Reserved
DCMA, Defamation, Copyright and Trademark Infingement Policy
WANTED!
Do you have photos, historical accounts or other items pertaining to the Kensington area? Would you like to share this historical information with the world? LakesnWoods.com would like to publish your Kensington photos (current or historical) or historical accounts on this website. Original materials can be returned and your privacy will be respected.


(design available on over 100 different items!)

Kensington Minnesota Community Guide
---
Location:
---
Population:
Kensington (city)
1970
1980
1990
2000
2010
2000-2010 Change
Actual
Percent
Population
308
331
295
286
292
+6
+2.10
Land Area (sq. mile)
0.30
0.27
0.26
0.26
0.36
+0.10
+38.46
Density (persons per sq. mile)
1,026.67
1,225.93
1,134.62
1,093.87
811.11
-228.76
-20.91
Housing Units
120
148
141
148
147
-1
-0.68
Households
--
133
123
132
137
+5
+3.79
Persons Per Household
--
2.49
2.40
2.17
2.13
-0.04
-1.84
---
Geography:
Kensington is a city in Douglas County, Minnesota. According to the United States Census Bureau, the city has a total area of 0.36 square miles (0.93 km2), all of it land. Minnesota Highway 55 serves as a main route in the community. The elvation is 1,309 feet (399 m).
From Wikipedia, the free encyclopedia.
---
Demographics:
As of the census of 2010, there were 292 people, 137 households, and 75 families residing in the city. The population density was 811.1 inhabitants per square mile (313.2/km2). There were 147 housing units at an average density of 408.3 per square mile (157.6/km2). The racial makeup of the city was 96.9% White, 0.3% African American, 1.0% Native American, 0.3% from other races, and 1.4% from two or more races. Hispanic or Latino of any race were 2.7% of the population.
There were 137 households of which 23.4% had children under the age of 18 living with them, 44.5% were married couples living together, 8.8% had a female householder with no husband present, 1.5% had a male householder with no wife present, and 45.3% were non-families. 40.9% of all households were made up of individuals and 17.5% had someone living alone who was 65 years of age or older. The average household size was 2.13 and the average family size was 2.89.
The median age in the city was 40.3 years. 20.2% of residents were under the age of 18; 8.4% were between the ages of 18 and 24; 26.7% were from 25 to 44; 27.1% were from 45 to 64; and 17.5% were 65 years of age or older. The gender makeup of the city was 50.3% male and 49.7% female.
---
---
History:
KENSINGTON, a city of Solem Township, sections 27 and 28, was platted by Hon. William D. Washburn in March 1887, was incorporated August 28, 1891, and separated from the township on October 1, 1906. This is the name of a western section of the city of London, and it is also borne by villages and townships in seven other states. The city had a station on the Soo Line, and its post office began in 1887. On the farm of Olof Ohman, about three miles northeast from this village, the famous Kensington runestone was found in November 1898.
Courtesy Minnesota Historical Society
---
Government:
Kensington City Hall
19 Kensington Avenue N
PO Box 156
Kensington, MN 56343
Phone: (320) 965-2500

Regular Business Hours:
Monday - Friday 8:00 am - 12:00 pm

City Council Meetings:
1st Monday of the month at 7:00 pm

Title
Term Ends
Name and Address
Phone
Mayor
12/31/2022
Jim Schecker
19 Tower Street - PO Box 144
Kensington, MN 56343
(320) 965-6203
Clerk
appointed
Jennifer Kangas
19 Kensington Avenue N
Kensington, MN 56343
(320) 965-2500
Treasurer
appointed
Pryce Score
PO Box 150
Kensington, MN 56343
(320) 965-2711
Council Member
12/31/2022
Amy Eystad
30 Grand Avenue N - PO Box 53
Kensington, MN 56343
(320) 965-6261
Council Member
12/31/2022
Randy Petersen
19 Kensington Avenue N PO Box 198
Kensington, MN 56343
(320) 965-2289
(320) 815-1920
Council Member
12/31/2024
John Gran
12 Grand Avenue N - PO Box 11
Kensington, MN 56343
(320) 965-3003
(320) 288-6473
Council Member
12/31/2024
Emmy L Maheux (Leverson)
17 Kensington Avenue S PO Box 112
Kensington, MN 56343
(320) 965-2327
---
Post Office:
US Post Office
17 Central Avenue N
Kensington, MN 56343-4400
Phone: (320) 965-2765
Toll Free: (800) ASK-USPS

Regular Business Hours:
Week Days 8:15 am - 12:15 pm
Saturday 8:15 am - 9:00 am
---
---
Utilities:
---
Major Employers:
Employer
Products/Services
Employees

n/a
---
---
News:
---
Weather:
---
Map:
View Larger Map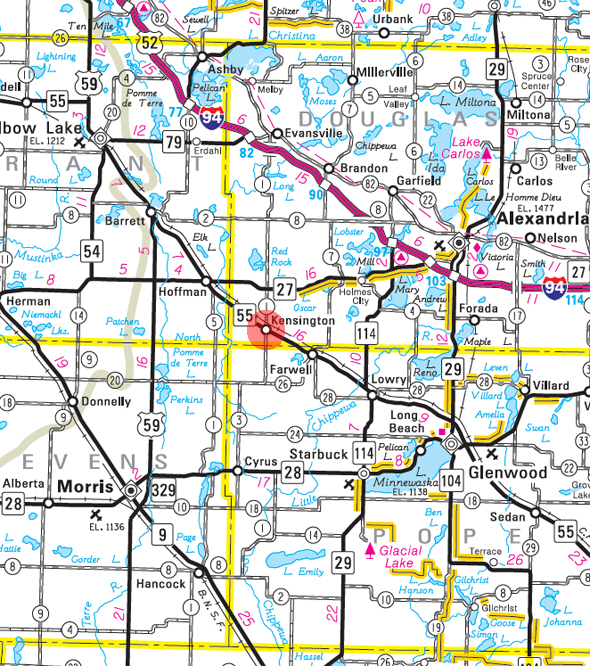 Minnesota State Highway Map of the Kensington Minnesota area
---
Events:
---
---
Attractions:
---
Recreation:
---
Lakes:
---
Health Care:
---
Schools:
West Central Area Schools
301 County Road 2
Barrett, MN 56311
Phone: (320) 528-2650
Fax: (320) 528-2609
Web: www.westcentralareaschools.net
West Central Secondary
301 County Road 2
Barrett, MN 56311
Phone: (320) 528-2650
Fax: (320) 528-2609

Grades: 7-12
Students:

South Elementary School
31 Central Avenue N
Kensington, MN 56343
Phone: (320) 965-2724
Fax: (320) 965-2264

Grades: K-6
Students:
---
Churches:
Covenant Church
11 Kensington Avenue S
Kensington, MN 56343
Phone: (320) 965-2331

Pastor: David Wallin
Sunday Worship: 9:00 am

First Lutheran Church
25 State Street E
Kensington, MN 56343
Phone: (320) 965-2540

Pastor: Barbara Chapman
Sunday Worship: 11:00 am

Nora Lutheran Church ELCA
Kensington, MN 56343

Pastor: Elaine Leone
Sunday Worship: 11:00 am

Our Lady of the Runestone Catholic Church
11 Runestone Drive
Kensington, MN 56343
Phone: (320) 965-2596

Pastor: Roger Thoeness
Sunday Mass: 8:30 am

Solem Lutheran Church ELCA
9159 County Road 1 SW
Kensington, MN 56343
Phone: (320) 965-2523

Pastor: Elaine Leone
Sunday Worship: 9:00 am
---
Media:
---
Motels:
Check for motel rates and availability on:
---
Resorts:
---
Campgrounds:
---
---
Businesses:
A & C Construction Service
11960 Grove Lake Road SW
Kensington, MN 56343
Phone: (320) 965-2220
AFLAC
20196 State Highway 27 W
Kensington, MN 56343
Phone: (320) 965-2437
Alexandria Dental Associates
15397 County Road 96 SW
Kensington, MN 56343
Phone: (320) 965-2626
Andes Tower Hills
4505 Andes Road SW
Kensington, MN 56343
Phone: (320) 965-2455
Web: www.andestowerhills.com
Blascyk Auto Body
12 Central Avenue N
Kensington, MN 56343
Phone: (320) 965-2624
CMC Construction Management
13105 County Road 15 SW
Kensington, MN 56343
Phone: (320) 965-2388
Covenant Church
11 Kensington Avenue S
Kensington, MN 56343
Phone: (320) 965-2331
Digital Print Solutions
14 Central Avenue N
Kensington, MN 56343
Phone: (320) 965-2297
Douglas County Garage
County Road 1
Kensington, MN 56343
Phone: (320) 965-2716
Exhaust Pros
17144 State Highway 27 W
Kensington, MN 56343
Phone: (320) 965-2237
Farmers Elevator Company
22 Railway Street W
Kensington, MN 56343
Phone: (320) 965-2521
Fergus Falls Monument Company
10 State Street W
Kensington, MN 56343
Phone: (320) 965-2260
First Lutheran Church
25 State Street E
Kensington, MN 56343
Phone: (320) 965-2540
First State Bank
11 Central Avenue N
Kensington, MN 56343
Phone: (320) 965-2419
Floyd's Outpost
11 Railway Street W
Kensington, MN 56343
Phone: (320) 965-2746
Garbs Sales Inc
10 Viking Drive
Kensington, MN 56343
Phone: (320) 965-6680
Image Xperts Inc
14 Central Avenue N
Kensington, MN 56343
Phone: (320) 965-9393
Kensington Area Heritage Society
24 Central Avenue N
Kensington, MN 56343
Phone: (320) 965-2616
Kensington Bar & Cafe
13 Central Avenue N
Kensington, MN 56343
Phone: (320) 965-2410
Kensington City Offices
19 Central Avenue N
Kensington, MN 56343
Phone: (320) 965-2500
Kensington Hair Center
22 Central Avenue N
Kensington, MN 56343
Phone: (320) 965-2573
Kensington Medical Center
19 Central Avenue N
Kensington, MN 56343
Phone: (320) 965-2750
Kensington Milling Company
11 Railway Street E
Kensington, MN 56343
Phone: (320) 965-2606
Kensington Supermarket
20 Central Avenue N
Kensington, MN 56343
Phone: (320) 965-2741
Kensington-Cyrus Truck Service
16 Rostedt Street
Kensington, MN 56343
Phone: (320) 965-2525
Kev's & Son Gravel
11600 Grove Lake Rd SW
Kensington, MN 56343
Phone: (320) 965-2274
Lakes Area Graphix & Sign Worx
14 Central Avenue N
Kensington, MN 56343
Phone: (320) 965-6226
Mannatech Associate
5370 Honeysuckle Lane SW
Kensington, MN 56343
Phone: (320) 965-2544
Midwest Grain Systems Inc
21000 State Highway 55 SW
Kensington, MN 56343
Phone: (320) 965-2555
Nora Solem Parish
17 Kensington Avenue N
Kensington, MN 56343
Phone: (320) 965-2417
Oakdale Farm
6060 County Road 1 SW
Kensington, MN 56343
Phone: (320) 965-2740
Our Lady of the Runestone Church
11 Runestone Drive
Kensington, MN 56343
Phone: (320) 965-2596
Porta-Stor Inc
5743 Wolley Lake Road SW
Kensington, MN 56343
Phone: (320) 808-6105
Rachel's Little Rascals Daycare
17 Grand Avenue S
Kensington, MN 56343
Phone: (320) 965-2352
Rafter P Annex
10343 110th Street
Kensington, MN 56343
Phone: (320) 986-2212
Rudell's Lakeside Nursery
14783 State Highway 27 W
Kensington, MN 56343
Phone: (320) 965-2484
Runestone Apartments
20 Grand Avenue N
Kensington, MN 56343
Phone: (320) 965-7335
Runestone Auto Care
18 Central Avenue N
Kensington, MN 56343
Phone: (320) 965-2600
Runestone Insurance
26 Central Avenue N
Kensington, MN 56343
Phone: (320) 965-6254
Runestone Manufacturing
118 Railway Street
Kensington, MN 56343
Phone: (320) 965-2242
Runestone Mortgage
26 Central Avenue N
Kensington, MN 56343
Phone: (320) 965-6254
Runestone Park Barn
8755 County Road 103 SW
Kensington, MN 56343
Phone: (320) 965-9340
Solem Lutheran Church
9159 County Road 1 SW
Kensington, MN 56343
Phone: (320) 965-2523
Sonny's Limousine
16319 Cart Trail SW
Kensington, MN 56343
Phone: (320) 965-2310
South Elementary School
31 Central Avenue N
Kensington, MN 56343
Phone: (320) 965-2724
Spillman Gravel
12 Douglas Street E
Kensington, MN 56343
Phone: (320) 965-2794
Studio 22 Hair Salon
22 Central Avenue N
Kensington, MN 56343
Phone: (320) 965-6263
Tip Top Tree Service
7410 County Road 1 SW
Kensington, MN 56343
Phone: (320) 815-6634
Tower Street Day Care
15 Tower Street
Kensington, MN 56343
Phone: (320) 965-2714
Tri County Process Service
16688 County Road 96 SW
Kensington, MN 56343
Phone: (320) 965-2646
US Post Office
17 Central Avenue N
Kensington, MN 56343-4400
Phone: (320) 965-2765
Toll Free: (800) ASK-USPS
Web: www.usps.com
Valley Pines Machine & Fab
14976 County Road 107 SW
Kensington, MN 56343
Phone: (320) 524-2046
VSJ Machine
14355 State Highway 27 W
Kensington, MN 56343
Phone: (320) 283-6020
Western Consolidated Co-Op
10 Viking Drive
Kensington, MN 56343
Phone: (320) 965-2688
Wholesale Bannerz
14 Central Avenue N
Kensington, MN 56343
Phone: (320) 965-6232
---
---
Aerial Photo:
---
Topographic Map: [click map to enlarge, zoom in or zoom out]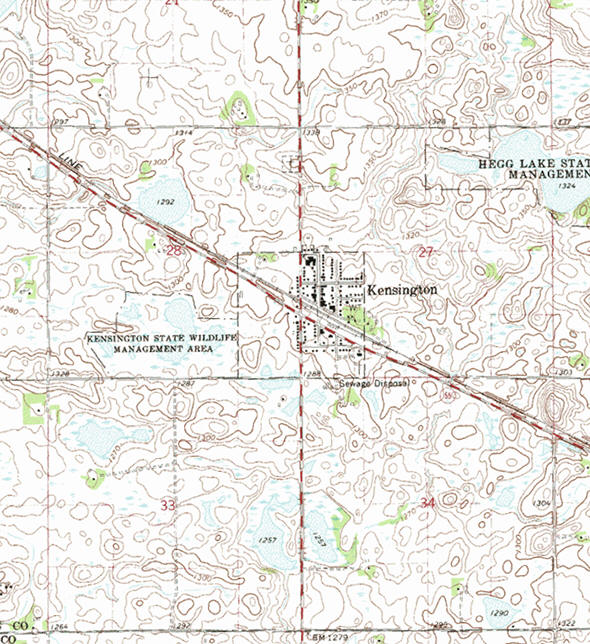 Topographic map is courtesy of the Minnesota DNR -
click map
to zoom or enlarge