Navigation
LakesnWoods.com
Home Page
Contact Us
Privacy
Minnesota History Shop

Visit The Minnesota History Shop
www.minnesotahistoryshop.com
Historic maps
Historic books
Historic framed art
Historic postcards
Clothing with historic images
And much more!!!


Kellogg Guide:
Photo Gallery
Location
Geography
Demographics
History
Government
Post Office
News
Weather
Street Map
Events
Attractions
Recreation
Lakes
Health Care
Schools
Churches
Media
Motels
Resorts
Campgrounds
Businesses
Aerial Photo
Topographic Map
© 2004-2023
Lakeweb1 Internet Services
All Rights Reserved
DCMA, Defamation, Copyright and Trademark Infingement Policy
WANTED!
Do you have photos, historical accounts or other items pertaining to the Kellogg area? Would you like to share this historical information with the world? LakesnWoods.com would like to publish your Kellogg photos (current or historical) or historical accounts on this website. Original materials can be returned and your privacy will be respected.

Kellogg Minnesota Community Guide
---
Location:
---
Population:
Kellogg (city)
1970
1980
1990
2000
2010
2000-2010 Change
Actual
Percent
Population
403
440
423
439
456
+17
+3.87
Land Area (sq. mile)
0.30
0.29
0.29
0.29
0.30
+0.01
+3.45
Density (persons per sq. mile)
1,343.33
1,517.24
1,458.62
1,511.00
1,520.00
+9.00
+0.60
Housing Units
139
161
171
177
208
+31
+17.51
Households
--
155
162
175
200
+25
+14.29
Persons Per Household
--
2.84
2.61
2.51
2.28
-0.23
-9.16
---
Geography:
Kellogg is a city in Wabasha County, Minnesota, along the Zumbro River. U.S. Route 61 and Minnesota State Highway 42 are two of the main routes in the community. According to the United States Census Bureau, the city has a total area of 0.31 square miles (0.80 km2); 0.30 square miles (0.78 km2) is land and 0.01 square miles (0.03 km2) is water. The elevation is 702 ft (214 m) above sea level.
From Wikipedia, the free encyclopedia.
---
Demographics:

As of the census of 2010, there were 456 people, 200 households, and 129 families residing in the city. The population density was 1,520.0 inhabitants per square mile (586.9/km2). There were 208 housing units at an average density of 693.3 per square mile (267.7/km2). The racial makeup of the city was 99.1% White, 0.7% Asian, and 0.2% from two or more races. Hispanic or Latino of any race were 0.2% of the population.

There were 200 households of which 28.5% had children under the age of 18 living with them, 50.5% were married couples living together, 8.5% had a female householder with no husband present, 5.5% had a male householder with no wife present, and 35.5% were non-families. 27.0% of all households were made up of individuals and 14% had someone living alone who was 65 years of age or older. The average household size was 2.28 and the average family size was 2.78.

The median age in the city was 41.5 years. 21.7% of residents were under the age of 18; 5.6% were between the ages of 18 and 24; 28.7% were from 25 to 44; 26.6% were from 45 to 64; and 17.5% were 65 years of age or older. The gender makeup of the city was 49.6% male and 50.4% female.
---
---
History:
KELLOGG, a city in sections 22 and 27 of Greenfield Township, founded in 1870, incorporated February 14, 1877, was named by officers of the Chicago, Milwaukee and St. Paul Railroad company, "in honor of a Milwaukee gentleman who furnished the depot signs," L. H. Kellogg, who died in 1873 (History of Winona and Wabasha Counties, p. 885). The post office was called Pawselin, 1862-72, and then changed to Kellogg.
Courtesy Minnesota Historical Society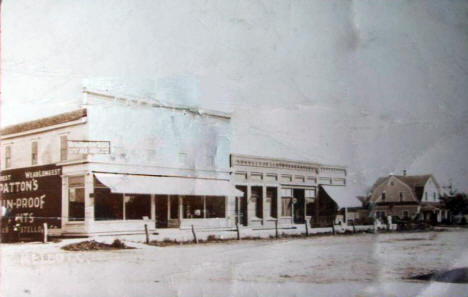 Street scene, Kellogg Minnesota, 1900s
LakesnWoods.com Postcard and Postcard Image Collection- click image to enlarge

Visit The Kellogg Photo Gallery for more recent and historic area photos
---
Government:
Kellogg City Hall
350 E Belvidere Avenue
PO Box 147
Kellogg, MN 55945
Phone: (507) 767-4953
Fax: (507) 767-4527

Regular Business Hours:
Monday - Friday 8:30 am - 2:00 pm

City Council Meetings:
2nd and 4th Wednesday at 6:30 pm


Title

Term Ends

Name
Phone
Mayor
12/31/2022
Dan Schmitz
235 Wapota Street SW - PO Box 172
Kellogg, MN 55945
(507) 656-4933
Clerk/Treasurer
appointed
Crystal Schouweiler
350 E Belvidere Avenue
Kellogg, MN 55945
(507) 767-4953
Council Member
12/31/2022
Mike Crilly
205 S Smith Street
Kellogg, MN 55945
(507) 764-2006
Council Member
12/31/2022
Pat Halverson
130 E Green Avenue
Kellogg, MN 55945
(651) 564-0663
Council Member
12/31/2024
Buck Gosse
235 W Winona Avenue
Kellogg, MN 55945
(507) 951-2402
Council Member
12/31/2024
Richard Reinhardt
320 1st Street N
Kellogg, MN 55945
(651) 269-4972
---
Post Office:
US Post Office
345 E Belvidere Avenue
Kellogg, MN 55945-9625
Phone: (507) 767-4993
Toll Free: (800) ASK-USPS

Regular Business Hours:
Week Days 10:00 am - 2:00 pm
Saturday 8:15 am - 10:15 am
---
---
Utilities:
| | | |
| --- | --- | --- |
| Utility Type | Utility Name | Utility Phone |
| Electricity | Xcel Energy | (800) 481-4700 |
| Natural Gas | n/a | n/a |
| Wastewater | n/a | n/a |
| Water | City of Kellogg | n/a |
| Telephone | Centurylink | (877) 837-5738 |
| Cable TV | n/a | n/a |
---
Major Employers:
Employer
Products/Services
Employees
n/a
---
---
News:
---
Weather:
---
Map: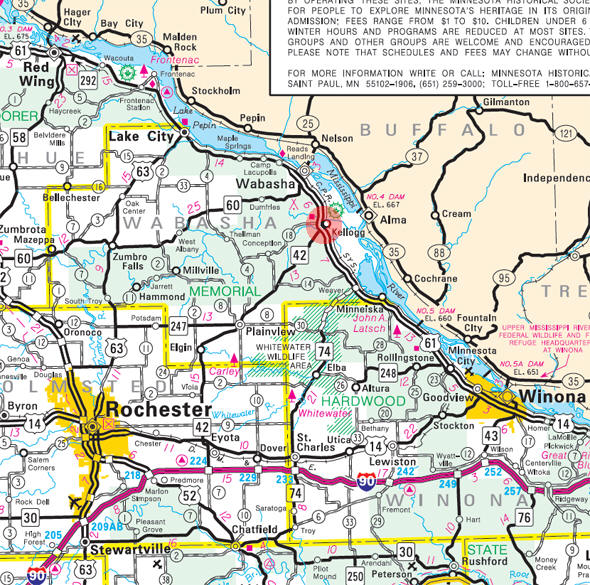 Minnesota State Highway Map of the Kellogg Minnesota area
---
Events:
---
---
Attractions:
---
Recreation:
---
Lakes:
Lake Name
Size
(acres)
Lake info
Lake Map
Rec Map
Topo Map
none in the immediate area
---
Health Care:
---
Schools:
---
Churches:
Immaculate Conception Church
22032 County Road 18
Kellogg, MN 55945
Phone: (507) 767-4939
St. Agnes Church
120 W Belvidere Avenue
Kellogg, MN 55945
Phone: (507) 565-3931
---
Media:
---
Motels:
Check for motel rates and availability on:
---
Resorts:
---
Campgrounds:
---
---
Businesses:
4.8 Skatepark
210 Zumbro Street
Kellogg, MN 55945
Phone: (612) 201-5083
BJ's Bar and Grill
61486 County Road 86
Kellogg, MN 55945
Phone: (507) 534-3590
Bluff View
22998 595th Street
Kellogg, MN 55945
Phone: (507) 534-3436
Bubbles N' Biscuits
60037 State Highway 42
Kellogg, MN 55945
Phone: (507) 259-7361
Countryside Sales
58985 State Highway 42
Kellogg, MN 55945
Phone: (507) 534-3617
Cowpokes Western Shop and Arena
19631 596th Street
Kellogg, MN 55945
Phone: (507) 767-4990
Danckwart Feed, Grain and Excavating
16240 627th Street
Kellogg, MN 55945
Phone: (507) 767-4946
Five Star Storage
58691 185th Avenue
Kellogg, MN 55945
Phone: (507) 767-4709
G & G Logging and Lumber
15751 Winona Avenue
Kellogg, MN 55945
Phone: (507) 767-4915
Gusa Construction
62668 State Highway 42
Kellogg, MN 55945
Phone: (507) 767-4963
Hall Electric
20004 County Road 18
Kellogg, MN 55945
Phone: (507) 767-4572
Hartert Hardware Plumbing and Heating
315 E Belvidere Avenue
Kellogg, MN 55945
Phone: (507) 767-4923
Harvest Master Inc.
25018 644th Street
Kellogg, MN 55945
Phone: (651) 565-4321
John Wolf and Sons
62651 220th Avenue
Kellogg, MN 55945
Phone: (507) 767-2280
Kellogg Auto Body
130 N Dodge Street
Kellogg, MN 55945
Phone: (507) 767-3352
Kellogg City Office
350 E Belvidere Avenue
Kellogg, MN 55945
Phone: (507) 767-4953
Komisar Furniture Repair
58755 170th Avenue
Kellogg, MN 55945
Phone: (507) 767-3313
Kwik Trip
115 S Knowlton Street
Kellogg, MN 55945
Phone: (507) 767-4768
Lark Toy Manufacturing
63604 170th Avenue
Kellogg, MN 55945
Phone: (507) 767-3387
Lark Toys and Carousel
171 Lark Lane
Kellogg, MN 55945
Phone: (507) 767-3387
Lawrence Transportation Company
233 W Glascow Avenue
Kellogg, MN 55945
Phone: (507) 767-3025
Milestone Materials
57515 County Road 86
Kellogg, MN 55945
Phone: (507) 534-1249
Petersen Painting
63143 County Road 13
Kellogg, MN 55945
Phone: (507) 565-0275
Progressive Ag Center
335 S Smith Street
Kellogg, MN 55945
Phone: (507) 767-3275
Quality Propane
62988 161st Avenue
Kellogg, MN 55945
Phone: (507) 767-3075
Repair Associates
220 N Dodge Street
Kellogg, MN 55945
Phone: (507) 767-3359
Shear Madness
310 E Belvidere Avenue
Kellogg, MN 55945
Phone: (507) 767-3006
Speedling Welding
62099 State Highway 42
Kellogg, MN 55945
Phone: (507) 767-3039
Stub's Pub and Grill
100 N Sheppard Street
Kellogg, MN 55945
Phone: (507) 767-3368
SVJ Creative Designs
62099 State Highway 42
Kellogg, MN 55945
Phone: (507) 767-3039
Theilman Opera House
62643 261st Avenue
Kellogg, MN 55945
Phone: (651) 565-0339
Thompson Construction
18482 E County Road 14
Kellogg, MN 55945
Phone: (507) 534-2977
Town and Country Cafe
320 E Belvidere Avenue
Kellogg, MN 55945
Phone: (507) 767-4593
United Health Group
110 E Winona Avenue
Kellogg, MN 55945
Phone: (507) 767-2256
US Post Office
345 E Belvidere Avenue
Kellogg, MN 55945
Phone: (507) 767-4993
Wabasha Complete Septic Service
16240 627th Street
Kellogg, MN 55945
Phone: (507) 767-4946
WNB Financial
350 E Belividere Avenue
Kellogg, MN 55945
Phone: (507) 767-4951
Yahooligan's Bar and Grill
100 N Sheppard Street
Kellogg, MN 55945
Phone: (507) 767-3368
---
---
Aerial Photo:
---
Topographic Map: [click map to enlarge, zoom in or zoom out]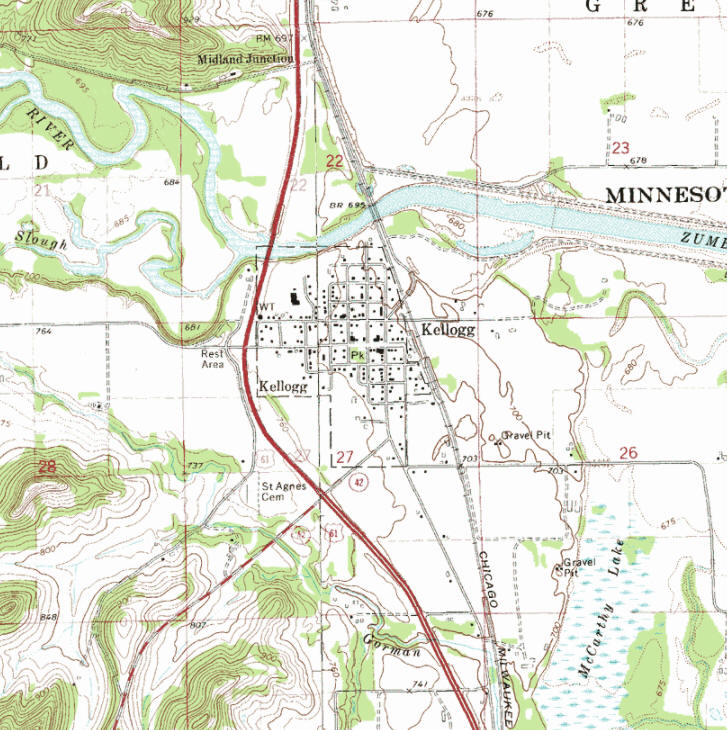 Topographic map is courtesy of the Minnesota DNR - click map to zoom or enlarge