Navigation
LakesnWoods.com
Home Page
Contact Us
Privacy
Minnesota History Shop

Visit The Minnesota History Shop
www.minnesotahistoryshop.com
Historic maps
Historic books
Historic framed art
Historic postcards
Clothing with historic images
And much more!!!


Jeffers Guide:
Photo Gallery
Location
Geography
Demographics
History
Government
Post Office
News
Weather
Street Map
Events
Attractions
Recreation
Lakes
Health Care
Schools
Churches
Media
Motels
Resorts
Campgrounds
Businesses
Aerial Photo
Topographic Map
© 2004-2023
Lakeweb1 Internet Services
All Rights Reserved
DCMA, Defamation, Copyright and Trademark Infingement Policy
WANTED!
Do you have photos, historical accounts or other items pertaining to the Jeffers area? Would you like to share this historical information with the world? LakesnWoods.com would like to publish your Jeffers photos (current or historical) or historical accounts on this website. Original materials can be returned and your privacy will be respected.

Jeffers Minnesota Community Guide
---
Location:
---
Population:
Jeffers (city)
1970
1980
1990
2000
2010
2000-2010 Change
Actual
Percent
Population
436
437
443
396
369
-27
-6.82
Land Area (sq. mile)
0.40
0.38
0.39
0.39
0.39
0
0.00
Density (persons per sq. mile)
1,090.00
1,150.00
1,135.90
1,024.97
971.10
-53.87
-5.26
Housing Units
199
208
199
200
196
-4
-2.00
Households
--
185
184
184
167
-17
-9.24
Persons Per Household
--
2.36
2.41
2.15
2.21
+0.06
+2.79
---
Geography:
Jeffers is a city in Amboy Township, Cottonwood County, Minnesota. Minnesota State Highway 30 and County Highway 4 are two of the main routes in the community. U.S. Route 71 is nearby. According to the United States Census Bureau, the city has a total area of 0.38 square miles (0.98 km˛), all land and an elevation of 1480 ft. above sea level.
From Wikipedia, the free encyclopedia.
---
Demographics:

As of the census of 2010, there were 369 people, 167 households, and 97 families residing in the city. The population density was 971.1 inhabitants per square mile (374.9/km2). There were 196 housing units at an average density of 515.8 per square mile (199.2/km2). The racial makeup of the city was 90.0% White, 0.5% Native American, 0.3% Asian, 6.2% from other races, and 3.0% from two or more races. Hispanic or Latino of any race were 7.0% of the population.

There were 167 households of which 26.3% had children under the age of 18 living with them, 44.3% were married couples living together, 9.0% had a female householder with no husband present, 4.8% had a male householder with no wife present, and 41.9% were non-families. 38.9% of all households were made up of individuals and 24% had someone living alone who was 65 years of age or older. The average household size was 2.21 and the average family size was 2.94.

The median age in the city was 46.4 years. 24.7% of residents were under the age of 18; 4.5% were between the ages of 18 and 24; 18.1% were from 25 to 44; 28.1% were from 45 to 64; and 24.4% were 65 years of age or older. The gender makeup of the city was 48.5% male and 51.5% female.
---
---
History:
JEFFERS, a city in Amboy Township, section 20, incorporated as a village on May 9, 1900, was named in honor of George Jeffers, a wealthy landowner, from whose homestead a part of the site of this railway village was purchased. The village was surveyed by the Chicago, Milwaukee and St. Paul Railroad in 1899, its first depot located in a box car. The townsite of 20 blocks, 4 blocks south and 5 blocks west of block 1, was platted by Frank H. Peavey, president of Interstate Land Co., and all streets were named after employees of the Peavey Elevator. The post office opened in 1900 in the Faust store, Albert A. Faust, first postmaster.
Courtesy Minnesota Historical Society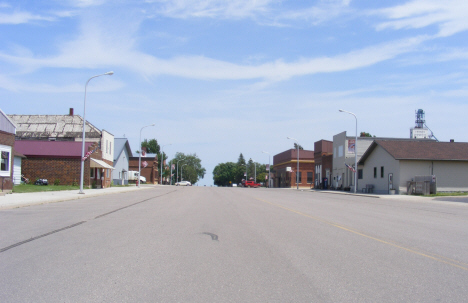 Street scene, Jeffers Minnesota, 2014
LakesnWoods.com photo - click image to enlarge

Visit The Jeffers Photo Gallery for more recent and historic area photos
---
Government:
Jeffers City Hall
106 S Deaver Avenue
Jeffers, MN 56145
Phone: (507) 628-4242

Regular Business Hours:
Tuesdays and Thursdays - 10 am to 3 pm Wednesdays - 3 pm to 6 pm
2nd and 4th Mondays - 5 pm to 7 pm

City Council Meetings:
2nd and 4th Monday of the month at 7:00 pm


Title
Term Ends
Name and Address
Phone
Mayor
12/31/2022
Brad Prins
209 W Whited Street
Jeffers, MN 56145
(507) 822-4630
Clerk/Treasurer
appointed
Sharen Goeman
106 S Deaver Avenue
Jeffers, MN 56145
(507) 628-4242
Council Member
12/31/2024
Curt Determan
203 W Woodman Street
Jeffers, MN 56145
(507) 628-5532
(507) 456-6920
Council Member
12/31/2024
Jacob Barlow
305 E Whited Street
Jeffers, MN 56145
(507) 822-2374
Council Member
12/31/2022
Shawna Dorr-Jones
205 E Clark Street
Jeffers, MN 56145
(507) 628-4604
Council Member
12/31/2022
Sheila Ryker
205 E Clark Street
Jeffers, MN 56145
(507) 628-4235
(507) 822-3531
---
Post Office:
US Post Office
120 E Whited Street
Jeffers, MN 56145-4723
Phone: (507) 628-4914
Toll Free: (800) ASK-USPS


Regular Business Hours:
Week Days 8:00 am - 12:00 pm
Saturday 8:15 am - 8:45 am
---
---
Utilities:
---
Major Employers:
Employer
Products/Services
Employees
n/a
---
---
News:
---
Weather:
---
Map: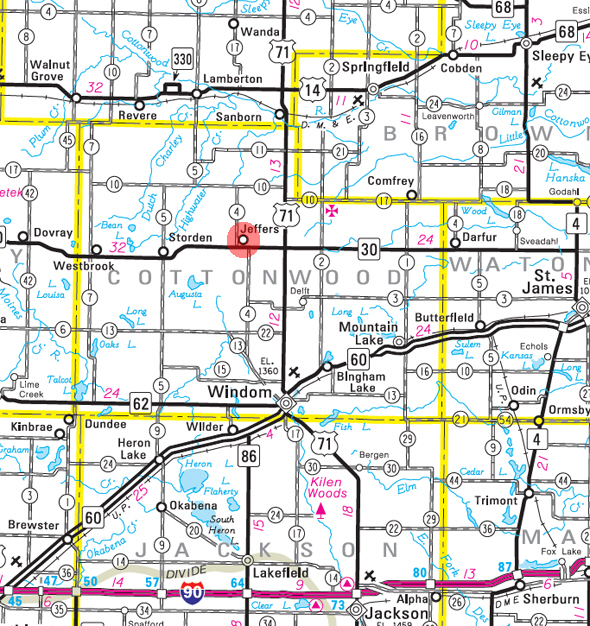 Minnesota State Highway Map of the Jeffers Minnesota area
---
Events:
---
Attractions:
Jeffers Petroglyphs
27160 County Road 2
Comfrey, MN 56019
Phone: (507) 628-5591

Amid the prairie grasses of southern Minnesota lies one of the state's most intriguing treasures-islands of exposed rock where ancient peoples left carved records of their existence nearly 5,000 years ago. Who made these carvings? What was their life like so long ago? Visit this unique place and decide for yourself
---
Recreation:
---
Lakes:
---
Health Care:
---
Schools:
Red Rock Central School District
100 6th Avenue E
Lamberton, MN 56152
Phone: (507) 752-7361
Web: www.redrockcentral.org



Red Rock Central School District is located in Redwood and Cottonwood Counties in southwestern Minnesota. We serve approximately 400 students in grades K-12 from the communities of Lamberton, Sanborn, Storden, Jeffers and the surrounding area. We also provide a preschool program for 3 and 4 year olds, as well as Early Childhood Family Education.



Red Rock Central School
100 6th Avenue E
Lamberton, MN 56152
Phone: (507) 752-7361

Grades: PK-12
Students: 400
Red Rock Elementary School
107 E Clark Street
Jeffers, MN 56145
Phone: (507) 628-5521

Grades: PK-4
Students: 133
---
Churches:
---
Media:
---
Motels:
Check for motel rates and availability on:
---
Resorts:
---
Campgrounds:
---
---
Businesses:
City Meat Market
105 W Whited Street
Jeffers, MN 56145
Phone: (507) 628-4200
Construction Haulers Inc.
106 W Whited Street
Jeffers, MN 56145
Phone: (507) 628-4234
Duroe Insurance Agency
102 E Whited Street
Jeffers, MN 56145
Phone: (507) 628-5533
Farmers Cooperative Oil Association
202 E Whited Street
Jeffers, MN 56145
Phone: (507) 628-4221
Jeffers Dray Line
115 E Whited Street
Jeffers, MN 56145
Phone: (507) 628-4651
Jeffers Implement Service
105 S Courthouse Avenue
Jeffers, MN 56145
Phone: (507) 628-5501
Jeffers Senior Citizens Center
108 W Whited Street
Jeffers, MN 56145
Phone: (507) 628-4869
Jeffers Wind 20 LLC
308 S County Road 52
Jeffers, MN 56145
Phone: (507) 628-4345
Larry Polzin Farms
PO Box 168
Jeffers, MN 56145
Phone: (507) 628-4856
Main Street Coffee Shop
110 W Whited Street
Jeffers, MN 56145
Phone: (507) 628-4694
Web: www.mainstreetcoffeeshopjeffers.com



Mainstreet Coffee Shop is owned and operated by Rick and Bev Quade in Southwest Minnesota. We are a restaurant featuring daily specials with ingredients from scratch, weekly and monthly Promotions, homemade baked goods, custom items including Desserts, Cakes, and Take and Bake Meals. Contact us for Catering an off site event or renting our facility for your Private Event. Like us on Facebook to see our Daily and Weekly Meal Special.

Miller's Repair
120 W Whited Street
Jeffers, MN 56145
Phone: (507) 628-5557
New Vision Co-op
412 E Peavey Street
Jeffers, MN 56145
Phone: (507) 628-5566
Web: www.newvision.coop
Northwind Great Danes
29773 County Road 4
Jeffers, MN 56145
Phone: (507) 628-4821
Web: www.northwindgreatdanes.com



We have an acreage in Southwest Minnesota where we have been raising Great Danes for over 25 years. We consider Danes the most beautiful and noble of all breeds. We are active in showing them. We have had sweepstakes winners, winners at specialties, several champions and several others nearing their titles. We offer well-bred puppies and stud service. We welcome visitors and inquiries for fine family companions or show prospect puppies. Member of the HMGDC.

Pudenz Body Shop
47848 State Highway 30
Jeffers, MN 56145
Phone: (507) 628-4209
Red Rock Quarry
48511 270th Street
Jeffers, MN 56145
Phone: (507) 628-4220
Web: www.redrockquarry.com



Red Rock Quarry had been serving southern Minnesota and northern Iowa since 2006. We are locally owned and operated. Red Rock Quarry offers MNDOT certified aggregates used in cement and road construction. We also have Structural Base products and Rip Rap for Erosion control. Call our main office to discuss bulk order discounts. Trucking is available.

Red Rock Rural Water System
305 W Whited Street
Jeffers, MN 56145
Phone: (507) 831-1061
Web: www.redrockruralwater.com



We provide and distribute safe and affordable water to our community. We have been serving our community since 1981. In the event of after hour outages and emergency situations, please call our office at 507-628-4201 to get in contact with our on call person 24/7. For Billing questions, please call our office during our regular office hours.

Roger Haar State Farm Insurance
104 S Courtside Avenue
Jeffers, MN 56145
Phone: (507) 628-4626
Schwartz Farms Inc.
31959 430th Avenue
Jeffers, MN 56145
Phone: (507) 628-4323
Slipper Inn
111 E Whited Street
Jeffers, MN 56145
Phone: (507) 628-4645
South Central Electric Association
215 S Courtside Avenue
Jeffers, MN 56145
Phone: (507) 628-5571
Web: www.southcentralelectric.com



South Central Electric Association (SCEA) is a member owned rural electric cooperative for 4700 members in southern Minnesota. SCEA has members in Watonwan, Cottonwood, Martin, Jackson, Brown and Blue Earth counties. Our goal is to provide safe, reliable and affordable electricity to our members.

State Bank of Jeffers
102 E Whited Street
PO Box 128
Jeffers, MN 56145
Phone: (507) 628-5533
Web: www.statebankofjeffers.com
US Post Office
120 E Whited Street
Jeffers, MN 56145-4723
Phone: (507) 628-4914
Toll Free: (800) ASK-USPS
Web:

www.usps.com
---
---
Aerial Photo:
---
Topographic Map: [click map to enlarge, zoom in or zoom out]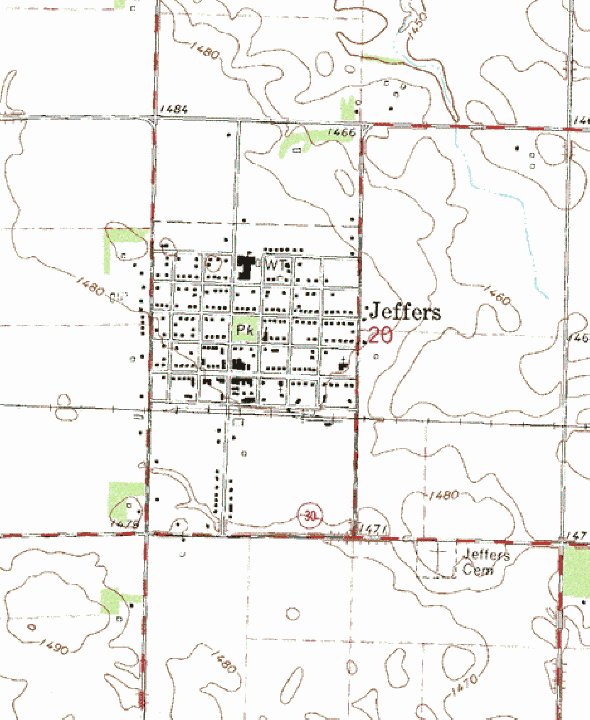 Topographic map is courtesy of the Minnesota DNR - click map to zoom or enlarge