Navigation
LakesnWoods.com
Home Page
Contact Us
Privacy
Minnesota History Shop

Visit The Minnesota History Shop
www.minnesotahistoryshop.com
Historic maps
Historic books
Historic framed art
Historic postcards
Clothing with historic images
And much more!!!


Janesville Guide:
Photo Gallery
Location
Geography
Demographics
History
Government
Post Office
News
Weather
Street Map
Events
Attractions
Recreation
Lakes
Health Care
Schools
Churches
Media
Motels
Resorts
Campgrounds
Businesses
Aerial Photo
Topographic Map
© 2004-2023
Lakeweb1 Internet Services
All Rights Reserved
DCMA, Defamation, Copyright and Trademark Infingement Policy
WANTED!
Do you have photos, historical accounts or other items pertaining to the Janesville area? Would you like to share this historical information with the world? LakesnWoods.com would like to publish your Janesville photos (current or historical) or historical accounts on this website. Original materials can be returned and your privacy will be respected.


(design available on over 100 different items!)


(design available on over 100 different items!)

Janesville Minnesota Community Guide
---
Location:
Janesville is a dynamic community located 15 miles east of Mankato, MN and 10 miles west of Waseca, MN on Highway 14. It's commute time to its neighbors is within minutes from its neighbors and just over one hour to the Twin Cities metro area.

Within the last five years, Janesville has experienced a high level of growth in housing and new subdivisions. Continued growth is expected with the completed expansion of Highway 14.

Other features of Janesville include the city-owned electric utility plant, a full service nursing home and Prairie Ridge Golf Course, a nine-hole reversible golf course. One of only a few reversible golf courses in the U.S., players can shoot nine on the "South Course" and the next week shoot nine on the "North Course.
---
Population:
Janesville (city)
1970
1980
1990
2000
2010
2000-2010 Change
Actual
Percent
Population
1,557
1,897
1,969
2,109
2,256
+147
+6.97
Land Area (sq. mile)
1.00
0.82
1.01
1.28
1.75
+0.47
+36.72
Density (persons per sq. mile)
1,557.0
2,313.4
1,949.5
1,653.3
1,289.1
-364.2
-22.03
Housing Units
544
726
771
848
958
+110
+12.97
Households
--
677
738
816
889
+73
+8.95
Persons Per Household
--
2.74
2.61
2.54
2.54
0
0.00
---
Geography:
Janesville is a city in Waseca County, Minnesota. U.S. Route 14 serves as a main arterial route in the community. According to the United States Census Bureau, the city has a total area of 1.75 square miles (4.53 km²), all of it land. The elevation is 1,066 ft (325 m) above sea level.
From Wikipedia, the free encyclopedia.
---
Demographics:
As of the census of 2010, there were 2,256 people, 889 households, and 619 families residing in the city. The population density was 1,289.1 inhabitants per square mile (497.7 /km2). There were 958 housing units at an average density of 547.4 per square mile (211.4 /km2). The racial makeup of the city was 98.0% White, 0.4% African American, 0.3% Native American, 0.2% Asian, 0.3% from other races, and 0.8% from two or more races. Hispanic or Latino of any race were 1.3% of the population.
There were 889 households of which 35.9% had children under the age of 18 living with them, 56.1% were married couples living together, 8.8% had a female householder with no husband present, 4.7% had a male householder with no wife present, and 30.4% were non-families. 25.1% of all households were made up of individuals and 10.4% had someone living alone who was 65 years of age or older. The average household size was 2.49 and the average family size was 2.97.
The median age in the city was 35.4 years. 27.1% of residents were under the age of 18; 6.1% were between the ages of 18 and 24; 29.5% were from 25 to 44; 22.3% were from 45 to 64; and 14.8% were 65 years of age or older. The gender makeup of the city was 48.1% male and 51.9% female.
---
---
History:
JANESVILLE Township, organized May 17, 1858, received the earlier name of its village. Old Janesville, the original village, on the west side of Lake Elysian, was called Empire, but an addition was platted in 1856 by J. W. Hosmer, who "named it Jane for Mrs. Jane Sprague, and then, by general consent of the villagers, the 'Jane' was enlarged by adding to it 'ville,' and Janesville resulted and was accepted as the name of the whole village" (Stennett, Place Names of the Chicago and Northwestern Railways, 1908, p. 87). During the winter of 1869-70 nearly all the buildings of the previous townsite were removed to the new railway village site, called East Janesville, platted in August 1869, for the Winona and St. Peter Railroad company. On May 10, 1870, the new village was incorporated as Janesville (History of Steele and Waseca Counties, pp. 616, 617, 622); the village was reincorporated on April 10, 1877. Old Janesville was also known as Ike Terill Trading Post when located in section 28. The post office was established in 1858. Among the first settlers was the Woolson family; son Albert Henry Woolson, who joined the army during the Civil War, was the last surviving member of the Union Army in the United States (born 1847 in New York and came to Minnesota in 1862, died in Duluth in 1956).
Courtesy Minnesota Historical Society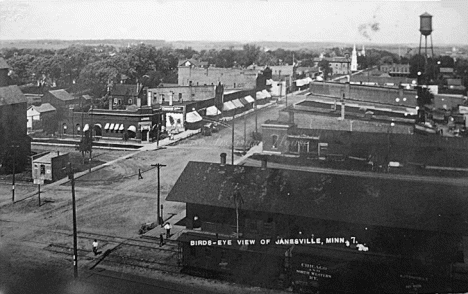 Birds eye view, Janesville Minnesota, 1911
LakesnWoods.com Postcard and Postcard Image Collection- click image to enlarge

Visit The Janesville Photo Gallery for more recent and historic area photos

---
Government:
Janesville City Hall
101 N Mott Street
PO Box O
Janesville, MN 56048
Phone: (507) 234-5110
Fax: (507) 234-5236


Regular Business Hours:
Monday - Friday 8:00 am to 4:30 pm

City Council Meetings:
2nd and 4th Monday of each month at 7:00 pm

Title
Term Ends
Name and Address
Phone
Mayor
12/31/2022
Andrew P. Arnoldt
209 Main Street - PO Box 371
Janesville, MN 56048


(507) 327-6836
City Administrator
appointed
Clinton Rogers
101 N Mott Street - PO Box O
Janesville, MN 56048
(507) 234-5110
Council Member
12/31/2022
Mike Santo
404 W 4th Street
Janesville, MN 56048
(507) 234-5794
Council Member
12/31/2022
Melissa Kopachek
701 N Market Street
Janesville, MN 56048
(507) 995-8333
Council Member
12/31/2024
Andy Ahlman
536 Oakwood Drive
Janesville, MN 56048
(507) 340-0155
Council Member
12/31/2024
James "Jim" Mulcahey
103 W North Street
Janesville, MN 56048
(507) 461-1065
---
Post Office:
US Post Office
101 N Main Street
Janesville, MN 56048-9539
Phone: (507) 234-5381
Toll Free: (800) ASK-USPS
Fax: (507) 234-5381

Regular Business Hours:
Week Days 8:30 am - 11:30 am
12:30 pm - 4:30 pm
Saturday 8:30 am - 9:30 am
---
---
Utilities:
---
Major Employers:
---
---
News:
---
Weather:
---
Map: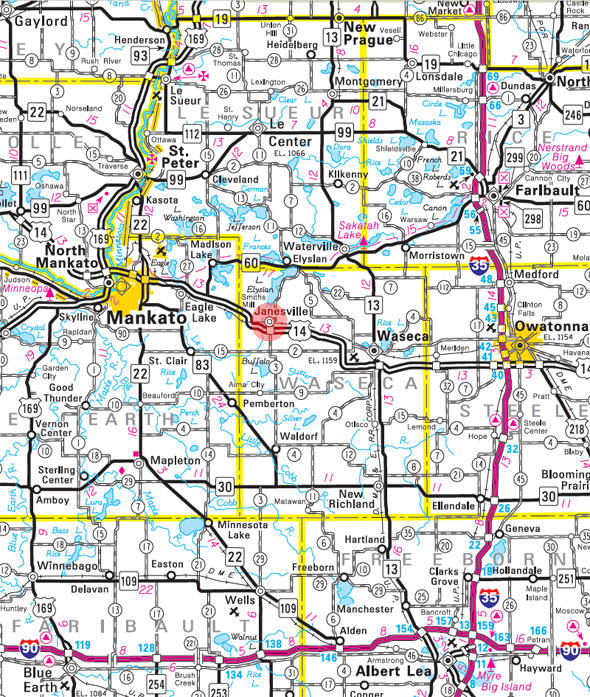 Minnesota State Highway Map of the Janesville Minnesota area
---
Events:
---
---
Attractions:
---
Recreation:
Prairie Ridge Golf Course
2000 N Main Street
Janesville, MN 56048
Phone: (507) 234-5505
Web: www.prairieridgegolf.com

Located in Janesville, Minnesota, Prairie Ridge Golf Club is a Joel Goldstrand-designed 9 hole, par 36 reversible golf course. The only reversible course in southern MN, there is something for everyone whether you play the North course or South. Fun and challenging for golfers of all ages and skill levels, we welcome you to experience our course and friendly staff.
---
Lakes:
---
Health Care:
---
Schools:
---
Churches:
Faith Lutheran Church
300 Owen Street
Janesville, MN 56048
Phone: (507) 234-6463

Pastor: n/a
Sunday Worship: n/a

Immanuel Lutheran Church - LCMS
30266 35th Street
Janesville, MN 56048
Phone: (507) 835-2621

Pastor: Rev Glenn Korb
Sunday Worship: n/a

Janesville United Methodist Church
401 1/2 N West Street
Janesville, MN 56048
Phone: (507) 234-5350
Web: www.jeumc.org

Pastor: Rev. Bescye P. Burnett
Sunday Worship: 10:00 am

St. Ann's Catholic Church
307 W 2nd Street
Janesville, MN 56048
Phone: (507) 234-6244
Web: www.churchofstann.com

Pastor: Fr. Peter Klein
Saturday Mass: 5:00 pm
Sunday Mass: 9:30 am

St. John Lutheran Church - WELS
1891 321st Avenue
Janesville, MN 56048
Phone: (507) 234-5353

Pastor: n/a
Sunday Worship: n/a

Trinity Lutheran Church
20574 631st Avenue
Janesville, MN 56048
Phone: (507) 234-5547

Pastor: 8:30 am
Sunday Worship: Keith Bilitz

Trinity Lutheran Church
418 N Main Street
Janesville, MN 56048
Phone: (507) 231-5189
Web: www.trinityjanesville.com

Pastor: Larry Griffin
Sunday Worship: 8:00 am, 9:15 am and 10:30 am
---
Media:
---
Motels:
Check for motel rates and availability on:
---
Resorts:
---
Campgrounds:
Reinbold Sportsmen Campground
40050 30th Street
Janesville, MN 56048
Phone: (507) 234-5440
Web: www.sportsmencampground.com

Take the family on a vacation camping trip to Reinbold Sportsmen Campground and create your own memories. Whether its taking a stroll to go fishing on the fishing piers of Lake Elysian with your children, playing video games in our game room, playing horseshoes, basketball and volleyball, or just relaxing around our heated swimming pool. Perhaps, a stroll around the campground or a trip to the convenience store for a treat just before you sit around the evening campfire.
---
---
Businesses:
2-Way Radio of Minnesota Inc
114 N Main Street
Janesville, MN 56048
Phone: (507) 234-5279
Web: www.2wayradioofmn.com



With over 30 years of experience, 2-Way Radio Ken Renze, owner of 2-Way Radio of Minnesota has the knowledge to assist you on two-way radio issues for public safety, agricultural and industrial needs. We sell portable and mobile two-way radios and a wide variety of accessories for them. We specialize in designing and servicing of your radio system. Our main vendor is Vertex Standard but we also service all brands of mobiles and portables.

A A King Construction
102 W 1st Street
Janesville, MN 56048
Phone: (507) 231-4648
A & B Heating & Air Conditioning
713 N Main Street
Janesville, MN 56048
Phone: (507) 234-5294
Akorn Creations


104 N Main Street




Janesville, MN 56048


Phone: (507) 234-2266
Web: www.akorncreations.com
Airwave Solutions
214 N Main Street
Janesville, MN 56048
Phone: (507) 234-6469
Web: www.awsolutionsmn.com



Airwave Solutions is your local and trusted DISH Network Authorized Retailer, who is located in Janesville, MN offering the best DISH Network special promotions at the lowest all-digital price every day!

American Gutter Filter Inc
4784 390th Avenue
Janesville, MN 56048
Phone: (507) 317-0711
Androli Farm
7291 425th Avenue
Janesville, MN 56048
Phone: (507) 267-4686
Animal Health International
118 N Main Street
Janesville, MN 56048
Phone: (507) 231-4625
Arnoldt McRaith Funeral Home
107 N Skookum Street
Janesville, MN 56048
Phone: (507) 234-6775
Web: www.kohlmcraithfuneral.com

When someone we care about dies, whether the death is expected or unexpected, we find ourselves unprepared. The following are some guidelines as to the steps that need to be taken when a loved one dies. We have also included some suggestions on how to help a grieving friend.

Assist-2-Sell
108 N Main Street
Janesville, MN 56048
Phone: (507) 231-3333
Web: www.assist2sellmn.com

Providing a superior level of informed, Professional Real Estate Services to Buyers and Sellers in the Waseca, Janesville, Owatonna, Faribault, Northfield, and Southern Minnesota Areas.

FULL SERVICE WITH $AVINGS! We'll sell your home for only $2,995 commission!

B & D Tractor Repair
414 S Main Street
Janesville, MN 56048
Phone: (507) 234-5553
Bagy Jo Too
124 North Main Street
Janesville, MN 56048-9537
Phone: (507) 231-0338
Web: www.bagyjotoojanesville.com



Bagy Jo Too offers embroidery and screen printing services to all of Janesville, MN. We have been in business for more than 15 years. We are committed to providing excellent service that guarantees satisfaction.

Bankers Equipment Service
123 N Main Street
Janesville, MN 56048
Phone: (507) 231-4599
Barbknecht Construction Co LLC
5601 412th Avenue
Janesville, MN 56048
Phone: (507) 234-5616
Barry Auto Glass
311 398th Avenue
Janesville, MN 56048
Phone: (507) 231-5869
Berry Transport
807 N Craig Street
Janesville, MN 56048
Phone: (507) 835-5056
Bert Mulcahey Farm
39659 50th Street
Janesville, MN 56048
Phone: (507) 234-6301
Bill's Repair
109½ W Mill Street
Janesville, MN 56048
Phone: (507) 231-6273
Blasing Electric
230 N Main Street
Janesville, MN 56048
Phone: (507) 234-5630
Borneke Construction
3525 343rd Avenue
Janesville, MN 56048
Phone: (507) 234-2221
Web: www.bornekeconstruction.com

Borneke Construction was founded in 1965 by Don Borneke in rural south central Minnesota. We specialize in road building, industrial, commercial and residential developing, demolition, sewer and water installation, and all residential excavation needs. Our Renewable Energy Division has completed civil work on more than two dozen wind farm projects throughout the central corridor of the USA from the Canadian Border to Texas.

Boss Supply Inc
414 S Main Street
Janesville, MN 56048
Phone: (507) 234-5594
Web: www.bosssupplyinc.com



We are your Southern Minnesota Sprayer Headquarters. We deal in Ace Pumps, Hypro, Nuhn, Raven Industries, Banjo, TeeJet, and Fast Sprayers. We have many sprayer parts on hand. Give us a call today to see how our team can help you out with your farming needs.

Burke Farms
37166 50th Street
Janesville, MN 56048
Phone: (507) 234-5130
Burns Sales and Service
414 S Main Street
Janesville, MN 56048
Phone: (507) 231-5842
Web: www.burns-sales.com



Specializing in manure handling equipment, new tanks, used tanks, and a large inventory of manure tank parts in stock. We also specialize in grain handling, spraying, and many other farm equipment needs.

Cahill Pharmacy
131 N Main Street
Janesville, MN 56048
Phone: (507) 231-6255
Web: www.cahillpharmacy.com

We have been serving the pharmacy needs for the people of Janesville and the surrounding communities since 1981. We hope you will find the information about our products, promotions and us useful. Thanks for checking out our website. We appreciate your business and interest in our store.

Cosmic Cowboy and Company
910 320th Avenue
Janesville, MN 56048
Phone: (507) 234-5261
Crystal Valley Co-Op
7840 Old US Highway 14
Janesville, MN 56048
Phone: (507) 234-5610
Web: www.crystalvalley.coop



Crystal Valley Cooperative is a local full-service cooperative with 150 full-time employees serving the agronomy, energy, feed, and grain customer. We began in 1927 and have nine locations serving Blue Earth, Brown, LeSueur, Nicollet, Steele, Watonwan, and Waseca counties and surrounding areas in south central Minnesota. We strive to meet the needs of livestock and crop farmers through the expertise of our friendly, knowledgeable staff, high-quality products, and modern facilities and equipment. In addition to agricultural customers, we also serve patrons in many local communities who purchase home heat and transportation fuel from our energy department.

Dairy Queen
106 E 1st Street
Janesville, MN 56048
Phone: (507) 234-5426
Web: www.dairyqueen.com
Dane's Auto Body and RV Rentals
200 E 1st Street
Janesville, MN 56048
Phone: (507) 995-9856
Web: www.danesmn.com



Our experienced service department will keep your vehicle in top condition. We use the latest diagnostic technology to provide high-quality service and quick turnaround. Our mechanics are highly skilled and have years of experience. Most of all: they love cars and care about yours.

DBS Brokerage




138 N Main Street




Janesville, MN 56048




Phone: (507) 231-2017

Dave Kruse Repair
32249 30th Street
Janesville, MN 56048
Phone: (507) 234-5234
Elysian Fields Development LLC
41732 W Elysian Lake Road
Janesville, MN 56048
Phone: (507) 234-6391
Events at Patti's Place
40342 West County Line Road
Janesville, MN 56048
Phone: n/a
Web: www.eventsatpattisplace.com



Visit my beautifully restored old country home. Hardwood floors, natural woodwork, pocket doors and custom kitchen filled with all your necessaties awaits you and your guests. Perfect for Scrapbooking weekends, Quilters retreats, Pinterest Parties, etc.

Expressway Janesville
701 E 1st Street
Janesville, MN 56048
Phone: (507) 234-5154
Frechette Trucking
205 S Teal Street
Janesville, MN 56048
Phone: (507) 234-5545
Froehlich Sandblasting & Paint
2441 330th Avenue
Janesville, MN 56048
Phone: (507) 234-5429
Fury's Barber Shop
209 N Main Street
Janesville, MN 56048
Phone: (507) 234-6287
Gardner Tax Service
216 N Main Street
Janesville, MN 56048
Phone: (507) 234-5106
Web: www.gardnertaxmn.com



We are a full-service tax preparation firm located in Janesville, MN. We provide tax services for individuals, small business and farms. We are affordable, experienced, and friendly.

Green Scene Nursery & Landscaping
601 E 1st Street
Janesville, MN 56048
Phone: (507) 234-8733



We are a full service garden center. We design, deliver and install. Let us help you make your outdoor space as personalized as inside your home.

Guardian Energy
4745 380th Avenue
Janesville, MN 56048
Phone: (507) 534-5003
Web: www.guardiannrg.com

Guardian Energy– a joint venture between ethanol plants in Little Falls, Benson, Claremont, and Winthrop, Minnesota as well as Mason City, Iowa and Minden, Nebraska – have purchased the 100 million gallon per year ethanol plant in Janesville. "As locally-owned and operated facilities, we are proud to continue the tradition of local ownership and excited about the economic opportunities this plant will bring to Janesville and the entire Southern Minnesota community," said Ben Brown, CEO of Heartland Corn Products and Secretary of Guardian's Board.

Hefty Seed Company
706 E 2nd Street
Janesville, MN 56048
Phone: (507) 231-6144
Web: www.heftyseed.com



We farm, too, and we know it's difficult to make it on the farm. We're always trying to figure out ways to help you earn more money so you can not just survive, but thrive. It's our sincere goal for you to not only produce the safest and most abundant food supply in the world, we'd also like to see you get rich doing it. Thanks for your business in the past, and thank you for the opportunity to continue to serve you in 2014 and beyond!

Highway 14 Auto & Motor Sports
107 E 1st Street
Janesville, MN 56048
Phone: (507) 234-6221
Holy Spirit Retreat Center
3864 420th Avenue
Janesville, MN 56048
Phone: (507) 234-5712
Web: www.holyspiritrc.org



No Matter What The Minnesota Season -- all of nature will welcome you to our 35 acres of wooded shoreland for a time of refreshment alone or with a group. Picture Owned and staffed by the Sisters of Saint Francis of Rochester, Minnesota, Holy Spirit Retreat Center welcomes people of all faiths to come, listen and respond to the Spirit of God speaking within.

Indian Island Winery
18018 631st Avenue
Janesville, MN 56048
Phone: (507) 234-6222
Web: www.indianislandwinery.com



Indian Island Winery is a farm winery with grapes grown in our own vineyard and other local growers. Indian Island Winery is a family operated business owned by Ray and Lisa Winter in partnership with son Tom, daughter Angie, and daughter-in-law Angela. Our winery was built on a site once used by Native Americans as a summer hunting camp. Teeming with wildlife, the land once was nearly 100% surrounded by water. Throughout past years, many artifacts have been found keeping us intrigued by the history of these grounds.

Inspirations Salon
123 N Main Street
Janesville, MN 56048
Phone: (507) 234-5566
J L Fabrication
34995 35th Street
Janesville, MN 56048
Phone: (507) 234-6220
Jack Ward & Sons
16207 605th Lane
Janesville, MN 56048
Phone: (507) 869-3750
Janesville Agency Inc
201 N Main Street
Janesville, MN 56048
Phone: (507) 234-5646
Janesville Bowl
307 N Main Street
Janesville, MN 56048
Phone: (507) 231-5247
Janesville Cabinet & Window
303 E 1st Street
Janesville, MN 56048
Phone: (507) 231-4575
Janesville Car Wash
201 S Main Street
Janesville, MN 56048
Phone: (507) 231-4612
Janesville Chamber of Commerce
101 N Mott Street
Janesville, MN 56048
Phone: (507) 234-5110
Janesville Chiropractic Center
133 N Main Street
Janesville, MN 56048
Phone: (507) 234-5134
Janesville City Hall
101 N Mott Street
Janesville, MN 56048
Phone: (507) 234-5112
Janesville Elevator Construction
33063 15th Street
Janesville, MN 56048
Phone: (507) 234-5340
Janesville Fire Hall
Janesville, MN 56048
Phone: (507) 234-5486

Janesville Hardware




213 N Main Street




Janesville, MN 56048




Phone: (507) 234-5278

Janesville Mini Storage
509 E 2nd Street
Janesville, MN 56048
Phone: (507) 231-6464
Janesville Nursing Home
102 E North Street
Janesville, MN 56048
Phone: (507) 231-5113
Web: www.janesvillenursinghome.com

Our city-owned facility, located in Janesville, MN, lies among a farming community in the south-central part of Minnesota and is conveniently located 18 miles east of Mankato and 10 miles west of Waseca along Highway 14. Our doors first opened on October 5, 1965 with the capacity to hold 39 residents. In 1994, we expanded our "south wing" to hold our current 45-bed facility. Our facility is fully licensed for Medical Assistance and 100% Medicare certified. You will find comfortable living quarters with 13 private and 16 semi-private rooms. Residents are encouraged to furnish their own rooms with their favorite chairs or personal effects.

Janesville Police Department
101 N Mott Street
Janesville, MN 56048
Phone: (507) 234-5111
Janesville Power Plant
219 N Main Street
Janesville, MN 56048
Phone: (507) 234-5112
Janesville Public Library
100 W 2nd Street
Janesville, MN 56048
Phone: (507) 234-6605
Janesville Service Center
211 S Main Street
Janesville, MN 56048
Phone: (507) 231-6742
Janesville State Bank
201 N Main Street
Janesville, MN 56048
Phone: (507) 234-5108
Web: www.janesvillestatebank.com

From the very beginning Janesville State Bank has made agriculture a cornerstone of our business. Whether you have a large farm operation or you are a part-time or hobby farmer, the lenders at JSB have the experience and expertise to provide the best solution for you. At Janesville State Bank we are committed to the success of the agricultural community.

Janesville Tile Supply
414 S Main Street
Janesville, MN 56048
Phone: (507) 234-5553
Janesville Tire Service
105 N Teal Street
Janesville, MN 56048
Phone: (507) 234-2234
Jason Witt Farm
31643 35th Street
Janesville, MN 56048
Phone: (507) 234-5202
JDH Hair Design
20811 Ocean Road
Janesville, MN 56048
Phone: (507) 388-3211
Jemco
208 S Main Street
Janesville, MN 56048
Phone: (507) 234-5392
Joe's Mobile Home Repair
511 N Teal Street
Janesville, MN 56048
Phone: (507) 234-6882
John Kahnke Farm
33851 15th Street
Janesville, MN 56048
Phone: (507) 234-6962
John Pemble Farm
62429 195th Street
Janesville, MN 56048
Phone: (507) 245-3805
K & B Restaurants
228 N Main Street
Janesville, MN 56048
Phone: (507) 234-5460
Keeley Brothers
6775 Old US Highway 14
Janesville, MN 56048
Phone: (507) 234-5245
Kraft Werk Upholstery
108½ W South Street
Janesville, MN 56048
Phone: (507) 231-5874
Kretzschmar Sales
43168 Reeds Lake Road
Janesville, MN 56048
Phone: (507) 267-4796
Kruse Insulation
32249 30th Street
Janesville, MN 56048
Phone: (507) 234-5234
Kuskie's Salvage
8114 415th Avenue
Janesville, MN 56048
Phone: (507) 835-8176
Lamperts
110 E Front Street
Janesville, MN 56048
Phone: (507) 234-6292
Web: www.lampertyards.com

Lamperts has been serving the building trade for over 100 years. Quality and service are a tradition at Lamperts. We have drafting services available or you may choose from hundreds of existing plans. We do business with some of the most experienced contractors in the industry and will assist you in partnering with the right person for your project.

Legends Bar and Grill
210 N Main Street
Janesville, MN 56048
Phone: (507) 231-5400
Lutheran Nutrition Social Service
106 E North Street
Janesville, MN 56048
Phone: (507) 234-5232
Malecha Auctioneering
36461 60th Street
Janesville , MN 56048
Phone: (507) 461-3313
Fax: (507) 833-3730
Web: www.malechaauctions.com

Malecha Auctioneering is a full service auction company that is focused on providing high-quality service and customer satisfaction - we will do everything we can to meet your expectations. Honesty and integrity is always our number one priority when dealing with our clients. As a full service auction company dealing with real estate, household/estate, business, farm, charity/fundraising, I can assist you with all of your auction needs from start to finish, including advertising, set up, selling and clerking.

Mayo Clinic Health System
312 N Main Street
Janesville, MN 56048
Phone: (507) 231-5118
Web: www.mayoclinichealthsystem.org



Your health care needs always come first at Mayo Clinic Health System – Waseca in Janesville, whether that means primary care or specialty care services.

McPherson Crop Management
414 S Main Street
Janesville, MN 56048
Phone: (507) 234-2224
Web: www.mcmfarmworks.com

McPherson Crop Management Offers You:


* 2 1/2 Acre Grid Program
* 4-6 Acre Zone Management Option
* 8-12 Acre Composits for Manure Management
* Ag Leader Yield Monitor Sales & Support
* Farm Works Software & Hardware
* GreenSeeker NDVI Mapping for Variable Nitrogen Applications
* Crop Scouting & Troubling Shooting
* Yield Mapping & Analysis
* Yield Mapping overlays



Melcher's Power-Vac Inc
37339 73rd Street
Janesville, MN 56048
Phone: (507) 451-0822
Melchior Siding & Insulation
419 W North Street
Janesville, MN 56048
Phone: (507) 231-6679
Morton Buildings
603 E 1st Street
Janesville, MN 56048
Phone: (507) 234-5186
Web: www.mortonbuildings.com



For more than 110 years, Morton Buildings has provided quality and superior service to people looking for an attractive, long-lasting building. Each year we construct thousands of projects and have more than 250,000 satisfied customers.

Mr. C's Liquor
110 E 1st Street
Janesville, MN 56048
Phone: (507) 231-5708
Ms. Mac's Antiques
100 N Main Street
Janesville, MN 56048
Phone: (507) 234-2226
Web: www.msmacsantiques.com



Ms. Mac's Antiques is located in Janesville, Minnesota in a unique two story building full of Antiques, Primitives, Quilts, Architectural elements and many other unique items!

Nicolai Masonry
61544 185th Street
Janesville, MN 56048
Phone: (507) 245-3370
Okaman Inc
43978 Reeds Lake Road
Janesville, MN 56048
Phone: (507) 267-4054
Page Truck Repair
20518 631st Avenue
Janesville, MN 56048
Phone: (507) 234-5211
Palmer Bus Service Inc
521 County Road 15 E
Janesville, MN 56048
Phone: (507) 245-3417
Pampered Chef
701 N Market Street
Janesville, MN 56048
Phone: (507) 2345521
Park Road Plaza Apartments
106 E North Street
Janesville, MN 56048
Phone: (507) 231-5880
Park Road Plaza Beauty Shop
106 E North Street
Janesville, MN 56048
Phone: (507) 234-5790
Patton Hoversten & Berg
216 N Main Street
Janesville, MN 56048
Phone: (507) 234-5106
Web: www.phblawoffice.com

No matter how big or how small a problem may seem, the law firm of Patton, Hoversten & Berg, P.A., can help. With offices located in Waseca, Owatonna, and Janesville, we have been providing top-quality legal service to the people of Southern Minnesota for over fifty years. Our attorneys practice in many areas including: personal injury litigation, estate planning and probate, family law, bankruptcy, real estate, criminal law, and business law.

Prairie Ridge Golf Course
2000 N Main Street
Janesville, MN 56048
Phone: (507) 234-5505
Web: www.prairieridgegolf.com



Located in Janesville, Minnesota, Prairie Ridge Golf Club is a Joel Goldstrand-designed 9 hole, par 36 reversible golf course. Fun and challenging for golfers of all ages and skill levels, we welcome you to experience our course and friendly staff.

Purple Goose Eatery & Saloon
228 N Main Street
Janesville, MN 56048
Phone: (507) 234-5460

Genuine Broasted Chicken to Go, From Casual to Elegant Catering, Friday Night Prime Rib and Shrimp Specials, Freshly Made Salads, Everything We Serve Is Made From Scratch, Customized Menus, Banquets, Wraps, Customized Catering for All Occasions, Corporate/Luncheons, Catering Available, Burger's & Sandwiches, Hall Rental, Homemade Pizzas & Burgers, Kids Meals, Weddings, Specializing In Broasted Chicken, Appetizers

Quality Repair Service
39161 20th Street
Janesville, MN 56048
Phone: (507) 234-6429
Reinbold Sportsmen Campground
40050 30th Street
Janesville, MN 56048
Phone: (507) 234-5440
Web: www.sportsmencampground.com



Take the family on a vacation camping trip to Reinbold Sportsmen Campground and create your own memories. Whether its taking a stroll to go fishing on the fishing piers of Lake Eylsian with your children, playing video games in our game room, playing horseshoes, basketball and volleyball, or just relaxing around our heated swimming pool. Perhaps, a stroll around the campground or a trip to the convenience store for a treat just before you sit around the evening campfire.

Reunion King
19683 623rd Avenue
Janesville, MN 56048
Phone: (507) 234-2211
Rhinestone's
110 S Main Street
Janesville, MN 56048
Phone: (507) 234-9904
Roemhildt Farm
615 340th Avenue
Janesville, MN 56048
Phone: (507) 234-6423

Ryderz Bar & Grill




115 N Main Street




Janesville, MN 56048




Phone: (507) 231-5337

Schrom Construction
303 E 1st Street
Janesville, MN 56048
Phone: (507) 234-5662
Sherry Tuohy Insurance
138 N Main Street
Janesville, MN 56048
Phone: (507) 234-5115
Simply Saved Thrift Store
107 W 1st Street
Janesville, MN 56048
Phone: n/a



Simply Saved Thrift Store is a non-profit thrift store located in Janesville, Minnesota. We emphasize clean, quality items at a reasonable price. Our goal is to aid the community of Janesville.

Smiths Mill Implement Inc
23065 206th Street
Janesville, MN 56048
Phone: (507) 234-5191
Web: www.smithsmillimp.com



We are one store dealer located in Smiths Mill, Minnesota. We have been serving south central Minnesota for many years. Our main lines are Massey Ferguson, White, Sunflower, Gleaner, Hesston, New Holland, and Versatile. We also carry many short lines. If we don't have what you are looking for on the lot, give us a call as we always have trades coming in.

Southtown Mobile Home Park
401 S Elm Street
Janesville, MN 56048
Phone: n/a
Subway
514 E 1st Street
Janesville, MN 56048
Phone: (507) 234-6444
Sue's Beauty Shop
98 Meadow Lane
Janesville, MN 56048
Phone: (507) 234-5644
Summers Ridge Veterinary Clinic
107 W 1st Street
Janesville, MN 56048
Phone: (507) 234-6929
Web: www.summersridgevet.com



Summers Ridge Veterinary Clinic offers comprehensive and premier health care for large and small animals in the Janesville, MN community. We are headed by Dr. Troy Summers, who has been providing excellent service with more than 25 years of experience.

Thomas Adams Real Estate & Insurance
101 N Teal Street
Janesville, MN 56048
Phone: (507) 231-4555
Toby's Barber Shop
138 N Main Street
Janesville, MN 56048
Phone: (507) 234-2202
Treasures of the Heart
235 390th Avenue
Janesville, MN 56048
Phone: (507) 234-6804
Tropics Bar
122 N Main Street
Janesville, MN 56048
Phone: (507) 461-5540
U C Laboratory
129 N Main Street
Janesville, MN 56048
Phone: (507) 234-5835
US Post Office
101 N Main Street
Janesville, MN 56048-9539
Phone: (507) 234-5381
Toll Free: (800) ASK-USPS
Fax: (507) 234-5381
Web: www.usps.com
Vinson Plumbing & Heating
36277 10th Street
Janesville, MN 56048
Phone: (507) 234-6436
Waldorf Construction
31073 35th Street
Janesville, MN 56048
Phone: (507) 234-6777

Winterhaven Vineyard and Nursery




18103 628th Avenue




Janesville, MN 56048




Phone: (507) 234-5469




Web:

www.winterhavengrapevines.com

Winterhaven Vineyard was established in the spring of 2000. The vineyard currently covers over 10 acres with over 6000 vines, and growing. We have 17 different varieties at this time and adding more every year. We are focusing on the newest cold hardy varieties.

Wiste's Meat Market
208 N Main Street
Janesville, MN 56048
Phone: (507) 234-6278
Web: www.wistesmeatmarket.com



Stepping foot into Wiste's is like taking a step into the past. Janesville's small town charm, the store's smokehouse aroma, and our friendly service makes you feel right at home. We offer a variety of specialty meats, a full line of groceries, and homemade bakery items. New surprises await every time you visit!

Xcel Energy
219 N Main Street
Janesville, MN 56048
Phone: (507) 234-5370
---
---
Aerial Photo:
---
Topographic Map: [click map to enlarge, zoom in or zoom out]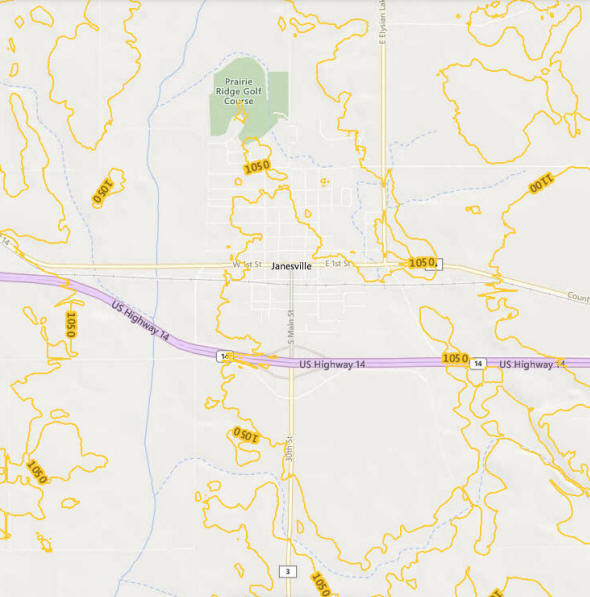 Topographic map is courtesy of the Minnesota DNR - click map to zoom or enlarge