Navigation
LakesnWoods.com
Home Page
Contact Us
Privacy
Minnesota History Shop

Visit The Minnesota History Shop
www.minnesotahistoryshop.com
Historic maps
Historic books
Historic framed art
Historic postcards
Clothing with historic images
And much more!!!


Hokah Guide:
Photo Gallery
Location
Geography
Demographics
History
Government
Post Office
News
Weather
Street Map
Events
Attractions
Recreation
Lakes
Health Care
Schools
Churches
Media
Motels
Resorts
Campgrounds
Businesses
Aerial Photo
Topographic Map
© 2004-2023
Lakeweb1 Internet Services
All Rights Reserved
DCMA, Defamation, Copyright and Trademark Infingement Policy
WANTED!
Do you have photos, historical accounts or other items pertaining to the Hokah area? Would you like to share this historical information with the world? LakesnWoods.com would like to publish your Hokah photos (current or historical) or historical accounts on this website. Original materials can be returned and your privacy will be respected.


(design available on over 100 different items!)

Hokah Minnesota Community Guide
---
Location:
---
Population:
Hokah (city)
1970
1980
1990
2000
2010
2000-2010 Change
Actual
Percent
Population
697
686
687
614
580
-34
-5.54
Land Area (sq. mile)
1.00
0.73
0.72
0.71
0.75
+0.04
+5.63
Density (persons per sq. mile)
697.00
939.73
954.17
860.13
794.5
-65.63
-7.63
Housing Units
239
276
284
278
287
+9
+3.24
Households
--
261
273
271
275
+4
+1.48
Persons Per Household
--
2.63
2.52
2.27
2.11
-0.16
-7.05
---
Geography:
Hokah is a city in Houston County, Minnesota. Minnesota State Highways 16 and 44 are two of the main routes in the community. Minnesota State Highway 26 is nearby. According to the United States Census Bureau, the city has a total area of 0.75 square miles (1.94 km²), of which, 0.73 square miles (1.89 km²) of it is land and 0.02 square miles (0.05 km²), is water. The elevation is 702 ft (214 m) above sea level.
From Wikipedia, the free encyclopedia.
---
Demographics:
As of the census of 2010, there were 580 people, 275 households, and 152 families residing in the city. The population density was 794.5 inhabitants per square mile (306.8/km2). There were 287 housing units at an average density of 393.2 per square mile (151.8/km2). The racial makeup of the city was 96.6% White, 0.2% African American, 0.7% Native American, 0.3% from other races, and 2.2% from two or more races. Hispanic or Latino of any race were 1.4% of the population.
There were 275 households of which 28.4% had children under the age of 18 living with them, 37.8% were married couples living together, 12.0% had a female householder with no husband present, 5.5% had a male householder with no wife present, and 44.7% were non-families. 38.5% of all households were made up of individuals and 10.5% had someone living alone who was 65 years of age or older. The average household size was 2.11 and the average family size was 2.76.
The median age in the city was 39.4 years. 24% of residents were under the age of 18; 9% were between the ages of 18 and 24; 24.3% were from 25 to 44; 31.9% were from 45 to 64; and 11% were 65 years of age or older. The gender makeup of the city was 51.0% male and 49.0% female.
---
---
History:
HOKAH Township, settled in 1851, organized May 11, 1858, bears the Dakota name of the Root River, which is its English translation. Hutkan is the spelling of the word by Stephen R. Riggs and Dr. Thomas S. Williamson in their Dakota dictionaries, 1852 and 1902, but it is spelled Hokah on the map by Joseph N. Nicollet, published in 1843, and on the map of Minnesota Territory in 1850. A part of the site of the village, which was platted in March 1855, had been earlier occupied by the village of a Dakota leader named Hokah. This railway village was incorporated March 2, 1871. The city of Hokah reincorporated on April 23, 1923, and separated from the township. It was first settled by Edward Thompson, who built a sawmill in 1852, a flour mill in 1853, and a dam in 1866 across the Root River in anticipation of the Southern Minnesota Railroad coming; the railroad caused the population to increase tenfold. Thompson Creek south of Hokah and Mt. Tom are named for Thompson. Part of the city was called Slab Town for the houses built on slabs from the sawmill. The post office began in 1856.
Courtesy Minnesota Historical Society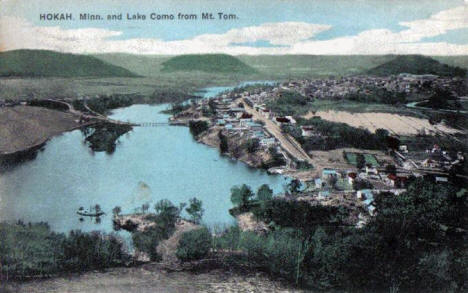 Hokah Minnesota and Lake Como from Mount Tom, 1909
LakesnWoods.com Postcard and Postcard Image Collection - click to enlarge

Visit The Hokah Photo Gallery for more recent and historic area images


---
Government:
Hokah City Hall
211 Main Street
PO Box 311
Hokah, MN 55941
Phone: (507) 894-4990
Fax: (507) 894-3777

Regular Business Hours:
Monday, Wednesday Thursday and Friday, 8:00 am – 5:00 pm, Tuesday 8:00 am to 1:00 pm

Council Meetings are the first Tuesday of the month at 6:00 pm at the Hokah Fire Department, 9 Mill Street, Hokah, MN 55941

Title
Term Ends
Name and Address
Phone
Mayor
12/31/2022
Lee I. Tippery
119 Main Street
Hokah, MN 55941
(608) 304-0219
City Clerk/Treasurer
appointed
Lindsey Martell
211 Main Street
Hokah, MN 55941
(507) 894-4990
Council Member
12/31/2022
Don Bissen
105 Main Street
Hokah, MN 55941
(507) 894-4949
Council Member
12/31/2022
Jerry Martell
301 Cedar Path
Hokah, MN 55941
(507) 894-4558
Council Member
12/31/2024
Cynthia Pfiffner
407 7th Street - PO Box 215
Hokah, MN 55941
(608) 738-2637
Council Member
12/31/2024
Tom Oldenburg
201 6th Street
Hokah, MN 55941
(507) 450-2110
---
Post Office:
US Post Office
49 Main Street
Hokah, MN 55941-6500
Phone: (507) 894-4608
Toll Free: (800) ASK-USPS

Regular Business Hours:
Week Days 8:00 am - 12:00 pm
12:30 pm - 2:30 pm
Saturday 8:00 am - 10:30 am
---
---
Utilities:
---
Major Employers:
Employer
Products/Services
Employees
n/a
---
---
News:
---
Weather:
---
Map: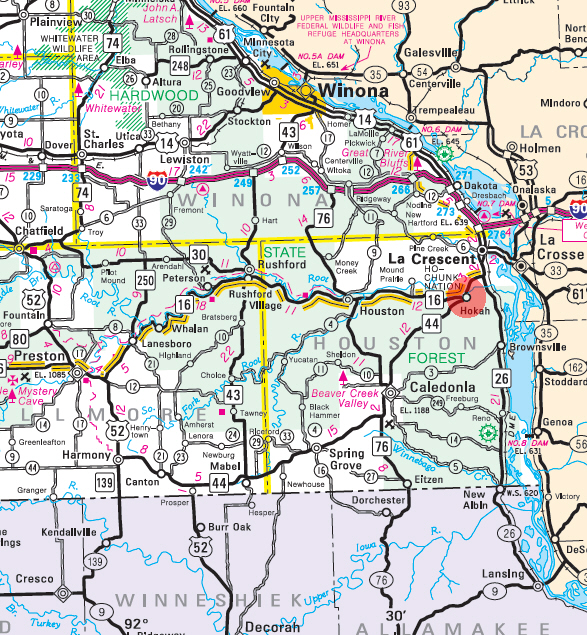 Minnesota State Highway Map of the Hokah Minnesota area
---
Events:
---
---
Attractions:
---
Recreation:
---
Lakes:
---
Health Care:
---
Schools:
---
Churches:
Community Church of Hokah
204 Main Street
Hokah, MN 55941
Phone: (507) 894-4466
Web: www.communitychurchofhokah.com

Pastor: Dave Possing
Sunday Worship: 9:00 am


Hokah United Methodist Church
148 Main Street
Hokah, MN 55941
Phone: (507) 894-4501

Pastor: Debra L King Quale
Sunday Worship:

9:00 am

Jehovah's Witnesses Kingdom Hall
6752 State Highway 44
Hokah, MN 55941
Phone: (507) 894-4576

Pastor: n/a
Sunday Worship:

n/a

St. Peter's Church
34 Main Street
Hokah, MN 55941
Phone: (507) 894-4375
Web: www.rootrivercatholics.com

Pastor: Father Pratap Reddy Salibindla, OFM
Sunday Mass: 8:00 am


Zion Lutheran Church - WELS
310 Ash Street
Hokah, MN 55941
Phone: (507) 894-4850

Pastor: n/a
Sunday Worship: n/a


---
Media:
---
Motels:
Check for motel rates and availability on:
---
Resorts:
---
Campgrounds:
---
---
Businesses:
7 Rivers Surplus LLC
4905 Highway 16
Hokah, MN 55941
Phone: (507) 894-7770
Web: www.7riverssurplus.com

7 Rivers Surplus in Hokah MN has Quality Used Equipment, Surplus Tools, Electrical, LED Lighting and Overstocks since 1998. At 7 Rivers Surplus, our inventory is constantly changing. Many items are one of a kind. As a result, we invite you to periodically walk through our 4 buildings and 2 acres to see what we have.




A1 Precision Pumping
550 Mount Tom
PO Box 266
Hokah, MN 55941
Phone: (507) 790-6615
Web: www.a1precisionpumping.com



Call right now and schedule an Septic Appointment. Before it's an emergency. Call anytime! 7 Days a Week! We pump tanks through the manhole, not the inspection pipe. The first time and every time! A1 Precision Pumping is a company dedicated to providing quality and environmentally safe services. We work to build a personal, yet professional relationship with all of our customers. A1 Precision Pumping is happy to be of service to the homeowners of the Houston, Winona and Filmore Counties of Minnesota.

Bluff Country Family Resources
114 Main Street
Hokah, MN 55941
Phone: (507) 894-2676
Web: www.bluffcountry.org



Bluff Country Family Resources, Inc. is a 501 (c)(3) dedicated to providing high quality services to victims of domestic violence and sexual assault in Houston County, MN. We began as Houston County Women's Resources in 1984. Information about our specific program services is located on the programs page.

Fabricating Technologies
6639 County 18
Hokah, MN 55941
Phone: (507) 894-4908
Hair Haven
409 7th Street
Hokah, MN 55941
Phone: (507) 894-4261


Hall Rocker Inc.
8799 Butterfield Valley Road
Hokah, MN 55941
Phone: (507) 894-4597
Web: www.hallrocker.com



Hall Rocker, Inc. was established in 1990 by Ed Hall, owner, and has provided roofing services to the La Crosse, Wisconsin and surrounding Tri-State area since that time. Then in 2013, Hall Rocker, Inc. purchased an excavating business and added this as an additional service to its business. Ed is a licensed contractor in both Minnesota and Wisconsin.

Hokah Bait Company
527 Mount Tom
Hokah, MN 55941
Phone: (507) 894-4717
Hokah City Auditorium
57 Main Street
Hokah, MN 55941
Phone: (507) 894-4990
Hokah City Offices
211 Main Street
PO Box 311
Hokah, MN 55941
Phone: (507) 894-4990
Fax: (507) 894-3777
Web:

www.cityofhokah.com

Hokah Cooperative Oil Association
113 Main Street
Hokah, MN 55941
Phone: (507) 894-4480


Hokah Fire Department
9 Mill Street
Hokah, MN 55941
Phone: (507) 894-1500

Hokah Fire Department proudly protects 1580 people living in an area of 66 square miles. We operate out of 1 station that protects a primarily rural area. Our department is a public department whose members are on a volunteer status. Hokah is located in the heart of Minnesota's Scenic Bluff Country. The Hokah Fire Department serves the City of Hokah and Hokah Township and parts of the Townships of Mound Prairie, Union, and Brownsville. The fire department was first organized July 19, 1883. The Hokah Fire Department is an all volunteer fire department. The Hokah Fire Department consists of 31 Firemen and First Responders. The Department also consists of 5 members that are first responders only.


Hokah Hardware Inc
52 Main Street
Hokah, MN 55941
Phone: (507) 894-4511



Browse through three huge rooms filled to the brim with hardware and discount merchandise plus our lower-level Dollar Cellar to find a special deal. There's something for everyone! "If we don't have it, you don't need it!"




Hokah Police Department
211 Main Street
Hokah, MN 55941
Phone: (507) 894-4777


Hokah Public Library
57 Main Street
Hokah, MN 55941
Phone: (507) 894-2665
Web: www.cityofhokah-mn.gov/library.html



Located in the lower level of the historic Hokah City Hall, the Hokah Public Library is truly "far more than you'd expect"! Home to a collection of over 25,000 items, our library has resources to engage, educate, and excite people of all ages. In addition to all of the items you'd expect to find at your local library, including books, magazines, CDs, and movies, the Hokah Library also has unique items such as snowshoes and cake pans! Our library has a collection that grows and changes to meet the needs of our community.

Hummer's Pub
106 Main Street
Hokah, MN 55941
Phone: (507) 894-4718



Small town bar with friendly company. Come on down for happy hour. Monday-Friday 4-6pm. Monday night is ladies night and don't forget Saturday Drinko :)




Kwik Trip
477 N Mill Street
Hokah, MN 55941
Phone: (507) 894-4800
Web: www.kwiktrip.com/Locations/Details/825
Main Street Designs
51 Main Street
Hokah, MN 55941
Phone: (507) 894-4811


Main Street Saloon
56 Main Street
Hokah, MN 55941
Phone: (507) 894-4500


McCabe Roofing & Crane Service
108 Fremont Street
Hokah, MN 55941
Phone: (507) 894-4266
Neon Shop
129 Main Street
Hokah, MN 55941
Phone: (507) 894-4016



The Neon Shop is family run business, established in 1987. Check in with us here to keep up with our latest projects and commissions.




Olson's Hardwood Floors
101 Main Street
Hokah, MN 55941
Phone: (507) 894-9663
Omni Electronics
100 Falls Street
Hokah, MN 55941
Phone: (507) 894-4754
Sanden Realty
406 8th Street # 31
Hokah, MN 55941
Phone: (507) 894-4589
Web: www.sandenrealty.com



Sanden Realty and Auction is a locally owned family business licensed to serve Southeast Minnesota, Northeast Iowa and Western Wisconsin in the purchase, sale, or appraisal of homes and properties. Over the years, we have built a sterling reputation throughout the Coulee Region for honesty, integrity and customer satisfaction. Let us help you with any of your real estate, appraisal, or auction needs.

Senn's Service
530 Mill Street
Hokah, MN 55941
Phone: (507) 894-4488
Tri-State Auto Outlet
601 State Highway 16
Hokah, MN 55941
Phone: (507) 894-2465
Web: www.tri-stateautooutlet.net


Twin Pines Nursery
6270 State Highway 44
Hokah, MN 55941
Phone: (507) 894-6634


Union Valley Vineyard & Winery
6622 Union Ridge Drive
Hokah, MN 55941
Phone: (608) 780-1188



Small Minnesota Farm winery, growing cold climate grapes with 220 vines, as well purchase grapes from local Vineyards and fruit growers.




US Post Office
49 Main Street
Hokah, MN 55941
Phone: (507) 894-4608
Web: www.usps.com
Vetsch Construction
9391 Union Ridge Drive
Hokah, MN 55941
Phone: (507) 894-4600
Walcker Brothers Electric
48 Main Street
Hokah, MN 55941
Phone: (507) 894-4300
---
---
Aerial Photo:
---
Topographic Map: [click map to enlarge, zoom in or zoom out]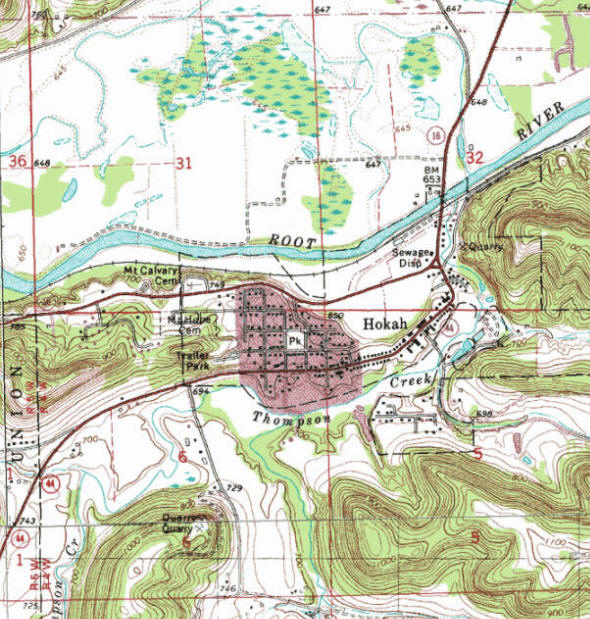 Topographic map is courtesy of the Minnesota DNR - click map to zoom or enlarge