Navigation
LakesnWoods.com
Home Page
Contact Us
Privacy
Minnesota History Shop

Visit The Minnesota History Shop
www.minnesotahistoryshop.com
Historic maps
Historic books
Historic framed art
Historic postcards
Clothing with historic images
And much more!!!


Hendrum Guide:
Photo Gallery
Location
Geography
Demographics
History
Government
Post Office
News
Weather
Street Map
Events
Attractions
Recreation
Lakes
Health Care
Schools
Churches
Media
Motels
Resorts
Campgrounds
Businesses
Aerial Photo
Topographic Map
© 2004-2023
Lakeweb1 Internet Services
All Rights Reserved
DCMA, Defamation, Copyright and Trademark Infingement Policy
WANTED!
Do you have photos, historical accounts or other items pertaining to the Hendrum area? Would you like to share this historical information with the world? LakesnWoods.com would like to publish your Hendrum photos (current or historical) or historical accounts on this website. Original materials can be returned and your privacy will be respected.


(design available on over 100 different items!)

Hendrum Minnesota Community Guide
---
Location:
---
Population:
Hendrum (city)
1970
1980
1990
2000
2010
2000-2010 Change
Actual
Percent
Population
311
336
309
315
307
-8
-2.54
Land Area (sq. mile)
0.20
0.27
0.18
0.28
0.28
0
0.00
Density (persons per sq. mile)
1,555.00
1,244.44
1,716.67
1,112.30
1,096.43
-15.87
-1.43
Housing Units
124
147
140
139
143
+4
+2.88
Households
--
129
119
120
124
+4
+3.33
Persons Per Household
--
2.60
2.60
2.63
2.48
-0.15
-5.70
---
Geography:
Hendrum is a city in Norman County, Minnesota, United States, in the Red River Valley between the Red River of the North and the Wild Rice River. According to the United States Census Bureau, the city has a total area of 0.33 square miles (0.85 km2), all of it land. The elevation is 873 ft (266 m) above sea level.
From Wikipedia, the free encyclopedia.
---
Demographics:
As of the census of 2010, there were 307 people, 124 households, and 82 families residing in the city. The population density was 930.3 inhabitants per square mile (359.2/km2). There were 143 housing units at an average density of 433.3 per square mile (167.3/km2). The racial makeup of the city was 94.8% White, 0.7% Native American, and 4.6% from other races. Hispanic or Latino of any race were 8.1% of the population.
There were 124 households of which 30.6% had children under the age of 18 living with them, 53.2% were married couples living together, 8.1% had a female householder with no husband present, 4.8% had a male householder with no wife present, and 33.9% were non-families. 31.5% of all households were made up of individuals and 12.1% had someone living alone who was 65 years of age or older. The average household size was 2.48 and the average family size was 3.12.
The median age in the city was 37.3 years. 27.7% of residents were under the age of 18; 7.7% were between the ages of 18 and 24; 23.2% were from 25 to 44; 27.7% were from 45 to 64; and 13.7% were 65 years of age or older. The gender makeup of the city was 49.5% male and 50.5% female.
---
---
History:
HENDRUM Township, organized in 1880, and its city in section 30, founded in 1881, are named from a district or group of farms in Norway, whence some of the early settlers of this township came. The village was platted in 1883 and incorporated on August 26, 1901. Johanas Hagen (1820-1902) was postmaster on his farm, two miles north of the present site, when the post office was established in 1878; Hagen helped organize the township and village. An alternative version of the origin of the village's name is that it was for his wife, Olava Hindrum Hagen (1831-97). It had a station of the Great Northern Railway.
Courtesy Minnesota Historical Society
---
Government:
Hendrum City Hall
308 Main Street E
PO Box 100
Hendrum, MN 56550
Phone: (218) 861-6210

Regular Business Hours:
Monday - Wednesday 9:00 am - 5:00 pm
Thursday 9:00 am - 1:00 pm

City Council Meetings:
2nd Monday of the month at 7:30 pm


Title

Term Ends

Name
Phone
Mayor
12/31/2022
Curt Johannsen
214 Canning Street E - PO Box 111
Hendrum, MN 56550
(701) 799-6732
Clerk/Treasurer
appointed
Keri Plemmons
PO Box 100
Hendrum, MN 56550
(218) 861-6210
Council Member
12/31/2022
Paul Baukol
112 Park Avenue E
Hendrum, MN 56550
(218) 861-6721
Council Member
12/31/2022
Steve Jeffery
262 Herbert Street S
Hendrum, MN 56550
(218) 861-9004
Council Member
12/31/2024
Brian Schlapkohl
336 Main Street W
Hendrum, MN 56550
(218) 861-6421
Council Member
12/31/2024
Mike Smart
325 Main Street E
Hendrum, MN 56550
(218) 861-6420
---
Post Office:
US Post Office
307 Main Street E
Hendrum, MN 56550-9998
Phone: (218) 861-6247
Toll Free: (800) ASK-USPS

Regular Business Hours:
Week Days 8:00 am - 12:00 pm
Saturday 8:30 am - 9:45 am
---
---
Utilities:
---
Major Employers:
---
---
News:
---
Weather:
---
Map:
View Larger Map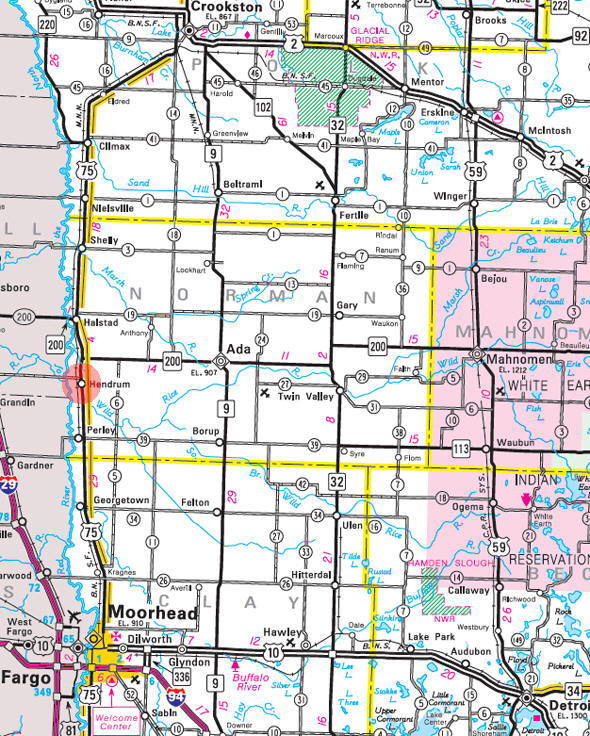 Minnesota State Highway Map of the Hendrum Minnesota area
---
Events:
---
---
Attractions:
Historic King of Trails
Scenic Byway

The "Historic King of Trails", US Highway 75, begins in Winnipeg, Manitoba, Canada and passes through Clay County as it makes its way through Minnesota and five additional states, ending at the Gulf of Mexico in Galveston, Texas. Map of Clay County with Highway 75 identified

The "King of Trails" (KT) was designated by the State of Minnesota as "The Historic King of Trails" in 2001. Learn more about the history of the KT, view maps, and check out events, including the Highway 75 Marketplace by visiting the "Historic King of Trails" web site.
---
Recreation:
---
Lakes:
Lake Name
Size
(acres)
Lake info
Lake Map
Rec Map
Topo Map

none
---
Health Care:
none - served by clinics and hospitals in Moorhead, Ada and Halstad
---
Schools:
---
Churches:
---
Media:
---
Motels:
Check for motel rates and availability on:
---
Resorts:
---
Campgrounds:
Hendrum Community Park/Campground
1/2 mile E of Hendrum on County Road 25
Phone: (218) 861-6210

Camping - Campsites with electrical hookups, flush toilets, water hookups. RV hookups.

Information - Picnic tables, shelter, playground, ball park, and bleachers. There is a boat launch on the Red River with groceries, restaurant, gas and fuel stations nearby. (Hendrum is noted for catfish fishing on the Red River of the North just west of the city, and other species in the Red and Wild Rice rivers north and east of the city)
---
---
Businesses:
American Crystal Sugar
1240 State Highway 200
Hendrum, MN 56650
Phone: (218) 861-6216
Berg Auction Service
1543 170th Avenue
Hendrum, MN 56550
Phone: (218) 861-6265
Car's Cars
130 Park Avenue W
Hendrum, MN 56550
Phone: (218) 861-6661

Evergreen Apartments


Main Street W
Hendrum, MN 56550
Phone: (218) 861-6284
Final Touch Proofreading
402 Gordon Street E
Hendrum, MN 56550
Phone: (218) 861-6315
Hammars Farm Airport
1893 220th Street
Hendrum, MN 56550
Phone: (218) 784-4826
Hendrum City Hall
308 Main Street E
PO Box 100
Hendrum, MN 56550
Phone: (218) 861-6210
Web: www.hendrummn.com
Hendrum Fire Department
Hendrum, MN 56550
Phone: (218) 861-6300
Heritage Publications
308 Main Street E
Hendrum, MN 56550
Phone: (218) 861-6708
Hetland Auto Sales
Highway 75
Hendrum, MN 56550
Phone: (218) 861-6243
Johnson Law Office
224 Quincy Street N
Hendrum, MN 56550
Phone: (218) 861-6150
KLA Truck and Trailer
224 Quincy Street N
Hendrum, MN 56550
Phone: (218) 861-6100
Lake Agassiz Regional Library
308 Main Street E
Hendrum, MN 56550
Phone: (218) 861-6028
Web: www.larl.org/hendrum
Last Chance Saloon & Off-Sale
303 Main Street
Hendrum, MN 56550
Phone: (218) 861-6680
Markola Farms
1389 140th Street
Hendrum, MN 56550
Phone: (218) 861-6649
Matthew J Nelson Construction
116 Park Avenue E
Hendrum, MN 56550
Phone: (218) 861-6533
Nepstad Oil Company
133 US Highway 75 S
Hendrum, MN 56550
Phone: (218) 861-6241
Nor-Dik Blading
1318 County Road 26
Hendrum, MN 56550
Phone: (218) 861-6279
Northwestern Bank
300 Main Street
Hendrum, MN 56550
Phone: (218) 861-6211
Web: www.nwbanks.com

You don't have to settle for poor service and higher fees at your present bank. Find out what thousands of your friends and neighbors already know ... You'll get better hours and superior products & services that benefit you without the high costs associated with BIG BANKS. Most importantly, you'll get competent, personal service from people who understand that you deserve respect for doing business with Northwestern Bank.

Raymond Grothe Farm
1306 190th Avenue
Hendrum, MN 56550
Phone: (218) 861-6254
Rensvold Repair
855 County Road 106
Hendrum, MN 56550
Phone: (218) 861-6616
Rose Manor Apartments
340 Rice Street S
Hendrum, MN 56550
Phone: (218) 236-6900
Schnabel Inc.
302 Main Street E
Hendrum, MN 56550
Phone: (218) 861-6208
Web: www.schnabelinc.com

Schnabel Inc. is a Property Preservation company located in northern Minnesota, with over 20 years of experience and a wide range of property preservation services. The President, Clarinda Schnabel along with Vice President and husband, Del Schnabel, started the company with one crew and...very long hours. For almost 20 years we have been working with mortgage companies, service companies and real estate agents as we continue to learn and grow in the field of property preservation. We now have crews all throughout Minnesota, North Dakota and eastern South Dakota.

Senior Health Insurance Service
1141 175th Avenue
Hendrum, MN 56550
Phone: (218) 861-6323
Simplot Grower Solutions
301 Main Street
Hendrum, MN 56550
Phone: (218) 861-6222
Web: www.simplot.com

The J. R. Simplot Company is a privately held food and agribusiness corporation based in Boise, Idaho. We employ approximately 10,000 people in the U.S., Canada, China, Mexico, and Australia. Annual sales are about $3 billion, derived principally from food, fertilizer, turf and horticultural, cattle feeding, and other enterprises related to agribusiness. Simplot is one of the world's largest frozen-potato processors, annually turning out 3 billion pounds of french fries and other potato products worldwide.



Susann's Styling Salon
1270 State Highway 200
Hendrum, MN 56550
Phone: (218) 861-6283
Tommerdahl-Holte Sales
124 US Highway 75 N
Hendrum, MN 56550
Phone: (218) 861-6181
US Post Office
307 Main Street E
Hendrum, MN 56550
Phone: (218) 861-6247
Web: www.usps.com
West Adventure Center
320 Main Street E
Hendrum, MN 56550
Phone: (218) 861-6738
---
---
Aerial Photo:
---
Topographic Map: [click map to enlarge, zoom in or zoom out]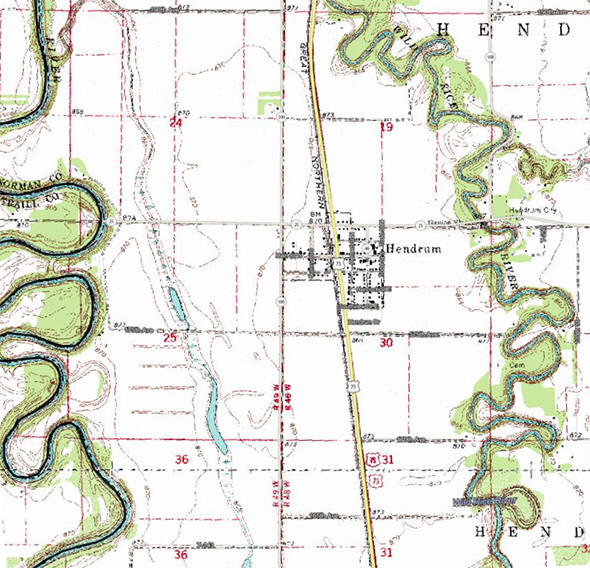 Topographic map is courtesy of the Minnesota DNR -
click map
to zoom or enlarge