Navigation
LakesnWoods.com
Home Page
Contact Us
Privacy
Minnesota History Shop

Visit The Minnesota History Shop
www.minnesotahistoryshop.com
Historic maps
Historic books
Historic framed art
Historic postcards
Clothing with historic images
And much more!!!


Grand Meadow Guide:
Photo Gallery
Location
Geography
Demographics
History
Government
Post Office
News
Weather
Street Map
Events
Attractions
Recreation
Lakes
Health Care
Schools
Churches
Media
Motels
Resorts
Campgrounds
Businesses
Aerial Photo
Topographic Map
© 2004-2023
Lakeweb1 Internet Services
All Rights Reserved
DCMA, Defamation, Copyright and Trademark Infingement Policy
WANTED!
Do you have photos, historical accounts or other items pertaining to the Grand Meadow area? Would you like to share this historical information with the world? LakesnWoods.com would like to publish your Grand Meadow photos (current or historical) or historical accounts on this website. Original materials can be returned and your privacy will be respected.


Grand Meadow Minnesota Community Guide
---
Location:

Grand Meadow is located on Highway 16, between Rochester and Austin, in Mower County. A bright sunny morning in the 1850s, as the story goes, a gentleman's gaze encompassed the beautiful and peaceful prairie grass landscape and proclaimed, "What a Grand Meadow"! Thus, our town's name was conceived. Grand Meadow was established in 1862, four years after the statehood of Minnesota. Even though the prairie grass landscape is now covered with brick and mortar, the "Grand Meadow" still offers a beautiful and peaceful existence to our residents. Grand Meadow is now a modern and progressive community. We offer a "State of the Art" school, Mayo Health Satellite, Four churches, Assisted Living/Nursing Home facility, active ambulance and fire department, three parks, city library, new housing as well as established homes for sale. We pride ourselves in providing a safe and tranquil life for families who want to leave the big city behind. We are proud of our community and welcome you to be part of our "little piece of heaven" in our "Grand Meadow.

Courtesy City of Grand Meadow
---
Population:
Grand Meadow (city)
1970
1980
1990
2000
2010
2000-2010 Change
Actual
Percent
Population
869
965
967
945
1,139
+194
+20.53
Land Area (sq. mile)
0.70
0.56
0.52
0.64
0.64
0
0.00
Density (persons per sq. mile)
1,241.43
1,723.21
1,859.62
1,470.90
1,779.69
309.79
+21.06
Housing Units
298
370
382
407
485
+78
+19.16
Households
--
348
367
395
454
+59
+14.94
Persons Per Household
--
2.60
2.51
2.29
2.51
+0.22
+9.61
---
Geography:
Grand Meadow is a city in Mower County, Minnesota. The city is located at the intersection of Mower County road 8 and Minnesota State Highway 16. According to the United States Census Bureau, the city has a total area of 0.67 square miles (1.74 km2), all of it land. The elevation is 1,352 ft (412 m) above sea level.
From Wikipedia, the free encyclopedia.
---
Demographics:
As of the census of 2010, there were 1,139 people, 454 households, and 287 families residing in the city. The population density was 1,700.0 inhabitants per square mile (656.4/km2). There were 485 housing units at an average density of 723.9 per square mile (279.5/km2). The racial makeup of the city was 96.7% White, 1.4% African American, 0.1% Native American, 0.5% Asian, 0.7% from other races, and 0.6% from two or more races. Hispanic or Latino of any race were 2.2% of the population.
There were 454 households of which 36.6% had children under the age of 18 living with them, 47.6% were married couples living together, 11.9% had a female householder with no husband present, 3.7% had a male householder with no wife present, and 36.8% were non-families. 33.5% of all households were made up of individuals and 17.7% had someone living alone who was 65 years of age or older. The average household size was 2.43 and the average family size was 3.11.
The median age in the city was 36.3 years. 29% of residents were under the age of 18; 5.8% were between the ages of 18 and 24; 26.2% were from 25 to 44; 21.6% were from 45 to 64; and 17.2% were 65 years of age or older. The gender makeup of the city was 47.2% male and 52.8% female.
---
---
History:
GRAND MEADOW Township, named by the county commissioners in 1858, in allusion to its being an extensive prairie, was organized April 20, 1862. Its city of this name in Grand Meadow and Frankford Townships, on the Chicago, Milwaukee and St. Paul Railroad, was platted in 1870, when this railway line was built through the county. It was incorporated as a village on February 24, 1876, and again on April 13, 1906; its post office began in 1858 as Gainesville and changed to Grand Meadow in 1859, with Cyrus G. Langworthy as postmaster under both names.
Courtesy Minnesota Historical Society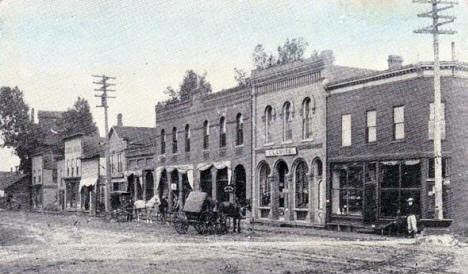 West side of Main Street, Grand Meadow Minnesota, 1909
LakesnWoods.com Postcard and Postcard Image Collection- click image to enlarge

Visit The Grand Meadow Photo Gallery for more recent and historic area photos
---
Government:
Grand Meadow City Hall
112 Grand Avenue E
PO Box 38
Grand Meadow, MN 55936
Phone: (507) 754-5280
Fax: (507) 754-7280


City Hall Hours:
Monday - Thursday 8:00 am to 4:30 pm
Friday 8:00 am - 12:00 pm

City council meetings are the 2nd Monday of the month at 5:30pm at Grand Meadow Community Center.

Title
Term Ends
Name and Address
Phone
Mayor
12/31/2022
Sandra Fenton
105 3rd Avenue NE
Grand Meadow, MN 55936
(507) 754-5632
Clerk/Treasurer
appointed
Chris Hyrkas


112 Grand Avenue E


Grand Meadow, MN 55936
(507) 754-5280
Council Member
12/31/2022
Kim Hill
304 N Main Street
Grand Meadow, MN 55936
(507) 273-6418
Council Member
12/31/2022
Tony Warmka
505 2nd Street SE
Grand Meadow, MN 55936
(507) 208-2000
Council Member
12/31/2024
Rusty Elliott
515 1st Street SE
Grand Meadow, MN 55936
(507) 272-4566
Council Member
12/31/2024
James Christian
116 1st Street NW
Grand Meadow, MN 55936
(507) 969-2075
---
Post Office:
US Post Office
129 Main Street S
Grand Meadow, MN 55936-1109
Phone: (507) 754-5157
Toll Free: (800) ASK-USPS

Regular Business Hours:
Week Days 8:30 am - 11:30 am
12:30 pm - 3:45 pm
Saturday 9:00 am - 11:00 am
---
Utilities:
---
Major Employers:
---
---
News:
---
Weather:
---
Map: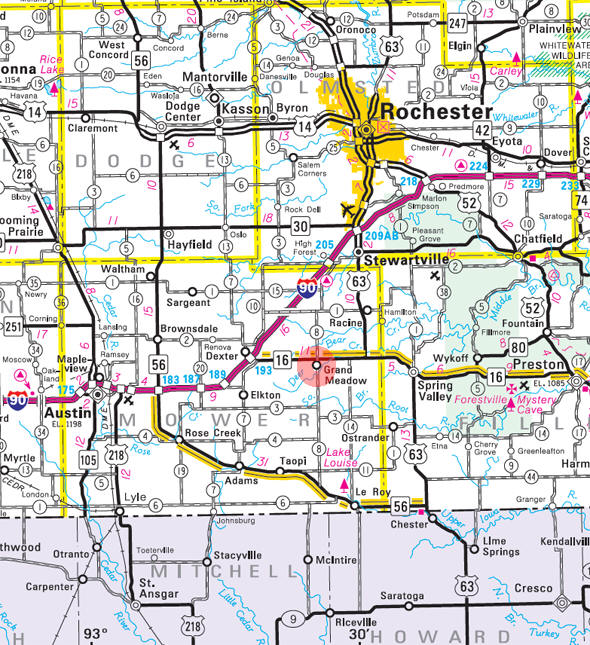 Minnesota State Highway Map of the Grand Meadow Minnesota area
---
Events:
Third weekend in June

Meadowfest 2012 will be held on June 22, 23 and 24. Grand Meadow will also celebrate their Sesquicentennial on this weekend. The events of the weekend include activities for all ages. Meet, celebrate and play with neighbors and friends. Some of the events included in last year's festival were a car show, craft fair, mud bog, parade, chicken barbecue, beverage tent, games, sports tournaments, and a 5K Run!
---
---
Attractions:
Historic Bluff Country Scenic Byway

In the small communities and scenic beauty of this byway, visitors find art galleries, antique shops, Amish tours, historic sites, cave tours, and museums. Parks, forests and the Root and Mississippi Rivers provide opportunities for many recreation options, including canoeing, cross-country skiing, horseback riding, cycling, wildlife watching, fishing, and photography.
---
Recreation:
---
Lakes:
Lake Name
Size
(acres)
Lake info
Lake Map
Rec Map
Topo Map

none in the immediate area
---
Health Care:
Grand Meadow Clinic
113 Main Street S
Grand Meadow, MN 55936
Phone: (507) 754-5245
Web: www.mayoclinichealthsystem.org

Mayo Clinic Health System in Grand Meadow offers complete family health care with outreach services provided by Mayo Clinic Health System in Austin. Conveniently located on North Main Street, our outpatient clinic is designed to serve you and your family's health care needs in a friendly, comfortable setting. With a dedicated full time physician and a team of highly qualified health care professionals, our staff is here when you need us.

Grand Meadow Health Care Center
210 Grand Avenue W
Grand Meadow, MN 55936
Phone: (507) 754-5858
Web: www.twdcc.com

We're a 45-bed Skilled Nursing facility located in beautiful Grand Meadow, Minnesota, home of the best small mouth bass fishing in the state. Medicare/Medicaid certified 24-hour skilled nursing services Short term rehabilitation Hospice Activity Programs Dietary services Wound/Skin care Worship Services Physical, Occupational, and Speech therapy
---
Schools:
---
Churches:
Bear Creek Lutheran Church
74727 265th Street
Grand Meadow, MN 55936
Phone: (507) 754-5914

Pastor: n/a
Sunday Worship: 10:30 am

Grand Meadow Lutheran Church - ELCA
115 1st Street NE
Grand Meadow, MN 55936
Phone: (507) 754-5203

Pastor: n/a
Sunday Worship: 9:00 am

Pleasant Valley Church
73297 310th Street
Grand Meadow, MN
Phone: (507) 754-5783

Pastor: n/a
Sunday Worship: n/a

St. Finbarr Catholic Church
504 1st Street SW
Grand Meadow, MN 55936
Phone: (507) 754-5190

Pastor: n/a
Saturday Mass: 5:00 pm
Sunday Mass: none

United Church of Grand Meadow
104 2nd Street SE
Grand Meadow, MN 55936
Phone: (507) 754-5809

Pastor: n/a
Sunday Worship: 9:00 am
---
Media:
Meadow Area News
125 Main Street S
PO Box 509
Grand Meadow, MN 55936
Phone: (507) 754-5486
Fax: (507) 754-5151
Web: none

Weekly newspaper published on Wednesdays with a circulation of 3,080.
---
Motels:
Check for motel rates and availability on:
---
Resorts:
---
Campgrounds:
Pine Lawn Campground
East Highway 16
Grand Meadow, MN 55936

Pine Lawn Park, situated on Hwy 16 east of Grand Meadow, has two locations. One on the east side and the west side of the creek that runs through the park. There is camping on both sides, at a cost of $10/night for campers and $5/night for tents. There is electricity but no water hook ups. On the east side there is a nice pavilion for picnics and restrooms. On the west side there is a very nice playground equipment and restrooms. Many people like to fish and there is a few that will put in small boats
---
---
Businesses:
A-1 Auto
Highway 16
Grand Meadow, MN 55936
Phone: (507) 754-5250
All Star Daycare
105 5th Street SE
Grand Meadow, MN 55936
Phone: (507) 754-3334
Andy's Electrical Service Inc
200 1st Street SW
Grand Meadow, MN 55936
Phone: (507) 754-5613
Web: www.andyselectrical.com
Baudoin BP Oil Products
209 2nd Street SE
Grand Meadow, MN 55936
Phone: (507) 754-5272
Bloom Trucking
216 3rd Street SE
Grand Meadow, MN 55936
Phone: (507) 754-5927
Blue Harvestor Inc
76515 180th Street
Grand Meadow, MN 55936
Phone: (507) 754-5253
Casey's AutoBody
404 4th Avenue NE
Grand Meadow, MN 55936
Phone: (507) 951-1436
Web: www.caseysautobodygrandmeadow1.com

Owned by Casey O'Byrne, Casey's AutoBody of Grand Meadow, MN provides expert auto body work and collision repair services. We are experienced, and we offer fast, prompt, and honest service that you can always count on.

CGS Computer Solutions
304 2nd Avenue SW
Grand Meadow, MN 55936
Phone: (507) 754-5531
Web: www.cgscomputersolutions.com

Our mission at CGS Computer Solutions is simple. Commercial or Residential, we are here to provide the customer with an affordable and practical Computer Repair Solution. Anything from Virus/Spyware Removal to Laptop Repairs, we work to provide you with a cost effective computer repair solution that not only makes sense technically but also financially. Many computer repair companies only focus on one thing - that is achieving thier numbers without questioning quality of service. Our A+ Certified Computer technicians do not sacrifice Quality Service for Volume. We work hard to provide you with a high level of Computer and Laptop Repair Services to improve any small business or home office environment.

Chris' Day Care
116 1st Street NE
Grand Meadow, MN 55936
Phone: (507) 754-5061
CHS Inc
73057 State Highway
Grand Meadow, MN 55936
Phone: (507) 754-5125
Web: www.chsinc.com

CHS Inc. (www.chsinc.com) is the nation's leading cooperative, owned by farmers, ranchers and co-ops across the United States. A diversified global energy, grains and foods business and a Fortune 100 company, CHS is committed to helping producers and member cooperatives grow their businesses through its domestic and global operations. CHS supplies energy, crop nutrients, grain marketing services, livestock feed, food and food ingredients, along with business solutions including insurance, financial and risk management services. The company operates petroleum refineries/pipelines and manufactures, markets and distributes Cenex® brand refined fuels, lubricants, propane and renewable energy products.

Cloud 9 Salon
117 Main Street S
Grand Meadow, MN 55936
Phone: (507) 754-4247
Cornwell Farm
73738 170th Street
Grand Meadow, MN 55936
Phone: (507) 754-5042
Creative Country Crafts
18912 740th Avenue
Grand Meadow, MN 55936
Phone: (507) 754-5404
Web: www.creativecountrycrafts.com

Experience the warm and cozy feeling of home, in four buildings filled with crafts and antiques. Come, browse and enjoy the many unique, creative treasures and gifts from more than 100 talented crafters.

Deer Creek Speedway
105 Main Street S
Grand Meadow, MN 55936
Phone: (507) 754-6107
Web: www.deercreekspeedway.com

Office located in Grand Meadow, race track and campground located near Spring Valley.

Diner
128 Main Street S
Grand Meadow, MN 55936
Phone: (507) 754-5744
DMD Brokers Inc
72670 State Highway
Grand Meadow, MN 55936
Phone: (507) 754-7248
Doll Shoppe
313 1st Street SW
Grand Meadow, MN 55936
Phone: (507) 754-5822
Durst Grain
PO Box 176
Grand Meadow, MN 55936
Phone: (507) 754-5296
Fay Farms
23882 710th Avenue
Grand Meadow, MN 55936
Phone: (507) 754-7440
Featherlite Graphics
74947 State Highway
Grand Meadow, MN 55936
Phone: (507) 754-5876
Web: www.featherlitegraphics.com

Featherlite Graphics was formed in 1989 to provide a custom paint & graphics service for the horse, livestock and specialty trailer industry. We believe our strength and energy come from our desire to be the best in this field. We take pride in our knowledge, accomplishments and artistic abilities. Each project is treated with unmatched passion to offer our customers custom solutions. We are one of the few companies anywhere that can provide custom vehicle paint, graphic services and large format printing solutions at one convenient location

First Farmers & Merchants Bank
105 Main Street N
Grand Meadow, MN 55936
Phone: (507) 754-5123
Web: www.ffmbank.com
FPL Wind Farm Mower County
72506 180th Street
Grand Meadow, MN 55936
Phone: (507) 754-6800

» Operated by a subsidiary of NextEra Energy Resources
» A 98.9-megawatt wind generation plant
» 43 2.3-megawatt Siemens turbines
that are capable of generating enough
electricity to power 33,000 homes
» Each turbine is 262 feet tall from the
ground to the hub in the center of the blades
» Began commercial operation in 2006

Garden Gate
253 4th Avenue NW
Grand Meadow, MN 55936
Phone: (507) 754-4569
Gehling Fertilizer Company
73498 300th Street
Grand Meadow, MN 55936
Phone: (507) 754-5851
Genes Country Electric
29185 705th Avenue
Grand Meadow, MN 55936
Phone: (507) 754-5062
Glynn's Motor Mart
Highway 16 & County Road
Grand Meadow, MN 55936
Phone: (507) 754-5677
Web: www.glynnsmotormart.com

Featuring Shell gasoline and products. Full line convenience store, fresh and take-to-bake Piccadilly Circus pizza, free WiFi, video rentals.

Grand Meadow Ambulance
200 2nd Street SE
Grand Meadow, MN 55936
Phone: (507) 754-5150
Grand Meadow City Hall
112 Grand Avenue E
PO Box 38
Grand Meadow, MN 55936
Phone: (507) 754-5280
Fax: (507) 754-7280
Web: www.cityofgrandmeadow.com
Grand Meadow Clinic
113 Main Street S
Grand Meadow, MN 55936
Phone: (507) 754-5245
Web: www.mayoclinichealthsystem.org

Mayo Clinic Health System in Grand Meadow offers complete family health care with outreach services provided by Mayo Clinic Health System in Austin. Conveniently located on North Main Street, our outpatient clinic is designed to serve you and your family's health care needs in a friendly, comfortable setting. With a dedicated full time physician and a team of highly qualified health care professionals, our staff is here when you need us.

Grand Meadow Fire Department
200 2nd Street SE
Grand Meadow, MN 55936
Phone: (507) 754-7003

The Grand Meadow Fire Department is made up of twenty-five volunteer fire fighters with ten being first responders and seven being EMT's. Our coverage area is 150 square miles including seven townships and 950 households

Grand Meadow Garage
204 1st Avenue NE
Grand Meadow, MN 55936
Phone: (507) 754-5407
Grand Meadow Health Care Center
210 Grand Avenue W
Grand Meadow, MN 55936
Phone: (507) 754-5858
Web: www.twdcc.com

We're a 45-bed Skilled Nursing facility located in beautiful Grand Meadow, Minnesota, home of the best small mouth bass fishing in the state. Medicare/Medicaid certified 24-hour skilled nursing services Short term rehabilitation Hospice Activity Programs Dietary services Wound/Skin care Worship Services Physical, Occupational, and Speech therapy

Grand Meadow Meat Market
124 Main Street S
Grand Meadow, MN 55936
Phone: (507) 754-5500
Web: www.grandmeadowmeatmarketllc.com

Grand Meadow Meat Market, LLC is the name you can trust in providing meat processing and services in Grand Meadow, MN. We have been providing quality products at reasonable prices and the best services. Let us put our experience and expertise to help you for all your meat needs.

Grand Meadow Public Library
125 Grand Avenue E
Grand Meadow, MN 55936
Phone: (507) 754-5859
Web: www.grandmeadow.lib.mn.us
Grand Meadow Veterinary Clinic
402 Main Street S
Grand Meadow, MN 55936
Phone: (507) 754-5165
Hank Hindt Hardware
112 Main Street S
Grand Meadow, MN 55936
Phone: (507) 754-5066
Harvest States Co-Op
73057 State Highway 16
Grand Meadow, MN 55936
Phone: (507) 754-5126
Hindt Funeral Homes
104 Grand Avenue E
Grand Meadow, MN 55936
Phone: (507) 754-5215
Web: www.hindtfuneralhomes.com

From traditional to selective and creative funeral needs, we are available for professional and courteous service. At Hindt Funeral Homes, we will help you to choose the service which best reflects your families desires for a service to remember and a memory to cherish. We are dedicated to serving you and your family for all of your funeral needs.

Home Nutrition Company
420 Main Street N
Grand Meadow, MN 55936
Phone: (507) 754-5039
Home Telephone Company
112 1st Street NW
Grand Meadow, MN 55936
Phone: (507) 754-5115
Hovda Insurance
413 1st Street NW
Grand Meadow, MN 55936
Phone: (507) 754-5323
Imagery Studios
76070 State Highway 16
Grand Meadow, MN 55936
Phone: (507) 754-5889
Innovative Outdoor Designs
5895 Queens Avenue NE
Grand Meadow, MN 55936
Phone: (763) 441-7583
Irlbeck Grain Inc
72670 State Highway
Grand Meadow, MN 55936
Phone: (507) 754-5247
It Figures Fitness Club
209 1st Street NW
Grand Meadow, MN 55936
Phone: (507) 754-5454
Iverson Hauling
111 1st Avenue SE
Grand Meadow, MN 55936
Phone: (507) 754-5824
J & S Repair
505 2nd Street NE
Grand Meadow, MN 55936
Phone: (507) 754-5233
Web: www.jsrepair.com

At J&S Repair, LLC we represent many manufacturers from planters, to sprayers, to tillage, and much more. We are located in Southeastern Minnesota. Call us or stop in today for some of the best new and used farm equipment around.

Kim Clark Portz Architect LLC
209 1st Street NW # 104
Grand Meadow, MN 55936
Phone: (507) 754-6780
Kreutzman Insurance
420 Main Street N
Grand Meadow, MN 55936
Phone: (507) 754-5064
Land Resource Management Inc
105 Main Street S
Grand Meadow, MN 55936
Phone: (507) 754-5815
Web: www.lrmrealestate.com

Founded in 1986, the original focus of LRM was on farm management services for local and absentee landowners. Since the early 1990's it has evolved to include real estate sales specializing in farmland and hobby farms and in the mid 1990's residential sales utilizing the MLS. We currently have agents who specialize in farmland sales with experience with 1031 exchanges and agents who specialize in residential sales from new construction projects to existing homes. Family ethics and values are important to the operation of LRM. We keep our small town values with big city abilities by using the same marketing tools as the big companies. LRM is your "Full Time, Full Service" real estate company.

Law Office of Shawn Vogt Sween, LLC
104 Main Street S
Grand Meadow, MN 55936
Phone: (507) 754-4555
Fax: (507) 754-4554
Web: www.svslawoffice.com

The Law Office of Shawn Vogt Sween, LLC, offers the best of both worlds to Minnesota residents: a Harvard-educated lawyer with a small-town upbringing and a background in agricultural and rural life. Whether you're from urban or out-state Minnesota, you can trust that you will be working with a professional attorney who wants to help real people solve legal problems without a lot of hassle or worry.

LBM Lee's Building Maintenance
21185 730th Avenue
Grand Meadow, MN 55936
Phone: (507) 754-5395
Lieffort Trucking Inc
409 1st Street NW
Grand Meadow, MN 55936
Phone: (507) 754-5340
M & L Transmissions
302 4th Avenue NE
Grand Meadow, MN 55936
Phone: (507) 754-5246
Major & Company
103 Grand Avenue E
Grand Meadow, MN 55936
Phone: (507) 754-4434
Mark's Garage
120 Main Street S
Grand Meadow, MN 55936
Phone: (507) 754-6123
Marvin Gehling Farm
72384 255th Street
Grand Meadow, MN 55936
Phone: (507) 754-5445
Meadow Area Chiropractic LLC
209 2nd Avenue NE
Grand Meadow, MN 55936
Phone: (507) 754-4545
Meadow Land Soy
25333 710th Avenue
Grand Meadow, MN 55936
Phone: (507) 754-5013
Meadow Mobile Home Park
211 3rd Street SE
Grand Meadow, MN 55936
Phone: (507) 754-5911
Meadow Printing Service
125 Main Street S
Grand Meadow, MN 55936
Phone: (507) 754-5486
Meadows Assisted Living
117 2nd Street SE
Grand Meadow, MN 55936
Phone: (507) 754-4000
Web: www.twdcc.com/meadowsofgrandmeadow

Welcome to The Meadows of Grand Meadow, a 30-unit Assisted Living facility located in Grand Meadow, Minnesota — the heart of small mouth bass fishing country.

Meyerhofer Steel & Construction
417 1st Street NE
Grand Meadow, MN 55936
Phone: (507) 754-6710
Minnesota Family Farms Co-Op
20595 720th Avenue
Grand Meadow, MN 55936
Phone: (507) 754-4630
Monnier Tree Transplanting
203 2nd Avenue SE
Grand Meadow, MN 55936
Phone: (507) 754-5900
Oehlke Farms
27478 745th Avenue
Grand Meadow, MN 55936
Phone: (507) 754-5710
Olson Tree Service Inc
310 4th Avenue NW
Grand Meadow, MN 55936
Phone: (507) 754-4499
On-Site Computers
204 Main Street S
Grand Meadow, MN 55936
Phone: (507) 754-5548
Web: www.onsitecomputersinc.com

On-Site Computers offers turnkey computer hardware sales and service, systems integration, LAN/WAN design, installation, Help Desk and support services. We are not only a computer and networking sales and support center, we are also an Alltel wireless Authorized Agent, offering the latest in phones, adapters and services.

Parties Made Simple
74713 290th Street
Grand Meadow, MN 55936
Phone: (507) 754-5504
Web: www.partiesmadesimple.net

Anytime You Want To Provide Fun —or just for the heck of it! Graduations Birthdays Family Gatherings Class Reunions Weddings Business Open House Customer Appreciations Retirements Anniversaries City Celebrations We continually add to our services – If we don't have it we can help find it!

Pioneer Brand Products
73295 State Highway 16
Grand Meadow, MN 55936
Phone: (507) 754-5980
R & M Gehling Real Estate Co
73498 300th Street
Grand Meadow, MN 55936
Phone: (507) 754-5851
R G Gross Service Machine Shop
205 Main Street S
Grand Meadow, MN 55936
Phone: (507) 754-5195
Roger Newkirk Carpet Laying
221 5th Street NE
Grand Meadow, MN 55936
Phone: (507) 754-5751
Rubes Auto
404 4th Avenue NE
Grand Meadow, MN 55936
Phone: (507) 754-5990
Web: www.rubesauto.com

Rubes Auto in Grand Meadow, MN offers complete auto and truck repair and sales. We specialize in Subarus and General motors. We have over 100 used cars and trucks in stock and we have the lowest prices in the area. We are ASE certified. •24 Hour towing •Tires •Brakes •Computer diagnostics •Engines •A/C •Transmissions •Snow removal

Salon
212 1st Street NW
Grand Meadow, MN 55936
Phone: (507) 754-6744
Seavey Builders Inc
74327 280th Street
Grand Meadow, MN 55936
Phone: (507) 754-7977
Web: www.seaveybuildersinc.com
Skiffy Lube and Skiffy's Used Cars
133 Main Street S
Grand Meadow, MN 55936
Phone: (507) 754-5787
Web: sites.google.com/site/skiffycars
Southern Cablevision Inc
112 1st Street NW
Grand Meadow, MN 55936
Phone: (507) 754-5117
Starr's Gifts & More
208 2nd Avenue SW
Grand Meadow, MN 55936
Phone: (507) 754-5243
Stier Grocery
105 Grand Avenue E
Grand Meadow, MN 55936
Phone: (507) 754-5112
Stone Expressions
73028 290th Street
Grand Meadow, MN 55936
Phone: (507) 202-5479
Web: www.stoneexpressionsmn.com

Make an impression; give your home a brick face-lift through Stone Expressions Grand of Meadow, MN. Our locally owned and operated business provides mason contractors and services at reasonable prices, and the best services. Let us put our experience and expertise to help you with all your mason services needs. Call Matt today!

Tenacity Nursery
72108 280th Street
Grand Meadow, MN 55936
Phone: (507) 754-5461
Toad's Auto Repair
133 Main Street S
Grand Meadow, MN 55936
Phone: (507) 754-2886
Ulland Brothers Inc Quarry
76478 265th Street
Grand Meadow, MN 55936
Phone: (507) 754-5211
US Post Office
129 Main Street S
Grand Meadow, MN 55936-1109
Phone: (507) 754-5157
Toll Free: (800) ASK-USPS
Web: www.usps.com
Valley Transportation Service
73137 State Highway
Grand Meadow, MN 55936
Phone: (507) 754-5558
Web: www.valleytransinc.com

With over 20 years of transportation experience, we at Valley Transportation have concluded that, "You can only be as good as the people on your Team." With confidence and pride, Valley Transportation has put together the most qualified and capable people for each job. With a fleet of 125 trucks on the road, and more on the way, Valley has maintained a steady sustained growth since its inception back in the 1980s.

Voigt Plumbing & Heating
201 4th Avenue NW
Grand Meadow, MN 55936
Phone: (507) 754-7403
Warmka Welding
114 1st Avenue SE
Grand Meadow, MN 55936
Phone: (507) 754-4575
Weiss Farms
73353 200th Street
Grand Meadow, MN 55936
Phone: (507) 754-5283
---
---
Aerial Photo:
---
Topographic Map: [click map to enlarge, zoom in or zoom out]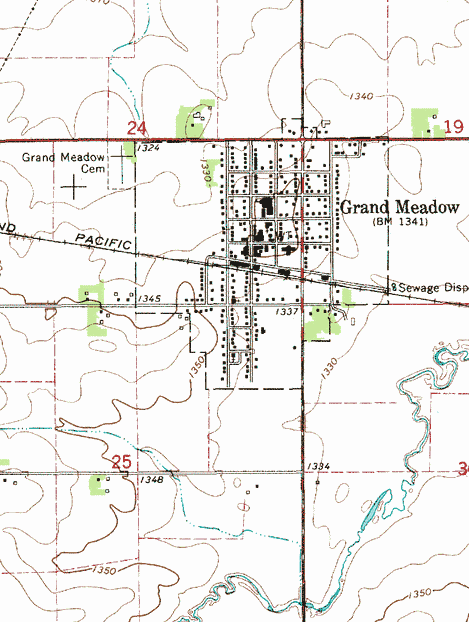 Topographic map is courtesy of the Minnesota DNR - click map to zoom or enlarge