Navigation
LakesnWoods.com
Home Page
Contact Us
Privacy
Minnesota History Shop

Visit The Minnesota History Shop
www.minnesotahistoryshop.com
Historic maps
Historic books
Historic framed art
Historic postcards
Clothing with historic images
And much more!!!


Goodhue Guide:
Photo Gallery
Location
Geography
Demographics
History
Government
Post Office
News
Weather
Street Map
Events
Attractions
Recreation
Lakes
Health Care
Schools
Churches
Media
Motels
Resorts
Campgrounds
Businesses
Aerial Photo
Topographic Map
© 2004-2023
Lakeweb1 Internet Services
All Rights Reserved
DCMA, Defamation, Copyright and Trademark Infingement Policy
WANTED!
Do you have photos, historical accounts or other items pertaining to the Goodhue area? Would you like to share this historical information with the world? LakesnWoods.com would like to publish your Goodhue photos (current or historical) or historical accounts on this website. Original materials can be returned and your privacy will be respected.


(design available on over 100 different items!)

Goodhue Minnesota Community Guide
---
Location:
---
Population:
Goodhue (city)
1970
1980
1990
2000

2010

2000-2010 Change
Actual
Percent
Population
539
657
533
778
1,176
+398
+51.16
Land Area (sq. mile)
0.60
0.67
0.73
0.91
n/a
n/a
n/a
Density (persons per sq. mile)
898.33
980.60
730.14
853.80
n/a
n/a
n/a
Housing Units
190
244
229
298
443
+145
+48.66
Households
--
238
216
293
415
+122
+41.64
Persons Per Household
--
2.76
2.47
2.66
2.83
+0.17
+6.39
---
Geography:
Goodhue is a city in Goodhue County, Minnesota. Minnesota State Highway 58 and County Highway 9 are two of the main routes in the community. According to the United States Census Bureau, the city has a total area of 0.94 square miles (2.43 km2), all of it land. The elevation is 1,125 ft (343 m) above sea level.
From Wikipedia, the free encyclopedia.
---
Demographics:
As of the census of 2010, there were 1,176 people, 415 households, and 307 families residing in the city. The population density was 1,251.1 inhabitants per square mile (483.1/km2). There were 443 housing units at an average density of 471.3 per square mile (182.0/km2). The racial makeup of the city was 89.9% White, 0.3% African American, 0.9% Native American, 0.2% Asian, 7.7% from other races, and 1.0% from two or more races. Hispanic or Latino of any race were 12.8% of the population.
There were 415 households of which 47.2% had children under the age of 18 living with them, 61.2% were married couples living together, 8.4% had a female householder with no husband present, 4.3% had a male householder with no wife present, and 26.0% were non-families. 23.6% of all households were made up of individuals and 9.9% had someone living alone who was 65 years of age or older. The average household size was 2.83 and the average family size was 3.37.
The median age in the city was 30.6 years. 32.3% of residents were under the age of 18; 8.1% were between the ages of 18 and 24; 32.1% were from 25 to 44; 17.8% were from 45 to 64; and 9.4% were 65 years of age or older. The gender makeup of the city was 50.8% male and 49.2% female.
---
---
History:
GOODHUE Township, settled in 1854, organized September 13, 1859, was then named Lime, but was renamed as now in January 1860, honoring James M. Goodhue, like the county name. The city in sections 21 and 28 incorporated as a village on April 2, 1897; its post office was noted under several names: Elmira, 1857-58; Goodhue Centre, 1858-79; Goodhue, 1882-84; Goodhue Centre, 1888-89, when returned to its present form. The community developed after the Duluth, Red Wing and Southern Railroad came through in 1889 and built the depot.
Courtesy Minnesota Historical Society
Goodhue began as a railroad town, which is probably the reason Goodhue survived when many of the other settlements started at this time did not. Construction on the railroad began in the summer of 1888 and was completed in May of 1889. The area where Goodhue is located became a center of activity as railroad workers, sometimes as many as 600, lived in barracks and tents. The first trip from Red Wing to Rochester was made May 7, 1889. After this there were four stops a day in Goodhue.
In 1889 T.B. Sheldon, prominent grain dealer and president of the Duluth, Red Wing and Southern Railroad, purchased 30 acres of land between two railroad stops and had it duly platted into blocks containing a total of 106 lots.
From 1889 when the village was platted until 1897 the village was governed by the township of Goodhue. In 1897 thirty-four villagers signed a petition asking for a vote to incorporate Goodhue as a village. On March 31, 1897, 28 voted to incorporate. The final separation of the Goodhue village from the jurisdiction of Goodhue Township occurred on May 31, 1897, when another election made Goodhue a separate election and tax assessment district.
When there was no longer any use for the railroad camps, there was still a mission for the little burg to perform, and from that time the place has always been regarded as an important trading post, keeping pace with the demands of a large and wealthy agricultural community which boards on every side.
Courtesy City of Goodhue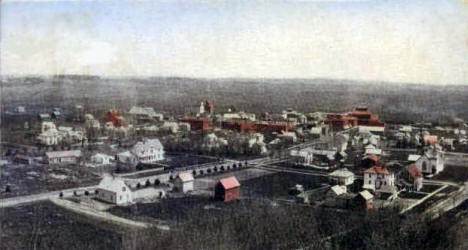 Birdseye View, Goodhue Minnesota, 1908
LakesnWoods.com Postcard and Postcard Image Collection - click to enlarge

Visit The Goodhue Photo Gallery for more recent and historic area photos

---
Government:
Goodhue City Hall
405 Broadway N
PO Box 126
Goodhue, MN 55027
Phone: (651) 923-4310
Fax: (651) 923-5113

Regular Business Hours:
Monday - Friday - 8:00 am to 4:00 pm

City Council meetings:
2nd & 4th Wednesday of the month at 6:30 pm

Title
Term Ends
Name
Phone
Mayor
12/31/2022
Kerry Bien
102 Brenda Lane
Goodhue, MN 55027
(651) 923-4848
City Clerk
appointed
Lori Agre
405 Broadway N
Goodhue, MN 55027
(651) 923-4310
Treasurer
appointed
Beth Poncelet
405 Broadway N
Goodhue, MN 55027
(651) 923-4310
Council Member
12/31/2022
Wayne Hahn
418 N Broadway
Goodhue, MN 55027


(651) 428-6948
Council Member
12/31/2022
Patrice OíReilly
810 5th Avenue
Goodhue, MN 55027
(651) 923-4723
(651) 271-9313
Council Member
12/31/2024
Terry Anderson Buck
address not available
Goodhue, MN 55027


not available
Council Member
12/31/2024
Jason Thuman
511 2nd Avenue
Goodhue, MN 55027
(651) 923-4072
---
Post Office:
US Post Office
205 N Broadway
Goodhue, MN 55027-9205
Phone: (651) 923-4650

Regular Business Hours:
Week Days 8:30 am - 11:15 am
12:15 pm - 4:30 pm
Saturday 8:30 am - 10:30 am
---
---
Utilities:
---
Major Employers:
Employer
Products/Services
Employees

n/a
---
---
News:
---
Weather:
---
Map: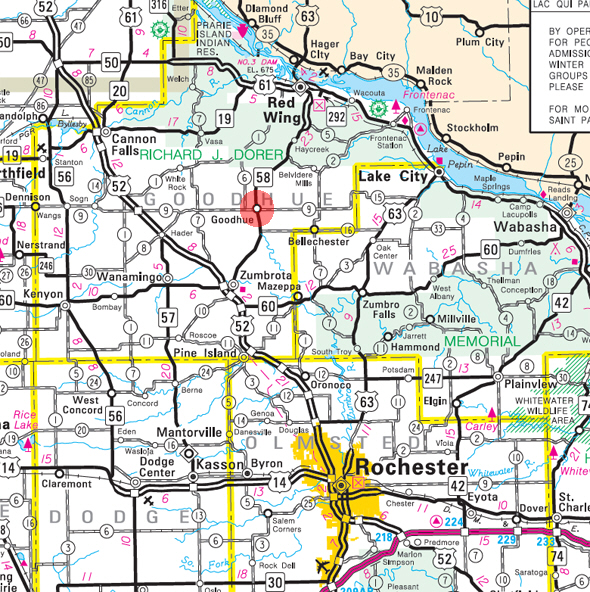 Minnesota State Highway Map of the Goodhue Minnesota area
---
Events:
---
---
Attractions:
---
Recreation:
---
Lakes:
Lake Name
Size
(acres)
Lake info
Lake Map
Rec Map
Topo Map

none in the immediate area
---
Health Care:
---
Schools:
---
Churches:
Grace Lutheran Church - WELS
39774 County 4 Blvd
Goodhue, MN 55027
Phone: (651) 923-4624

Pastor: Rev Andrew H Krause
Sunday Worship: 9:00 am

Holy Trinity Catholic Church
211 4th Street N
Goodhue, MN 55027
Phone: (651) 923-4472

Pastor: Father Bruce Peterson
Saturday Mass: 5:30 pm
Sunday Mass: none

Minneola Lutheran Church - ELCA
13628 County 50 Blvd
Goodhue, MN 55027
Phone: (507) 824-2685
Web: www.minneolalutheranchurch.org

Pastor: Sarah E Nietz
Sunday Worship: 10:30 am (9:30 am Summer)

St. Columbkills Catholic Church
36483 County 47 Blvd
Goodhue, MN 55027
Phone: (651) 258-4307

Pastor: n/a
Sunday Mass: n/a

St. John's Lutheran Church - WELS
36620 County 4 Blvd
Goodhue, MN 55027
Phone: (651) 923-4773
Web: www.stjohnsgoodhue.com

Pastor: Andrew Krause
Sunday Worship: 9:00 am

St. Luke Lutheran Church - ELCA
308 1st Avenue
Goodhue, MN 55027
Phone: (651) 923-4695
Web: www.stlukechurchgoodhue.com

Pastor: Michael A Gustafson
Sunday Worship: 9:30 am

St. Peter Lutheran Church - WELS
702 3rd Avenue
Goodhue, MN 55027
Phone: (651) 923-4415

Pastor: Rev Randall L Kuznicki
Sunday Worship: 10:15 am

St. Peter's Lutheran Church - LCMS
28961 365th Street
Goodhue, MN 55027
Phone: (651) 923-4438

Pastor: Dr. Scott T. Fiege
Sunday Worship: 10:30 am
---
Media:
---
Motels:
Check for motel rates and availability on:
---
Resorts:
---
Campgrounds:
---
---
Businesses:
Abbie Flom Photography
406 4th Avenue
Goodhue, MN 55027
Phone: (651) 2923-4253
Web: www.abbieflom.com

Hello, and thanks for stopping by. My name is Abbie Flom, I started getting into photography 4 years ago when I had my first child Zabe. I couldnít take enough pictures of him! I decided to get a bigger and better camera and was hired on by my sister-in law Emily who is a photographer as well. I absolutely love this new adventure and am having so much fun. My full time job is staying at home with Zabe and doing hair out of my house, I am a cosmetologist, and owner of The Salon Room in Goodhue.

Ace Pest Control
35826 Wheat Trail
Goodhue, MN 55027
Phone: (651) 258-4185
Advance Trading Inc
101 Broadway Street S
Goodhue, MN 55027
Phone: (651) 923-4476
Ag Partners Co-Op
101 Broadway
Goodhue, MN 55027
Phone: (651) 923-4496
Web: www.agpartners.net
Ameriprise Financial
404 Broadway Street
Goodhue, MN 55027
Phone: (651) 923-5334
Web: www.ameripriseadvisors.com
Ballstadt Dairy Farm
20325 410th Street
Goodhue, MN 55027
Phone: (651) 923-4906
Bear's Overhead Doors
37509 County 4 Blvd
Goodhue, MN 55027
Phone: (651) 923-5923
Belle Creek Store & Roller Rink
35294 County 8 Blvd
Goodhue, MN 55027
Phone: (651) 258-4300
Benda Electric Inc
213 2nd Avenue
Goodhue, MN 55027
Phone: (651) 923-4737
Web: www.bendaelectricinc.com

Serving the entire Goodhue County area, Benda Electric Inc. is your electrical expert offering exceptional service and affordable pricing. Our Residential, Commercial, Industrial and Farm Services Include: 24 Hour Emergency Service New Construction Remodeling Maintenance & Repairs

Blooms on Broadway
201 N Broadway
Goodhue, MN 55027
Phone: (651) 923-4380

Established floral and gift shop, formerly known as Leprechaun Hollow, recently under new ownership by Beth Matthees. Floral arrangements, centerpieces, wedding flowers, bridal rentals, funeral arrangements. A variety of indoor plants available throughout the year. Garden vegetable plants and annuals available in the spring as well as landscape design service...I draw up the plan, you do the install. Landscape plants available through Blooms on Broadway as well.

Bollum Family Farm
27271 370th Street
Goodhue, MN 55027
Phone: (651) 923-4366
Web: www.bollumfamilyshorthorns.com

Bollum Family Shorthorns is a 5th generation family farm located east of Goodhue, Minnesota where the original Bollumís settled in 1863. Shorthorns were used here from the very beginning because of their dual purpose traits. A pure beef herd was started in the late 1930ís as Henry and Curtiss began showing purebred cattle as part of their 4-H projects.

Brinkman Farm
29050 County 9 Blvd
Goodhue, MN 55027
Phone: (651) 923-4151
Bruce's Backhoe Service
36130 County 2 Blvd
Goodhue, MN 55027
Phone: (651) 923-4190
Buck's Unlimited
37298 180th Avenue
Goodhue, MN 55027
Phone: (651) 923-5418
C & G Hardware Hank
212 2nd Avenue
Goodhue, MN 55027
Phone: (651) 923-4591
Web: www.hardwarehank.com
Clay View Dairy
35694 215th Avenue
Goodhue, MN 55027
Phone: (651) 923-5067
Corner Bar
201 2nd Avenue
Goodhue, MN 55027
Phone: (651) 923-4662
Country Barnyard
39625 240th Avenue
Goodhue, MN 55027
Phone: (651) 923-4241
Country Station
100 N 3rd Street
Goodhue, MN 55027
Phone: (651) 923-4492
Countryside Manor Mobile Home Park
21 Countryside Manor
Goodhue, MN 55027
Phone: (651) 923-5084
D & S Repair
66983 403rd Avenue
Goodhue, MN 55027
Phone: (651) 923-4181
Dale Banitt Construction
822 5th Avenue
Goodhue, MN 55027
Phone: (651) 923-4845
Dar's Pub
219 2nd Avenue
Goodhue, MN 55027
Phone: (651) 923-4866

On and Off- sale Available, Heggies pizza. Happy Hour All Day Monday 10am - 7pm Tuesday thru Friday Saturday 5pm - 7pm Fridays can beer 2/$5 Euchre Thursdays at 7:30

DaVita Inc
34740 County 4 Blvd
Goodhue, MN 55027
Phone: (651) 923-5404
Web: www.davita.com

DaVita Inc., a FORTUNE 500ģ company, is a leading provider of kidney care in the United States, delivering dialysis services to patients with chronic kidney failure and end stage renal disease. DaVita strives to improve patientsí quality of life by innovating clinical care, and by offering integrated treatment plans, personalized care teams and convenient health-management services. As of March 31, 2012, DaVita operated or provided administrative services at 1,841 outpatient dialysis centers located in the United States, serving approximately 145,000 patients.

Debbie's Country Cuts
209 2nd Avenue
Goodhue, MN 55027
Phone: (651) 380-4829
Doc Sawyer's Restaurant
207 2nd Avenue
Goodhue, MN 55027
Phone: (651) 923-4711
Don's Foods
111 N 3rd Street
Goodhue, MN 55027
Phone: (651) 923-4311
Doug Beck Construction
405 Goodhue Court
Goodhue, MN 55027
Phone: (651) 923-5577
Eco Green Quest
911 Roberta Circle
Goodhue, MN 55027
Phone: (651) 923-5159
Web: www.ecobusiness.com/leiaryan
Farmers Union Insurance
215 2nd Avenue
Goodhue, MN 55027
Phone: (651) 923-4433
Web: www.farmersunioninsurance.com
Fitzgerald Excavating
20865 390th Street
Goodhue, MN 55027
Phone: (651) 923-4060
Flower Cottage & Garden Shoppe
27711 County 16 Blvd
Goodhue, MN 55027
Phone: (651) 345-5852
Fox Ag
15890 390th Street
Goodhue, MN 55027
Phone: (651) 923-4277
Goodhue Area Historical Society
105 E 4th Avenue
Goodhue, MN 55027
Phone: (651) 923-4257
Web: www.goodhueareahistory.org
Goodhue City Hall
405 Broadway N
PO Box 126
Goodhue, MN 55027
Phone: (651) 923-4310
Fax: (651) 923-5113
Web: www.cityofgoodhue.com
Goodhue Community Center
38390 240th Avenue
Goodhue, MN 55027
Phone: (651) 923-4852
Goodhue Community Fire Association
110 N 3rd Street
Goodhue, MN 55027
Phone: (651) 923-4760
Goodhue County Soil & Water
104 E 3rd Avenue
Goodhue, MN 55027
Phone: (651) 923-5300
Fax: (651) 923-5304
Web: www.goodhueswcd.org
Goodhue Family Chiropractic
404 N Broadway
Goodhue, MN 55027
Phone: (651) 923-5717
Web: www.goodhuefamilychiropractic.com

Located in the heart of Goodhue, Goodhue Family Chiropractic is dedicated to helping you achieve your wellness objectives -- combining skill and expertise that spans the entire chiropractic wellness spectrum. Dr. Shauna Luhman is committed to bringing you better health and a better way of life by teaching and practicing the true principles of chiropractic wellness care.

Goodhue Family Dental
307 N 2nd Street
Goodhue, MN 55027
Phone: (651) 923-4400
Goodhue Family Hair Care
205 2nd Avenue
Goodhue, MN 55027
Phone: (651) 923-4247
Goodhue Insurance Agency
209 2nd Avenue
Goodhue, MN 55027
Phone: (651) 923-5268
Goodhue Police Department
405 N Broadway
Goodhue, MN 55027
Phone: (651) 923-4880
Goodhue SWCD
104 E 3rd Avenue
PO Box 335
Goodhue, MN 55027
Phone: (651) 923-5286
Web: www.goodhueswcd.org
Goodhue Swimming Pool
505 4th Avenue
Goodhue, MN 55027
Phone: (651) 923-4444
Gullickson Homes
12701 County 9 Blvd
Goodhue, MN 55027
Phone: (507) 263-8886
Hay Creek Carpentry
37506 250th Avenue
Goodhue, MN 55027
Phone: (651) 380-1116
Web: www.haycreekcarpentry.com

We provide the South East Metro, Rochester and Western Wisconsin area with a complete range of general contractor services. Whether you're looking for a new construction project, a remodel or a beautiful deck, weíre here to help. All you need to do is give us a call and weíll take care of the rest. In the mean time, feel free to take a look around our site to learn more about our services.

Hay Creek Mutual Insurance Company
109 Broadway Street
Goodhue, MN 55027
Phone: (651) 923-4044
Web: www.haycreek.com

Hay Creek Mutual Insurance Company was incorporated and commenced business as a township mutual by the farmers of Hay Creek Township in Goodhue County in February 10, 1879, under the name Hay Creek Mutual Fire Insurance Company. In 1998 the name was amended to Hay Creek Mutual Insurance Company. Hay Creek Mutual strives to offer quality insurance protection along with friendly and reliable service. Our coverage territory not only includes Goodhue, Wabasha, Olmsted, Dakota, Rice and Steele counties but the state of Minnesota.

Hedeen Insurance
215 N 2nd Street
Goodhue, MN 55027
Phone: (651) 923-4433
Web: www.farmersunioninsurance.com/dhedeen

I was born and raised on a farm in Goodhue County and am a second generation QBE Farmers Union Insurance agent. My father, Steve Hedeen, was an agent and later a District Manager for QBE Farmers Union Agency for 35 years. I worked as a crane operator and carpenter before becoming an active agent for QBE Farmers Union Agency in October of 1977. Our present office was opened in Goodhue in 1980.

Hinsch Farms Inc
24580 370th Street
Goodhue, MN 55027
Phone: (651) 923-5657
Holm Brothers Construction
221 2nd Avenue
Goodhue, MN 55027
Phone: (651) 923-4300
Huneke Dairy
25409 County 16 Blvd
Goodhue, MN 55027
Phone: (651) 923-4937
Jeff Knudsen Plumbing
33812 240th Avenue
Goodhue, MN 55027
Phone: (651) 388-7868
John Augustine Farms
37627 County 2 Blvd
Goodhue, MN 55027
Phone: (651) 923-4363
Jonas Farm Seeds
37510 230th Avenue
Goodhue, MN 55027
Phone: (651) 923-4552
Keith Carlson Trucking
19179 385th Street
Goodhue, MN 55027
Phone: (651) 923-4822
Knobelsdorff Electric
25701 370th Street
Goodhue, MN 55027
Phone: (651) 923-4970
Web: www.knobelsdorffelectric.com

Providing electrical contracting services for over 30 years. Industrial, Commercial, Automation, Energy Audits, Lighting Retrofits, Panel Building

Larsen Industries
200 2nd Avenue
Goodhue, MN 55027
Phone: (651) 923-4451
Web: www.larsenindustries.com

Larsen Industriesí Vinyl and Farm Supply has been in business for 35 years selling and servicing some of the highest quality products available. We have expanded our facilities and have plans for a new building in the next four to five years.

Lions Community Center
105 Broadway Street
Goodhue, MN 55027
Phone: (651) 923-4852
Lodermeier's Implement
103 N 3rd Street
Goodhue, MN 55027
Phone: (651) 923-4441
Web: www.lodermeiers.net

Lodermeierís Inc. of Goodhue, MN has been around for over sixty years offering an array of services accommodating the many needs of the southeastern part of the state of Minnesota & western Wisconsin. We have many different services to offer including but not limited too; grain storage installations, grain equipment, grain dryer services, steel-frame and wood-frame buildings, lumber, new and used farm equipment, service and repairs of equipment & machinery, rentals of certain products, machines, and materials, and also new/used ATVís, lawnmowers, & utility vehicles, along with repair work for your outdoor power equipment as well.

Logan Taping & Drywall
36383 Wells Creek
Goodhue, MN 55027
Phone: (651) 923-4660
Lois Borner Chiropractic
110 2nd Avenue
Goodhue, MN 55027
Phone: (651) 923-4996
Luhman Farm
35911 County 4 Blvd
Goodhue, MN 55027
Phone: (651) 923-4283
McNamara Designs
903 Roberta Circle
Goodhue, MN 55027
Phone: (651) 923-4076
McNamara Family Farms
38580 County 47 Blvd
Goodhue, MN 55027
Phone: (651) 923-4486
Melhouse Farms
37289 120th Avenue
Goodhue, MN 55027
Phone: (651) 258-4424
Natural Solutions Carpet Cleaning
608 2nd Avenue
Goodhue, MN 55027
Phone: (651) 923-4825 ‎
Nibbe Farms
19809 360th Street
Goodhue, MN 55027
Phone: (651) 923-4119
O'Reilly Fabrication & Welding
40683 215th Avenue
Goodhue, MN 55027
Phone: (651) 923-5401
Web: www.mechanical-contractors.net

O'Reilly Fabrication and Welding Services LLC is your full service mechanical contractor. Based in Goodhue, MN we service a large footprint in the 5 state area. You can call on us for many services, including: *On site industrial plant maintenance *Custom design and metal fabrication *Millwright, rigging and full crane services *Custom concrete services *MSHA training for students or your employees

O'Reilly Shamrock Farm
33656 County 6 Blvd
Goodhue, MN 55027
Phone: (651) 923-4508
Ohnstad & Hog Barn
17310 370th Street
Goodhue, MN 55027
Phone: (651) 923-4488
Orville Zemke Farms
39621 County 6 Blvd
Goodhue, MN 55027
Phone: (651) 923-4504
PastureLand Cooperative
26889 County 9 Blvd
Goodhue, MN 55027
Phone: (612) 331-9115
Toll Free: (888) 331-9115
Fax: (612) 331-1795
Web: www.pastureland.coop


PastureLand 100% grass-fed organic dairy products are handcrafted by artisan butter and cheese makers with the milk of cows that spend their days grazing the pastures on our farms in Southeast Minnesota. Itís easy to buy online!

Pioneer Seed
203 S Broadway Street
Goodhue, MN 55027
Phone: (651) 923-5502
Web: www.pioneer.com
Quality Plus Insurance
388 Crestview Court
Goodhue, MN 55027
Phone: (651) 923-4800 ‎
Rich's Auto Body
102 Viola Lane
Goodhue, MN 55027
Phone: (651) 923-4154
Rick Buck Dairy Farm
12767 County 9 Blvd
Goodhue, MN 55027
Phone: (651) 258-4422
Roy N Al's Auto Service
111 N 3rd Street
Goodhue, MN 55027
Phone: (651) 923-4525
Ryan Chemical Inc
37089 County 6 Blvd
Goodhue, MN 55027
Phone: (651) 923-4430
Ryan Manufacturing
14570 370th Street
Goodhue, MN 55027
Phone: (651) 258-4795
Ryan's Car & Truck Wash
1 County 9 Blvd
Goodhue, MN 55027
Phone: (651) 923-5199
S E Digital TV
111 2nd Avenue
Goodhue, MN 55027
Phone: (651) 923-5005
Saddlebags Aussies
26986 370th Street
Goodhue, MN 55027
Phone: (651) 923-4517
Web: www.saddlebagsaussies.com
Schafer Farms
25765 County 3 Blvd
Goodhue, MN 55027
Phone: (651) 923-4587
Web: www.schaferfarm.com

Schafer Farms is located in the heart of Gods country nestled among the creeks, bluffs and valleys of southeastern Minnesota. The farm is located sixty-five miles south of the Twin Cities, and 35 miles north of Rochester. Schafer Farms is a 6th generation family farm with the 7th generation up and coming.

Schafer Transportation
407 8th Street N
Goodhue, MN 55027
Phone: (651) 923-4511
Schrimpf Farms
35939 205th Avenue
Goodhue, MN 55027
Phone: (651) 923-5052
Schulz and Company Realty
PO Box 6
Goodhue, MN 55027
Phone: (651) 923-4769
Web: www.schulzrealtymn.com

Schulz and Company Realty owned and operated by Broker Bill Schulz offers friendly, confidential and personal service to Real Estate buyers and sellers of farms, land and residential property throughout southern Minnesota. Bill has specialized in farm and land real estate sales since 1971.

Scissor Shack
201 N Broadway
Goodhue, MN 55027
Phone: (651) 923-4850
Sleepy Eye Telephone Company
111 2nd Avenue
Goodhue, MN 55027
Phone: (651) 923-5005
Web: www.sleepyeyetel.net
Southside Storage
102 Viola Lane
Goodhue, MN 55027
Phone: (651) 923-4154
Steven Matthees Office
23216 County 9 Blvd
Goodhue, MN 55027
Phone: (651) 923-4831
The Salon Room
406 4th Avenue
Goodhue, MN 55027
Phone: (651) 923-4253
Web: www.thesalonroom.com

After attending the Aveda Institute in Minneapolis in 2000, I started my professional career in a top 200 spa, Centennial Hills Salon and Day Spa. My career goals and aspirations were heightened by an amazing woman I met while working there, Tesha Rankin

Thomforde Enterprises
110 7th Street
Goodhue, MN 55027
Phone: (651) 923-4780
Thumann Construction
21043 410th Street
Goodhue, MN 55027
Phone: (651) 923-4296
Timms Dairy Farm
39180 County 4 Blvd
Goodhue, MN 55027
Phone: (651) 923-4746
US Consolidated Farm Service Agency
104 E 3rd Avenue
Goodhue, MN 55027
Phone: (651) 923-5300
US Post Office
205 N Broadway
Goodhue, MN 55027-9205
Phone: (651) 923-4650
Toll Free: (800) ASK-USPS
Web: www.usps.com
Voth Dairy
22695 County 9 Blvd
Goodhue, MN 55027
Phone: (651) 923-4931
Voth Insurance Agency
109 Broadway Street
Goodhue, MN 55027
Phone: (651) 923-4048
Web: www.vothinsurance.com

Voth Insurance is focused on providing high-quality service and customer satisfaction - we will do everything we can to meet your expectations. With a variety of Insurance products to choose from, we're sure you'll get the coverage you need at a fair price. Look around our website and if you have any comments or questions, please feel free to contact us.

Voth Plumbing Inc
38340 230th Avenue
Goodhue, MN 55027
Phone: (651) 923-4909
Welcome Services For You
33565 County 6 Blvd
Goodhue, MN 55027
Phone: (651) 923-4916
White Rock Bank
202 3rd Avenue
Goodhue, MN 55027
Phone: (651) 923-4455
White Rock Dairy
11755 County 1 Blvd
Goodhue, MN 55027
Phone: (651) 258-4676
Windwalker Kennels
33936 County 4 Blvd
Goodhue, MN 55027
Phone: (651) 923-4348
Web: www.windwalkerkennel.com

Windwalker Kennels is a full service facility offering exceptional training for hunting and competition. Carefully selected breeding produces highest quality bird dogs to meet the customers' needs while maintaining natural ability and conformation. Interactive training between dog and owner is provided to establish a team concept.

Witmer Excavating
39523 240th Avenue
Goodhue, MN 55027
Phone: (651) 923-4298
Workout 24/7
209 N Broadway
Goodhue, MN 55027
Phone: (651) 923-5162
---
---
Aerial Photo:
---
Topographic Map: [click map to enlarge, zoom in or zoom out]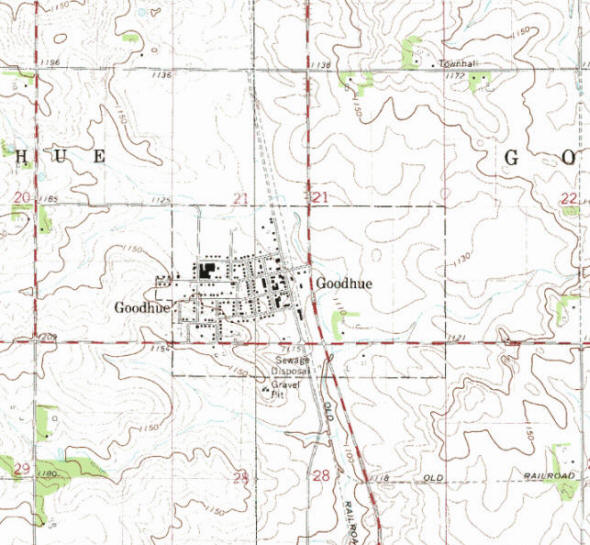 Topographic map is courtesy of the Minnesota DNR - click map to zoom or enlarge