Navigation
LakesnWoods.com
Home Page
Contact Us
Privacy
Minnesota History Shop

Visit The Minnesota History Shop
www.minnesotahistoryshop.com
Historic maps
Historic books
Historic framed art
Historic postcards
Clothing with historic images
And much more!!!


Gibbon Guide:
Photo Gallery
Location
Geography
Demographics
History
Government
Post Office
News
Weather
Street Map
Events
Attractions
Recreation
Lakes
Health Care
Schools
Churches
Media
Motels
Resorts
Campgrounds
Businesses
Aerial Photo
Topographic Map
© 2004-2023
Lakeweb1 Internet Services
All Rights Reserved
DCMA, Defamation, Copyright and Trademark Infingement Policy
WANTED!
Do you have photos, historical accounts or other items pertaining to the Gibbon area? Would you like to share this historical information with the world? LakesnWoods.com would like to publish your Gibbon photos (current or historical) or historical accounts on this website. Original materials can be returned and your privacy will be respected.


(design available on over 100 different items!)

Gibbon Minnesota Community Guide
---
Location:
Gibbon is a railroad town, incorporated in 1887. It was named after General John Gibbon, of Civil War fame. First settlers to this area arrived around 1865. By 1900, our city had grown to a population of 545. We now number 810 very respectable citizens and one or two people who are not quite as respectable.

At one time there were as many as seven saloons in Gibbon, four car dealerships, and three grocery stores. The old Gibbon City Hall, which is on the National Historic Register, was constructed in 1895. It is currently undergoing a lengthy process of restoration.

Like many Minnesota cities, Gibbon is largely composed of the descendents of German and Scandinavian immigrants. Not surprisingly, they liked to dance. For decades Gibbon has been the sight of one of the most renowned Polka Festivals in the entire country. When Garrison Keillor held his "Prairie Home Companion Show" here, in the late 90s he announced that the city of Gibbon had more hard maple flooring per capita than any place in the world, and he was likely correct. Susan Sarandon, the actress, narrated a public television special about the ballroom.

Unfortunately, people don't dance anymore, not like they used to. The ballroom closed its doors a few years ago.

But people do other things. We have the nicest library in the county. Our beautiful city park has been refurbished. Our town baseball team doesn't win very often, but we have the highest crowd attendance in Southern Minnesota. We have three churches in the city limits, and three reverends praying that we will have a winning season. There's hope.

On Friday evenings in the summer, The Gibbon Band of Renown gives free concerts in the park, just as it has done since time began. We are down to three saloons. There is an old city ordinance which bans women in taverns after ten PM. It would be an awkward ordinance to enforce, in this day and age, since all three of our taverns are owned by women.

If you're a stranger here, you won't be for long. Give us three days, and we'll know how you like your eggs done, when you walk your dog, what brand of beer you like, and, more importantly, what type of card games you play.

Mayor Dennis Nau of Gibbon Minnesota
---
Population:
Gibbon (city)
1970
1980
1990
2000
2010
2000-2010 Change
Actual
Percent
Population
877
787
712
808
772
-36
-4.46
Land Area (sq. mile)
0.80
0.77
0.88
0.89
0.89
0
0.00
Density (persons per sq. mile)
1,096.25
1,022.08
809.09
909.97
867.42
-42.55
-4.68
Housing Units
330
357
359
378
394
+16
+4.23
Households
--
343
338
364
353
-11
-3.02
Persons Per Household
--
2.29
2.11
2.22
2.19
-0.03
-1.35
---
Geography:
Gibbon is a city in Sibley County, Minnesota. Gibbon is located along Minnesota State Highway 19 at its junction with Sibley County Road 2. According to the United States Census Bureau, the city has a total area of 0.88 square miles (2.28 km2), all of it land. The elevation is 1,050 ft (320 m) above sea level.
From Wikipedia, the free encyclopedia.
---
Demographics:
As of the census of 2010, there were 772 people, 353 households, and 210 families residing in the city. The population density was 877.3 inhabitants per square mile (338.7/km2). There were 394 housing units at an average density of 447.7 per square mile (172.9/km2). The racial makeup of the city was 95.5% White, 1.3% African American, 0.3% Asian, 2.3% from other races, and 0.6% from two or more races. Hispanic or Latino of any race were 3.4% of the population.
There were 353 households of which 26.1% had children under the age of 18 living with them, 47.6% were married couples living together, 8.5% had a female householder with no husband present, 3.4% had a male householder with no wife present, and 40.5% were non-families. 37.4% of all households were made up of individuals and 20.4% had someone living alone who was 65 years of age or older. The average household size was 2.19 and the average family size was 2.85.
The median age in the city was 44.6 years. 22.8% of residents were under the age of 18; 5.4% were between the ages of 18 and 24; 22.1% were from 25 to 44; 25.7% were from 45 to 64; and 23.8% were 65 years of age or older. The gender makeup of the city was 48.6% male and 51.4% female.
---
---
History:
GIBBON, a city in section 2 in Severance, incorporated as a village on October 28, 1887, and reincorporated on July 3, 1912, was named by officials of the Minneapolis and St. Louis Railroad company for Gen. John Gibbon (1827-96), who was temporarily stationed at Fort Snelling in 1878 and was its commandant during parts of 1880-82 and was commander-in-chief of the Loyal Legion when he died. An alternate version of the naming is that it is for the English historian Edward Gibbon. The first settler, August Peterson, came to the United States in 1867 from Sweden and established a tree claim in 1878, which became known as Peterson's Grove or Settler's Grove; Peterson donated 40 acres for the townsite, and when the lots were sold in 1882, one was reserved for Peterson, who died in 1910; the second lot was for the first person who would build a saloon, who was Wenzel Friedl. The village had a station of the Chicago and North Western Railway; the post office was established in 1883.
Courtesy Minnesota Historical Society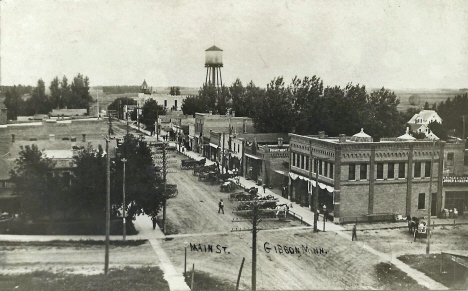 Main Street, Gibbon Minnesota, 1910


LakesnWoods.com Postcard and Postcard Image Collection- click image to enlarge

Visit The Gibbon Photo Gallery for more recent and historic area photos
---
Government:
Gibbon City Hall
985 1st Avenue
PO Box 106
Gibbon, MN 55335
Phone: (507) 834-6566

Regular Business Hours:
Monday - Friday 7:30 am - 3:30 pm

City Council Meetings:
1st Wednesday of the month at 7:00 pm


Title
Term Ends
Name and Address
Phone
Mayor
12/31/2022
Steve Klukas
1473 1st Avenue
Gibbon, MN 55335
(507) 381-1793
City Administrator
appointed
Dana Lietzau
PO Box 106
Gibbon, MN 55335
(507) 834-6566
Council Member
12/31/2022
Roger Tabbert
941 Dewey Avenue
Gibbon, MN 55335
(507) 276-2463
Council Member
12/31/2022
Gregory C Olson
303 E Mill Road
Gibbon, MN 55335
(507) 276-0797
Council Member
12/31/2024
Greg Hartmann
520 E 13th Street
Gibbon, MN 55335
(303) 877-0091
Council Member
12/31/2024
April Hillmann-Firle
157 E 13th Street
Gibbon, MN 55335
(507) 381-6328
State
MN House - District 18B
12/31/2022
Glenn Gruenhagen (R)
287 State Office Building
St. Paul, MN 55155


(651) 296-4229
MN Senate - District 18
12/31/2024
Scott Newman (R)
Minnesota Senate Bldg. Rm 3105
St. Paul, MN 55155


(651) 296-4131
MN Governor
12/31/2022
Governor Tim Walz
75 Rev Dr. Martin Luther King Jr.
St. Paul, MN 55155


(651) 201-3400
(800) 657-3717
Federal
US House - District 7
12/31/2022
Michelle Fischbach (R)
1237 Longworth HOB Washington, DC 20515


(202) 225-2165
(218) 422-2090
US Senate
12/31/2022
Amy Klobuchar (DFL)
425 Dirksen Senate Building
Washington, DC 20510


(202) 224-3244
US Senate
12/31/2022
Tina Smith (DFL)
720 Hart Senate Office Bldg.
Washington, DC 20510


(202) 224-5641
US President
12/31/2024
Joe Biden (D)
1600 Pennsylvania Avenue NW
Washington, DC 20500


not available
---
Post Office:
US Post Office
1070 1st Avenue
Gibbon, MN 55335-3143
Phone: (507) 834-6231
Toll Free: (800) ASK-USPS

Regular Business Hours:
Week Days 8:30 am - 1:00 pm
2:00 pm - 4:00 pm
Saturday 8:30 am - 9:30 am
---
---
Utilities:
---
Major Employers:
---
---
News:
---
Weather:
---
Map: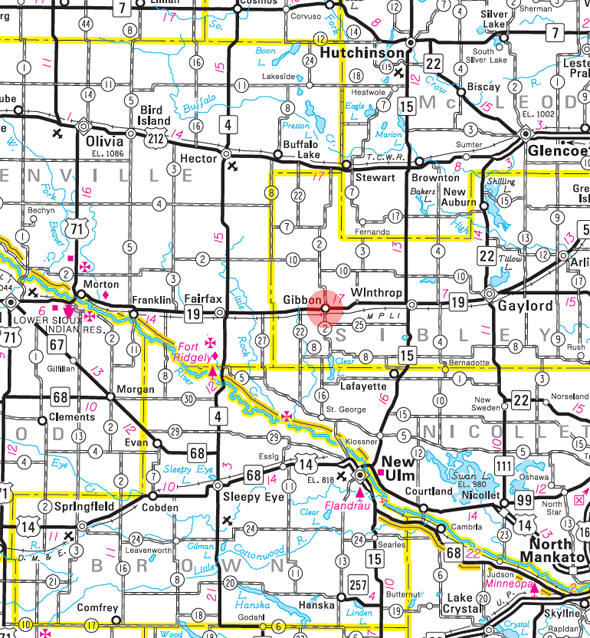 Minnesota State Highway Map of the Gibbon Minnesota area
---
Events:
Gibbon Funfest

2nd weekend in July
---
---
Attractions:
Gibbon Reds Baseball

Members of the The Tomahawk East League, an amateur baseball league made up of eleven Class C teams and one Class B team in southern Minnesota.
---
Recreation:
---
Lakes:
---
Health Care:
Gibbon Medical Clinic
1010 1st Avenue
Gibbon, MN 55335
Phone: (507) 426-7228
---
Schools:
Gibbon Fairfax Winthrop Schools
Independent School District #2365
323 E 11th Street
Gibbon, MN 55335
Phone: (507) 834-6501
Fax: (507) 834-6264

Grades: PK-12
Students: 700

The communities of Gibbon, Fairfax, and Winthrop began sharing educational resources in 1987 and established the GFW School District in 1992. Still remembering the proud heritage of America's heartland, the GFW Schools are renowned for extraordinary educational programs, unequaled by schools of any size.

GFW High School
1001 N Cottonwood Street
Winthrop, MN 55396
Phone: (507) 647-5382
Fax: (507) 647-4329

Grades: 6-12
Students: 425

GFW Middle School
300 SE 2nd Street
Fairfax, MN 55332



Closed 2020. Middle school students now attend GFW High School in Gibbon

GFW Elementary School
323 E 11th Street
Gibbon, MN 55335
Phone: (507) 834-6501
Fax: (507) 834-6264

Grades: PK-5
Students: 275

St. Peters Lutheran School
63872 240th Street
Gibbon, MN 55335
Phone: (507) 834-6676

Grades:
Students:
---
Churches:
Augustana Lutheran Church - ELCA
359 W 7th Street
Gibbon, MN 55335
Phone: (507) 834-6830
Web: www.augustanagibbon.org

Pastor: Kelly Knox
Sunday Worship: 10:00 am (9:30 am summer)

Clear Lake Baptist Church
62221 326th Street
Gibbon, MN 55335
Phone: (507) 834-6408

Pastor: Ramon Flores
Sunday Worship: 10:30 am

Immanuel Lutheran Church - WELS
1380 1st Avenue
Gibbon, MN 55335
Phone: (507) 834-6136
Web: www.immanuelgibbon.org

Pastor: Reverend Michael Gorte
Sunday Worship: 10:00 am (9:00 am summer)

St. Peter Lutheran Church - LCMS
63924 240th Street
Gibbon, MN 55335
Phone: (507) 834-6584

Pastor: Reverend David Radtke
Sunday Worship: 10:00 am (9:00 am summer)

St. Willibrord Catholic Church
1032 Ash Avenue
Gibbon, MN 55335
Phone: (507) 834-6461

Pastor: Father Ron Huberty
Sunday Mass: varies
---
Media:
---
Motels:
Check for motel rates and availability on:
---
Resorts:
---
Campgrounds:
---
---
Businesses:
Ahlbrecht Farms
31543 627th Avenue
Gibbon, MN 55335
Phone: (507) 834-6775
Alan Johnson Farm
63326 300th Street
Gibbon, MN 55335
Phone: (507) 834-6440
All Packaging Inc
27101 625th Avenue
Gibbon, MN 55335
Phone: (507) 834-9779
Amberfield Apartments
131 W 11th Street
Gibbon MN 55335
Phone: (800) 873-1736
Web: www.amberfieldplace.com

AmberField Place offers multi-family, senior 55+ and independent Senior Plus house options. Our affordable market-rate apartments designed to meet your needs are located in 13 communities in Southern Minnesota. The 1 br~1 br+ Den ~ 2 br and 3 bedroom apartments designed with high ceilings and large windows give a spacious, roomy feeling. Imagine sitting in your private screened porch on a warm summer evening, enjoying your home.

Bastian Inc
65440 320th Street
Gibbon, MN 55335
Phone: (507) 834-6746
Black Squirrel Gallery
1059 1st Avenue
Gibbon, MN 55335
Phone: (507) 834-6886
Black's Antiques & Things
926 1st Avenue
Gibbon, MN 55335
Phone: (507) 834-6529
Brun's Saloon
1029 1st Avenue
Gibbon, MN 55335
Phone: (507) 834-6760
Cemstone Products Company
947 1st Avenue
Gibbon, MN 55335
Phone: (507) 834-6716
Web: www.cemstone.com

Founded by the Becken family in 1927, Cemstone offers truly integrated and sustainable "concrete solutions" for its customers in the Upper Midwest and across the country. Cemstone owns and operates a network of ready-mix concrete plants and aggregate facilities. The company offers a full line of ready-mixed concrete, decorative concrete, high performance concrete, aggregate products, concrete masonry units, brick and decorative stone. Cemstone also provides professional grade supplies and materials through its network of Contractor Supply Stores.

Charley's Electric Motor Repair
102 Park Drive E
Gibbon, MN 55335
Phone: (507) 834-6322
D's Pit Stop
1039 1st Avenue
Gibbon, MN 55335
Phone: (507) 834-6192
Dairy Sea Lots Company
66544 240th Street
Gibbon, MN 55335
Phone: (507) 834-6729
Daniel Wendinger Farm
36435 615th Avenue
Gibbon, MN 55335
Phone: (507) 359-7602
De Wayne Blaalid Farm
66851 350th Street
Gibbon, MN 55335
Phone: (507) 359-9059
Eckert Farm Supply
7 E State Highway 19
Gibbon, MN 55335
Phone: (507) 834-6460
Fairfax Standard Gazette
1036 1st Avenue
Gibbon, MN 55335
Phone: (507) 834-6966
Web: www.standard-gazette.com

The Standard-Gazette is a combination of the Fairfax Standard and the Gibbon Gazette. The two newspapers were combined in November of 2000. The Fairfax Standard was founded in 1898, in Fairfax Minnesota. The community of Fairfax had previously been served by the Fairfax Crescent from 1892 to 1899. The Fairfax Standard began serving the community in July of 1898, as what was the considered to be the Republican response to the Democratic leaning Crescent. The Gibbon Gazette actually predates the Fairfax Standard beginning to serve the City of Gibbon in 1894.

Fischer Farms
62609 330th Street
Gibbon, MN 55335
Phone: (507) 834-6991
Forst Farms Inc
37723 631st Avenue
Gibbon, MN 55335
Phone: (507) 359-9039
George Schweiss Realty
580 Cedar Avenue
Gibbon, MN 55335
Phone: (507) 834-6860
Gibbon Antiques and Collectibles
1023 1st Avenue
Gibbon, MN 55335
Phone: (507) 240-0090
Gibbon Auto Sales
442 13th Street E
Gibbon, MN 55335
Phone: (507) 834-6299
Web: www.gibbonautosales.net

At Gibbon Auto Sales we strive to provide our customers with top quality trucks and trailers that not only need their needs but also their budget. Give us a call today or stop by for a test drive at your convenience!

Gibbon City Hall
100 Park Drive
PO Box 106
Gibbon, MN 55335
Phone: (507) 834-6566
Web: www.cityofgibbon.com
Gibbon Highway Service
61 13th Street E
Gibbon, MN 55335
Phone: (507) 834-9714
Gibbon Lumber & Hardware
1003 1st Avenue
Gibbon, MN 55335
Phone: (507) 834-6366
Gibbon Medical Clinic
1010 1st Avenue
Gibbon, MN 55335
Phone: (507) 426-7228
Gibbon Police Department
100 Park Drive
Gibbon, MN 55335
Phone: (507) 834-6367
Gibbon Public Library
1050 Adams Avenue
Gibbon, MN 55335
Phone: (507) 834-6640
Web: www.tdslib.org/gibbon-public-library
Gibbon Truck Sales
442 13th Street E
Gibbon, MN 55335
Phone: (507) 824-6219
Web: www.gibbontrucksales.com
Gibbon United Xpress
1253 1st Avenue
Gibbon, MN 55335
Phone: (507) 834-9753
Web: www.ufcmn.com
Guggisberg Ag Service
61063 300th Street
Gibbon, MN 55335
Phone: (507) 834-6985
Hair Base
772 Ash Avenue
Gibbon, MN 55335
Phone: (507) 834-9702
Hair Fashions by Marie
314 W 7th Street
Gibbon, MN 55335
Phone: (507) 834-6580
Integrity Locators
63885 290th Street
Gibbon, MN 55335
Phone: (507) 834-6651
Isakson's Plumbing & Heating
1058 1st Avenue
Gibbon, MN 55335
Phone: (507) 834-6413
Jay Larson Construction
1031 Ely Avenue
Gibbon, MN 55335
Phone: (507) 834-6660
Jerome Petersen Farm
PO Box 25
Gibbon, MN 55335
Phone: (507) 834-6295
Jerry's Mobil
State Highway 19
Gibbon, MN 55335
Phone: (507) 834-6256
Keith Roche's Construction
53 8th Street W
Gibbon, MN 55335
Phone: (507) 834-6875
Kieker Electric LLC
23468 661st Avenue
Gibbon, MN 55335
Phone: (507) 834-6620
Kramer Antiques & Collectibles
314 W 7th Street
Gibbon, MN 55335
Phone: (507) 834-6580
Lehrke Auto Specialty
21747 641st Avenue
Gibbon, MN 55335
Phone: (507) 834-6133
Lakeside Plumbing and Heating
62374 330th Avenue
Gibbon, MN 55335
Phone: (507) 834-6206
M & N Construction
1135 Davis Avenue
Gibbon, MN 55335
Phone: (507) 834-9849
Mages Land Company
130 12th Street E
Gibbon, MN 55335
Phone: (507) 834-6842
Web: www.magesland.com
Mark IV Barber and Beauty
1064 1st Avenue
Gibbon, MN 55335
Phone: (507) 834-6757
Midwest Research Swine
31009 645th Avenue
Gibbon, MN 55335
Phone: (507) 834-6617
Web: www.midwestresearchswine.com

Midwest Research Swine was founded in 1986 by Dave and Terry Theis of rural Gibbon, Minnesota. The company prides itself on offering high-quality, affordable research swine to the biomedical research industry. Midwest Research Swine strives to provide High Health Status swine that are durable, docile and readily available to the biomedical research community. We draw on more than 25 years' experience dealing with universities, research institutes, startup companies and well-established medical companies. Our company is highly-recommended by our customers and our only business is research swine.

Minnesota Valley Funeral Home
709 1st Avenue
Gibbon, MN 55335
Phone: (507) 834-6547
Web: www.mvfh.org

As a community owned cooperative funeral home, our philosophy is attuned to the community's needs. We are committed to offering a variety of funeral options that will allow families to create a personal and meaningful experience of remembering and saying goodbye.

Minnwest Bank
1069 1st Avenue
Gibbon, MN 55335
Phone: (507) 834-6577
Web: www.minnwestbank.com

Since its beginning, Minnwest Bank has been dedicated to community involvement. You'll find our bankers and representatives involved in local foundations, county economic development corporations, charities, food shelves and local social organizations. You'll see them in the town parade or organizing a charity bike ride. You'll even discover them teaching kids about money and finances.

My Place
1043 1st Avenue
Gibbon, MN 55335
Phone: (507) 834-6310
Neyers Inc
32037 633rd Avenue
Gibbon, MN 55335
Phone: (507) 834-6659
Northern Insulation Products
414 E 13th Street
Gibbon, MN 55335
Phone: (507) 834-6519
Web: www.northern-insulation.com

At Northern Insulation we have been in business for over 55 years. We have over 135 years combined sales experience so you can be assured of getting the RIGHT PRODUCTS at the RIGHT PRICE and of getting the job done RIGHT the FIRST TIME. Our experienced sales staff and installers have the knowledge and tools to meet your insulation challenges whether they are for a residential, commercial, or agricultural building.

Northland Water Service Inc
27067 661st Avenue
Gibbon, MN 55335
Phone: (507) 834-6496
Ogren Insurance
1044 1st Avenue
Gibbon, MN 55335
Phone: (507) 834-6881
Panning Brothers Tractor Parts
25060 651st Avenue
Gibbon, MN 55335
Phone: (507) 834-6512
Web: www.panningbrothers.com

Panning Brothers Tractor Parts have been providing farmers of all sizes quality new, used, and rebuilt tractor parts since 1976. We salvage all brands of tractors with a variety of combine parts also available! Every part purchased at Panning Brothers is guaranteed to meet your satisfaction or your money back!

Paul Glaser Attorney
1013 1st Avenue
Gibbon, MN 55335
Phone: (507) 834-6212
Web: www.paulglaeser.com
Photography by Naomi
64060 300th Street
Gibbon, MN 55335
Phone: (507) 834-6181
Web: www.photography-by-naomi.com

Polytech Gibbon
PO Box 384
Gibbon, MN 55335
Phone: (507) 834-6703
Prairieland Alfalfa Company
25343 621st Avenue
Gibbon, MN 55335
Phone: (507) 834-6425
Reynold Evenson Farms
66059 State Highway
Gibbon, MN 55335
Phone: (507) 834-6490
Richard Bentz Farm
62315 240th Street
Gibbon, MN 55335
Phone: (507) 834-6432
Schwab Farm
65550 366th Street
Gibbon, MN 55335
Phone: (507) 354-5809
Schwarzrock Auto Body
23504 631st Street
Gibbon, MN 55335
Phone: (507) 276-0548
Shirley's Beauty Salon
555 12th Street E
Gibbon, MN 55335
Phone: (507) 834-6810
Shooters of Gibbon
1029 1st Avenue
Gibbon, MN 55335
Phone: (507) 834-6760
South Central Grain & Energy
40 W Park Drive
Gibbon, MN 55335
Phone: (507) 834-6534
Web: www.scgemn.com

South Central Grain & Energy is a diversified, farmer-owned cooperative. We pride ourselves in providing quality, competitively priced products and services to our patrons at eight central Minnesota locations. We look forward to serving your needs.

Southview Living Center
555 E 12th Street
Gibbon, MN 55335
Phone: (507) 834-6510
Starland Metals LLC
59917 236th Street
Gibbon, MN 55335
Phone: (507) 834-6915
Web: www.starlandmetals.com

Since 1988, Starland Metals has been in the business of top quality metal manufacturing and parts fabrication. At our plant near Gibbon, MN, we produce a variety of metal parts and accessories for a number of complex commercial applications. Challenging precision work is our specialty. Some of the best precision steel fabricating on the market comes from Starland Metals. Our broad range of ready technology means we're equipped to tackle projects requiring laser-cutting, punching, forming, shearing, cutting, threading, welding, and assembly.

State Bank of Gibbon
1049 1st Avenue
Gibbon, MN 55335
Phone: (507) 834-6556
Steve's Body Shop
1008 Davis Avenue
Gibbon, MN 55335
Phone: (507) 834-6820
Steve's Repairs
33515 651st Avenue
Gibbon, MN 55335
Phone: (507) 834-6315
Suzy Wurtz Consulting Inc
770 1st Avenue
Gibbon, MN 55335
Phone: (507) 834-6488
Taggatz, Edgar J DVM
1124 1st Avenue
Gibbon, MN 55335
Phone: (507) 834-6664
Thorson's Bakery
1021 1st Avenue
Gibbon, MN 55335
Phone: (507) 834-6848
Tom's Bowling Center
510 13th Street E
Gibbon, MN 55335
Phone: (507) 834-6174
US Post Office
1070 1st Avenue
Gibbon, MN 55335-3143
Phone: (507) 834-6231
Toll Free: (800) ASK-USPS
Web: www.usps.com
Wakefield-West
35739 651st Avenue
Gibbon, MN 55335
Phone: (507) 354-4406
Wrench Room Auto Body
442 13th Street E
Gibbon, MN 55335
Phone: (507) 834-6533
---
---
Aerial Photo:
---
Topographic Map: [click map to enlarge, zoom in or zoom out]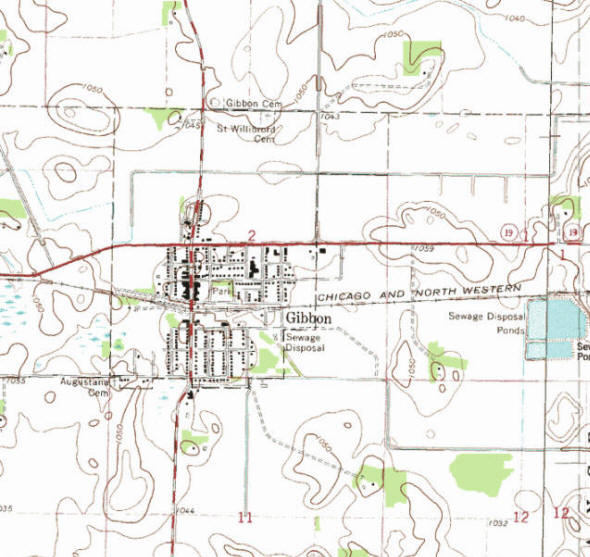 Topographic map is courtesy of the Minnesota DNR - click map to zoom or enlarge