Navigation
LakesnWoods.com
Home Page
Contact Us
Privacy
Minnesota History Shop

Visit The Minnesota History Shop
www.minnesotahistoryshop.com
Historic maps
Historic books
Historic framed art
Historic postcards
Clothing with historic images
And much more!!!


Georgetown Guide:
Photo Gallery
Location
Geography
Demographics
History
Government
Post Office
News
Weather
Street Map
Events
Attractions
Recreation
Lakes
Health Care
Schools
Churches
Media
Motels
Resorts
Campgrounds
Businesses
Aerial Photo
Topographic Map
© 2004-2022
Lakeweb1 Internet Services
All Rights Reserved
DCMA, Defamation, Copyright and Trademark Infingement Policy

WANTED!
Do you have photos, historical accounts or other items pertaining to the Georgetown area? Would you like to share this historical information with the world? LakesnWoods.com would like to publish your Georgetown photos (current or historical) or historical accounts on this website. Original materials can be returned and your privacy will be respected.

Georgetown Minnesota Community Guide
---
Location:
---
Population:
Georgetown (city)
1970
1980
1990
2000
2010
2000-2010 Change
Actual
Percent
Population
141
124
107
125
129
+4
+3.20
Land Area (sq. mile)
1.00
0.94
1.00
1.00
1.00
0
0.00
Density (persons per sq. mile)
141.00
131.91
107.00
125.00
129.00
+4.00
+3.20
Housing Units
53
52
54
56
55
-1
-1.79
Households
--
47
45
50
48
-2
-4.00
Persons Per Household
--
2.64
2.38
2.50
2.69
+0.19
+7.60
---
Geography:
Georgetown is a city in Clay County, Minnesota, along the Buffalo River near its confluence with the Red River of the North. Georgetown is one of the oldest towns in the Red River (of the North) Valley. It began its existence as the furthest south trading post for the Hudson's Bay Company. US Highway 75 is the major route in the area. According to the United States Census Bureau, the city has a total area of 1.00 square miles (2.59 km˛), all of it land. The elevation is 883 ft (269 m) above sea level.
From Wikipedia, the free encyclopedia.
---
Demographics:
As of the census of 2010, there were 129 people, 48 households, and 33 families residing in the city. The population density was 129.0 inhabitants per square mile (49.8/km2). There were 55 housing units at an average density of 55.0 per square mile (21.2/km2). The racial makeup of the city was 95.3% White, 2.3% Native American, 1.6% from other races, and 0.8% from two or more races. Hispanic or Latino of any race were 3.9% of the population.
There were 48 households of which 37.5% had children under the age of 18 living with them, 60.4% were married couples living together, 8.3% had a male householder with no wife present, and 31.3% were non-families. 25.0% of all households were made up of individuals and 10.5% had someone living alone who was 65 years of age or older. The average household size was 2.69 and the average family size was 3.27.
The median age in the city was 37.6 years. 31.8% of residents were under the age of 18; 4.6% were between the ages of 18 and 24; 29.6% were from 25 to 44; 27.9% were from 45 to 64; and 6.2% were 65 years of age or older. The gender makeup of the city was 54.3% male and 45.7% female.
---
---
History:
GEORGETOWN, a city in George Township, was incorporated as a village on March 10, 1904. Old Georgetown, when it was established as a trading post of the Hudson's Bay Company in 1859, was first named Selkirk, in honor of Lord Selkirk, and renamed in honor of Sir George Simpson, governor of Hudson's Bay Company; it was abandoned in September 1862 during the Dakota War and was reestablished in 1864. The village consisted of several sheds for defense, a warehouse, a hotel, a dwelling house, a traders' store, and a guardhouse, the site becoming a stock farm in 1873 and abandoned by 1875. Although mail was distributed earlier by the trading post manager, the first post office in the county was established at Old Georgetown in 1864 with Randolph M. Probstfield as postmaster. The present Georgetown, established in 1883 two miles southeast by the Moorhead Northern Railroad, had 640 acres platted by Soloman G. Comstock and Almond A. White, with the post office in C. B. Hill's store; Hill was county sheriff from 1891 to 1895. The township received its name from the trading post.
Courtesy Minnesota Historical Society
---
Government:
Georgetown City Hall
127 Main Street
PO Box 176
Georgetown, MN 56546
Phone: (218) 236-0083


Title
Term Ends
Name and Address
Phone
Mayor
12/31/2022
Robert James Hermann
462 Elm Street
Georgetown, MN 56546
(218) 304-2510
(218) 236-0746
Clerk
12/31/2022
Tammi Sather
310 Probstfield Street - PO Box 176
Georgetown, MN 56546
(218) 287-1540
Treasurer
12/31/2024
Pamela Pederson
122 Main Street - PO Box 176
Georgetown, MN 56546
(218) 233-6262
Council Member
12/31/2022
Trevor Michael Sorenson
310 Probsfield Street
Georgetown, MN 56546
(701) 261-3181
Council Member
12/31/2024
Darrel Goble
104 Howard Street - PO Box 242
Georgetown, MN 56546
(218) 233-3798
Council Member
12/31/2024
Joel Balcer
PO Box 176
Georgetown, MN 56546
not available
---
Post Office:
US Post Office
127 Main Street
Georgetown, MN 56546-9998
Phone: (218) 233-4622
Toll Free: (800) ASK-USPS

Regular Business Hours:
Week Days 7:30 am - 11:30 am
Saturday 7:30 am - 9:15 am
---
---
Utilities:
---
Major Employers:
Employer
Products/Services
Employees

n/a
---
---
News:
---
Weather:
---
Map: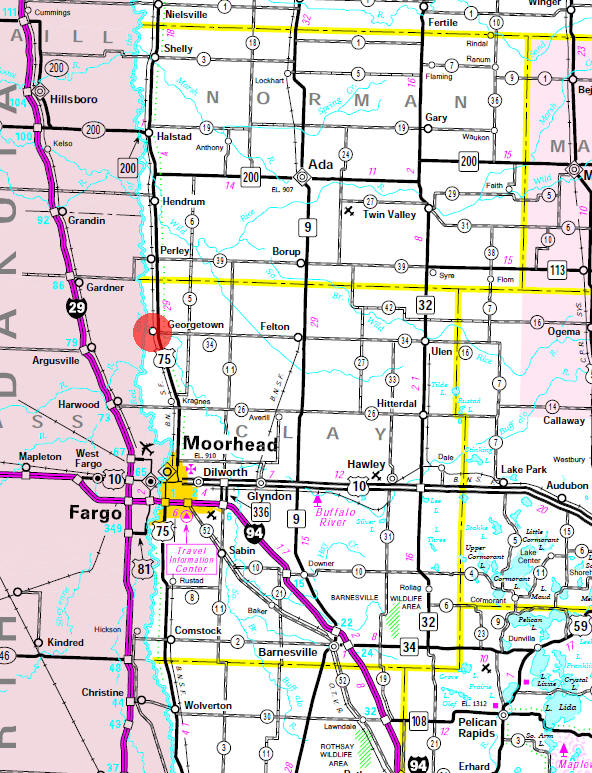 Minnesota State Highway Map of the Georgetown Minnesota area
---
Events:
---
---
Attractions:
Historic King of Trails
Scenic Byway

The "Historic King of Trails", US Highway 75, begins in Winnipeg, Manitoba, Canada and passes through Clay County as it makes its way through Minnesota and five additional states, ending at the Gulf of Mexico in Galveston, Texas. Map of Clay County with Highway 75 identified

The "King of Trails" (KT) was designated by the State of Minnesota as "The Historic King of Trails" in 2001. Learn more about the history of the KT, view maps, and check out events, including the Highway 75 Marketplace by visiting the "Historic King of Trails" web site.
---
Recreation:
---
Lakes:
Lake Name
Size
(acres)
Lake info
Lake Map
Rec Map
Topo Map
none in the area
---
Health Care:
none - served by Fargo/Moorhead hospitals and clinics
---
Schools:
Georgetown Elementary School closed some years ago.
Students now attend class at Moorhead Area Schools, District 152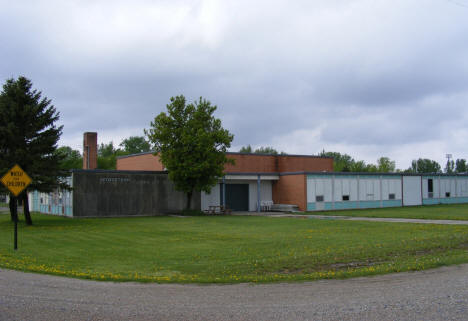 Former Georgetown Elementary School, now closed, 2008
LakesnWoods.com Photo - click image to enlarge
---
Churches:
St. John's Catholic Church
620 160th Avenue N
Georgetown, MN 56546
Phone: (218) 233-3934

Pastor: Fr Joseph Richards
Sunday Mass: 8:00am

We the people of St. John the Baptist Parish, are a rural community of believers, with a long heritage to the Diocese of Crookston and the Church universal. As a believing community, we strive for a personal relationship with Our Heavenly Father and with one another.
---
Media:
none - served by Fargo/Moorhead media
---
Motels:
none - see Fargo/Moorhead motels
Check for motel rates and availability on:
---
Resorts:
---
Campgrounds:
---
---
Businesses:
1MT Ranch
Georgetown, MN 56546
Phone: (701) 541-3930
Web: www.1mtranch.com
All Parts Pickup & Auto Inc
13410 Highway 75 N
Georgetown, MN 56546
Phone: (218) 287-9929
Web: www.appainc.net
C S Ag Service
605 US Highway 75 N
Georgetown, MN 56546
Phone: (218) 233-1645
Clark's Excavating & Septic
15501 18th Street N
Georgetown, MN 56546
Phone: (218) 236-1959
Clay County Shop
120 Main Street
Georgetown, MN 56546
Phone: (218) 233-7801
Georgetown Bar
104 Main Street
Georgetown, MN 56546
Phone: (218) 233-6660
Georgetown Community Center
127 Main Street
Georgetown, MN 56546
Phone: (218) 236-0083
Georgetown Farmers Elevator Company
607 Highway 75
Georgetown, MN 56546
Phone: (218) 236-6661
Web: www.georgetownfarmers.com
Guttormson Farms
19664 70th Street N
Georgetown, MN 56546
Phone: (218) 494-3659
Hy-Lander Tower Systems
15622 5th Street N
Georgetown, MN 56546
Phone: (218) 494-3652
Kukowski Farms
2946 160th Avenue N
Georgetown, MN 56546
Phone: (218) 494-3693
Mueller Airport
5th Street N
Georgetown, MN 56546
Phone: (701) 866-2647
North Star Stable and Kennel
10848 5th Street N
Georgetown, MN 56546
Phone: (701) 306-4404
St. John's Catholic Church
620 160th Avenue N
Georgetown, MN 56546
Phone: (218) 233-3934

Pastor: Rev. Mike Patnode
Sunday Mass: 8:00am

We the people of St. John the Baptist Parish, are a rural community of believers, with a long heritage to the Diocese of Crookston and the Church universal. As a believing community, we strive for a personal relationship with Our Heavenly Father and with one another.

US Post Office
127 Main Street
Georgetown, MN 56546-9998
Phone: (218) 233-4622
Toll Free: (800) ASK-USPS
Web: www.usps.com
Valley Turf Sod Farm
13533 15th Street NW
Georgetown, MN 56546
Phone: (218) 233-3645
Wayne Stevenson Farms
19599 70th Street N
Georgetown, MN 56546
Phone: (218) 494-3658
Ziegler Construction
3330 170th Avenue N
Georgetown, MN 56546
Phone: (218) 494-3680
---
---
Aerial Photo:
---
Topographic Map: [click map to enlarge, zoom in or zoom out]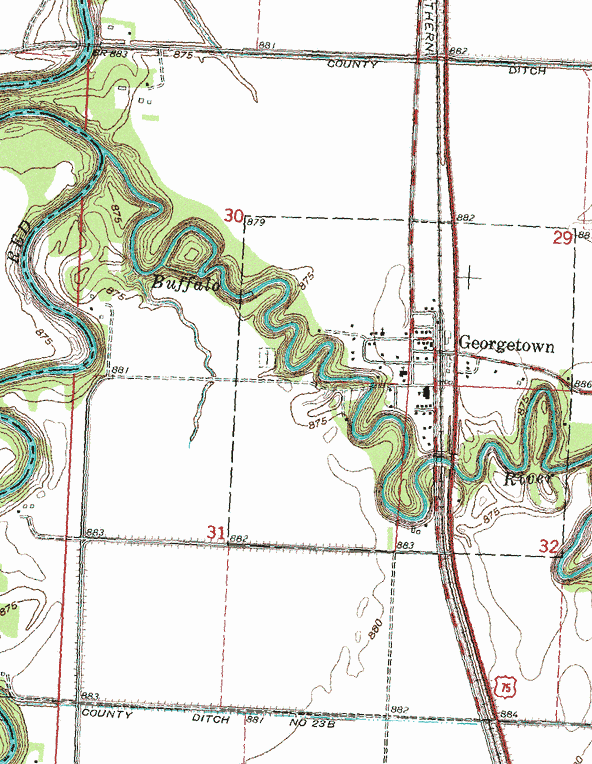 Topographic map is courtesy of the Minnesota DNR - click map to zoom or enlarge