Navigation
LakesnWoods.com
Home Page
Contact Us
Privacy
Minnesota History Shop

Visit The Minnesota History Shop
www.minnesotahistoryshop.com
Historic maps
Historic books
Historic framed art
Historic postcards
Clothing with historic images
And much more!!!


Fisher Guide:
Photo Gallery
Location
Geography
Demographics
History
Government
Post Office
News
Weather
Street Map
Events
Attractions
Recreation
Lakes
Health Care
Schools
Churches
Media
Motels
Resorts
Campgrounds
Businesses
Aerial Photo
Topographic Map
Nearby Communities:
Climax
Crookston
East Grand Forks
Red Lake Falls
Thief River Falls
Warren
© 2004-2023
Lakeweb1 Internet Services
All Rights Reserved
DCMA, Defamation, Copyright and Trademark Infingement Policy
WANTED!
Do you have photos, historical accounts or other items pertaining to the Fisher area? Would you like to share this historical information with the world? LakesnWoods.com would like to publish your Fisher photos (current or historical) or historical accounts on this website. Original materials can be returned and your privacy will be respected.


(design available on over 100 different items!)

Fisher Minnesota Community Guide
---
Location:
---
Population:
Fisher (city)
1970
1980
1990
2000
2010
2000-2010 Change
Actual
Percent
Population
383
453
413
435
435
0
0.00
Land Area (sq. mile)
0.00
0.58
0.40
0.40
0.40
0
0.00
Density (persons per sq. mile)
--
781.0
1,032.5
1,092.3
1,092.3
0
0.00
Housing Units
126
163
172
197
196
-1
0.51
Households
--
149
146
177
180
+3
+1.69
Persons Per Household
--
3.04
2.83
2.46
2.42
-0.04
-1.63
---
Geography:
Fisher is a city in Polk County, Minnesota. US Highway 2 and Polk County Roads 15, 16 and 60 are main routes in the community. According to the United States Census Bureau, the city has a total area of 0.43 square miles (1.11 km2), all of it land. The elevation is 846 ft (258 m) above sea level.
From Wikipedia, the free encyclopedia.
---
Demographics:
As of the census of 2010, there were 435 people, 180 households, and 114 families residing in the city. The population density was 1,011.6 inhabitants per square mile (390.6/km2). There were 196 housing units at an average density of 455.8 per square mile (176.0/km2). The racial makeup of the city was 97.9% White, 0.2% African American, 0.9% Native American, 0.7% from other races, and 0.2% from two or more races. Hispanic or Latino of any race were 4.6% of the population.
There were 180 households of which 35.6% had children under the age of 18 living with them, 50.6% were married couples living together, 8.3% had a female householder with no husband present, 4.4% had a male householder with no wife present, and 36.7% were non-families. 29.4% of all households were made up of individuals and 13.9% had someone living alone who was 65 years of age or older. The average household size was 2.42 and the average family size was 3.07.
The median age in the city was 32.2 years. 25.7% of residents were under the age of 18; 11.5% were between the ages of 18 and 24; 28.5% were from 25 to 44; 19.5% were from 45 to 64; and 14.7% were 65 years of age or older. The gender makeup of the city was 50.3% male and 49.7% female.
---
---
History:
FISHER Township, organized in 1876, and its city in sections 21 and 22 of the same name, received it from the earlier railway terminal village of Fisher's Landing, founded here in the fall of 1875 on the Red Lake River at its head of practicable steamboat navigation. It was first called Shirt-tail Bend because a shirt had once been tied to a pole to warn steamboats of the bend in the river and was renamed Fisher's Landing when the post office began in 1874, changing to the present name, Fisher, in 1882; it was incorporated as a village on February 9, 1881. During a few years, until the railway lines to Winnipeg and Grand Forks were completed, respectively in 1878 and 1879, Fisher's Landing surpassed Crookston in population and business. It closely adjoined the site of the present village, by which it was superseded, so that the old Landing village area "has changed to an unpretentious cow pasture." These names were adopted in honor of William H. Fisher, who was born in Hunterdon County, N.J., December 24, 1844; engaged in railroad business after 1864; settled in St. Paul in 1873 as attorney for the receiver of the St. Paul and Pacific Railroad, and as its assistant manager and superintendent; later was president and manager of the St. Paul and Duluth Railroad company, 1883-99; was vice-president and general manager of the Duluth and Winnipeg Railroad company, 1888-93.
Courtesy Minnesota Historical Society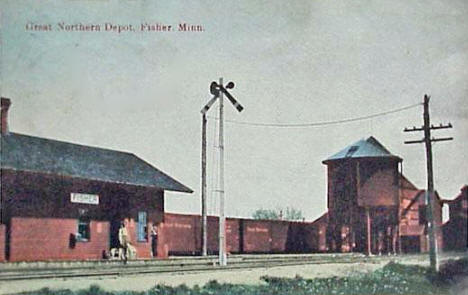 Great Northern Depot, Fisher Minnesota, 1912
LakesnWoods.com Postcard and Postcard Image Collection - click to enlarge

Visit The Fisher Photo Gallery for more recent and historic area photos
---
Government:
Fisher City Hall
320 Thompson Avenue
PO Box 158
Fisher, MN 56723
Phone: (218) 891-2207
Fax: (218) 891-2209

Regular Business Hours:
Monday - Friday 12:00 pm - 5:00 pm

City Council Meetings:
1st Monday of the month at 7:00 pm


Title
Term Ends
Name and Address
Phone
Mayor
12/31/2022
Emily Tinkham
208 N 3rd Street
Fisher, MN 56723
(218) 791-0308
Clerk/Treasurer
appointed
Kara Bowen
PO Box 158
Fisher, MN 56723
(218) 891-2207
Council Member
12/31/2022
Mitch Bakken
208 2nd Street
Fisher, MN 56723
(218) 891-2100
Council Member
12/31/2022
Mark Clauson
307 Park Avenue
Fisher, MN 56723
(218) 891-4885
Council Member
12/31/2024
Laurie Anderson
316 Demers Avenue
Fisher, MN 56723
(701) 739-1282
Council Member
12/31/2024
Adam Wagner
110 N 2nd Street
Fisher, MN 56723
(218) 791-8999
---
Post Office:
US Post Office
319 Thompson Avenue
Fisher, MN 56723
Phone: (218) 891-4031
Toll Free: (800) ASK-USPS

Regular Business Hours:
Week Days 7:45 am - 12:00 pm
Saturday 9:00 am - 11:00 am
---
---
Utilities:
---
Major Employers:
Employer
Products/Services
Employees
n/a
---
---
News:
---
Weather:
---
Map:
View Larger Map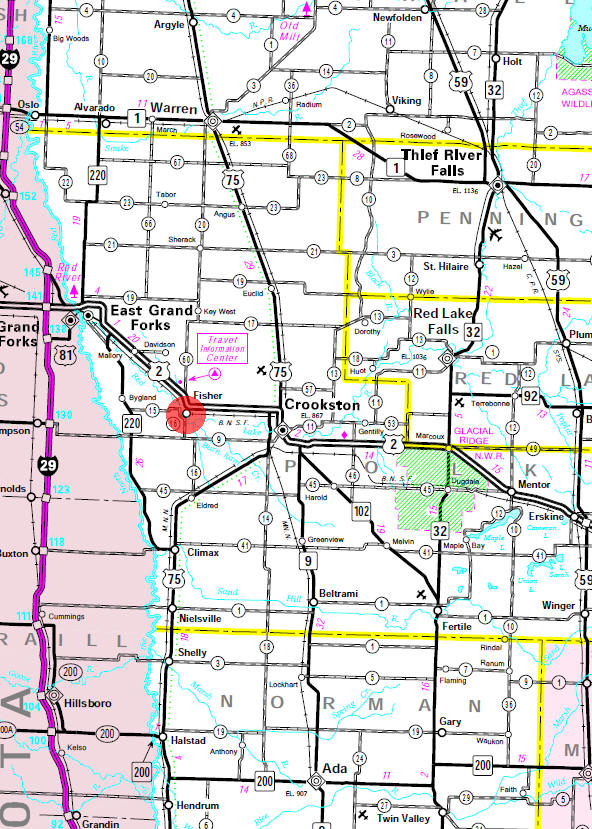 Minnesota State Highway Map of the Fisher Minnesota area
---
Events:
---
---
Attractions:
---
Recreation:
---
Lakes:
Lake Name
Size
(acres)
Lake info
Lake Map
Rec Map
Topo Map

none in the immediate area
---
Health Care:
---
Schools:
---
Churches:
Fisher Lutheran Church - ELCA
205 S 2nd Street
PO Box 127
Fisher, MN 56723
Phone: (218) 891-4632

Pastor: Karen Young Trenne
Sunday Worship: 9:00 am

St. Francis of Assisi Church
302 Park Avenue
PO Box 161
Fisher, MN 56723
Phone: (218) 891-2249

Pastor: Very Rev. Msgr. Mike Foltz
Sunday Mass: varies - call or see website

Trinity Lutheran Church - LCMS
305 S 3rd Street
Fisher, MN 56723
Phone: (218) 891-4581

Pastor: Rev. Michael J. Nielsen
Sunday Worship: n/a
---
Media:
---
Motels:
Check for motel rates and availability on:
---
Resorts:
---
Campgrounds:
---
---
Businesses:
AgriMax
21161 330th Avenue SW
Fisher, MN 56723
Phone: (218) 281-1441


American Legion Post 242
318 Thompson Avenue
Fisher, MN 56723
Phone: (218) 891-4315


Brian Morken Construction
207 Fletcher Avenue
PO Box 192
Fisher, MN 56723
Phone: (218) 891-4381


Cenex Convenience Store
305 N 4th Street
Fisher, MN 56723
Phone: (218) 891-4071

Located in Fisher Minnesota we pride ourselves on our diversity. We are always trying new things in order to keep customers coming back. We serve Deli Max Pizza, Teco Tacos, sub sandwiches made with our fresh baked sub buns.


Dale Sorenson Farms
38218 235th Street SW
Fisher, MN 56723
Phone: (218) 893-2475


Danny R. Anderson Online Auction
26343 410th Avenue SW
Fisher, MN 56723
Phone: (218) 289-4134



The convenience of online auctions make them a perfect fit for sellers who have a lot of items and /or a short time frame in witch to sell them. It is a very effective & easy way for you to convert your unwanted assets into cash. Let DRA-Auctions turn your or your loved one's assets into much need cash or space.




Farmers Co-Op Fuel
305 N 4th Street
Fisher, MN 56723
Phone: (218) 891-2345


Fisher City Hall
313 Park Avenue
PO Box 158
Fisher, MN 56723
Phone: (218) 891-2207
Fax: (218) 891-2209

Regular Business Hours:
Monday - Friday 12:00 pm - 5:00 pm

City Council Meetings:
1st Monday of the month at 7:00 pm


Fisher Community Center
Thompson Avenue
Fisher, MN 56723
Phone: (218) 891-2325


Fisher Fire Department
106 S 3rd Street
Fisher, MN 56723
Phone: (218) 891-2207


Kaeti's Originals
36255 252nd Street SW
Fisher, MN 56723
Phone: (218) 891-4081


Red River Builders
23123 376th Avenue SW
Fisher, MN 56723
Phone: (218) 773-0598


Robert Ross Farms
25366 310th Avenue SW
Fisher, MN 56723
Phone: (218) 891-5530


Thompson Farmers Elevator
102 4th Street N
Fisher, MN 56723
Phone: (218) 891-2255


US Post Office
319 Thompson Avenue
Fisher, MN 56723
Phone: (218) 891-4031
Toll Free: (800) ASK-USPS

Regular Business Hours:
Week Days 7:45 am - 12:00 pm
Saturday 9:00 am - 11:00 am

Vasek Construction Inc
509 Kittson Avenue
Fisher, MN 56723
Phone: (218) 891-2430



Commercial and residential construction. New and remodel




Wagner's Landscaping Inc
23417 370th Avenue SW
Fisher, MN 56723
Phone: (218) 773-1819



Greenhouse & Retail nursery; trees, shrubs, perennials and annuals. Commercial & Residential Landscaping services: tree moving, patios, retaining walls




---
---
Aerial Photo:
---
Topographic Map: [click map to enlarge, zoom in or zoom out]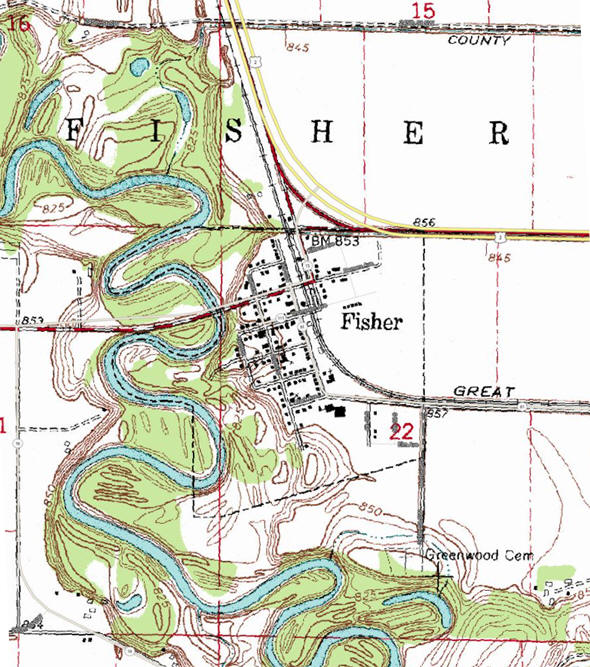 Topographic map is courtesy of the Minnesota DNR -
click map
to zoom or enlarge