Navigation
LakesnWoods.com
Home Page
Contact Us
Privacy
Minnesota History Shop

Visit The Minnesota History Shop
www.minnesotahistoryshop.com
Historic maps
Historic books
Historic framed art
Historic postcards
Clothing with historic images
And much more!!!


Elmore Guide:
Photo Gallery
Location
Geography
Demographics
History
Government
Post Office
News
Weather
Street Map
Events
Attractions
Recreation
Lakes
Health Care
Schools
Churches
Media
Motels
Resorts
Campgrounds
Businesses
Aerial Photo
Topographic Map
© 2004-2023
Lakeweb1 Internet Services
All Rights Reserved
DCMA, Defamation, Copyright and Trademark Infingement Policy
WANTED!
Do you have photos, historical accounts or other items pertaining to the Elmore area? Would you like to share this historical information with the world? LakesnWoods.com would like to publish your Elmore photos (current or historical) or historical accounts on this website. Original materials can be returned and your privacy will be respected.


(design available on over 100 different items!)

Elmore Minnesota Community Guide
---
Location:
---
Population:
Elmore (city)
1970
1980
1990
2000
2010
2000-2010 Change
Actual
Percent
Population
910
882
709
735
663
-72
-9.80
Land Area (sq. mile)
1.00
1.09
0.90
0.90
0.92
+0.02
+2.22
Density (persons per sq. mile)
910.00
809.17
787.78
815.87
720.70
-95.17
-11.66
Housing Units
363
391
348
338
320
-18
-5.32
Households
--
357
307
305
266
-39
-12.79
Persons Per Household
--
2.47
2.31
2.13
2.49
+0.36
+16.90
---
Geography:
Elmore is a city in Faribault County, Minnesota. U.S. Highway 169 serves as a main route in the community. According to the United States Census Bureau, the city has a total area of 0.92 square miles (2.38 km²), all of it land. The elevation is 1,132 ft (345 m).
From Wikipedia, the free encyclopedia.
---
Demographics:
As of the census of 2010, there were 663 people, 266 households, and 158 families residing in the city. The population density was 720.7 inhabitants per square mile (278.3 /km2). There were 320 housing units at an average density of 347.8 per square mile (134.3 /km2). The racial makeup of the city was 92.2% White, 2.7% African American, 1.7% Native American, 0.2% Asian, 1.7% from other races, and 1.7% from two or more races. Hispanic or Latino of any race were 13.1% of the population.
There were 266 households of which 24.8% had children under the age of 18 living with them, 41.7% were married couples living together, 12.0% had a female householder with no husband present, 5.6% had a male householder with no wife present, and 40.6% were non-families. 36.1% of all households were made up of individuals and 15.1% had someone living alone who was 65 years of age or older. The average household size was 2.23 and the average family size was 2.82.
The median age in the city was 38.6 years. 29.3% of residents were under the age of 18; 7.4% were between the ages of 18 and 24; 18.1% were from 25 to 44; 26.7% were from 45 to 64; and 18.4% were 65 years of age or older. The gender makeup of the city was 49.5% male and 50.5% female.
---
---
History:
In 1858, the Commissioners named our little town Dobson. In 1863, the name was changed to Elmore in honor of Judge A.E. Elmore--someone decided to honor him but it is said that he never even visited Elmore.
Many people still refer to some of the older things as Dobson. Dobson was a name of some of the first settlers most of which are now deceased with descendents somewhere, but none in Elmore.
The town was known as a railroad town. Trains came from the Cities to Elmore and turned around and went back. Trains also came from Omaha Nebraska and did the same thing. We had a "roundhouse" that could switch the trains back to their origin.
Elmore used to have a weekly paper called the Elmore Eye that ran from 1892 through 1991. (The Elmore Area Historical Society [Museum] has the micro film for the years 1892-1918 and from 1925-1991. The Museum also has a reader-printer).
Elmore's first graduating class was in 1917; the last in 1990 at which time the high school went to Blue Earth. In 1997, the elementary school closed due to lack of students and also went to Blue Earth. The Blue Earth Area School District now covers most of western Faribault County. The Elmore School building is currently occupied by the Elmore Academy-YSI which is a residential facility for adjudicated youth.
They also provide the community with the Wildcat Cafe that is located on Willis Street in the former Elmore Eye/Senior Citizen building.
At one time, we were a bustling little town. There were two banks, but one closed during the depression; also had two elevators, one of which closed in 1989(?), a furniture store, several hardware stores, 3-4 grocery stores, gas stations, and beer parlors. Like most other small communities, we have lost many businesses and have suffered a major decline in population.
Courtesy City of Elmore
The city of Elmore, sections 32 and 33, was incorporated on November 24, 1891, and separated from the township on November 24, 1918. It had a station of the Chicago, St. Paul, Minneapolis and Omaha Railroad, and the post office was established in 1863.
Courtesy Minnesota Historical Society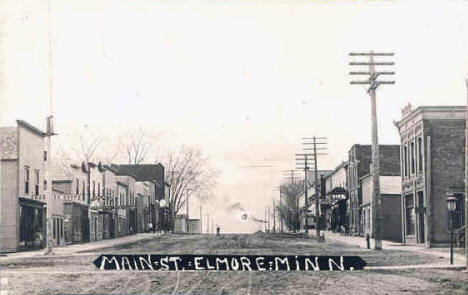 Main Street, Elmore Minnesota, 1911
LakesnWoods.com Postcard and Postcard Image Collection - click to enlarge

Visit the Elmore Gallery for many more historic and current photos
---
Government:
Elmore City Hall
202 S Highway 169
PO Box 56
Elmore MN 56027
Phone: (507) 943-3236
Fax: (507) 943-3234

Regular Business Hours:
Monday - Friday 9:00 am - 5:00 pm

City Council Meetings:
2nd Monday of the month at 6:30 pm

Title
Term Ends
Name and Address
Phone
Mayor
12/31/2022
Clara Vereide
114 N Stockman Street
Elmore MN 56027
(507) 943-3650
Clerk/Treasurer
appointed
Dianne Nowak
202 S Highway 169
Elmore MN 56027
(507) 943-3236
Council Member
12/31/2022
Lorman Jahnke
314 E Iowa Street
Elmore MN 56027
(507) 943-3360
Council Member
12/31/2022
Jen Williams
121 N Henry Street
Elmore MN 56027
(507) 525-3590
Council Member
12/31/2024
Sue Dickson
107 E Jay Street
Elmore MN 56027
(507) 943-3189
Council Member
12/31/2024
Elton Rhoda
122 N Stockman Street
Elmore MN 56027
(507) 943-3322
---
Post Office:
US Post Office
214 E Willis Street
Elmore, MN 56027-4400
Phone: (507) 943-3230
Toll Free: (800) ASK-USPS

Regular Business Hours:
Week Days 7:30 am - 11:30 am
Saturday Closed




---
---
Utilities:
---
Major Employers:
---
---
News:
---
Weather:
---
Map: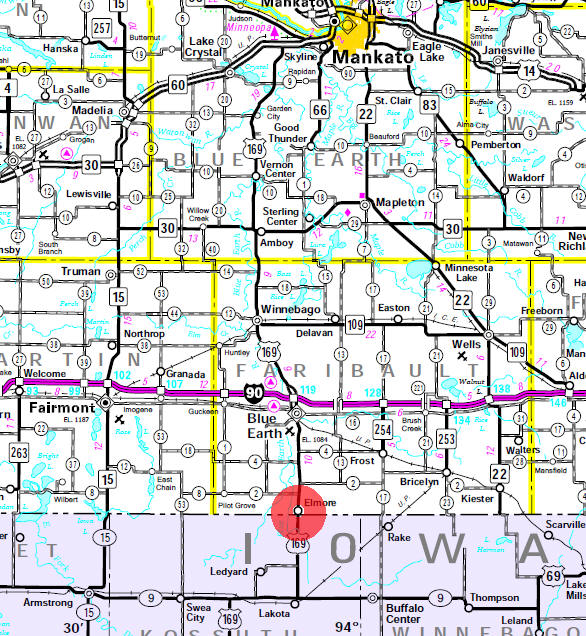 Minnesota State Highway Map of the Elmore Minnesota area
---
Events:
---
---
Attractions:
Elmore Museum
108 S Henry Street
Elmore, MN 56027
Phone: (507) 3403

The museum is open the second and fourth Sundays of each month, but is closed over the winter. Special appointments can be made by contacting Kathy Gill, #507-943-3403.
---
Recreation:
Minn-Iowa Golf Course
2346 Highway 169
Elmore, MN 56027
Phone: (507) 943-3149
Woods Lake Park
3451 380th Street
Elmore, MN 56027
Phone: (507) 943-3543

• Camping • Grills • Showers • Restrooms • 20 Camp Sites •10 Tent Sites • Picnic Tables
---
Lakes:
Lake Name
Size
(acres)
Lake info
Lake Map
Rec Map
Topo Map

none in the immediate area
---
Health Care:
---
Schools:
Blue Earth Area Schools
Independent School District #2860
315 E 6th Street
Blue Earth, MN 56013
Phone: (507) 526-3188



The Blue Earth Area School District proudly serves students from the communities of Blue Earth, Frost, Winnebago, Delavan, and Elmore with a mission to empower students to reach their full potential "Excellence for All." The district focuses on the following core values: Be respectful; Be responsible; Be safe; Be excellent! The district provides every student in Grades K-2 with an iPad in the classroom and every student in Grades 3-12 with a Chromebook. This one-to-one access ensures students will excel as digital learners in a technology-driven world.

Grades: K-12
Students: 1,056

Blue Earth Area High School
1125 Highway 169 N
Blue Earth, MN 56013
Phone: (507) 526-3201
Fax: (507) 526-3260

Grades: 8-12
Students: 424

Blue Earth Area Middle School
315 E 6th Street
Blue Earth, MN 56013
Phone: (507) 526-3115
Fax: (507) 526-2432

Grades: 6-7
Students: 171

Blue Earth Elementary School
315 E 6th Street
Blue Earth MN 56013
Phone: (507) 526-3090
Fax: (507) 526-3091

Grades: K-5
Students: 450
---
Churches:
Elmore United Methodist Church
311 E Mondale Street
Elmore, MN 56027
Phone: (507) 943-3455

Pastor: Art Keith
Sunday Worship: 10:30 am

Shiloh Lutheran Church
108 E Jay Street
Elmore, MN 56027
Phone: (507) 943-3553

Pastor: n/a
Sunday Worship: 10:00 am

St. John's Lutheran Church - LCMS
3893 420th Avenue
Elmore, MN 56027
Phone: (507) 943-3390

Pastor: Dale Kohrs
Sunday Worship: 10:30 am

Trinity Lutheran Church - LCMS
102 E North Street
Elmore, MN 56027
Phone: (507) 943-3348

Pastor: Dale Kohrs
Sunday Worship: 9:00 am
---
Media:
---
Motels:
Check for motel rates and availability on:
---
Resorts:
---
Campgrounds:
Woods Lake Park
3451 380th Street
Elmore, MN 56027
Phone: (507) 943-3543

• Camping • Grills • Showers • Restrooms • 20 Camp Sites •10 Tent Sites • Picnic Tables
---
---
Businesses:
American Legion
106 E Willis Street
Elmore, MN 56027
Phone: (507) 943-3563
Barnick Electric
36621 60th Street
Elmore, MN 56027
Phone: (507) 526-5781
Balcom Auction and Sales
223 N Highway 169
Elmore, MN 56027
Phone: (507) 236-7307
Web: www.balcomauction.com

Since 1982 Balcom Auction has sold everything from Diamond rings to live Buffalo using Live and ebay Auctions. Balcom Auction uses a combination of the 2 auction methods to meet both buyers and sellers needs. Balcom Auction has the latest in auction equipment featuring an Auction topper for outdoor auctions. Balcom Auction "Today's Auctioneers for Today's Auctions"

Boeckman Plumbing and Heating
301 E Willis Street
Elmore, MN 56027
Phone: (507) 943-3749
Boot Top Aussies
123 N Stockman Street
Elmore, MN 56027
Phone: (605) 390-5914
Web: www.boottopaussies.com

Boot Top Aussies is proud to share with you our breeding program which is designed to create "Miniature" and "Toy" Australian Shepherds with sturdy frames, correct structure and intelligent minds. Every breeding is a well thought out plan to not only create Champions for the conformation ring, but to create the best family companions possible as well as dogs with good herding instinct.

Dahl Trucking Inc.
305 S Highway 169
Elmore, MN 56027
Phone: (507) 943-3410
Web: www.dahltrucking.com

Dahl Trucking Inc. is a trucking firm specializing in hauling rock, sand gravel and aggregate for road construction work. Over the years we have increased our customer base to include the hauling of grain, fertilizer and ethanol by products. We are able to provide our customers with End Dumps, Belly Dumps, Tri Axles, Side Dumps and Hoppers.

Ehrich Plumbing and Heating
109 S Highway 169
Elmore, MN 56027
Phone: (507) 943-3267
Elmore Area Historical Society
108 N Henry Street
Elmore, MN 56027
Phone: (507) 943-3855
Elmore City Hall
202 S Highway 169
Elmore, MN 56027
Phone: (507) 943-3236
Elmore Grocery
103 N Highway 169
Elmore, MN 56027
Phone: (507) 943-3554



[closed]

Elmore Library
302 E Willis Street
Elmore, MN 56027
Phone: (507) 943-3150
Web: www.tdslib.org/elmore-public-library
Elmore Liquor Store
202 S Highway 169
Elmore, MN 56027
Phone: (507) 943-3236
Elmore Nursery
201 E Willis Street
Elmore, MN 56027
Phone: (507) 943-3125
Elmore Truck and Trailer Repair
305 S Highway 169
Elmore, MN 56027
Phone: (507) 943-3200
HNF, Inc,
1104 510th Street
Elmore, MN 56027
Phone: (507) 948-3808
J & J Recycling Junk Yard
2341 Highway 169
Elmore, MN 56027
Phone: (507) 943-3653
Jerry's Tire and Service
101 N Highway 169
Elmore, MN 56027
Phone: (507) 943-3557
K & H Cooperative Oil Company
405 Highway 169 S
Elmore, MN 56027
Phone: n/a
Web: www.kandhcoop.com

K & H Cooperative Oil Company was founded in 1930 to serve members in Kossuth and Hancock counties with quality products and dependable service. Today, as in 1930, K & H continues to provide quality products and dependable service to its members in Kossuth & Hancock counties, as well as much of northern Iowa and southern Minnesota. Whether you need gasoline, diesel, lubricants, propane, or a friendly smile at one of the five company owned and operated Classic Stop Convenience Stores, K & H has got you covered.

Martin Krupp Auctioneer
4630 370th Avenue
Elmore, MN 56027
Phone: (507) 943-3485
Michelle's Salon
306 E Mondale Street
Elmore, MN 56027
Phone: (507) 943-3556
Minn-Iowa Golf Course
2346 Highway 169
Elmore, MN 56027
Phone: (507) 943-3149
Red E Oil, Inc.
202 S Highway 169
Elmore, MN 56027
Phone: (507) 943-3242
Rocheforts Welding
6463 370th Avenue
Elmore, MN 56027
Phone: (507) 526-5027
Stenzel's Campers
4701 Highway 169
Elmore, MN 56027
Phone: (507) 943-3204
Web: www.stenzelscampers.com

Located along the Border of Iowa and Minnesota near I-90 in the heart of the Midwest, Stenzel's Campers has a long lasting tradition of dealing directly and personally with our customers for over 35 years. We are an authorized NEWMAR, THOR & HI-LO dealer and service center. We specialize in new Motorhomes, Fifth Wheels and HI-LO's, the world's most fuel efficient collapsible travel trailer.

US Post Office
214 E Willis Street
Elmore, MN 56027-4400
Phone: (507) 943-3230
Toll Free: (800) ASK-USPS
Web: www.usps.com
Wildcat Cafe
203 E Willis Street
Elmore, MN 56027
Phone: (507) 943-3400
---
---
Aerial Photo:
---
Topographic Map: [click map to enlarge, zoom in or zoom out]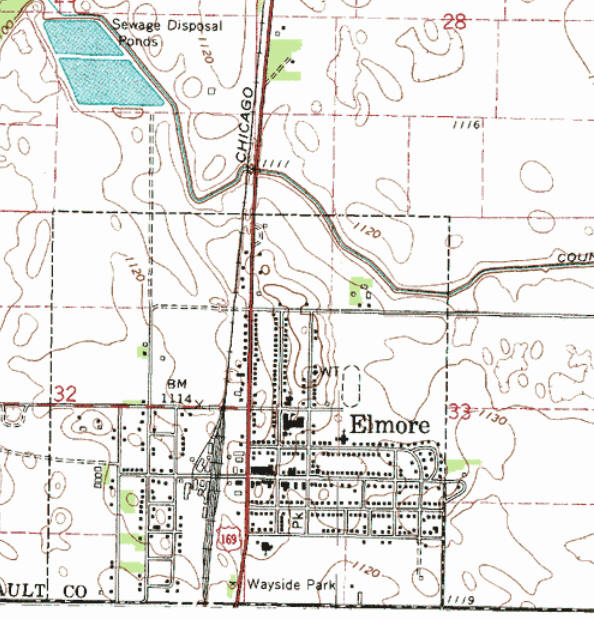 Topographic map is courtesy of the Minnesota DNR - click map to zoom or enlarge