Navigation
LakesnWoods.com
Home Page
Contact Us
Privacy
Minnesota History Shop

Visit The Minnesota History Shop
www.minnesotahistoryshop.com
Historic maps
Historic books
Historic framed art
Historic postcards
Clothing with historic images
And much more!!!


Ellsworth Guide:
Photo Gallery
Location
Geography
Demographics
History
Government
Post Office
News
Weather
Street Map
Events
Attractions
Recreation
Lakes
Health Care
Schools
Churches
Media
Motels
Resorts
Campgrounds
Businesses
Aerial Photo
Topographic Map
© 2004-2023
Lakeweb1 Internet Services
All Rights Reserved
DCMA, Defamation, Copyright and Trademark Infingement Policy
WANTED!
Do you have photos, historical accounts or other items pertaining to the Ellsworth area? Would you like to share this historical information with the world? LakesnWoods.com would like to publish your Ellsworth photos (current or historical) or historical accounts on this website. Original materials can be returned and your privacy will be respected.


(design available on over 100 different items!)


(design available on over 100 different items!)

Ellsworth Minnesota Community Guide
---
Location:
---
Population:
Ellsworth (city)
1970
1980
1990
2000
2010
2000-2010 Change
Actual
Percent
Population
588
629
580
540
463
-77
-14.26
Land Area (sq. mile)
0.90
0.91
0.64
0.64
0.64
0
0.00
Density (persons per sq. mile)
653.33
691.21
906.25
842.81
723.44
-119.37
-14.16
Housing Units
214
238
246
246
233
-13
-5.28
Households
--
231
231
227
210
-17
-7.49
Persons Per Household
--
2.48
2.27
2.19
2.20
+0.01
+0.46
---
Geography:
Ellsworth is a city in Nobles County, Minnesota. Minnesota State Highway 91 serves as a main route in the community. According to the United States Census Bureau, the city has a total area of 0.63 square miles (1.63 km2), all of it land. The elevation is 1,450 ft (442 m).
From Wikipedia, the free encyclopedia.
---
Demographics:
As of the census of 2010, there were 463 people, 210 households, and 120 families residing in the city. The population density was 734.9 inhabitants per square mile (283.7/km2). There were 233 housing units at an average density of 369.8 per square mile (142.8/km2). The racial makeup of the city was 97.6% White, 0.4% African American, 0.4% Native American, 0.4% from other races, and 1.1% from two or more races. Hispanic or Latino of any race were 3.0% of the population.
There were 210 households of which 21.0% had children under the age of 18 living with them, 48.1% were married couples living together, 7.1% had a female householder with no husband present, 1.9% had a male householder with no wife present, and 42.9% were non-families. 40.0% of all households were made up of individuals and 19% had someone living alone who was 65 years of age or older. The average household size was 2.02 and the average family size was 2.70.
The median age in the city was 51.7 years. 17.9% of residents were under the age of 18; 6.4% were between the ages of 18 and 24; 19% were from 25 to 44; 28.6% were from 45 to 64; and 28.1% were 65 years of age or older. The gender makeup of the city was 45.6% male and 54.4% female.
---
---
History:
Early history: Ellsworth is located in Grand Prairie Township in the extreme southwestern corner of Nobles County. The township was organized in 1873, though settlers had taken up residence in the township as early as 1871. One of these early settlers is known in history only as "Uncle" Stillwell. Mr Stillwell made a claim to the land where Ellsworth now stands, and he established a small store on his farmstead, supplying the needs of local farmers. He also operated a peddler's wagon in the vicinity. Mr. Stillwell had great confidence in the future of the region, and often remarked that a town would one day be located on his property, or very near to it. However, Stillwell packed up and left the area two years before the town of Ellsworth was eventually established in 1884. Ellsworth sits on Stillwell's former claim, and the business district of the town is located less than 1/2 mile west of Stillwell's cabin.
A new railroad town: The town of Ellsworth was named in honor of Eugene Ellsworth of Cedar Falls, Iowa, and came into existence as a result of construction of the Burlington Railroad in the summer of 1884. The site was selected by agents of the Cedar Rapids, Iowa & Northwestern Land & Town Lot Company. The site was surveyed by F. D. Randall, and dedication of the plat was made on September 29, 1884, by S. L. Dows and James B. Close, president and secretary, respectively, of the town lot company. When the rail line was completed, a box car was set off to the side, and this served as a depot until a more substantial structure could be built. The first structure in town was a saloon completed by Sam Stevens and Phil Lattenberger in September 1884. Construction of a dozen or more buildings were started at this same time, and before the close of the year, the booming town had about 150 inhabitants. During the winter of 1884-85, the Ellsworth postoffice was established with B. F. Garmer as postmaster.
In the early fall of 1886, the town was selected as a division point of the Burlington railroad. The company built a five-stall roundhouse, put in a turntable, erected a substantial depot, and built a branch line from Ellsworth to Rock Rapids, Iowa.
Incorporation: The necessary steps were taken to bring about incorporation at a county board meeting held in Worthington on December 10, 1886. An election was held on January 13, 1887, and municipal government began in February. The census of 1890 gave Ellsworth a population of 258. The population in 2000 was 540.
From Wikipedia, the free encyclopedia.
ELLSWORTH, a city in sections 28, 29, 32, and 33 of Grand Prairie Township, platted in September 1884 and incorporated January 21, 1887, was named in honor of Eugene Ellsworth of Cedar Falls, Iowa. The village and its post office began in 1884, the latter in postmaster B. Frank Garmer's general store; it had a station of the Chicago, St. Paul, Minneapolis and Omaha Railroad in section 29.
Courtesy Minnesota Historical Society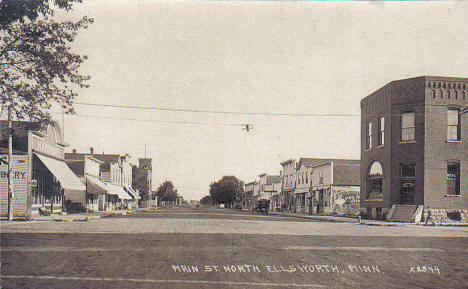 Main Street North, Ellsworth Minnesota, 1917
LakesnWoods.com Postcard and Postcard Image Collection - click to enlarge
Visit The Ellsworth Photo Gallery for more recent and historic area photos
---
Government:
Ellsworth City Offices
322 S Broadway Street
PO Box 355
Ellsworth, MN 56129
Phone: (507) 967-2373

Regular Business Hours:
Monday - Friday 9:00 am - 5:00 pm
closed 12:00 pm - 1:00 pm

City Council Meetings:
2nd Monday of each month at 5:30 pm


Title
Term Ends
Name and Address
Phone:
Mayor
12/31/2022
Colette Smythe
510 Oak Street
Ellsworth, MN 56129
(507) 920-6901
Clerk/Treasurer
appointed
Dawn Huisman
PO Box 355
Ellsworth, MN 56129
(507) 967-2373
Council Member
12/31/2022
Sandra Sanders
301 S Walnut Street
Ellsworth, MN 56129
(507) 967-2424
Council Member
12/31/2022
vacant
address not available
Ellsworth, MN 56129
not available
Council Member
12/31/2024
Tonya Zitzloff
601 S Mulberry Street
Ellsworth, MN 56129
(612) 801-4955
Council Member
12/31/2024
Trevor Boltjes
605 S Mulberry Street
Ellsworth, MN 56129
(605) 403-5162
---
Post Office:
US Post Office
111 E 3rd Avenue
Ellsworth, MN 56129-1060
Phone: (507) 967-2272
Toll Free: (800) ASK-USPS

Regular Business Hours:
Week Days 10:00 am - 2:00 pm
Saturday 12:30 pm - 1:15 pm
---
---
Utilities:
---
Major Employers:
---
---
News:
---
Weather:
---
Map: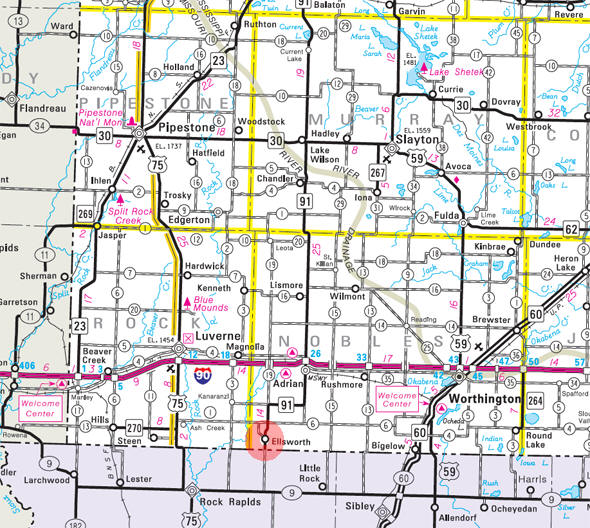 Minnesota State Highway Map of the Ellsworth Minnesota area
---
Events:
---
---
Attractions:
---
Recreation:
---
Lakes:
Lake Name
Size
(acres)
Lake info
Lake Map
Rec Map
Topo Map

none in the immediate area
---
Health Care:
---
Schools:
---
Churches:
Bethel Reformed Church
1295 Kennedy Avenue
Ellsworth, MN 56129
Phone: (712) 479-2339

Pastor: n/a
Sunday Worship: 9:00 am

St. Mary of the Prairie Church
204 N Broadway Street
Ellsworth, MN 56129
Phone: (507) 283-8502
Web: www.stcatherineluverne.org

Pastor: Fr. Tom Jennings
Sunday Mass: 8:30 am

Zion Presbyterian Church
420 S Broadway Street
Ellsworth, MN 56129
Phone: (507) 967-2269

Pastor: n/a
Sunday Worship: n/a
---
Media:
---
Motels:
Check for motel rates and availability on:
---
Resorts:
---
Campgrounds:
---
---
Businesses:
Accounting Tax Service
15122 340th Street
Ellsworth, MN 56129
Phone: (507) 967-2387
Billy's Bar and Grill
209 S Broadway Street
Ellsworth, MN 56129
Phone: (507) 967-2582
Adrian Cooperative Elevator
106 S Broadway Street
Ellsworth, MN 56129
Phone: (507) 967-2434
Cabinets and More
109 W 2nd Avenue
Ellsworth, MN 56129
Phone: (507) 967-2255
Carl Leuthold Farm
222 200th Avenue
Ellsworth, MN 56129
Phone: (507) 967-2423
Dan's Service Center
604 S Broadway Street
Ellsworth, MN 56129
Phone: (507) 967-2445
De Buhr Dairy Equipment
302 S Broadway Street
Ellsworth, MN 56129
Phone: (507) 967-2188
Domeyer Implement
105 N Broadway Street
Ellsworth, MN 56129
Phone: (507) 967-2468
Web: www.domeyerimp.com

Domeyer Implement, Inc. has been a family owned business for 57 years. We are a full service agriculture dealer. With Ellsworth, Minnesota, being located on Hwy 91 in the southwestern corner of Minnesota, we provide service to southeast South Dakota, southwest Minnesota. and northwest Iowa.

Drenth Electric Inc.
309 S Broadway Street
Ellsworth, MN 56129
Phone: (507) 967-2288
Ellsworth Cafe
303 S Broadway Street
Ellsworth, MN 56129
Phone: (507) 967-2493
Ellsworth City Offices
322 S Broadway Street
Ellsworth, MN 56129
Phone: (507) 967-2373

NOTE: City Hall was destroyed by fire on January 19th, 2019. Call for current location.
Ellsworth Fire and Rescue
322 S Broadway Street
Ellsworth, MN 56129
Phone: (507) 967-2373
Ellsworth Food Center
323 S Broadway Street
Ellsworth, MN 56129
Phone: (507) 967-2273
Ellsworth Locker
317 S Broadway Street
Ellsworth, MN 56129
Phone: (507) 967-2544
Ellsworth Lumber Mart
104 S Broadway Street
Ellsworth, MN 56129
Phone: (507) 967-2456
Ellsworth Senior Citizens Center
106 W 3rd Avenue
Ellsworth, MN 56129
Phone: (507) 967-2117
Ellsworth Veterinary Clinic
315 S Broadway Street
Ellsworth, MN 56129
Phone: (507) 967-2211
Exchange State Bank
210 S Broadway Street
Ellsworth, MN 56129
Phone: (507) 967-2570
Web: www.exchangestatebankmn.com

The Exchange State Bank (ESB) is an locally owned and locally managed bank with offices in Hills, Ellsworth, Hardwick & Luverne Minnesota. ESB has been in existence since 1908 and it offers a wide variety of convenient products and services to it's Customers including ATM's, Telephone Banking, Debit Cards and of course Online Banking. If you are looking for a bank that is convenient with quick responsive customer service and dedication to the communities then ESB is your bank.

Gene Sanders Trucking
107 W 3rd Avenue
Ellsworth, MN 56129
Phone: (507) 967-2424
Greg Roemen Farm
10240 340th Street
Ellsworth, MN 56129
Phone: (507) 967-2101
Greg's
107 S Chestnut Street
Ellsworth, MN 56129
Phone: (507) 967-2277
Heikes Green and Livestock
30779 Chaney Avenue
Ellsworth, MN 56129
Phone: (507) 967-2522
Jack's Auto Service Center
401 W Sherman Avenue
Ellsworth, MN 56129
Phone: (507) 967-2455
Jansa Farm
152 200th Avenue
Ellsworth, MN 56129
Phone: (507) 967-2531
Jennige's Valentine Farm
10536 310th Street
Ellsworth, MN 56129
Phone: (507) 967-2297
Kanaranzi Creek
302 S Broadway Street
Ellsworth, MN 56129
Phone: (507) 967-2488

Get ready for an exciting experience in shopping! Lodged in a historical main street hardware store built in 1891, the original hard wood floors, 14 foot tin ceilings, and some of the original counters and shelves fill the shop with character and charm. An occasional store open 3 days a month, Kanaranzi Creek is a unique shopping experience. From rustic charm, re-purposed home decor, painted furniture, and many one of a kind treasures, Kanaranzi Creek has a bit of everything. Look forward to a new and varied collection each month!

Kruger Painting
309 S Mulberry Street
Ellsworth, MN 56129
Phone: (507) 967-2496
Orv's Plumbing and Heating
308 S Broadway Street
Ellsworth, MN 56129
Phone: (507) 967-2464
Parkview Manor
308 W Sherman Avenue
Ellsworth, MN 56129
Phone: (507) 967-2482
Web: www.parkviewmanor.org

Parkview Manor was the highest rated Nursing Home in the State of Minnesota by the MN Report Card System in 2006. Owned and managed by the city of Ellsworth. We offer 45 beds for individual attention for yourself or your loved ones. We accept both Medicare and Medicaid as well as offer 24 hour Nursing Coverage. We have many services for both Rehabilitation and Long Term Nursing. Please take a look at our Services page for a detailed overview of services. We also offer a variety of rooms to suit each individuals needs.

Short Stop
109 N Broadway Street
Ellsworth, MN 56129
Phone: (507) 967-2240
Son D Farms
29470 Chaney Avenue
Ellsworth, MN 56129
Phone: (507) 967-2589
US Post Office
111 E 3rd Avenue
Ellsworth, MN 56129-1060
Phone: (507) 967-2272
Toll Free: (800) ASK-USPS
Web: www.usps.com
---
---
Aerial Photo:
---
Topographic Map: [click map to enlarge, zoom in or zoom out]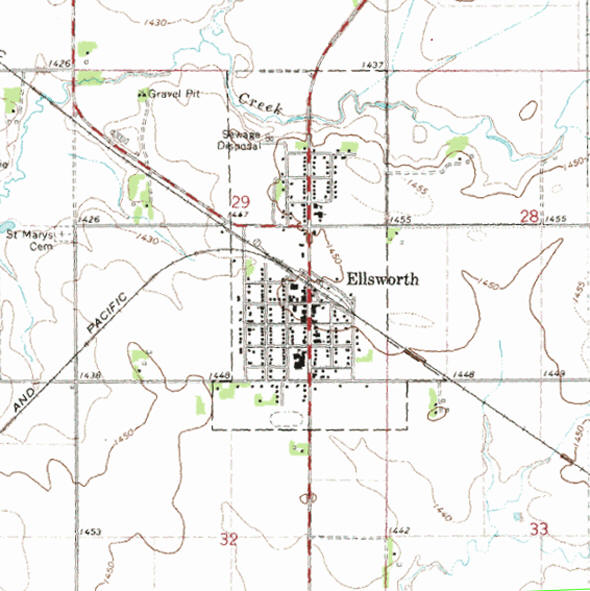 Topographic map is courtesy of the Minnesota DNR - click map to zoom or enlarge