Navigation
LakesnWoods.com
Home Page
Contact Us
Privacy
Minnesota History Shop

Visit The Minnesota History Shop
www.minnesotahistoryshop.com
Historic maps
Historic books
Historic framed art
Historic postcards
Clothing with historic images
And much more!!!


Edgerton Guide:
Photo Gallery
Location
Geography
Demographics
History
Government
Post Office
News
Weather
Street Map
Events
Attractions
Recreation
Lakes
Health Care
Schools
Churches
Media
Motels
Resorts
Campgrounds
Businesses
Aerial Photo
Topographic Map
© 2004-2023
Lakeweb1 Internet Services
All Rights Reserved
DCMA, Defamation, Copyright and Trademark Infingement Policy
WANTED!
Do you have photos, historical accounts or other items pertaining to the Edgerton area? Would you like to share this historical information with the world? LakesnWoods.com would like to publish your Edgerton photos (current or historical) or historical accounts on this website. Original materials can be returned and your privacy will be respected.


(design available on over 100 different items!)


(design available on over 100 different items!)

Edgerton Minnesota Community Guide
---
Location:
Edgerton is a small community in Pipestone County which is in the southwestern part of Minnesota. It is a community which values faith in God, emphasis on strong families and a strong work ethic. The town is populated mostly by people of Dutch heritage who are from a Dutch Calvinistic background. Edgerton has a strong economy supported by local agriculture and small thriving businesses.
---
Population:
Edgerton (city)
1970
1980
1990
2000
2010
2000-2010 Change
Actual
Percent
Population
1,119
1,123
1,106
1,033
1,189
+156
+15.10
Land Area (sq. mile)
1.00
1.03
1.10
1.16
1.16
0
0.00
Density (persons per sq. mile)
1,119.00
1,090.29
1,005.45
890.21
1025.00
+134.79
+15.14
Housing Units
381
442
460
477
525
+48
+10.06
Households
--
427
428
435
491
+56
+12.87
Persons Per Household
--
2.48
2.44
2.24
2.30
+0.06
+2.68
---
Geography:
Edgerton is a city in Pipestone County, Minnesota, along the Rock River. According to the United States Census Bureau, the city has a total area of 1.16 square miles (3.00 km2), all of it land. The elevation is 1,578 ft (481 m).
From Wikipedia, the free encyclopedia.
---
Demographics:
As of the census of 2010, there were 1,189 people, 491 households, and 322 families residing in the city. The population density was 1,025.0 inhabitants per square mile (395.8/km2). There were 525 housing units at an average density of 452.6 per square mile (174.7/km2). The racial makeup of the city was 95.3% White, 0.3% African American, 0.8% Asian, 2.1% from other races, and 1.5% from two or more races. Hispanic or Latino of any race were 3.6% of the population.
There were 491 households of which 26.5% had children under the age of 18 living with them, 60.3% were married couples living together, 3.1% had a female householder with no husband present, 2.2% had a male householder with no wife present, and 34.4% were non-families. 32.0% of all households were made up of individuals and 20.8% had someone living alone who was 65 years of age or older. The average household size was 2.30 and the average family size was 2.91.
The median age in the city was 46 years. 23.5% of residents were under the age of 18; 6% were between the ages of 18 and 24; 19.2% were from 25 to 44; 21.5% were from 45 to 64; and 29.9% were 65 years of age or older. The gender makeup of the city was 46.9% male and 53.1% female.
---
---
History:
EDGERTON, a city in sections 21, 22, 27, and 28 of Osborne Township, incorporated October 13, 1887, was named in honor of Gen. Alonzo J. Edgerton, who was born in Rome, N.Y., June 7, 1827, and died in Sioux Falls, S.D., August 9, 1896. He was graduated at Wesleyan University in 1850; came to Mantorville, Minn., in 1855 and was there admitted to practice law; served as captain of the Tenth Minnesota Regiment, 1862-64, and in 1865 was brevetted brigadier general; removed to Kasson in 1878; was a state senator in 1859 and again in 1877-78; and was a U.S. senator by appointment from March to December 1881.
Courtesy Minnesota Historical Society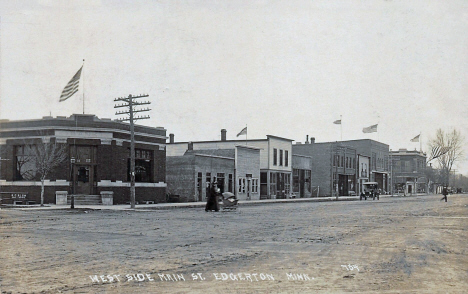 West side of Main Street, Edgerton Minnesota, 1915
LakesnWoods.com Postcard and Postcard Image Collection - click to enlarge

Visit The Edgerton Photo Gallery for more recent and historic area photos
---
Government:
Edgerton City Hall
801 1st Avenue W
PO Box 145
Edgerton, MN 56128
Phone: (507) 442-7891
Fax: (507) 442-3567

Regular Business Hours:
Monday - Friday 9:00 am - 4:00 pm

City Council Meetings:
1st Wednesday of the month at 7:00 pm


Title
Term Ends
Name and Address
Phone
Mayor
12/31/2022
Jason Snyder
327 Rock River Drive
Edgerton, MN 56128
(507) 631-8817
Clerk/Treasurer
appointed
Michael VanderHaar
801 1st Avenue W
Edgerton, MN 56128
(507) 442-7891
Council Member
12/31/2022
Kirk Bleyenburg
502 3rd Avenue N
Edgerton, MN 56128
(507) 631-0071
Council Member
12/31/2022
Kathryn M Baker
1231 S Main Street
Edgerton, MN 56128
(507) 442-7891
Council Member
12/31/2024
Del Hulstein
501 Mechanic Street
Edgerton, MN 56128
(507) 442-6423
Council Member
12/31/2024
Ron Williams
811 5th Avenue SW
Edgerton, MN 56128
(507) 631-8507
---
Post Office:
US Post Office
741 Main Street
Edgerton, MN 56128-1300
Phone: (507) 442-6441
Toll Free: (800) ASK-USPS

Regular Business Hours:
Week Days 7:30 am - 12:00 pm
12:30 pm - 3:00 pm
Saturday 8:30 am - 9:30 am





---
---
Utilities:
---
Major Employers:
---
---
News:
---
Weather:
---
Map: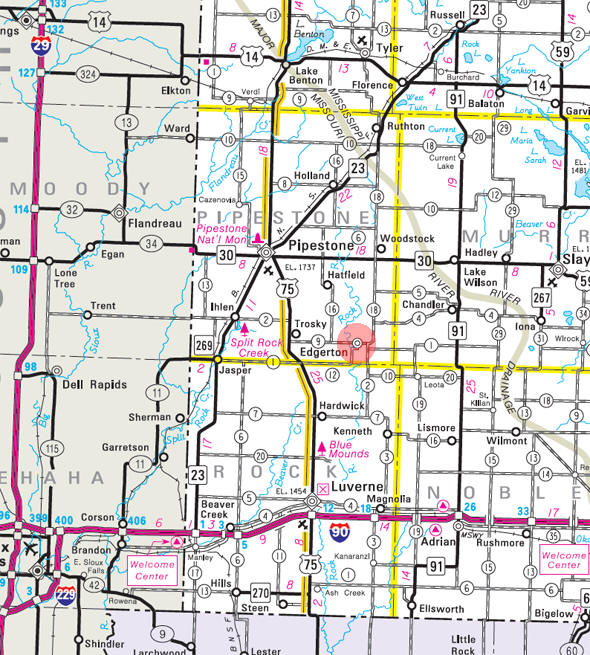 Minnesota State Highway Map of the Edgerton Minnesota area
---
Events:
---
Attractions:
---
Recreation:
---
Lakes:
Lake Name
Size
(acres)
Lake info
Lake Map
Rec Map
Topo Map

none in the immediate area
---
Health Care:
---
Schools:
---
Churches:
---
Media:
Edgerton Enterprise
831 Main Street
Edgerton, MN 56128
Phone: (507) 442-6161
Web: www.edgertonenterprise.com

The Edgerton Enterprise is the community news and advertising source for the Edgerton, Chandler, and Leota Minnesota area. It has served this community since 1883, with first issue of the Enterprise rolling off the presses on April 28, 1883. Currently, we have approximately 1,600 subscribers who receive the newspaper each Wednesday. The Edgerton Enterprise is the legal newspaper for Pipestone County in even-numbered years, alternating with the Pipestone County Star. We are also the legal newspaper for the City of Edgerton and Independent School District #581.
---
Motels:
Dutch Inn Guest House
250 Center Street E
Edgerton, MN 56128
Phone: (507) 442-7961
Web: www.dutchinnmn.com

The Dutch Inn Guest House is located in a building which for many years was known as the Edgerton Medical Building or Beckering Medical and occupied by doctors Gerrit and Roland Beckering. That facility was moved a few years ago to the north part of Edgerton, within the Edgebrook Care Center campus. Marv and Kendra can help you plan your stay and provide whatever you need to make your stay a pleasant one! You will never pay so little for a night's stay where you can enjoy so much space for the money! A large social room to host friends and family around a kitchen table; a refrigerator, microwave, coffeepot and toaster, allows you to serve coffee, toast and bagels for breakfast and popcorn in the evenings.
Check for motel rates and availability on:
---
Resorts:
---
Campgrounds:
Rock River Park & Campground
South side of town on Mill Street

The Rock River Campground and Park is located in the southwest corner of our city on Mill Street. It is close to our city park, swimming pool, and only a short walk, bike ride or drive to our businesses and restaurants. Our campground is located on the scenic Rock River and offers updated restrooms and shower facilities, a picnic shelter, fishing pond, modern playground equipment, bike/walking trail and a free sewer dump site.
---
---
Businesses:
Avera Edgerton Family Clinic
303 5th Avenue N
Edgerton, MN 56128
Phone: (507) 442-5424
Web: www.avera.org
Bleyenberg Construction
140 Trosky Road E
Edgerton, MN 56128
Phone: (507) 631-7551
Bollyt Trucking
174 175th Avenue
Edgerton, MN 56128
Phone: (507) 442-7491
Bootsma County Machine
1490 State Highway 30
Edgerton, MN 56128
Phone: (507) 777-4214
Bo's Tire Shop
1533 41st Street
Edgerton, MN 56128
Phone: (507) 442-7191
Brummel's Sewing and Shoes
801 Main Street
Edgerton, MN 56128
Phone: (507) 442-3622
Chandler Co-op Agronomy Center
360 W Railroad Street
Edgerton, MN 56128
Phone: (507) 442-3898
Chandler Co-op Cenex
320 Trosky Road W
Edgerton, MN 56128
Phone: (507) 442-4971
Chandler Feed Company
130 Klindt Street
Edgerton, MN 56128
Phone: (507) 442-6321
Web: www.chandlerfeed.com

Chandler Feed Company is a locally owned Feed & Grain Elevator. We have locations in Chandler, Edgerton, and Woodstock, MN. We have been in business since 1946. We buy corn, beans, oats, and barley. We also manufacture feed for swine, dairy, beef, sheep, and poultry.

Colonial Funeral Chapel
504 4th Avenue N
Edgerton, MN 56128
Phone: (507) 631-3743
Web: www.edgertonburialassociation.com



We offer a range of personalized services to suit your family's wishes and requirements. You can count on us to help you plan a personal, lasting tribute to your loved one, and we'll carefully guide you through the many decisions that must be made during this challenging time. You are welcome to call us at any time of the day, any day of the week.

Corbin Transport Inc.
305 Industrial Street NW
Edgerton, MN 56128
Phone: (507) 442-5355
Corner Repair
940 Main Street
Edgerton, MN 56128
Phone: (507) 442-6671
Curt's Barber Shop
821 Main Street
Edgerton, MN 56128
Phone: (507) 442-4000
Dave Hulstein Excavating
147 175th Avenue
Edgerton, MN 56128
Phone: (507) 442-4000
Web: www.davehulsteinexcavatinginc.com



We play in the dirt – really well.™ When our mothers told us to stop rolling around in the dirt, we couldn't help ourselves. We've mastered dirt for 50+ years and have amassed over 175 years of combine "rolling around in the dirt" experience. We do Residential, Agricultural, Commercial, & Municipal. We do it really well. Let's shape the Earth together.™

Dave Kuik Construction
12305 110th Street
Edgerton, MN 56128
Phone: (507) 443-5681
Dawn and Company
837 Main Street
Edgerton, MN 56128
Phone: (507) 442-3100



Our services include haircuts, highlights, colors and perms; manicures, pedicures, shellac and OPI nail products; waxing and tanning. We also carry Aquage hair care products and other styling products.

DeBoer Chevrolet
930 S Main Street
Edgerton, MN 56128
Phone: (507) 442-4341
Web: www.deboerchev.com

Ever been chased down by a car salesman while shopping for a vehicle? Made you uneasy didn't it. Fear not, at DEBOER CHEVROLET CO., you won't have to endure such sales gimmicks. At DEBOER CHEVROLET you get to work directly with the owners, Stewart and Jerry, not some commissioned sales person. Find out why generations of buyers have returned to De Boer Chevrolet for all their automotive needs. DeBoer Chevrolet has a great selection of new and pre-owned vehicles.

DeKam Feed and Fertilizer
1300 Mechanic Street
Edgerton, MN 56128
Phone: (507) 442-6991
Web: www.dekamseed.com

De Kam Seed & Fertilizer is a full service ag product retailer that also markets quality equipment such as MERIDIAN, FAST , PRECISION PLANTING, RAVEN and AG LEADER along with all the products that accompany your spraying systems and seed handling needs. We buy, sell and trade all related products.

Del Hulstein Trucking LLC
501 Mechanic Street
Edgerton, MN 56128
Phone: (507) 920-8244
Design by Pat
113 Capri Street
Edgerton, MN 56128
Phone: (507) 631-3561
Dewitt Jeffrey CPA
1000 Mechanic Street
Edgerton, MN 56128
Phone: (507) 631-3080
Dragstra Auto Body
111 Maple Street
Edgerton, MN 56128
Phone: (507) 442-3706
Drooger's Food Center
834 Main Street
Edgerton, MN 56128
Phone: (507) 442-6061



Drooger's Food Center--small town grocery store in Edgerton, MN, where they still bag and carry out your groceries!

Dutch Inn Guest House
250 Center Street E
Edgerton, MN 56128
Phone: (507) 442-7961
Web: www.dutchinnmn.com

The Dutch Inn Guest House is located in a building which for many years was known as the Edgerton Medical Building or Beckering Medical and occupied by doctors Gerrit and Roland Beckering. That facility was moved a few years ago to the north part of Edgerton, within the Edgebrook Care Center campus. Marv and Kendra can help you plan your stay and provide whatever you need to make your stay a pleasant one! You will never pay so little for a night's stay where you can enjoy so much space for the money! A large social room to host friends and family around a kitchen table; a refrigerator, microwave, coffeepot and toaster, allows you to serve coffee, toast and bagels for breakfast and popcorn in the evenings.

E-Clips
611 Main Street
Edgerton, MN 56128
Phone: (507) 920-0265
Edgebrook Care Center
505 Trosky Road
Edgerton, MN 56128
Phone: (507) 442-7121
Web: www.good-sam.com

Edgebrook Care Center has been serving the community of Edgerton, Minn., and the surrounding area for more than 40 years. Today, the campus includes the Medicare- and Medicaid-certified rehabilitation and skilled care center, the assisted living community, and the senior living community to offer a continuum of long-term care services. The Edgebrook Care Center campus mirrors the best of Edgerton — neighbors caring for neighbors. Staff members personally know residents and their families. The campus offers care to meet the varied needs of seniors in the community. Friendly, caring staff members support residents and family members in body, mind and spirit, with arms and hearts of Christian love and compassion.

Edgerton Auto Parts
801 Main Street
Edgerton, MN 56128
Phone: (507) 442-6272
Edgerton Bakery
808 Main Street
Edgerton, MN 56128
Phone: (507) 442-7321
Edgerton Enterprise
831 Main Street
Edgerton, MN 56128
Phone: (507) 442-6161
Web: www.edgertonenterprise.com

The Edgerton Enterprise is the community news and advertising source for the Edgerton, Chandler, and Leota Minnesota area. It has served this community since 1883, with first issue of the Enterprise rolling off the presses on April 28, 1883. Currently, we have approximately 1,600 subscribers who receive the newspaper each Wednesday. The Edgerton Enterprise is the legal newspaper for Pipestone County in even-numbered years, alternating with the Pipestone County Star. We are also the legal newspaper for the City of Edgerton and Independent School District #581.

Edgerton Family Chiropractic
837 Main Street
Edgerton, MN 56128
Phone: (507) 631-7565
Web: www.fuldafamilychiro.com



We use a wide array of treatments including Chiropractic adjustments, Vibracussor Therapy, Whole Body Vibration, Spinal Mobilization, Cold Laser Therapy, Deep Tissue Massage Therapy, Acupuncture, Interactive Metronome and of most importance to our chronic neurological patients, Brain Based Therapy. If you suffer from a Chronic Neurologic Condition such as Fibromyalgia, Neuropathy, Chronic Fatigue, Vertigo, Dizziness, ADD, ADHD, Migraines, or Headaches... and have seen other providers for this condition you are probably aware that answers for your condition are far and few between.

Edgerton Implement
1760 16th Street
Edgerton, MN 56128
Phone: (507) 442-4951
Edgerton Machine Shop Inc.
520 4th Avenue N
Edgerton, MN 56128
Phone: (507) 442-3311
Edgerton Public Library
811 1st Avenue W
Edgerton, MN 56128
Phone: (507) 442-7071
Web: plumcreeklibrary.org/edgerton
Edgerton Veterinary Clinic
1001 Main Street
Edgerton, MN 56128
Phone: (507) 442-8387
Web: edgertonvet.vetstreet.com



Edgerton Veterinary Clinic is a full-service veterinary medical facility, located in Edgerton, MN. The professional and courteous staff at Edgerton Veterinary Clinic seeks to provide the best possible medical care, surgical care and dental care for their highly-valued patients.

Emily's Accounting and Tax Service
821 Main Street
Edgerton, MN 56128
Phone: (507) 442-5081
Exercise Place
350 Sagratti Street W
Edgerton, MN 56128
Phone: (507) 442-3550
Web: www.exerciseplace.org

We have over 2,000 sq. feet of space for our cardio and strength training machines. The Hogann resistance equipment is unique and easy to use. These machines offer resistance throughout the range of motion. To adjust the resistance simply turn the dial. Digital readout on the machines display: resistance, time, repetitions and heart rate. We also have dumbbells, free weights and a smith machine. Our cardio equipment consists of treadmills, ellipticals, and bikes.

Fey Industries Inc.
200 4th Avenue N
Edgerton, MN 56128
Phone: (507) 442-4311
Web: www.feyindustries.com



Fey Industries is a third generation, locally owned and managed manufacturer of imprinted vinyl promotional products (3-ring binders, auto accessories, calendars, baby and beyond, stadium cushions, etc), media packaging for CD, DVD, and BlueRay discs, as well as custom thermoformed products (packaging for fishing lures, pill blisters, etc). Fey Industries also owns and operates a manufacturing facility in Salt Lake City, Utah.

First State Bank Southwest
760 Main Street
Edgerton, MN 56128
Phone: (507) 442-5000
Web: www.firststatebanksw.com

At First State Bank Southwest, we are truly a community bank and are very proud of that fact. With ownership and directors residing in the area, we can make decisions very rapidly and can be flexible and sensitive to the needs of our customers. The First State Bank Southwest was chartered in 1903 and now has offices in six locations to help service our customers in southwest Minnesota.

Fraser Oil Products
228 Terrace View Avenue
Edgerton, MN 56128
Phone: (507) 442-8281
Gord's Hardware Hank
840 Main Street
Edgerton, MN 56128
Phone: (507) 442-5781

Full line HANK's hardware and paint. Award winning provider of Hardware Hank's, Valspar, and Laura Ashley Home paints and stains.

Grey Wolf Saloon
130 E Howard Street
Edgerton, MN 56128
Phone: (507) 631-0065



Pizzas served on Monday and Tuesday nights. Pizzas, burgers and appetizers available Wednesday - Saturday until 8pm. Pool tables, dart board and jukebox on site. Both on and off sale liquor available.

Guidepoint Pharmacy
735 Main Street
Edgerton, MN 56128
Phone: (507) 631-0080
Web: www.guidepointpharmacy.com
Hartog-Allen Organ Company
751 Main Street
Edgerton, MN 56128
Phone: (507) 442-4081
Heard Tax Service
251 Howard Street W
Edgerton, MN 56128
Phone: (507) 442-3822
Hope Haven Inc.
613 Trosky Road W
Edgerton, MN 56128
Phone: (507) 631-0033
Hormel Foods
201 Klindt Street
Edgerton, MN 56128
Phone: (507) 442-6541
Huisken Market
771 Main Street
Edgerton, MN 56128
Phone: (507) 442-6881



Currently closed

Huisken Photography
825 Main Street
PO Box 149
Edgerton, MN 56128
Phone: (507) 442-7911
Web: www.huiskenphotography.com



I'm a Sioux Falls, SD based photographer and also travel all over the midwest and beyond to shoot. It is wonderful to have a beautiful studio available, but my favorite way to shoot is using natural light and shooting on location in either a home, urban, or country setting. Being willing to photograph pretty much anywhere allows me to get unique and individualized shots for each person that I have the pleasure to photograph. Our studio goal is to create artwork for your home and heirlooms for your family. I want my images to say "WOW".

Hulstein Concrete and Construction
135 175th Avenue
Edgerton, MN 56128
Phone: (507) 442-8941
Hulstein Trucking LLC
501 Mechanic Street
Edgerton, MN 56128
Phone: (507) 920-8244
Insurance Services LLP
805 Main Street
Edgerton, MN 56128
Phone: (507) 442-7261
Investment Centers of America
760 Main Street
Edgerton, MN 56128
Phone: (507) 442-6000
J & J Autoworks
215 W Maple Street
Edgerton, MN 56128
Phone: (507) 442-5529
J & K Auto Repair
160 Trosky Road E
Edgerton, MN 56128
Phone: (507) 442-5571
Web: www.jandkautoservice.com



J and K Auto Service is family-owned and operated right here in Edgerton, MN. Since our company opened its doors in 1960, we've treated every customer like they were a part of our family. Ken and Mike Berghorst have many years of experience working on all makes and models of vehicles and Mike is an ASE Certified Master Technician. Ken and Mike are here to help with all of your vehicle needs. See us today for high quality automotive work at small town prices.

Joni's Soothing Touch
321 Mill Street W
Edgerton, MN 56128
Phone: (507) 442-4848
K & M Concrete Construction
236 Industrial Street
Edgerton, MN 56128
Phone: (507) 442-4855
Web: www.kmconcreteconstruction.com



At K&M Concrete Construction, Inc, we're committed to satisfying our customers. From a simple residential sidewalk... to a detailed commercial building, we've experienced it all. No job is too small or too big for our knowledgeable crews. We've happily served our customers for over 16 years!

Katie's Closet & More
829 Main Street
Edgerton, MN 56128
Phone: (507) 442-5055

Katie's Closet has more than just clothes! Paula carries DaySpring cards, Tupperware, Watkins, Avon, Christian books/devotionals, and other gifts. Looking for gently used clothes, cards, gifts, treat and more? Katies Closet and More has them! There is something for everyone here!

Kaylee's Hair Hut
120 Howard Street
Edgerton, MN 56128
Phone: (507) 442-8480
Kooi's Repair
320 Mill Street W
Edgerton, MN 56128
Phone: (507) 442-7120
Lone Wolf Power Washing
940 Mechanic Street
Edgerton, MN 56128
Phone: (507) 442-5024
M & H Hardware & Appliance
813 Main Street
Edgerton, MN 56128
Phone: (507) 442-5671
Web: www.mhhardwareedgerton.com



At M & H Hardware & Appliance we carry a large selection of major appliances by Frigidaire,Maytag and Speed Queen. We have 2 service technicians to do any warranty or repair when needed. When purchasing a new home, most people refer to the expertise of real estate agents; specialized professionals that have been and will be selling homes for years. Why accept less expertise when you need to fill your new home with Home Appliance, Home Furniture? Stop and think about it. If you really want help -- go to the experts!

Main Street Printers
831 Main Street
Edgerton, MN 56128
Phone: (507) 442-3951
Web: www.edgertonenterprise.com/main-street-printers.html
Mainstreet Financial Service
821 Main Street
Edgerton, MN 56128
Phone: (507) 442-3884
Web: www.mainstreetfinancial.net
Mathy Trucking Inc
1585 State Highway 30
Edgerton, MN 56128
Phone: (507) 777-4395
Menning Enterprises
269 165th Avenue
Edgerton, MN 56128
Phone: (507) 442-3722
Web: www.menningenterprises.com



Menning Enterprises is owned and operated by Ron and Kim Menning. We have owned this family operated kennel for 49 years. Menning Enterprises used to be Menning Kennels and was owned by Ron's parents. The business has been around since 1968. In the last 40 years there has been many changes that have been made. In 1994 we expanded to a brand new faciltiy. We now have a grooming program, dental program and all puppies are vet checked several times before they leave. We have had a USDA license since the early 70s.

NorthStar Plastics & Manufacturing
147 175th Avenue
Edgerton, MN 56128
Phone: (507) 227-4838
Web: www.nstartrailers.com

NorthStar Trailers is focused on providing high-quality service and customer satisfaction - we will do everything we can to meet your expectations with the trailers we have. We offer a variety of aluminum trailers with our Aluma trailers. The Midsota line of trailers is best known for the Versadump trailer. We have also added the Trailerman trailers. We feel our ability to provide you the trailer of your dreams comes with the Aluma Trailers, Midsota Trailers, and the Trailerman Trailers. We also manufacture a dog box, dog unit that can be added to one of our aluminum trailers or a trailer that you currently own. The aluminum trailer offers a premium, lightweight trailer. Add our dog box to it, which is easily removable from the trailer with a slip of a couple pins. The trailer can then be used for a utility trailer to be used for hauling. What a great feature this option makes for trailer versatility.

On The Farm
831 Main Street
Edgerton, MN 56128
Phone: (507) 442-3999
Web: www.onthefarmnews.com
Paul Ward Real Estate
821 Main Street
Edgerton, MN 56128
Phone: (507) 442-5081
Web: www.paulcwardrealestate.com
Prestige Dental Cabinets
1031 Mechanic Street
Edgerton, MN 56128
Phone: (507) 631-8488
Progress Inc.
147 178th Avenue
Edgerton, MN 56128
Phone: (507) 631-1500
Web: www.progresspipestone.com



Progress, Inc. is a non-profit started in 1991 to provide work and training to people with developmental disabilities in a community setting. These services are referred to as Day Training & Habilitation (or DT&H) and are licensed by the Minnesota Department of Human Services.

Remembered Moments
2217 160th Avenue
Edgerton, MN 56128
Phone: (507) 220-0682
Web: www.remembered-moments.com

Remembered Moments specializes in professional, custom made scrapbooks, business portfolios, and personalized gifts. Through the love of helping others preserve today's memories for tomorrow's generation I fell in love with ribbon, thus the additional of boutique bows (plus I had a daughter that helped me fall in love with that also!) and I fell in love with Usborne books the moment I found out about them (about the time I had my first child).

Rieck Plumbing and Heating
1702 26th Street
Edgerton, MN 56128
Phone: (507) 442-3030
Rock River Communications
931 Main Street
Edgerton, MN 56128
Phone: (507) 442-3653



Rock River Communications is your local Verizon Wireless retail store offering, tablets, smart phones, basic phones, wireless internet, and home phone solutions!

Rock River Landscape
333 W Rock River Drive
Edgerton, MN 56128
Phone: (507) 820-2021
Roger's Auto Sales
211 W Howard Street
Edgerton, MN 56128
Phone: (507) 442-3111
Web: www.rogers-autosales.com

Looking for a great late model used car, truck or SUV? As one of Southwest Minnesota's premier used vehicle dealers, you can count on finding the finest selection of premium quality used vehicles from Chevrolet, Pontiac, Buick, Ford, Dodge, Chrysler, Jeep and Toyota. Choose from cars, trucks, vans and SUV's - right here at Roger's Auto Sales. Since 1978 we've been helping customers in Edgerton, Minnesota and the surrounding area find the perfect vehicle at the perfect price. We're proud to bring the very best values in used vehicles to you. We appreciate your business!

Roxie's Gift Corner
829 Main Street
Edgerton, MN 56128
Phone: (507) 631-3844
Roxie's Tour and Travel
200 Valley View Lane
PO Box 215
Edgerton, MN 56128
Phone: (507) 442-3011
Rustrap Manufacturing Company
111 Howard Street E
Edgerton, MN 56128
Phone: (507) 442-3451



Is your manufacturing operation in need of high-quality brass and aluminum dies and vacuum molds, custom designed to your exact specs and delivered on time and within budget? Rustrap Manufacturing is the partner you're looking for.

Second Nature Taxidermy
150 Industrial Street W
Edgerton, MN 56128
Phone: (507) 631-3111
Web: secondnaturetaxidermy.blogspot.com



Here you will find various photos of Abbie's current taxidermy projects and some of our favorites from the past. We will also be reporting on our most recent hunting and fishing excursions and we will provide info about some of the latest and greatest things that are happening in our lives.

Senior Citizens Center
120 E Maple Street
Edgerton, MN 56128
Phone: (507) 442-3903
Sioux Dairy Equipment Inc.
1006 4th Avenue S
Edgerton, MN 56128
Phone: (507) 442-8580
Web: www.siouxdairy.com



Established in 1987, Sioux Dairy Equipment, Inc. is a detail-oriented dairy equipment company who specializes in building turnkey dairy facilities.

Sioux Empire Novus Glass
607 Trosky Road W
Edgerton, MN 56128
Phone: (507) 631-8414
Solar TV
230 W Howard Street
Edgerton, MN 56128
Phone: (507) 442-5151



SOLAR TV is an authorized DISH Satellite television Retailer specializing in Satellite television and Internet service in Edgerton, MN.

Style Shop
1270 Main Street
Edgerton, MN 56128
Phone: (507) 442-7701
Tally Ho Coffee
845 Main Street
Edgerton, MN 56128
Phone: (507) 631-7557

Serving breakfast, quiche, salads, wraps, sandwiches, flatbread paninis, lattes, smoothies and ice cream

Tammy's Hair and Tan
120 Howard Street W
Edgerton, MN 56128
Phone: (507) 442-8480
The End Zone Family Restaurant
1000 S Main Street
Edgerton, MN 56128
Phone: (507) 631-0090



This family-friendly restaurant features great food like 1/3 lb beef steak burgers and pizza with hand-pressed dough, baked fresh and made to order! Plus enjoy shrimp, chislic, fish and chips, chicken strips, and BBQ rib sandwiches. Thirsty? Try out one of the six featured draft beers, including one seasonal option for variety! If you're more of a morning person, enjoy breakfast from 6 a.m. to 11 a.m. with 15 appetizers to choose from, not to mention a full breakfast menu and very affordable kids' menu!

Tinklenberg Lumber
341 Mill Street E
Edgerton, MN 56128
Phone: (507) 442-3101
Top Real Estate
330 Rock River Drive
Edgerton, MN 56128
Phone: (507) 631-0058
Town and Country Realty
251 Howard Street W
Edgerton, MN 56128
Phone: (507) 442-8191
Twin Wolves Inc.
1725 51st Street
Edgerton, MN 56128
Phone: (507) 631-3500
US Post Office
741 Main Street
Edgerton, MN 56128-1300
Phone: (507) 442-6441
Toll Free: (800) ASK-USPS
Web: www.usps.com
Van Dyke Sanitation
340 W Howard Street
Edgerton, MN 56128
Phone: (507) 442-7241
VanderStoep Furniture
511 4th Avenue W
Edgerton, MN 56128
Phone: (507) 442-5661
Web: www.vanderstoepfurniture.com

Proudly serving the tri-state area since 1930. Name brand furniture and flooring includes Ashley, Best, Beaulieu-Shaw, Cavalier, Chromcraft, Cochrane, Congoleum, Dimplex, Eagle, England, G and S, Graber, Hillsdale, Karndean, Lang, La-Z-Boy, Leather Trend, Leick, Liberty, Marshfield, McQuarter, Mohawk, Omaha Bedding, Oriental Weavers, Peters Revington, Pulaski, Shaw, Southwind, Symbol and Vaughn Bassett (many other choices available). Free Delivery.

Vim Thrift Shop
12625 120th Street
Edgerton, MN 56128
Phone: (507) 562-0378
Voss Autowash
400 Trosky Road W
Edgerton, MN 56128
Phone: (507) 227-2006
Waddell & Reed Financial Services
833 Main Street
Edgerton, MN 56128
Phone: (507) 442-4440
Ward Real Estate
821 Main Street
Edgerton, MN 56128
Phone: (507) 631-5081
Wassink Electric
701 5th Avenue W
Edgerton, MN 56128
Phone: (507) 442-3181
Wendy's Flowers and Scents
814 Main Street
Edgerton, MN 56128
Phone: (507) 442-3272
Web: www.wendysflowers.net

Wendy's Flowers and Scents proudly serves the Edgerton area. We are family owned and operated. We are committed to offering only the finest floral arrangements and gifts, backed by service that is friendly and prompt. Because all of our customers are important, our professional staff is dedicated to making your experience a pleasant one. That is why we always go the extra mile to make your floral gift perfect. Let Wendy's Flowers and Scents be your first choice for flowers.

Westside Service
401 Trosky Road W
Edgerton, MN 56128
Phone: (507) 442-3272
---
---
Aerial Photo:
---
Topographic Map: [click map to enlarge, zoom in or zoom out]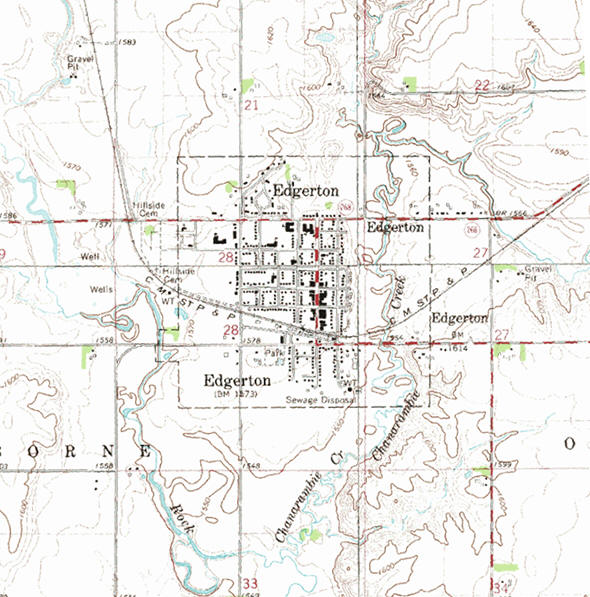 Topographic map is courtesy of the Minnesota DNR - click map to zoom or enlarge