Navigation
LakesnWoods.com
Home Page
Contact Us
Privacy
Minnesota History Shop

Visit The Minnesota History Shop
www.minnesotahistoryshop.com
Historic maps
Historic books
Historic framed art
Historic postcards
Clothing with historic images
And much more!!!


Deer Creek Guide:
Photo Gallery
Location
Geography
Demographics
History
Government
Post Office
News
Weather
Street Map
Events
Attractions
Recreation
Lakes
Health Care
Schools
Churches
Media
Motels
Resorts
Campgrounds
Businesses
Aerial Photo
Topographic Map
© 2004-2022
Lakeweb1 Internet Services
All Rights Reserved
DCMA, Defamation, Copyright and Trademark Infingement Policy
WANTED!
Do you have photos, historical accounts or other items pertaining to the Deer Creek area? Would you like to share this historical information with the world? LakesnWoods.com would like to publish your Deer Creek photos (current or historical) or historical accounts on this website. Original materials can be returned and your privacy will be respected.


(design available on over 100 different items!)

Deer Creek Minnesota Community Guide
---
Location:
---
Population:
Deer Creek (city)
1970
1980
1990
2000
2010
2000-2010 Change
Actual
Percent
Population
287
392
303
328
322
-6
-1.83
Land Area (sq. mile)
3.90
3.82
4.02
4.02
4.02
0
0.00
Density (persons per sq. mile)
73.59
102.62
75.37
81.61
80.10
-1.51
-1.85
Housing Units
112
157
155
163
161
-2
-1.23
Households
--
151
135
143
147
+4
+2.80
Persons Per Household
--
2.52
2.24
2.29
2.19
-0.10
-4.36
---
Geography:
Deer Creek is a city in Otter Tail County, Minnesota. Minnesota Highway 29 and Minnesota Highway 106 are two of the main routes in the community.According to the United States Census Bureau, the city has a total area of 4.03 square miles (10.44 km2), of which 4.01 square miles (10.39 km2) is land and 0.02 square miles (0.05 km2) is water. The elevation is 1,394 ft (425 m) above sea level.
From Wikipedia, the free encyclopedia.
---
Demographics:
As of the census of 2010, there were 322 people, 147 households, and 91 families residing in the city. The population density was 80.3 inhabitants per square mile (31.0/km2). There were 161 housing units at an average density of 40.1 per square mile (15.5/km2). The racial makeup of the city was 98.4% White, 0.9% Native American, and 0.6% from two or more races. Hispanic or Latino of any race were 0.6% of the population.
There were 147 households of which 25.9% had children under the age of 18 living with them, 47.6% were married couples living together, 7.5% had a female householder with no husband present, 6.8% had a male householder with no wife present, and 38.1% were non-families. 32.0% of all households were made up of individuals and 9.5% had someone living alone who was 65 years of age or older. The average household size was 2.19 and the average family size was 2.71.
The median age in the city was 44.3 years. 19.9% of residents were under the age of 18; 9.6% were between the ages of 18 and 24; 21.4% were from 25 to 44; 27.6% were from 45 to 64; and 21.4% were 65 years of age or older. The gender makeup of the city was 51.9% male and 48.1% female.
---
---
History:
DEER CREEK Township, organized July 1, 1873, and the city in sections 26 and 27, platted in May 1882, and incorporated December 28, 1899, are named for the creek flowing north through the east part of this township to the Leaf River. The post office began in 1879; the early site had a brick factory, a creamery, an elevator, a flour mill, a blacksmith, and a station of the Northern Pacific Railroad.
Courtesy Minnesota Historical Society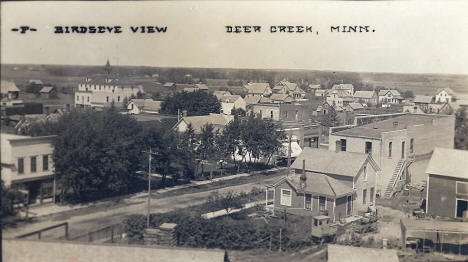 Birds eye view, Deer Creek Minnesota, 1908
LakesnWoods.com Postcard and Postcard Image Collection- click image to enlarge
Visit The Deer Creek Photo Gallery for more recent and historic area photos
---
Government:
Deer Creek City Hall
106 Main Avenue E
PO Box 272
Deer Creek, MN 56527
Phone: (218) 462-2001
Fax: (218) 462-2004

Regular Business Hours:
Tuesday - Thursday 8:00 am - 12:00 pm

City Council Meetings:
4th Monday of the month at 7:00 pm


Title
Term Ends
Name and Address
Phone
Mayor
12/31/2022
Troy Beiswenger
120 2nd Street N
Deer Creek, MN 56527
(701) 361-5420
Administrator/Clerk
appointed
Thomas R Parish
106 Main Avenue E
Deer Creek, MN 56527
(218) 462-2001
Council Member
12/31/2022
Robert B. Lund, Sr.
103 Clark Street N
Deer Creek, MN 56527
(218) 462-2454
Council Member
12/31/2022
Jayme George
109 3rd Street N
Deer Creek, MN 56527
(701) 840-0197
Council Member
12/31/2024
Chad D. Keskitalo
307 3rd Street S
Deer Creek, MN 56527
(218) 298-2673
Council Member
12/31/2024
Dan Hendershot
207 N 5th Street
Deer Creek, MN 56527
(218) 462-2543
---
Post Office:
US Post Office
120 Main Avenue E
Deer Creek, MN 56527-9998
Phone: (218) 462-2000
Toll Free: (800) ASK-USPS

Regular Business Hours:
Week Days 8:00 am - 12:00 pm
Saturday 8:00 am - 9:00 am
---
Utilities:
---
Major Employers:
Employer
Products/Services
Employees

n/a
---
---
News:
---
Weather:
---
Map: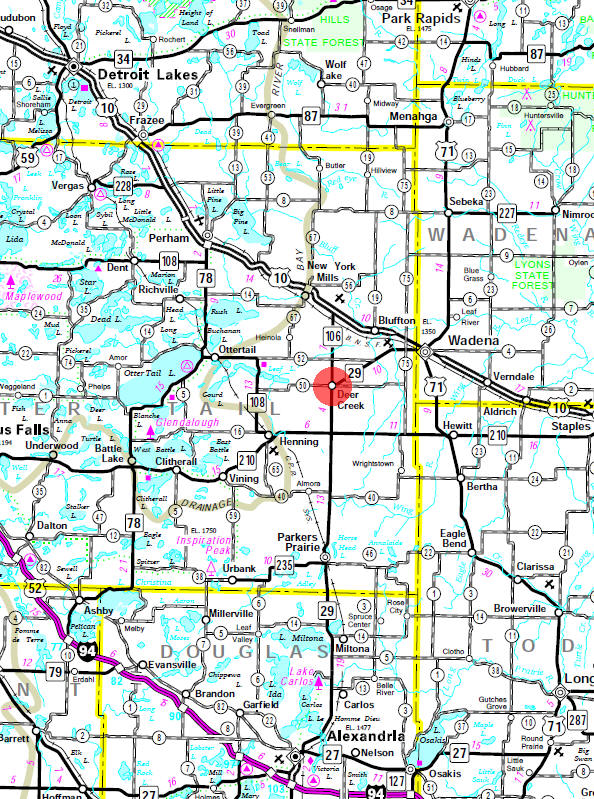 Minnesota State Highway Map of the Deer Creek Minnesota area
---
Events:
---
---
Attractions:
---
Recreation:
---
Lakes:
Lake Name
Size
(acres)
Lake info
Lake Map
Rec Map
Topo Map
none in the immediate area
---
Health Care:
---
Schools:
---
Churches:
Trinity Lutheran Church
221 N Clark Street
Deer Creek, MN 56527
Phone: (218) 462-2465
United Methodist Church
108 Main Avenue W
Deer Creek, MN 56527
Phone: (218) 462-2411
---
Media:
---
Motels:
Check for motel rates and availability on:
---
Resorts:
---
Campgrounds:
---
---
Businesses:
A & J Auto Body
207 Main Avenue Dr E
Deer Creek, MN 56527
Phone: (218) 462-2737
Astle Corp
208 Baker Street N
Deer Creek, MN 56527
Phone: (218) 462-2606
Astle's Trucking Inc
29744 530th Avenue
Deer Creek, MN 56527
Phone: (218) 462-2611
Billy Astle LLC
112 Main Avenue E
Deer Creek, MN 56527
Phone: (218) 462-2081
Brewski's Bar
113 Main Avenue E
Deer Creek, MN 56527
Phone: (218) 462-2851
Deer Creek City Office
106 Main Avenue E
Deer Creek, MN 56527
Phone: (218) 462-2001
Deer Creek Express
320 Main Avenue W
Deer Creek, MN 56527
Phone: (218) 462-9777
Deer Creek Fire Department
106 Main Avenue E
Deer Creek, MN 56527
Phone: (218) 462-2001
Deer Creek Insurance
112 Main Avenue E
Deer Creek, MN 56527
Phone: (218) 462-2155
Deer Creek Oil & Tire
100 Main Avenue W
Deer Creek, MN 56527
Phone: (218) 462-2200
Deer Creek Museum
Main Avenue
Deer Creek, MN 56527
Phone: n/a
Deer Creek Police Department
106 Main Avenue E
Deer Creek, MN 56527
Phone: (218) 462-2001
Deer Creek U Store
Main Avenue
Deer Creek, MN 56527
Phone: (218) 462-2737
Golbergs Lakeview Dairy‎
57448 County Highway 50
Deer Creek, MN 56527-9509
Phone: (218) 462-2257
IFS Inc Liquid Plant
410 Main Avenue E
Deer Creek, MN 56527
Phone: (218) 462-2988
Jerry's Six Pack Auto Body
28244 555th Avenue
Deer Creek, MN 56527
Phone: (218) 462-2168
Joey Brasel Construction
32197 State Highway 106
Deer Creek, MN 56527
Phone: (218) 462-2259
Layman Excavating
29713 County Highway 67
Deer Creek, MN 56527
Phone: (218) 462-2372
McFarlane Mark F CPA
112 Main Avenue E
Deer Creek, MN 56527
Phone: (218) 462-2450
Performance Paving
207 5th Street N
Deer Creek, MN 56527
Phone: (218) 462-2543
Picturesque
304 Main Avenue W
Deer Creek, MN
Phone: (218) 462-2100 ‎
Quality Asphalt Inc
31261 550th Avenue
Deer Creek, MN 56527
Phone: (218) 462-2400
Quality Paving & Sealcoating
302 North Avenue E
Deer Creek, MN 56527
Phone: (218) 462-2126
Scott Wohlwend Construction
105 2nd Street S
Deer Creek, MN
Phone: (218) 462-2028 ‎
Strongform
208 Baker Street N
Deer Creek, MN 56527
Phone: (218) 462-2606 ‎
Web: www.strongform.net

Strongform specializes in industrial structural concrete construction; rebar placement, steel buildings, & structural steel erection. Services to industries include alternative energy, agriculture, mining, cement, fertilizer, food and beverage, power, and other industrial projects. Strongform achieves excellent workmanship on aggressive schedules and maintains an excellent safety standard.

Tanya Zerr's Tan & Trim
106 Main Avenue E
Deer Creek, MN 56527
Phone: (218) 462-2575
Trinity Lutheran Church
221 N Clark Street
Deer Creek, MN 56527
Phone: (218) 462-2465
Truax Auto Sales
213 State Highway 29 S
Deer Creek, MN 56527
Phone: (218) 462-2765
Web: www.truaxautosales.com
United Methodist Church
108 Main Avenue W
Deer Creek, MN 56527
Phone: (218) 462-2411
US Post Office
120 Main Avenue E
Deer Creek, MN 56527-9998
Phone: (218) 462-2000
Toll Free: (800) ASK-USPS
Web: www.usps.com
Wadena State Bank
112 Main Avenue E
Deer Creek, MN 56527
Phone: (218) 462-2155
Web: www.wadenastatebank.com

Wadena State Bank is a locally-owned, independent bank, chartered in 1917 by W.J. Browne. Wadena State Bank has three branches located in Bluffton, Deer Creek and the main branch in Wadena, Minnesota. Being locally-owned, we have a vested interest in the success of our area. A good portion of your deposits are invested in the surrounding communities by way of loans to community members and businesses.

Wash Tub Laundromat
Main Avenue E
Deer Creek, MN 56527
Phone: n/a
---
---
Aerial Photo:
---
Topographic Map: [click map to enlarge, zoom in or zoom out]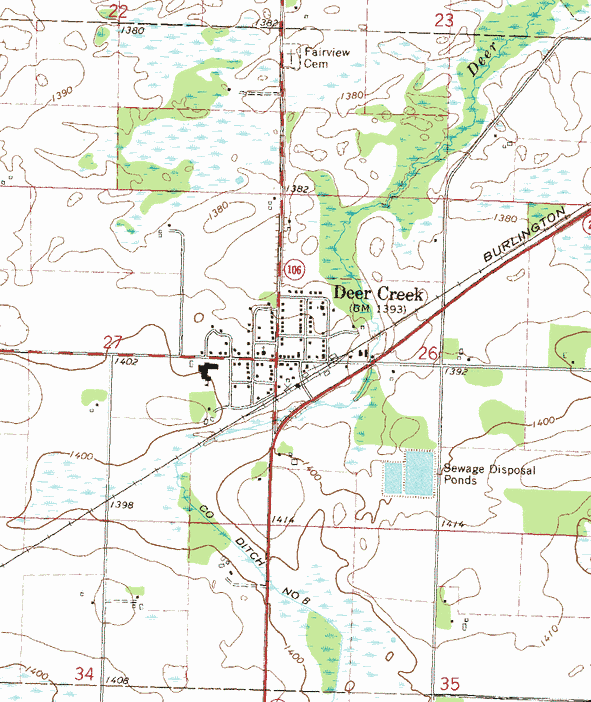 Topographic map is courtesy of the Minnesota DNR - click map to zoom or enlarge