Navigation
LakesnWoods.com
Home Page
Contact Us
Privacy
Minnesota History Shop

Visit The Minnesota History Shop
www.minnesotahistoryshop.com
Historic maps
Historic books
Historic framed art
Historic postcards
Clothing with historic images
And much more!!!


Currie Guide:
Photo Gallery
Location
Geography
Demographics
History
Government
Post Office
News
Weather
Street Map
Events
Attractions
Recreation
Lakes
Health Care
Schools
Churches
Media
Motels
Resorts
Campgrounds
Businesses
Aerial Photo
Topographic Map
© 2004-2023
Lakeweb1 Internet Services
All Rights Reserved
DCMA, Defamation, Copyright and Trademark Infingement Policy
WANTED!
Do you have photos, historical accounts or other items pertaining to the Currie area? Would you like to share this historical information with the world? LakesnWoods.com would like to publish your Currie photos (current or historical) or historical accounts on this website. Original materials can be returned and your privacy will be respected.


(design available on over 100 different items!)

Currie Minnesota Community Guide
---
Location:
---
Population:
Currie (city)
1970
1980
1990
2000
2010
2000-2010 Change
Actual
Percent
Population
368
359
303
225
233
+8
+3.56
Land Area (sq. mile)
0.60
0.60
0.57
0.57
0.57
0
0.00
Density (persons per sq. mile)
613.33
598.33
531.58
393.05
408.77
+15.72
+4.00
Housing Units
152
158
148
127
125
-2
-1.57
Households
--
140
128
109
114
+5
+4.59
Persons Per Household
--
2.56
2.37
2.06
2.04
-0.02
-0.97
---
Geography:
Currie is a city in Murray County, Minnesota. Minnesota State Highway 30 serves as a main route in the community. U.S. Route 59 is nearby. According to the United States Census Bureau, the city has a total area of 0.57 square miles (1.48 km˛), all of it land. Minnesota State Highway 30 and Murray County Road 38 are the main routes in the community. U.S. Highway 59 is nearby. The elevation is 1,496 ft (456 m).
From Wikipedia, the free encyclopedia.
---
Demographics:
As of the census of 2010, there were 233 people, 114 households, and 65 families residing in the city. The population density was 408.8 inhabitants per square mile (157.8/km2). There were 125 housing units at an average density of 219.3 per square mile (84.7/km2). The racial makeup of the city was 100.0% White. Hispanic or Latino of any race were 1.7% of the population.
There were 114 households of which 19.3% had children under the age of 18 living with them, 44.7% were married couples living together, 8.8% had a female householder with no husband present, 3.5% had a male householder with no wife present, and 43.0% were non-families. 38.6% of all households were made up of individuals and 16.7% had someone living alone who was 65 years of age or older. The average household size was 2.04 and the average family size was 2.68.
The median age in the city was 53.3 years. 16.3% of residents were under the age of 18; 6% were between the ages of 18 and 24; 15.5% were from 25 to 44; 34.4% were from 45 to 64; and 27.9% were 65 years of age or older. The gender makeup of the city was 50.6% male and 49.4% female.
Lakes:
---
Health Care:
---
Schools:
---
Churches:
---
Media:
---
Motels:
Check for motel rates and availability on:
---
Resorts:
---
Campgrounds:
Schrier's on Shetek Campground
35 Resort Road
Currie, MN 56123
Phone: (507) 763-3817
Web: www.schreiersonshetek.com

Schreier's on Shetek Campground is located on the shores of Lake Shetek, the largest lake in southwest Minnesota. 'Shetek,' which means pelican, is home to these as well as many other wild birds. The headwaters of the Des Moines River originate from the lake. Lake Shetek is well know for its walleye fishing and stocks other game fish as well as tasty panfish such as perch, bullheads and crappies. The large lake lends itself to hosting a variety of activities - whatever your pleasure - from quiet fishing, personal watercraft, pontoon boats, paddle boats, water skiing to riding a cruise boat around the lake.
---
---
Businesses:
American Legion Post 322
121 Mill Street
Currie, MN 56123
Phone: (507) 763-3831
Anthony Iverson Construction
2243 121st Street
Currie, MN 56123
Phone: (507) 763-3879
Busswitz Roofing
1578 250th Avenue
Currie, MN 56123
Phone: (507) 274-5444
Choo Choo Charlies
101 Mill Street
Currie, MN 56123
Phone: (507) 763-3338
Web: www.choo-choo-charlie.com



Choo Choo Charlie's is located in Downtown Currie Minnesota offering the Best Ice Cream in town along with Sub Sandwiches, Pizza, Breakfast, Gifts, "S" scale Model Trains by "American Models" and " American Flyer" and "Double Bull Archery" Hunting Blinds.

Currie Bowling Alley
109 Mill Street
Currie, MN 56123
Phone: (507) 395-3884
Currie State Bank
141 Mill Street N
Currie, MN 56123
Phone: (507) 763-3262
Web: www.curriestatebank.com



Currie State Bank was established in February 1931 and the Okabena office was established in December of 2016. We take pride in creating and delivering quality banking products and services to you at exceptional values. We provide a stimulating and challenging work environment for our employees that encourages, develops and rewards excellence. Currie State Bank continues to grow and serve our existing markets by insuring that our employees are well trained to deliver state-of-the-art products and superior service to you. We intend to remain independent and we will continue to provide personal services while emphasizing the importance of personal involvement of our employees in local communities. Currie State Bank will continue to meet your needs and the needs of our community.

Cuts & Curls
124 Mill Street
Currie, MN 56123
Phone: (507) 395-0034
End-O-Line Railroad Park
440 Mill Street N
Currie, MN 56123
Phone: (507) 763-3708
Web: www.endoline.com

The End-O-Line Railroad Park and Museum evokes the spirit of a small frontier railroad town. The section foreman's house, train depot, engine house, two unique cabooses, large steam engines, a gristmill, county school house, church, courthouse, country store, and other buildings to bring this "town" to life! The End-O-Line is a fun and educational destination for large group tours as well as quaint family gatherings. You will be surprised by what you find at this beautiful park!
Hacker Hauling
411 Main Street
Currie, MN 56123
Phone: (507) 763-3762
Joseph Schreier Construction
160 Mill Street N
Currie, MN 56123
Phone: (507) 763-3977
Ken's Repair
110 Mill Street
Currie, MN 56123
Phone: (507) 763-3253
Lakeside Apartment
305 Main Street
Currie, MN 56123
Phone: (507) 763-3550
Lakeside Hideaway
101 Mill Street N
Currie, MN 56123
Phone: (507) 763-3338
Web: www.lakesidehideawaymn.com

Lakeside Hideaway in downtown Currie offers a premiere dining experience for the people of southwest Minnesota. At Lakeside Hideaway we pride ourselves on our one of a kind chef inspired menu options, great beer and wine selections, in-house signature drinks, and a unique atmosphere hard to find anywhere else. Lakeside Hideaway offers great food and drink specials 5 nights a week. Open Sunday, Monday & Thursday 5 to 9pm, Friday and Saturday 5 to 10pm.

Laura Mae's Salon
117 Mill Street
Currie, MN 56123
Phone: (507) 763-3377
Lindberg Construction
2275 151st Street
Currie, MN 56123
Phone: (507) 763-3151
Murrayland Agency
141 Mill Street N
Currie, MN 56123
Phone: (507) 763-3700
Web: www.murraylandagencyinc.com
Painted Prairie Vineyard
1575 250th Avenue
Currie, MN 56123
Phone: (507) 626-5203
Web: www.paintedprairiewine.com



Get away to Painted Prairie Vineyard for a unique, relaxing winery experience. Enjoy a casual day sitting back and enjoying the view of our family-owned vineyard. Surrounded by endless Minnesota prairie and marsh makes a lovely setting and home to our three varieties of grapes. From the vine to wine you will be amazed with the expertly crafted wines of Painted Prairie Vineyard.

Radke Wheel Service
630 1st Street
Currie, MN 56123
Phone: (507) 763-3129
Rooster's Liquors
201 Mill Street
Currie, MN 56123
Phone: (507) 395-1555
Ruppert Oil Company
Highway 30
Currie, MN 56123
Phone: (507) 763-3776
Schmitz Grain Inc.
795 State Highway 30
Currie, MN 56123
Phone: (507) 763-3817
Schrier's on Shetek Campground
35 Resort Road
Currie, MN 56123
Phone: (507) 763-3817
Web: www.schreiersonshetek.com

Schreier's on Shetek Campground is located on the shores of Lake Shetek, the largest lake in southwest Minnesota. 'Shetek,' which means pelican, is home to these as well as many other wild birds. The headwaters of the Des Moines River originate from the lake. Lake Shetek is well know for its walleye fishing and stocks other game fish as well as tasty panfish such as perch, bullheads and crappies. The large lake lends itself to hosting a variety of activities - whatever your pleasure - from quiet fishing, personal watercraft, pontoon boats, paddle boats, water skiing to riding a cruise boat around the lake.

Sweetman Sand & Gravel
105 Mill Street
Currie, MN 56123
Phone: (507) 763-3143
US Post Office
121 Mill Street N
Currie, MN 56123-1002
Phone: (507) 763-3662
Web: www.usps.com
Zen's Plumbing and Heating
138 Mill Street
Currie, MN 56123
Phone: (507) 626-4105
---
---
Aerial Photo:
---
Topographic Map:
[click map to enlarge, zoom in or zoom out]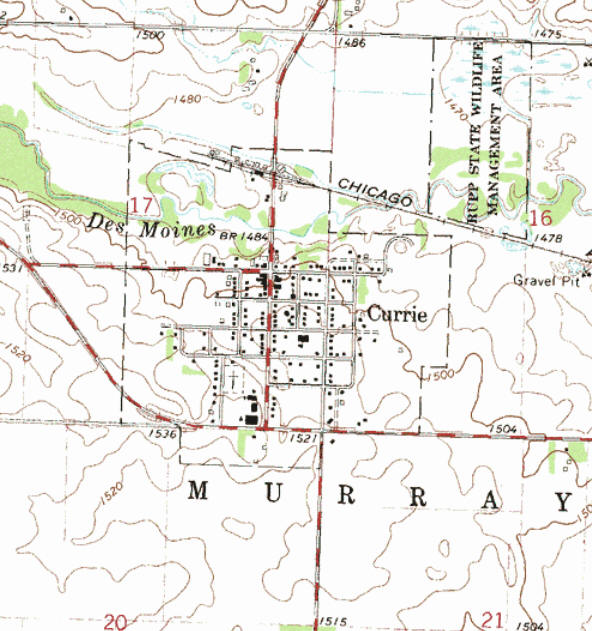 Topographic map is courtesy of the Minnesota DNR - click map to zoom or enlarge