Navigation
LakesnWoods.com
Home Page
Contact Us
Privacy
Minnesota History Shop

Visit The Minnesota History Shop
www.minnesotahistoryshop.com
Historic maps
Historic books
Historic framed art
Historic postcards
Clothing with historic images
And much more!!!


Cotton Guide:
Photo Gallery
Location
Geography
Demographics
History
Government
Post Office
News
Weather
Street Map
Events
Attractions
Recreation
Lakes
Health Care
Schools
Churches
Media
Motels
Resorts
Campgrounds
Businesses
Aerial Photo
Topographic Map
Đ 2004-2023
Lakeweb1 Internet Services
All Rights Reserved
Defamation, Copyright and \
Trademark Infingement Policy
WANTED!
Do you have photos, historical accounts or other items pertaining to the Cotton area? Would you like to share this historical information with the world? LakesnWoods.com would like to publish your Cotton photos (current or historical) or historical accounts on this website. Original materials can be returned and your privacy will be respected.


(design available on over 100 different items!)


(design available on over 100 different items!)

Cotton Minnesota Community Guide
---
Location:
---
Population:
Cotton (township)
1970
1980
1990
2000
2010
2000-2010 Change
Actual
Percent
Population
301
396
429
506
445
-61
-12.06
Land Area (sq. mile)
67.90
70.88
69.35
69.34
69.34
0
0.00
Density (persons per sq. mile)
4.43
5.59
6.19
7.30
6.42
-0.88
-12.06
Housing Units
223
291
376
384
434
+50
+13.02
Households
--
139
164
192
192
0
0.00
Persons Per Household
--
2.85
2.62
2.58
2.32
-0.26
-10.08
---
Geography:
Cotton Township is a township in St. Louis County, Minnesota. U.S. Highway 53 serves as a main arterial route in the township. According to the United States Census Bureau, the township has a total area of 72.1 square miles (186.7 kmē), of which, 69.3 square miles (179.6 kmē) of it is land and 2.7 square miles (7.1 kmē) of it (3.79%) is water. The elevation is 1,342 ft (409 m) above sea level.
From Wikipedia, the free encyclopedia.
---
Demographics:
As of the census of 2000, there were 506 people, 192 households, and 142 families residing in the township. The population density was 7.3 people per square mile (2.8/kmē). There were 384 housing units at an average density of 5.5/sq mi (2.1/kmē). The racial makeup of the township was 99.21% White, 0.59% Native American, and 0.20% from two or more races. Hispanic or Latino of any race were 0.20% of the population
There were 192 households out of which 28.1% had children under the age of 18 living with them, 67.2% were married couples living together, 3.1% had a female householder with no husband present, and 26.0% were non-families. 20.3% of all households were made up of individuals and 5.7% had someone living alone who was 65 years of age or older. The average household size was 2.58 and the average family size was 2.92.
In the township the population was spread out with 21.3% under the age of 18, 7.7% from 18 to 24, 23.3% from 25 to 44, 31.6% from 45 to 64, and 16.0% who were 65 years of age or older. The median age was 44 years. For every 100 females there were 96.9 males. For every 100 females age 18 and over, there were 98.0 males.
The median income for a household in the township was $40,313, and the median income for a family was $46,042. Males had a median income of $37,059 versus $21,500 for females. The per capita income for the township was $16,216. About 0.7% of families and 5.6% of the population were below the poverty line, including 4.3% of those under age 18 and 9.1% of those age 65 or over.
---
---
History:
COTTON Township (T. 54N, R. 16-17W) was named in honor of Joseph Bell Cotton, a lawyer of Duluth. He was born in Albion, Ind., January 6, 1865; was graduated at the Michigan Agricultural and Mechanical College, Lansing, 1886; was admitted to the bar and two years later settled in Duluth; was a representative in the legislature in 1893. The village in section 15 has had a post office since 1905.
Courtesy Minnesota Historical Society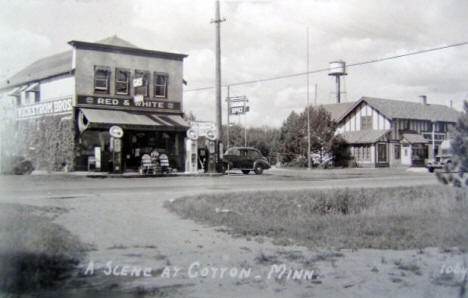 Street scene, Cotton Minnesota, 1940s
LakesnWoods.com Postcard and Postcard Image Collection - click to enlarge
Visit The Cotton Photo Gallery for more recent and historic area photos
---
Government:
Cotton Township Hall
9087 Highway 53
PO Box 126
Cotton, MN 55724
Phone: (218) 482-3216

Regular Business Hours:
unknown

Town Meetings:
2nd Thursday of the month at 6:30 pm


Title
Term Ends
Name and Address
Phone:
Clerk
n/a
Megan Julin
PO Box 126
Cotton, MN 55724
(218) 482-3216
Treasurer
n/a
Debbie Leppala
6164 Comstock Lake Road
Cotton, MN 55724
(218) 482-3355
Supervisor/Chair
n/a
Will Keyes
7502 Cabin Road
Cotton, MN 55724
(218) 269-9918
Supervisor
n/a
Kourtney Kinsley
6981 Comstock Lake Road
Cotton, MN 55724
(218) 576-3500
Supervisor
n/a
Calla Peterson
address not available
Cotton, MN 55724
(218) 482-3216
---
Post Office:
US Post Office
9087 Highway 53
Cotton, MN 55724-8015
Phone: (218) 482-3212
Toll Free: (800) ASK-USPS

Regular Business Hours:
Week Days 8:30 am - 12:30 pm
1:30 pm - 3:30 pm
Saturday 8:00 am - 9:00 am



---
---
Utilities:
| | | |
| --- | --- | --- |
| Utility Type | Utility Name | Utility Phone |
| Electricity | Lake Country Power | (800) 421-9959 |
| Natural Gas | n/a | n/a |
| Wastewater | n/a | n/a |
| Water | n/a | n/a |
| Telephone | Arvig Communications | (888) 992-7844 |
| Cable TV | n/a | n/a |
---
Major Employers:
Employer
Products/Services
Employees

not available
---
---
News:
---
Weather:
---
Map: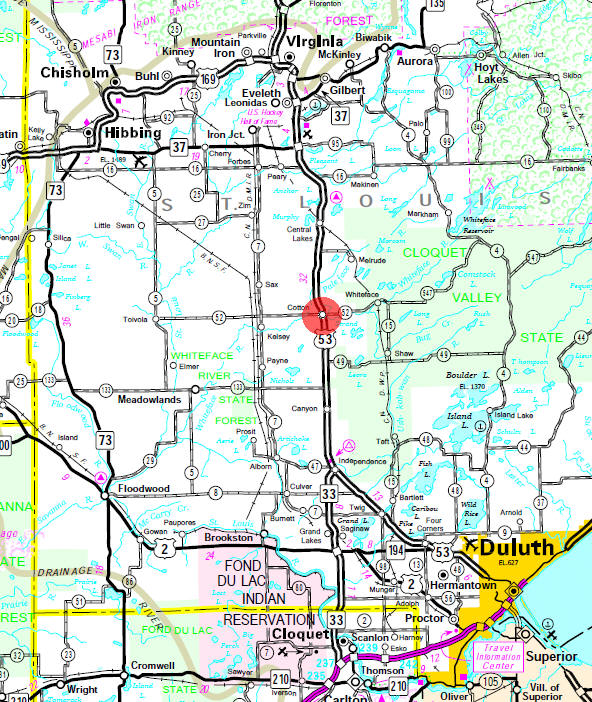 Minnesota State Highway Map of the Cotton Minnesota area
---
Events:
---
---
Attractions:
---
Recreation:
---
Lakes:
---
Health Care:
Cotton Clinic
9137 Highway 53
Cotton, MN 55724
Phone: (218) 482-3243
---
Schools:
St. Louis County School District - ISD #2142
1701 N 9th Avenue
Virginia, MN 55792
Phone: (218) 749-8130
Fax:(218) 749-8133
Web: www.isd2142.k12.mn.us

Independent School District 2142 is the largest school district geographically in the state of Minnesota, encompassing just over 4,000 square miles of the St. Louis County. It maintains seven K-12 school buildings located at Orr, Cook, Tower-Soudan, Babbitt-Embarrass, Cherry, Cotton, and AlBrook. Over 2250 students are educated in facilities that are designed, maintained, and equipped to provide the best learning environment possible to meet their needs. ISD #2142 currently employs over 390 teachers and support staff who make it their mission to offer every child the personal attention they need to realize their individual goals.

Cotton School
9165 Highway 53
Cotton, MN 55724-0187
Phone: (218) 482-3232
Fax: (218) 482-3233

Grades: PK-12
Students: 191
---
Churches:
Cotton Community Church

7566 Arkola Road

Cotton

,

MN

55724

Phone: (218) 482-5570‎

Hope Evangelical Covenant Church

9191 Highway 53

Cotton

,

MN

55724-8027

Phone: (218) 482-3445
---
Media:
---
Motels:
Guest House Motel
8727 Highway 53
Cotton, MN 55724
Phone: (218) 482-3242
Check for motel rates and availability on:
---
Resorts:
---
Campgrounds:
---
---
Businesses:
Arrowhead Communications
6935 Comstock Lake Road
Cotton, MN 55724
Phone: (218) 482-5101
Bug Creek Soaps
6844 Bug Creek Road
Cotton, MN 55724
Phone: (218) 482-5538
Burke Inc
9115 Highway 53
Cotton, MN 55724
Phone: (218) 482-3200
CN Rail
6367 Munger Shaw Road
Cotton, MN 55724
Phone: (218) 482-3307
Cotton Auto Sales & Towing
9149 Highway 53
Cotton, MN 55724
Phone: (218) 482-5222
Cotton Clinic
9137 Highway 53
Cotton, MN 55724
Phone: (218) 482-3243
Cotton Community Church
7566 Arkola Road
Cotton, MN 55724
Phone: (218) 482-5570
Cotton Community Center
9087 Highway 53 # A
Cotton, MN 55724
Phone: (218) 482-3213
Cotton Country Manor
9243 Highway 53
Cotton, MN 55724
Phone: (218) 482-3607
Cotton Fire Hall
7438 Comstock Lake Road
Cotton, MN 55724
Phone: (218) 482-3220
Cotton School
9165 Highway 53
Cotton, MN 55724
Phone: (218) 482-3232
Cotton Township Office
9087 Highway 53
PO Box 126
Cotton, MN 55724
Phone: (218) 482-3216
Country Living Adult Foster
1288 W Mink Road
Cotton, MN 55724
Phone: (218) 482-5589
El Toro Liquor Store
9105 Highway 53
Cotton, MN 55724
Phone: (218) 482-3460
El Toro Lounge Inc
9105 Highway 53
Cotton, MN 55724
Phone: (218) 482-3218
Ellsburg Volunteer Fire Dept
1102 W Mink Road
Cotton, MN 55724
Phone: (218) 482-3777
Guest House Motel
8727 Highway 53
Cotton, MN 55724
Phone: (218) 482-3242
Hairway 53
9115 Highway 53
Cotton, MN 55724
Phone: (218) 482-3480
Hope Evangelical Covenant Church
9191 Highway 53
Cotton, MN 55724
Phone: (218) 482-3445
Inter City Oil Co
9115 Highway 53
Cotton, MN 55724
Phone: (218) 482-3255
L Johnson & Bbc
8699 Highway 53
Cotton, MN 55724
Phone: (218) 482-3714
Mannatech Independent Assoc
6425 Tanttu Road
Cotton, MN 55724
Phone: (218) 482-5287
Miller Siding Company
7393 Randall Road
Cotton, MN 55724
Phone: (218) 482-3209
NY Life Agent
6981 Comstock Lake Road
Cotton, MN 55724
Phone: (218) 482-3474
Natural Resources-Forestry Station
7780 Arkola Road
Cotton, MN 55724
Phone: (218) 482-3219
Riversedge Crafts
7340 Comstock Lake Road
Cotton, MN 55724
Phone: (218) 482-3739
St. Louis County Public Works
7628 Arkola Road
Cotton, MN 55724
Phone: (218) 482-3214
SuperAmerica
7521 Comstock Lake Road
Cotton, MN 55724
Phone: (218) 482-5599
Tuhkanen Excavating
7438 Comstock Lake Road
Cotton, MN 55724
Phone: (218) 482-3360
U-Haul Company
9095 Highway 53
Cotton, MN 55724
Phone: (218) 482-3618
US Post Office
9087 Highway 53
Cotton, MN 55724
Phone: (218) 482-3212
Whitetail Wear
Moberg Road
Cotton, MN 55724
Phone: (218) 482-3429
Wilbert Cafe
9105 Highway 53
Cotton, MN 55724
Phone: (218) 482-3318
---
---
Aerial Photo:
---
Topographic Map: [click map to enlarge, zoom in or zoom out]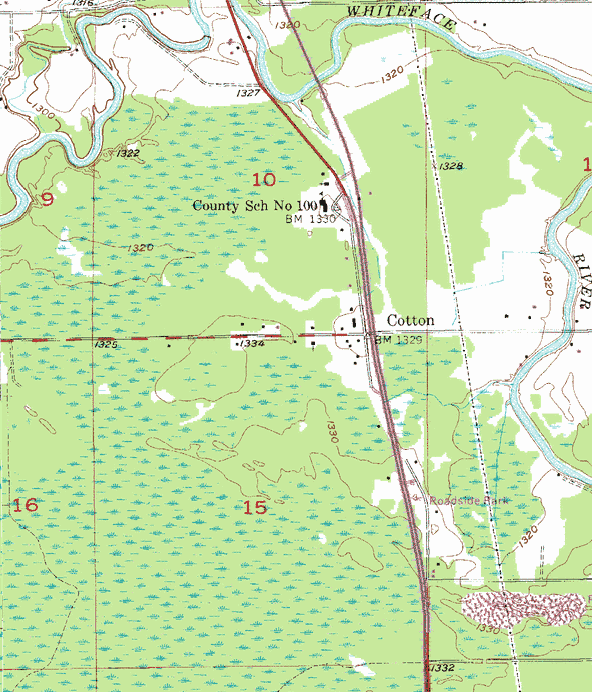 Topographic map is courtesy of the Minnesota DNR - click map to zoom or enlarge