Navigation
LakesnWoods.com
Home Page
Contact Us
Privacy
Minnesota History Shop

Visit The Minnesota History Shop
www.minnesotahistoryshop.com
Historic maps
Historic books
Historic framed art
Historic postcards
Clothing with historic images
And much more!!!


Cosmos Guide:
Photo Gallery
Location
Geography
Demographics
History
Government
Post Office
News
Weather
Street Map
Events
Attractions
Recreation
Lakes
Health Care
Schools
Churches
Media
Motels
Resorts
Campgrounds
Businesses
Aerial Photo
Topographic Map
© 2004-2023
Lakeweb1 Internet Services
All Rights Reserved
DCMA, Defamation, Copyright and Trademark Infingement Policy
WANTED!
Do you have photos, historical accounts or other items pertaining to the Cosmos area? Would you like to share this historical information with the world? LakesnWoods.com would like to publish your Cosmos photos (current or historical) or historical accounts on this website. Original materials can be returned and your privacy will be respected.

Cosmos Minnesota Community Guide
---
Location:
---
Population:
Cosmos (city)
1970
1980
1990
2000
2010
2000-2010 Change
Actual
Percent
Population
570
571
610
582
473
-109
-18.73
Land Area (sq. mile)
1.00
1.12
1.00
1.12
1.12
0
0.00
Density (persons per sq. mile)
570.00
509.82
610.00
519.34
422.32
-97.02
-18.68
Housing Units
192
225
255
261
261
0
0.00
Households
--
212
234
240
229
-11
-4.58
Persons Per Household
--
2.44
2.37
2.26
2.07
-0.19
-8.41
---
Geography:
Cosmos is a city in Meeker County, Minnesota, along the South Fork of the Crow River. Minnesota State Highways 4 and 7 are two of the main routes in the community. In keeping with the community's space theme, all Streets are named after planets and all Avenues are named after constellations. According to the United States Census Bureau, the city has a total area of 1.14 square miles (2.95 km2), of which 1.12 square miles (2.90 km2) is land and 0.02 square miles (0.05 km2) is water. The elevation is 1,112 ft (339 m).
From Wikipedia, the free encyclopedia.
---
Demographics:
As of the census of 2010, there were 473 people, 229 households, and 120 families residing in the city. The population density was 422.3 inhabitants per square mile (163.1/km2). There were 261 housing units at an average density of 233.0 per square mile (90.0/km2). The racial makeup of the city was 97.5% White, 0.2% African American, 0.2% Native American, 0.2% Pacific Islander, 1.5% from other races, and 0.4% from two or more races. Hispanic or Latino of any race were 1.7% of the population.
There were 229 households of which 23.6% had children under the age of 18 living with them, 38.9% were married couples living together, 10.9% had a female householder with no husband present, 2.6% had a male householder with no wife present, and 47.6% were non-families. 38.0% of all households were made up of individuals and 14.9% had someone living alone who was 65 years of age or older. The average household size was 2.07 and the average family size was 2.78.
The median age in the city was 45.2 years. 19.9% of residents were under the age of 18; 6.8% were between the ages of 18 and 24; 23.3% were from 25 to 44; 30.7% were from 45 to 64; and 19.5% were 65 years of age or older. The gender makeup of the city was 49.0% male and 51.0% female.
---
---
History:
COSMOS Township, organized January 25, 1870, has a name proposed by Daniel Hoyt, one of its first settlers, who came in 1867, was a surveyor, and was elected the first township clerk. It is an ancient Greek word meaning "order, harmony," and thence the universe as an orderly and harmonious system. The city in sections 15, 16, 21, and 22 was incorporated as a village on September 21, 1926, and as a city in 1969; a post office was established in Renville County in 1870 and transferred to Meeker County in 1872, closing in 1906 and reestablishing in 1924; it had a station serving several rail lines including the Minnesota and Western Railroad.
Courtesy Minnesota Historical Society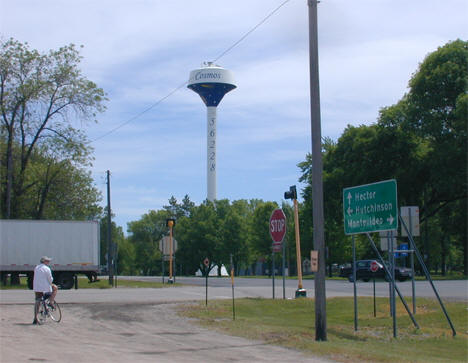 Luce Line Trail and Water Tower, Cosmos Minnesota, 2010
Courtesy Wikimedia
---
Government:
Cosmos City Hall
220 Milkyway Street S
PO Box 614
Cosmos, MN 56228
Phone (320) 877-7345
Fax (320) 877-7678

Regular Business Hours:
Monday Tuesday and Thursday 9:00 am - 4:00 pm

City Council Meetings:
2nd Thursday of the month at 5:00 pm
Title
Term Ends
Name and Address
Phone
Mayor
12/31/2022
Thomas McCarthy
431 N Saturn Street
Cosmos, MN 56228

(320) 444-7722

City Administrator
appointed
John Douville
220 Milkyway Street S
Cosmos, MN 56228

(320) 877-7345

Council Member
12/31/2022
name not available
address not available
Cosmos, MN 56228
--
Council Member
12/31/2022
Emily C Van Hatten
136 Milkyway Street N
Cosmos, MN 56228

(320) 583-1570

Council Member
12/31/2024
Angelica Hopp
231 Jupiter Street S
Cosmos, MN 56228

(320) 221-6211

Council Member
12/31/2024
Jody Fruetel
410 Milkyway Street S
Cosmos, MN 56228
(320) 583-8384
---
Post Office:
US Post Office
235 Milkyway Street S
Cosmos, MN 56228-7718
Phone: (320) 877-7722
Toll Free: (800) ASK-USPS

Regular Business Hours:
Week Days 7:30 am - 1:30 pm
Saturday 8:15 am - 9:30 am
---
---
Utilities:
---
Major Employers:
---
---
News:
---
Weather:
---
Map: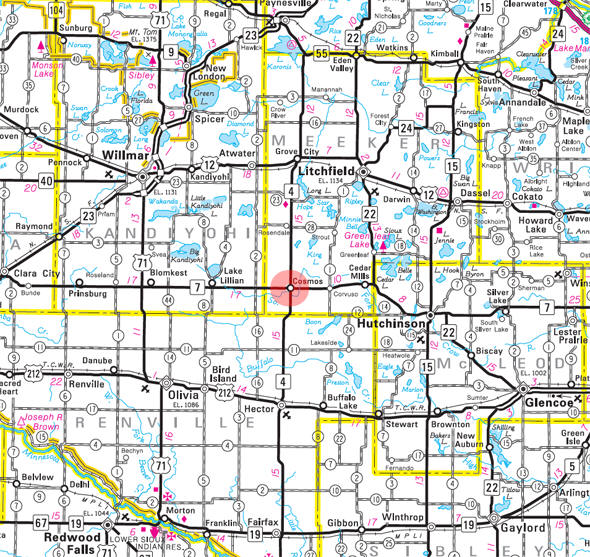 Minnesota State Highway Map of the Cosmos Minnesota area
---
Events:
---
---
Attractions:
---
Recreation:
---
Lakes:
---
Health Care:
---
Schools:
Atwater-Cosmos-Grove City Schools
Independent School District 2396
27250 MN State Hwy 4
Grove City, MN 56243-500
Phone: (320) 857-2271
Fax: (320) 857-2989
Web: www.acgc.k12.mn.us

Grades: PK-12
Students: 835

ACGC High School
27250 State Highway 4
Grove City, MN 56243
Phone: (320) 857-2276
Fax: (320) 857-2937

Grades: 7-12
Students: 350

ACGC Middle School
27250 State Highway 4
Grove City, MN 56243
Phone: (320) 857-2276
Fax: (320) 857-2937

Grades: 5-6
Students: 129

ACGC South Elementary School
320 Saturn Street N
Cosmos, MN 56228-9757
Phone: (320) 877-7231
Fax: (320) 877-7441

Grades: PK-4
Students: 93
---
Churches:
First Evangelical Lutheran Church
54986 145th Street
Cosmos, MN 56228-7804
Phone: (320) 693-2519

Pastor: Maggie Cumings
Sunday Worship: 9:00 am

Peace Lutheran Church
140 N Saturn Street
Cosmos, MN 56228-9757
Phone: (320) 877-7500
Web: www.peacelutherancosmos.com

Pastor: Marlaine Doidge
Sunday Worship: 10:00 am
---
Media:
---
Motels:
Check for motel rates and availability on:
---
Resorts:
---
Campgrounds:
---
---
Businesses:
Adams Wind Generations, LLC
12756 545th Avenue
Cosmos, MN 56228-8400
Phone: (320) 877-7602
American Legion Post 126 Facebook
200 Astro Boulevard E
Cosmos, MN 56228
Phone: (320) 877-7525

The Cosmos American Legion Post 126 is a proud supporter of the local community, military, and veterans. We warmly welcome guests to our club and encourage active military, veteran's, and family members of active military or veteran's to come join us

Bluescope Buildings North America, Inc
240 Milkyway Street N
Cosmos, MN 56228-9749
Phone: (320) 877-7221
Booze Bahs Liquor
349 Milkyway Street N
Cosmos, MN 56228-9749
Phone: (320) 877-7327
Cherrywood Apartments
23 Neptune Street N
Cosmos, MN 56228-9752
Phone: (320) 864-5282
Community Action Agency
101 S Vesta Street
Cosmos, MN 5622
Phone: (320) 877-7483
Corvuso Meat Processing
58042 129th Street
Cosmos, MN 56228-8100
Phone: (320) 587-4845
Cosmos Ambulance Service
233 Milkyway Street S
Cosmos, MN 5622
Phone: (320) 877-7345
Cosmos Appraisals
13247 525th Avenue
Cosmos, MN 56228-7711
Phone: (320) 877-7206
Cosmos Assisted Living Plus
130 Neptune Street N
Cosmos, MN 56228-9610
Phone: (320) 877-9100
Cosmos City Hall
233 Milkyway Street S
Cosmos, MN 56228
Phone: (320) 877-7345
Cosmos Fire Department
206 Gemini Avenue E
Cosmos, MN 56228-6710
Phone: (320) 877-7645
Cosmos Industries Inc
233 Milkyway Street S
Cosmos, MN 56228
Phone: (320) 877-7345
Cosmos Library
209 Milkyway Street S
Cosmos, MN 5622
Phone: (320) 877-7757
Falcon Industries Inc
901 Astro Boulevard E
Cosmos, MN 56228-6705
Phone: (320) 877-7713
Five Season Repair
49 W Gemini
Cosmos, MN 56228
Phone: (320) 877-7400
Gary's Repair
12 Milkyway Street N
Cosmos, MN 5622
Phone: (320) 877-7616
Have Trees Will Travel
57230 150th Street
Cosmos, MN 5622
Phone: (320) 693-7790
Jerry Johnson Construction
56611 120th Street
Cosmos, MN 56228-8104
Phone: (320) 877-7039
Kids Are Great Day Care
320 Saturn Street N
Cosmos, MN 5622
Phone: (320) 877-7721
Koch Industries
250 E Astro Boulevard
Cosmos, MN 56228
Phone: (320) 877-7620
Kruse Machining
13835 545th Avenue
Cosmos, MN 5622
Phone: (320) 583-7916
Leslie's Cutting Edge
217 Milkyway Street S
Cosmos, MN 56228
Phone: (320) 877-7555
Lietzau Lumber & Construction
351 Milkyway Street S
Cosmos, MN 56228
Phone: (320) 877-7215
Lietzau Taxidermy
353 Milkyway Street S
Cosmos, MN 56228
Phone: (320) 877-7297
Minnesota Energy
80 Mars Street N
Cosmos, MN 56228
Phone: (320) 877-7261
Minnesota Used Truck Sales
21 Milkyway Street N
Cosmos, MN 56228
Phone: (320) 877-7331
Web: www.minnesotausedtrucks.com
Moonshine Pub
249 Milkyway Street N
Cosmos, MN 56228
Phone: (320) 877-7005
Raske Building Systems Inc.
240 Milkyway Street N
Cosmos, MN 56228
Phone: (320) 877-7221
Schmidty's Cosmos Corner Mart
100 W Astro Boulevard
Cosmos, MN 56228
Phone: (320) 877-7628
South Central Grain & Energy
110 W Hercules Avenue
Cosmos, MN 56228
Phone: (320) 877-7009
Tri Star Assertive Community
215 Milkyway Street S
Cosmos, MN 56228
Phone: (320) 877-7220
U H Media Inc.
213 Gemini Avenue E
Cosmos, MN 56228
Phone: (320) 877-7054
Uni-Hydro Inc.
310 E Gemini Avenue
Cosmos, MN 56228
Phone: (320) 877-7271
Web: www.unihydro.com

Visionaries create products designed for industry that exceed a customer's expectation. Uni-Hydro has been designing and implementing products for the ironworker industry that excel. Innovation coupled with quality built products designed for years of reliable operation is what sets Uni-Hydro as "A Cut Above The Rest". For three generations the Dvorak family has provided products with innovation as the cornerstone of Uni-Hydro. With each new product comes a design with you, the client, setting the standard for excellence.

US Post Office
235 Milkyway Street S
Cosmos, MN 56228-7718
Phone: (320) 877-7722
Toll Free: (800) ASK-USPS
Web: www.usps.com
---
---
Aerial Photo:
---
Topographic Map: [click map to enlarge, zoom in or zoom out]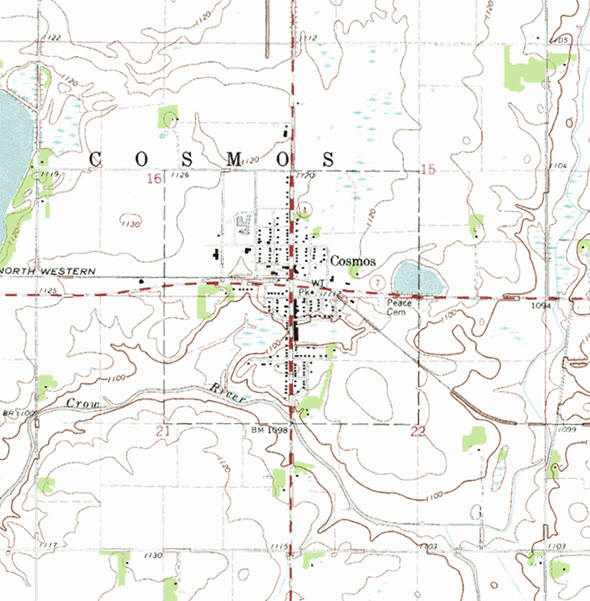 Topographic map is courtesy of the Minnesota DNR - click map to zoom or enlarge