Navigation
LakesnWoods.com
Home Page
Contact Us
Privacy
Minnesota History Shop

Visit The Minnesota History Shop
www.minnesotahistoryshop.com
Historic maps
Historic books
Historic framed art
Historic postcards
Clothing with historic images
And much more!!!


Cleveland Guide:
Photo Gallery
Location
Geography
Demographics
History
Government
Post Office
News
Weather
Street Map
Events
Attractions
Recreation
Lakes
Health Care
Schools
Churches
Media
Motels
Resorts
Campgrounds
Businesses
Aerial Photo
Topographic Map
© 2004-2023
Lakeweb1 Internet Services
All Rights Reserved
DCMA, Defamation, Copyright and Trademark Infingement Policy

WANTED!
Do you have photos, historical accounts or other items pertaining to the Cleveland area? Would you like to share this historical information with the world? LakesnWoods.com would like to publish your Cleveland photos (current or historical) or historical accounts on this website. Original materials can be returned and your privacy will be respected.


(design available on over 100 different items!)


(design available on over 100 different items!)

Cleveland Minnesota Community Guide
---
Location:
---
Population:
Cleveland (city)
1970
1980
1990
2000
2010
2000-2010 Change
Actual
Percent
Population
492
699
699
673
719
+46
+6.84
Land Area (sq. mile)
0.60
0.54
0.60
0.60
0.60
0
0.00
Density (persons per sq. mile)
820.00
1,294.4
1,165.0
1,125.6
1,198.3
+72.7
+6.46
Housing Units
159
242
242
259
298
+39
+15.06
Households
--
235
238
252
278
+26
+10.32
Persons Per Household
--
2.97
2.94
2.67
2.59
-0.08
-3.00
---
Geography:
Cleveland is a city in Le Sueur County, Minnesota. Minnesota State Highway 99 serves as a main route in the community. According to the United States Census Bureau, the city has a total area of 0.60 square miles (1.55 km2), all of it land. The elevation is 1,033 ft (315 m).
From Wikipedia, the free encyclopedia.
---
Demographics:
As of the census of 2010, there were 719 people, 278 households, and 205 families residing in the city. The population density was 1,198.3 inhabitants per square mile (462.7/km2). There were 298 housing units at an average density of 496.7 per square mile (191.8/km2). The racial makeup of the city was 98.7% White, 0.1% Asian, 1.0% from other races, and 0.1% from two or more races. Hispanic or Latino of any race were 1.5% of the population.
There were 278 households of which 37.4% had children under the age of 18 living with them, 56.1% were married couples living together, 11.9% had a female householder with no husband present, 5.8% had a male householder with no wife present, and 26.3% were non-families. 20.9% of all households were made up of individuals and 8.3% had someone living alone who was 65 years of age or older. The average household size was 2.59 and the average family size was 2.95.
The median age in the city was 39.7 years. 27.5% of residents were under the age of 18; 6.3% were between the ages of 18 and 24; 24.9% were from 25 to 44; 29.7% were from 45 to 64; and 11.4% were 65 years of age or older. The gender makeup of the city was 49.9% male and 50.1% female.
---
---
History:
CLEVELAND Township, organized in 1858, was named for the city of Cleveland, Ohio, several of the first settlers here, in 1855-56, having come from that state. The CLEVELAND city, in sections 15, 16, 21, and 22, founded and thus named in 1857, was the county seat during one year, 1875-76, being succeeded by Le Sueur Center. It was organized on June 24, 1858, and incorporated as a village on March 9, 1904; its post office was first called Grandville, 1856-57, then changed to Cleveland. It had a station of the Chicago, St. Paul, Minneapolis and Omaha Railroad. In Ohio this name refers to Gen. Moses Cleaveland (1754-1806), agent of the Connecticut company that colonized the Western Reserve, under whose direction the site of the city named in his honor was surveyed in 1796.
Courtesy Minnesota Historical Society
---
Government:
Cleveland City Hall


205 4th St

reet
PO Box 309
Cleveland, MN 56017
Phone:

(507) 931-6380

Regular Business Hours:
Monday - Friday 8:00 am - 4:30 pm

City Council Meetings:
1st Monday of the month at 5:30 pm

Title
Term Ends
Name and Address
Phone
Mayor
12/31/2022
Donald J. McCabe
704 Columbia Street PO Box 241


Cleveland

,

MN 56017

(507) 469-9890

Clerk/Treasurer
appointed
Dan Evans


205 4th St

reet


Cleveland

,

MN 56017

(507) 931-6380

Council Member
12/31/2022
Nancy (Kastens) Gens
913 Columbia Street


Cleveland

,

MN 56017

(507) 351-3048

Council Member
12/31/2022
Justin J. Schabert
31800 421st Lane


St. Peter

,

MN 56082

(507) 380-0627

Council Member
12/31/2024
Glenn Beer
300 Cherry Street - PO Box 16


Cleveland

,

MN 56017

(507) 931-6162

Council Member
12/31/2024
Mark Hintgen
1104 E Main


Cleveland

,

MN 56017

(507) 236-6897
---
Post Office:
US Post Office
309 Broadway Street
Cleveland, MN 56017-2002
Phone: (507) 931-4360
Toll Free: (800) ASK-USPS

Regular Business Hours:
Week Days 8:00 am - 11:00 am
12:00 pm - 3:00 pm
Saturday 8:00 am - 9:45 am
---
---
Utilities:
---
Major Employers:
Employer
Products/Services
Employees

n/a
---
---
News:
---
Weather:
---
Map: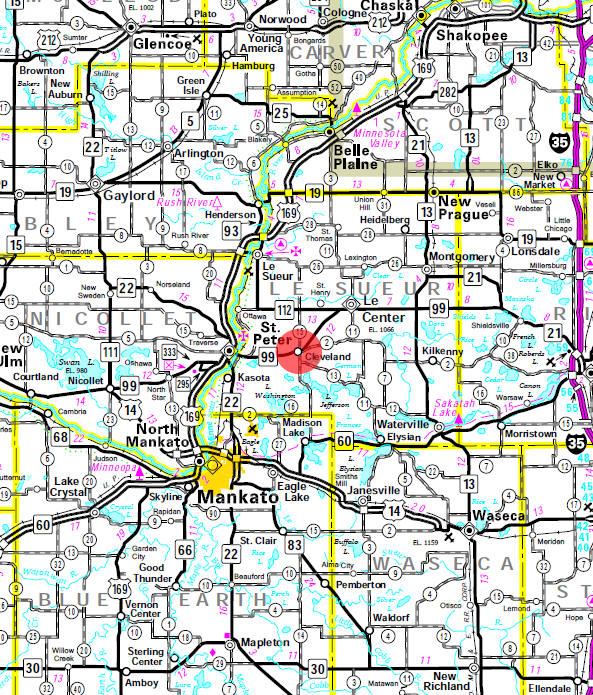 Minnesota State Highway Map of the Cleveland Minnesota area
---
Events:
Cherry Creek Days

2nd weekend in June
---
---
Attractions:
---
Recreation:
---
Lakes:
Lake Name
Size
(acres)
Lake info
Lake Map
Rec Map
Topo Map
Dog
n/a
n/a
n/a
East Jefferson
646
German
792
Henry
360
n/a
Middle Jefferson
664
Savidge
n/a
n/a
n/a
Scotch
565
---
Health Care:
---
Schools:
---
Churches:
---
Media:
---
Motels:
Check for motel rates and availability on:
---
Resorts:
Beaver Dam Resort
23889 Scotch Lake Road
Cleveland, MN 56017
Phone: (507) 931-7376
Web: www.beaverdamresort.com

Located on German and Jefferson lakes, two of the largest and best known fishing lakes in southern Minnesota. They are connected by a small channel under the road near our resort. Both lakes are well known for terrific Walleye, Bass, Northern Pike, Crappies, Sunfish and Bullheads.

Summer Breeze Resort
45872 Summer Breeze Road
Cleveland, MN 56017
Phone: (507) 931-5992
Wise-Stop Resort
23981 Blue Marina Circle
Cleveland, MN 56017
Phone: (507) 931-1843
---
Campgrounds:
---
---
Businesses:
American Legion
319 Broadway Street
Cleveland, MN 56017
Phone: (507) 931-1837
Beaver Dam Resort
23889 Scotch Lake Road
Cleveland, MN 56017
Phone: (507) 931-7376
Web: www.beaverdamresort.com

Located on German and Jefferson lakes, two of the largest and best known fishing lakes in southern Minnesota. They are connected by a small channel under the road near our resort. Both lakes are well known for terrific Walleye, Bass, Northern Pike, Crappies, Sunfish and Bullheads.

Block Farms
27075 Lake Henry Lane
Cleveland, MN 56017
Phone: (507) 931-3123
Blue Sky Dairy
44625 267th Avenue
Cleveland, MN 56017
Phone: (507) 931-0119
Brewery Hill Grain
1010 Broadway Street
Cleveland, MN 56017
Phone: (507) 931-5750
Web: www.breweryhillgrain.com
Brian Zelinsky Construction
46111 Ridgetop Road
Cleveland, MN 56017
Phone: (507) 317-6378
Church of Christ
900 State Highway 99
Cleveland, MN 56017
Phone: (507) 931-5924
Web: www.clevelandchurch.net

Pastor: John Kester
Sunday Worship: 10:00 am

Church of the Nativity
45 W Main
Cleveland, MN 56017
Phone: (507) 931-2560
Web: www.nativityofcleveland.com

Pastor: Fr. Dennis Backer
Saturday Mass: 4:00 pm
Sunday Mass: 8:30 am

Cleveland BP
800 E State Highway
Cleveland, MN 56017
Phone: (507) 934-1003
Web: www.bp.com
Cleveland City Hall


205 4th St

reet
PO Box 309
Cleveland, MN 56017
Phone: (507) 931-6380
Web: www.clevelandmn.govoffice2.com
Cleveland Fire Hall
420 Broadway Street
Cleveland, MN 56017
Phone: (507) 931-2490
Web: www.clevelandmn.govoffice2.com

The Cleveland Fire and Rescue Department consists of 26 volunteer firefighters that serve the following areas:

•City of Cleveland
•Cleveland Township
•North Parts of Washington Township
•Parts of Sharon Township
•Parts of Elysian Township
•Parts of Cordova Township

Cleveland Home Town Laundry
315 Broadway Street
Cleveland, MN 56017
Phone: n/a
Cleveland Municipal Liquor Store
322 Broadway Street
Cleveland, MN 56017
Phone: (507) 931-3885
Web: www.clevelandmn.govoffice2.com
Cleveland Senior Citizens Center
205 4th Street
Cleveland, MN 56017
Phone: (507) 931-2490
Cleveland School
400 6th Street
Cleveland, MN 56017
Phone: (507) 931-5953
Web: cleveland.k12.mn.us
Community Insurance Inc
326 Broadway Street
Cleveland, MN 56017
Phone: (507) 934-2824
Double K Farms
27860 Lake Jefferson Road
Cleveland, MN 56017
Phone: (507) 931-1318
Home Town Bank
326 Broadway Street
Cleveland, MN 56017
Phone: (507) 934-3174
Web: www.htbmn.com

HomeTown Bank is a customer-friendly, community bank that has been in existence since 1924. The mission of HomeTown Bank is to create value for our customers, employees, and shareholders

Isak's Auto Sales
111 10th Street S
Cleveland, MN 56017
Phone: (507) 380-9743
Jocko's Bar & Grill
325 Broadway Street
Cleveland, MN 56017-2002
Phone: (507) 931-6637
Kato Pro Life Resources
46046 Ridgetop Road
Cleveland, MN 56017
Phone: (507) 387-3000
Kern Brothers Entertainment
204 Pleasant Street
Cleveland, MN 56017
Phone: (507) 931-3471
Web: www.kbedj.com

DJ ~ SOUND & LIGHT SHOW
Mankato area's premier wedding entertainment service We also specialize in school dances, class reunions, company parties, and more! Over 15 years of DJ and Wedding experience!

Kokomo's Bar & Char Grill
114 10th Street S
Cleveland, MN 56017
Phone: (507) 931-6410
Krenik Swine Farms Inc
45563 285th Avenue
Cleveland, MN 56017
Phone: (507) 931-2706
Lakeshores and More Realty
1007 Broadway Street
Cleveland, MN 56017-2072
Phone: (507) 931-0181
Web: www.lakeshoresandmore.com

We will be happy to provide all the information you need to buy or sell real estate in Cleveland, New Ulm, Saint Peter, Madison Lake and surrounding areas. As the premier real estate agents in Cleveland, we look forward to serving you and will be happy to help at any time.

Meadow Front Farms
27102 400th Street
Cleveland, MN 56017
Phone: (507) 357-6360
Melchior Siding & Insulation
28061 Scotch Lake Road
Cleveland, MN 56017
Phone: (507) 931-5818
Minnesota Ice Hawks Inc
46807 Cape Horn Road
Cleveland, MN 56017
Phone: (507) 931-3797
Minnesota Oddfellows Youth Camp
46397 Beaver Dam Road
Cleveland, MN 56017
Phone: (507) 934-9512

The Minnesota Odd Fellow Youth Camp, Inc is known as "Camp Fa-Ho-Cha", the acronym of Faith, Hope, and Charity from the Encampment degrees.

Our Savior's Lutheran Church - ELCA
305 6th Street
Cleveland, MN 56017
Phone: (507) 931-1564
Web: sites.google.com/site/clevelandosl

Pastor: Shelly Olson
Sunday Worship: 9:00 am

Red Oak Farm
24651 Scotch Lake Road
Cleveland, MN 56017
Phone: (507) 931-5577
Rogness Properties
505 Washington Street
Cleveland, MN 56017
Phone: (507) 267-4518
Rohlfing's of Cleveland
312 Broadway Street
Cleveland, MN 56017
Phone: (507) 934-5900
Rohlfing's Cleveland Equipment
410 Broadway Street
Cleveland, MN 56017
Phone: (507) 934-5960
Web: www.rohlfings.com

Rohlfing's offers a complete line of Farm Livestock Equipment at: "Rohlfings Equipment Store" Downtown Cleveland Minnesota. Services include new equipment installation and remodeling of existing barns. Also, onsite repairs and a large supply of equipment inventory and parts for your needs.

Shed & Shinola LLC
26050 Lake Jefferson Road
Cleveland, MN 56017
Phone: (507) 931-6562
Sound Waves
23664 Trails End Lane
Cleveland, MN 56017
Phone: (507) 779-8113
Web: www.soundwavesinfo.com

This 2010 Soundwaves is committed to raising money for the cure for cancer by hosting as many Dunklefests as possible around Minnesota, Iowa, and Wisconsin by donating our equipment. Dunklefest are events built around giving back to your local community and also on a larger scale with quality entertainment and fun. If you would like to host a Dunklefest in your area to give back to someone in your community please contact us for details and visit our blog for more information!

Summer Breeze Resort
45872 Summer Breeze Road
Cleveland, MN 56017
Phone: (507) 931-5992
US Post Office
309 Broadway Street
Cleveland, MN 56017-2002
Phone: (507) 931-4360
Toll Free: (800) ASK-USPS
Web: www.usps.com
Wise-Stop Resort
23981 Blue Marina Circle
Cleveland, MN 56017
Phone: (507) 931-1843
---
---
Aerial Photo:
---
Topographic Map: [click map to enlarge, zoom in or zoom out]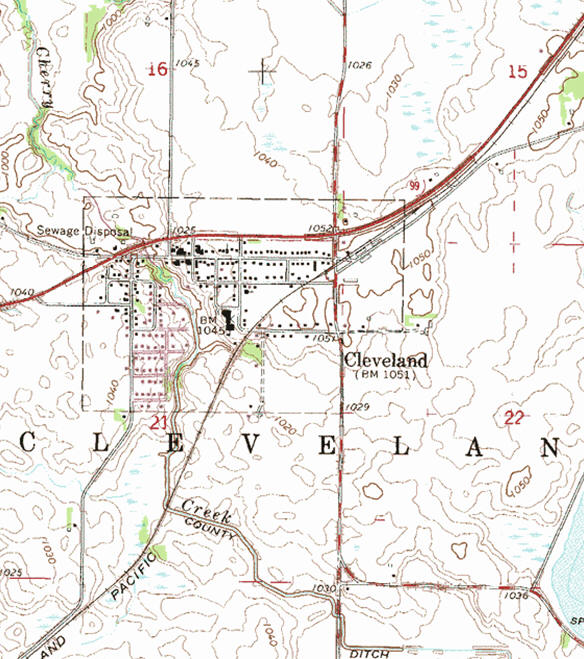 Topographic map is courtesy of the Minnesota DNR - click map to zoom or enlarge