Navigation
LakesnWoods.com
Home Page
Contact Us
Privacy
Minnesota History Shop

Visit The Minnesota History Shop
www.minnesotahistoryshop.com
Historic maps
Historic books
Historic framed art
Historic postcards
Clothing with historic images
And much more!!!


Chokio Guide:
Photo Gallery
Location
Geography
Demographics
History
Government
Post Office
News
Weather
Street Map
Events
Attractions
Recreation
Lakes
Health Care
Schools
Churches
Media
Motels
Resorts
Campgrounds
Businesses
Aerial Photo
Topographic Map
© 2004-2023
Lakeweb1 Internet Services
All Rights Reserved
DCMA, Defamation, Copyright and Trademark Infingement Policy
WANTED!
Do you have photos, historical accounts or other items pertaining to the Chokio area? Would you like to share this historical information with the world? LakesnWoods.com would like to publish your Chokio photos (current or historical) or historical accounts on this website. Original materials can be returned and your privacy will be respected.

Chokio Minnesota Community Guide
---
Location:
---
Population:
Chokio (city)
1970
1980
1990
2000
2010
2000-2010 Change
Actual
Percent
Population
455
559
521
443
400
-43
-10.75
Land Area (sq. mile)
0.40
0.48
0.49
0.49
0.49
0
0.00
Density (persons per sq. mile)
1,137.50
1,164.58
1,063.27
895.76
816.33
79.44
-8.87
Housing Units
177
249
253
239
229
-10
-4.18
Households
--
230
229
201
207
+6
+2.99
Persons Per Household
--
2.43
2.28
2.20
1.93
-0.27
-12.27
---
Geography:
Chokio is a city in Stevens County, Minnesota. Minnesota Highway 28 serves as a main route in the community. According to the United States Census Bureau, the city has a total area of 0.47 square miles (1.22 km2), all of it land. The elevation is 1,125 feet (343 m).
From Wikipedia, the free encyclopedia.
---
Demographics:
As of the census of 2010, there were 400 people, 207 households, and 116 families residing in the city. The population density was 851.1 inhabitants per square mile (328.6/km2). There were 229 housing units at an average density of 487.2 per square mile (188.1/km2). The racial makeup of the city was 99.0% White, 0.3% Asian, 0.5% from other races, and 0.3% from two or more races. Hispanic or Latino of any race were 0.5% of the population.
There were 207 households of which 15.5% had children under the age of 18 living with them, 49.8% were married couples living together, 2.9% had a female householder with no husband present, 3.4% had a male householder with no wife present, and 44.0% were non-families. 41.1% of all households were made up of individuals and 22.7% had someone living alone who was 65 years of age or older. The average household size was 1.93 and the average family size was 2.56.
The median age in the city was 55.4 years. 16% of residents were under the age of 18; 3.3% were between the ages of 18 and 24; 18.1% were from 25 to 44; 28.4% were from 45 to 64; and 34.5% were 65 years of age or older. The gender makeup of the city was 46.5% male and 53.5% female.
---
---
History:
CHOKIO (accented on the second syllable, like Ohio) is a city in sections 3 and 10 of Baker. This name is a Dakota word, meaning "the middle." The city was incorporated as a village on August 11, 1898. The post office was called Chokago, 1878-79, and Cho-ki-o, 1879-81, and was reestablished as Chokio in 1891; the early site had a creamery, a cheese factory, and a station of the Great Northern Railway.
Courtesy Minnesota Historical Society
Chokio was founded along the Wadsworth Trail in 1865. This trail was developed to carry supplies to Fort Wadsworth is Sisseton, South Dakota, from St. Cloud. The trail passed through this area about six miles north of Chokio's present site. A resting place was built and was called the "Half-way House". The Dakota Indian word for "half-way" or "part-way" is "chokio". When the railroad came through in 1880, the trail moved south, along with the railroad. The town of Chokio moved as well. Our earliest settlers came by covered wagon, on horseback, and on foot. By the time the railroad came through, there were already many settlers here from Scandinavia, Germany, Ireland, and French-Canada. More settlers came to this area when the railroad offered land--free and for sale--to help finance development of the railroad. The village of Chokio was organized in 1881, but was not legally incorporated until August 11, 1898. Chokio, population 418, is located along Highway 28 in the western portion of Stevens County in West Central Minnesota. The community is about 140 miles west of the Twin Cities, 100 miles south of Fargo and Moorhead, and 180 miles north of Sioux Falls, South Dakota.
Courtesy City of Chokio
---
Government:
Chokio City Hall
221 Main Street
PO Box 36
Chokio, MN 56221
Phone: (320) 324-7450

Regular Business Hours:
not available

City Council Meetings:
2nd Monday of the month at 4:30 pm


Title
Term Ends
Name and Address
Phone
Mayor
12/31/2022
Ronald E. Draper
402 W 2nd Avenue S
Chokio, MN 56221
(320) 324-7321

Clerk/Treasurer

appointed
Jeraldine Ritter
221 Main Street - PO Box 36
Chokio, MN 56221
(320) 324-7450
Council Member
12/31/2022
Lucas deNeui
97 E 3rd Street
Chokio, MN 56221
(320) 324-7236
Council Member
12/31/2022
Kirby Johnson
407 1st Street W
Chokio, MN 56221
(320) 287-0809
Council Member
12/31/2024
Paige W. Hardy
211 2nd Street W
Chokio, MN 56221
(320) 324-7263
Council Member
12/31/2024
Loren Dorweiler
210 6th Avenue S - PO Box 281
Chokio, MN 56221
(763) 486-6236
---
Post Office:
US Post Office
122 S Main Street
Chokio, MN 56221
Phone: (320) 324-7394
Toll Free: (800) ASK-USPS

Regular Business Hours:
Week Days 7:30 am - 11:30 am
12:00 pm - 2:00 pm
Saturday 9:30 am - 10:00 am
---
---
Utilities:
---
Major Employers:
Employer
Products/Services
Employees

not available
---
---
News:
---
Weather:
---
Map: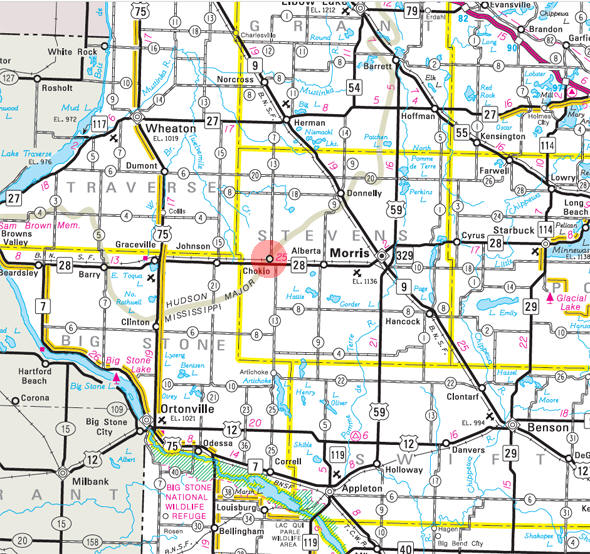 Minnesota State Highway Map of the Chokio Minnesota area
---
Events:
---
---
Attractions:
---
Recreation:
---
Lakes:
Lake Name
Size
(acres)
Lake info
Lake Map
Rec Map
Topo Map
---
Health Care:
Chokio Medical Center
Main Street
Chokio, MN 56221
Phone: (320) 324-7500
Hancock Dental Clinic
118 Main Street
Chokio, MN 56221
Phone: (320) 324-7545
---
Schools:
---
Churches:
Chokio United Methodist Church
1st Street and 3rd Avenue
Chokio, MN 56221
Phone: n/a

Pastor: Mark Winther
Sunday Worship: 10:00am (2nd & 4th)
Sunday School: n/a

Our Savior's Lutheran Church
400 2nd Street E
PO Box 35
Chokio, MN 56221
Phone: (320) 324-2656

Pastor: Mike Likens
Sunday Worship: 9:15am
Sunday School: 10:30am

St. Mary's Catholic Church
309 4th Street
PO Box 87
Chokio, MN 56221
Phone: (320) 324-7502

Pastor: Father John Caskey
Saturday Mass: 5:00pm
Sunday Mass: 8:30am
---
Media:
Chokio Review
121 Main Street
PO Box 96
Chokio, MN 56221
Phone: (320) 324-2405
Fax: (320) 324-2449
Web: www.chokioreview.com

Weekly newspaper published on Thursday with a circulation of 811.
---
Motels:
Check for motel rates and availability on:
---
Resorts:
---
Campgrounds:
---
---
Businesses:
Arndt's Tire Shop
407 Main Street
Chokio, MN 56221
Phone: (320) 324-2457
Blackwelder Farms
64902 State Highway 28
Chokio, MN 56221
Phone: (320) 324-7308
Brethorst Farms Inc
28468 600th Avenue
Chokio, MN 56221
Phone: (320) 324-7139
Carlson, Timothy J DDS
PO Box 74
Chokio, MN 56221
Phone: (320) 324-7545
Chiropractic In Motion
118 S Main Street
Chokio, MN 56221
Phone: (320) 324-2528
Chokio American Legion Post
Chokio, MN 56221
Phone: n/a
Chokio Cafe
PO Box 62
Chokio, MN 56221
Phone: (320) 324-2858
Chokio City Hall
221 Main Street
Chokio, MN 56221
Phone: (320) 324-7450
Web: www.chokiomn.com
Chokio Equity Exchange
PO Box 126
Chokio, MN 56221
Phone: (320) 324-2477
Web: www.chokioequity.com

Here at Chokio Equity we sell fertilizer, chemical, corn and soybean seed, and feed. We also market, store and dry grain. In addition to this, we custom apply fertilizer and chemical as well as custom seed treating.

Chokio Insurance Inc
209 Main Street
Chokio, MN 56221
Phone: (320) 324-7441
Chokio Medical Center
Main Street
Chokio, MN 56221
Phone: (320) 324-7500
Chokio Review
121 Main Street
PO Box 96
Chokio, MN 56221
Phone: (320) 324-2405
Fax: (320) 324-2449
Web: www.chokioreview.com

Weekly newspaper published on Thursday with a circulation of 811.
Chokio Senior Center
116 Main Street
Chokio, MN 56221
Phone: (320) 324-7384
Chokio Suds Stop
Chokio, MN 56221
Phone: n/a
Chokio United Methodist Church
1st Street and 3rd Avenue
Chokio, MN 56221
Phone: n/a

Pastor: Mark Winther
Sunday Worship: 10:00am (2nd & 4th)
Sunday School: n/a

Chokio-Alberta High School
311 1st Street W
Chokio, MN 56221
Phone: (320) 324-7141
Chokio-Alberta School District
311 1st Street W
Chokio, MN 56221
Phone: (320) 324-7131
De Camp Brothers Inc
29655 610th Avenue
Chokio, MN 56221
Phone: (320) 324-7544
Dierks Brothers
60458 220th Street
Chokio, MN 56221
Phone: (320) 324-7258
East Side Acres Apartments
Chokio, MN 56221
Phone: (507) 345-1290
Fahje Roofing
PO Box 72
Chokio, MN 56221
Phone: (320) 324-2530
Farmers Union Insurance
PO Box 330
Chokio, MN 56221
Phone: (320) 324-7549
Web: www.farmersunioninsurance.com
Federated Telephone Co-Op
405 2nd Street E
PO Box 156
Chokio, MN 56221
Phone: (320) 324-7111
Toll Free: (800) 374-7133
Fax: (320) 324-2777
Web: www.fedtel.net

Federated Telephone Cooperative offers local dial tone, long distance, CLASS and custom calling features. In addition, FTC also provides Dial-Up, *High Speed Internet and *Cable TV services. (*available only in certain areas) Federated Telephone Cooperative's mission is to provide the best communications services at a fair price; employing modern technology and up-to-date services; offering people choices to be successful and enhance their quality of life.

Grant Stevens Inc
62504 State Highway 28
Chokio, MN 56221
Phone: (320) 324-7235
Hair Magic
121 Main Street
Chokio, MN 56221
Phone: (320) 324-2575
Hancock Dental Clinic
118 Main Street
Chokio, MN 56221
Phone: (320) 324-7545
Hilltop Swine
60821 250th Street
Chokio, MN 56221
Phone: (320) 677-7594
Howey Trucking
408 Main Street
Chokio, MN 56221
Phone: (320) 324-2625
Jerry's Welding
110 E 1st Avenue S
Chokio, MN 56221
Phone: (320) 324-7475
Jo-Ko Mfg Inc
61938 State Highway 28
Chokio, MN 56221
Phone: (320) 324-2436
Lacey's Snapshot Photography
202 E 2nd Street
Chokio, MN 56221
Phone: (320) 324-2552
Larry Hartman Tax Service
510 1st Street E
Chokio, MN 56221
Phone: (320) 324-7455
Lazy Q Farms
21803 605th Ave
Chokio, MN 56221
Phone: (320) 324-7427
LCMB Brokerage Inc
PO Box 38
Chokio, MN 56221
Phone: (320) 324-2549
Lee Well Drilling Inc
61870 State Highway 28
Chokio, MN 56221
Phone: (320) 324-2562
Lynch Livestock
22466 607th Avenue
Chokio, MN 56221
Phone: (320) 324-2821
M & S Insurance Marketing
121 Main Street
Chokio, MN 56221
Phone: (320) 324-2447
Marty Hog Barn
207 N Main Street
Chokio, MN 56221
Phone: (320) 324-7409
Meers Millwork Cabinetry
63924 190th Street
Chokio, MN 56221
Phone: (320) 324-2439
Mnioka Construction LLC
101 2nd Street W
Chokio, MN 56221
Phone: (320) 324-7122
Monson Truck Line
PO Box 38
Chokio, MN 56221
Phone: (320) 324-2549
Moonshine Saloon
107 E 1st Avenue S
Chokio, MN 56221
Phone: (320) 324-7275
New Horizon Ag
305 1st Avenue S
Chokio, MN 56221
Phone: (320) 324-7451
New Horizons
PO Box 126
Chokio, MN 56221
Phone: (320) 324-2477
Onvoy
Chokio, MN 56221
Phone: (320) 324-7530
Our Savior's Lutheran Church
400 2nd Street E
PO Box 35
Chokio, MN 56221
Phone: (320) 324-2656

Pastor: Mike Likens
Sunday Worship: 9:15am
Sunday School: 10:30am

Quackenbush Hog Farm
21803 605th Avenue
Chokio, MN 56221
Phone: (320) 324-7427
R Hill Electric Inc
62384 220th Street
Chokio, MN 56221
Phone: (320) 324-7313
Rinkenberger Recycling
60683 290th Street
Chokio, MN 56221
Phone: (320) 324-2531
Rod Ehrp Construction
23059 620th Avenue
Chokio, MN 56221
Phone: (320) 324-2629
Rod Ehrp Construction
306 W State Highway 28
Chokio, MN 56221
Phone: (320) 324-2629
Ruth's Family Hair Care
124 Main Street
Chokio, MN 56221
Phone: (320) 324-7522
Sfar Farms
29598 600th Avenue
Chokio, MN 56221
Phone: (320) 324-2823
Shop
200 Main Street
Chokio, MN 56221
Phone: (320) 324-7244
SJJK Plumbing and Heating
115 Main Street
Chokio, MN 56221
Phone: (320) 324-7590
Spalj Construction Company
101 2nd Street W
Chokio, MN 56221
Phone: (320) 324-7122
St. Mary's Catholic Church
309 4th Street
PO Box 87
Chokio, MN 56221
Phone: (320) 324-7502

Pastor: Father John Caskey
Saturday Mass: 5:00pm
Sunday Mass: 8:30am

St. Mary's Rectory
401 W 4th Street
Chokio, MN 56221
Phone: (320) 324-2680
Steve's Body Shop
100 Main Street
Chokio, MN 56221
Phone: (320) 324-7449
Stevens County Highway Department Garage
Chokio, MN 56221
Phone:
Swift & Company
22466 607th Avenue
Chokio, MN 56221
Phone: (320) 324-7586
Temptations Bar & Lounge
107 Main Street
Chokio, MN 56221
Phone: (320) 324-7144
Temptations II
107 E 1st Avenue S
Chokio, MN 56221
Phone: (320) 324-7275
Tri-County Co-Op Oil Assn
101 W Highway 28
Chokio, MN 56221
Phone: (320) 324-7151
Toll Free: (800) 377-7151
Fax: (320) 324-7153
United Farmers & Merchants Bank
209 Main Street
PO Box 341
Chokio, MN 56221
Phone: (320) 324-7161
Fax: (320)-324-7165
Web: www.ufmsb.org
US Post Office
122 S Main Street
Chokio, MN 56221
Phone: (320) 324-7394
Toll Free: (800) ASK-USPS
Web: www.usps.com
Village Hall
221 Main Street
Chokio, MN 56221
Phone: (320) 324-7450
Zierke Farms
34325 County Highway 25
Chokio, MN 56221
Phone: (320) 324-7479
---
---
Aerial Photo:
---
Topographic Map: [click map to enlarge, zoom in or zoom out]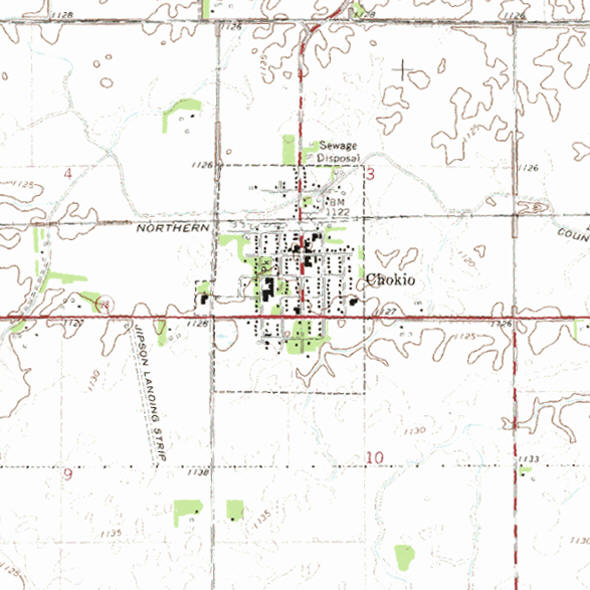 Topographic map is courtesy of the Minnesota DNR -
click map
to zoom or enlarge