Navigation
LakesnWoods.com
Home Page
Contact Us
Privacy
Minnesota History Shop

Visit The Minnesota History Shop
www.minnesotahistoryshop.com
Historic maps
Historic books
Historic framed art
Historic postcards
Clothing with historic images
And much more!!!


Chandler Guide:
Photo Gallery
Location
Geography
Demographics
History
Government
Post Office
News
Weather
Street Map
Events
Attractions
Recreation
Lakes
Health Care
Schools
Churches
Media
Motels
Resorts
Campgrounds
Businesses
Aerial Photo
Topographic Map
© 2004-2023
Lakeweb1 Internet Services
All Rights Reserved
DCMA, Defamation, Copyright and Trademark Infingement Policy
WANTED!
Do you have photos, historical accounts or other items pertaining to the Chandler area? Would you like to share this historical information with the world? LakesnWoods.com would like to publish your Chandler photos (current or historical) or historical accounts on this website. Original materials can be returned and your privacy will be respected.

Chandler Minnesota Community Guide
---
Location:
---
Population:
Chandler (city)
1970
1980
1990
2000
2010
2000-2010 Change
Actual
Percent
Population
319
344
316
276
270
-6
-2.17
Land Area (sq. mile)
0.80
0.79
0.81
0.81
0.81
0
0.00
Density (persons per sq. mile)
398.75
435.44
390.12
342.66
333.33
-9.33
-2.72
Housing Units
121
141
141
121
120
-1
-0.83
Households
--
132
132
113
109
-4
-3.54
Persons Per Household
--
2.61
2.39
2.44
2.48
+0.04
+1.64
---
Geography:
Chandler is a city in Murray County, Minnesota. Minnesota State Highway 91 serves as a main route in the community. According to the United States Census Bureau, the city has a total area of 0.78 square miles (2.02 km2), all of it land. The elevation is 1,660 ft (506 m).
From Wikipedia, the free encyclopedia.
---
Demographics:
As of the census of 2010, there were 270 people, 109 households, and 75 families residing in the city. The population density was 346.2 inhabitants per square mile (133.7/km2). There were 120 housing units at an average density of 153.8 per square mile (59.4/km2). The racial makeup of the city was 88.9% White, 0.7% African American, 9.6% from other races, and 0.7% from two or more races. Hispanic or Latino of any race were 22.6% of the population.
There were 109 households of which 32.1% had children under the age of 18 living with them, 57.8% were married couples living together, 6.4% had a female householder with no husband present, 4.6% had a male householder with no wife present, and 31.2% were non-families. 26.6% of all households were made up of individuals and 19.3% had someone living alone who was 65 years of age or older. The average household size was 2.48 and the average family size was 3.01.
The median age in the city was 41 years. 24.1% of residents were under the age of 18; 8.5% were between the ages of 18 and 24; 23.7% were from 25 to 44; 21.5% were from 45 to 64; and 22.2% were 65 years of age or older. The gender makeup of the city was 50.4% male and 49.6% female.
---
---
History:
The first documented record of the Chandler area was done by the famous French scientist and explorer, Joseph Nicollet, in 1838. He describes the Chanarambie Valley, Lost Timber, and Buffalo Ridge in his writings. Buffalo Ridge was the name the Sioux called it also and is simply a translation of its Sioux Name.
Chandler had its beginnings with the coming of the railroad. The Southern Railroad Company laid tracks through the Chanarambie Valley in 1879. Later that year in October the first passenger train passed through the future Chandler area from Fulda to its destination at Edgerton.
G.W. Smith surveyed the plat for the townsite in May of 1886. The first building constructed in Chandler was the railroad water tank which was still standing in the early 1950s. Samuel B. Rockey opened the first store and was located where the Chandler Café now stands.
The early settlers of Chandler were predominantly Scandinavian, most of them coming from Fillmore County, Minnesota and the regions around Decorah and Hew Hampton, Iowa. In about 1908 the Holland people started coming, many from Iowa, but many directly from the Netherlands. The first religious services held in the village were conducted by Sabboth School Missionaries.
Chandler was incorporated in 1902 and that year was also considered a boom year for the village. The bank and a two room schoolhouse were built. Also the post office was established and construction began on a new hotel. The first meeting of the first village council was held on April 3, 1902.
Our town grew rapidly in the first decade of the 20th century and in 1906 there were 30 businesses established in our community. People came from Europe, the East, and other parts of the Midwest to better themselves and their way of life.
An Air Force Base was constructed south of Chandler in the 1950s. For an aerial view of the U.S. Air Force Radar Base outside of Chandler, the 787th AC & W Squadron, click here.
Many businesses have started and expanded over the years. Agriculture continues to be the lifeblood of the community with a mixture of grain and livestock in the surrounding area.
In June of 1992, Chandler was hit by a F5 tornado that destroyed a big part of the community. But the community rebuilt and continues to prosper with many successful businesses and farms.
Windpower has made it big in the Chandler area with several towers constructed to provide a clean, renewable source of energy to many people.
Courtesy City of Chandler
CHANDLER, a city in Leeds and Moulton Townships, was named in honor of John Alonzo Chandler, who was in official service of the Chicago, Milwaukee and St. Paul Railroad company more than 40 years, beginning this service in 1856. He was born in West Randolph, Vt., January 18, 1831; was captain in the Nineteenth Wisconsin Regiment, 1861-62, and a state senator in Wisconsin, 1864-65; came to Minnesota in 1870, settling in St. Paul, where he died March 31, 1902.
The village was platted on June 7, 1886, and the settlement began with grain elevators, a creamery, a depot of the Southern Minnesota Railroad, and a post office, opened in 1886 in first postmaster Samuel P. Rockey's general store. The city was incorporated as a village on October 6, 1900, and separated from the township on April 1, 1926.
Courtesy Minnesota Historical Society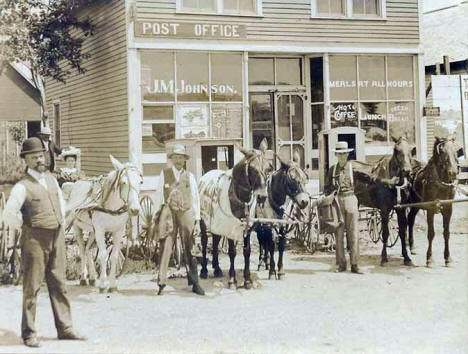 Post Office, Chandler Minnesota, 1909
LakesnWoods.com Postcard and Postcard Image Collection - click to enlarge
Visit The Chandler Photo Gallery for more recent and historic area photos
---
Government:
Chandler City Hall
241 4th Street
PO Box 37
Chandler, MN 56122
Phone: (507) 677-2222
Fax: (507) 677-2210

Office Hours:
Mon Tues Thur Fri 8:00 am - 1:30 pm
Wednesday 10:00 am - 4:00 pm

City Council Meetings:
2nd Monday of each month at 7:00 pm


Title

Term Ends

Name
Phone
Mayor
12/31/2022
Donald Vogel
240 Ryan Avenue
Chandler, MN 56122
(507) 360-9132
Clerk/Treasurer
appointed
Kris Gunnink
PO Box 37
Chandler, MN 56122
(507)

677-2222

Council Member
12/31/2022
LeRoy Buys
121 Carlton Avenue
Chandler, MN 56122
(507)

677-2361

Council Member
12/31/2022
Robert Van Der Linden
200 Ryan Avenue
Chandler, MN 56122
(507)

677-2

209
Council Member
12/31/2024

Robert Prins
550 Main Avenue
Chandler, MN 56122

(507) 220-3546
(507)

677-2550

Council Member
12/31/2024
Alan Van Dam
251 4th Street
Chandler, MN 56122
(507) 920-0267
(507)

677-2341
---
Post Office:
US Post Office
211 4th Street
Chandler, MN 56122-1190
Phone: (507) 677-2530
Toll Free: (800) ASK-USPS





Regular Business Hours:
Week Days 8:30 am - 11:30 am
12:30 pm - 4:15 pm
Saturday 8:30 am - 9:15 am
Latest Collection at Post Office:
Week Days 4:15 pm
Saturday 2:30 pm
---
---
Utilities:
---
Major Employers:
| | | |
| --- | --- | --- |
| Employer | Products/Services | Employees |
| Monogram Meat Snacks | Beef Jerky and Cheese | 150 |
| Prins Feed & Grain | Warehousing & Storage | 11 |
| Schuur Concrete | Warehousing & Storage | 11 |
| Chandler Coop | Gasoline Stations | 9 |
| Chandler Feed & Grain | Warehousing & Storage | 9 |
| State Bank of Chandler | Depository Credit Intermediation | 9 |
| Chandler Machine Shop | Industrial Machinery Manufacturing | 4 |
| Chandler Cafe | Cafeterias | 3 |
---
---
News:
---
Weather:
---
Map: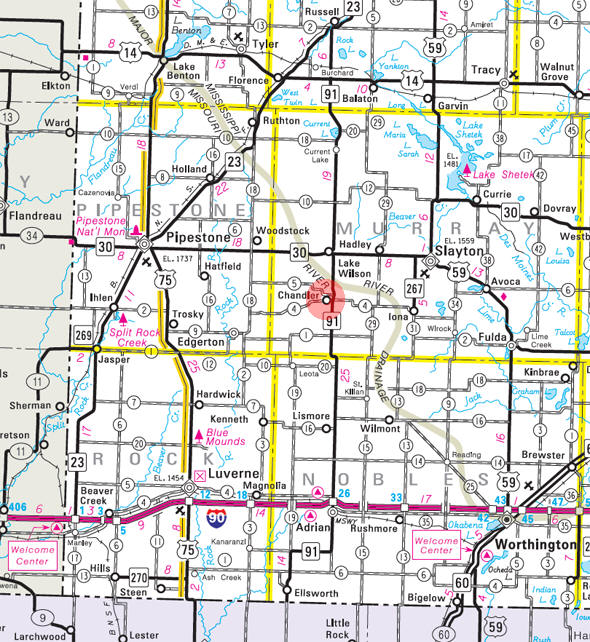 Minnesota State Highway Map of the Chandler Minnesota area
---
Events:
---
Attractions:
---
Recreation:
---
Lakes:
Lake Name
Size
(acres)
Lake info
Lake Map
Rec Map
Topo Map
none in the immediate area
---
Health Care:
---
Schools:
---
Churches:
Chandler Christian Reformed Church
Hwy. 91 & Carlton Street
Chandler, MN 56122
Phone: (507) 677-2524

Pastor: Mark Klompien
Sunday Worship: 10:00 am

Chandler Reformed Church
250 3rd Street
Chandler, MN 56122
Phone: (507) 677-2248

Pastor: Nathan Huisman
Sunday Worship: 9:30 am
---
Media:
---
Motels:
Check for motel rates and availability on:
---
Resorts:
---
Campgrounds:
---
---
Businesses:
Action Signs & Billboards
720 Hillside Avenue
Chandler, MN 56122
Phone: (507) 677-2568
Web: www.actionsignsandbillboards.com

We are a family owned business located in Chandler Minnesota. We manufacture tri-paneled rotating signs, rotating billboards, rotating mobile billboard trucks, rotating advertising trailers, rotating mobile billboard trailers and now we manufacture hay feeders or bale feeders as well. We believe in providing our customers with a very reliable product at a fair price. We also believe you should get an eye-catching sign that people will notice.

Amanda's Salon
241 4th Street
Chandler, MN 56122
Phone: (507) 677-2414
Chandler City Hall
241 4th Street
PO Box 37
Chandler, MN 56122
Phone: (507) 677-2222
Web: www.cityofchandlermn.com
Chandler Co-op Feed
741 Main Avenue
Chandler, MN 56122
Phone: (507) 677-2253
Web: www.chandlerfeed.com

Chandler Feed Company is a locally owned Feed & Grain Elevator. We have locations in Chandler, Edgerton, and Woodstock, MN. We have been in business since 1946. We buy corn, beans, oats, and barley. We also manufacture feed for swine, dairy, beef, sheep, and poultry.

Chandler Co-Op Station
151 5th Street
Chandler, MN 56122
Phone: (507) 677-2207
Web: www.chandlerfeed.com
Chandler Discount Market
430 Main Avenue
Chandler, MN 56122
Phone: (507) 677-2557



The Chandler Discount Market is a locally owned, salvage grocery store. We offer groceries, dairy products, health and beauty, pet supplies and more.

Chandler Feed Company
741 Valley Road
Chandler, MN 56122
Phone: (507) 677-2237
Chandler Funeral Association
510 5th Street
Chandler, MN 56122
Phone: (507) 677-2300
Web: www.chandlerfa.com



Our staff of dedicated professionals is available to assist you in making funeral service arrangements. From casket choices to funeral flowers, the funeral directors at Chandler provide individualized funeral services designed to meet the needs of each family. Our honest service and commitment to excellence have served our customers well, and you can rest assured that we can assist you in your time of need.

Chandler Machine Shop
320 Main Avenue
Chandler, MN 56122
Phone: (507) 677-2217
Chandler Valley Grill
420 Main Avenue
Chandler, MN 56122
Phone: (507) 677-2345
Chuck's Body Shop
527 State Highway 91
Chandler, MN 56122
Phone: (507) 677-2593
D & S Auto Center
185 Highway 91 S
Chandler, MN 56122
Phone: (507) 677-2255
Don's Repair
521 State Highway 91
Chandler, MN 56122
Phone: (507) 677-2243
KRSW 89.3
239 70th Avenue
Chandler, MN 56122
Phone: (507) 677-2504
KSMN Channel 20
339 State Highway 91
Chandler, MN 56122
Phone: (507) 677-2542
Lolkus Plumbing & Heating
750 5th Street
Chandler, MN 56122
Phone: (507) 677-2394
Lost Timber Bible Camp
466 Valley Road
Chandler, MN 56122
Phone: (507) 677-2555
Web: www.losttimber.org

Lost Timber Camp started in 1973, is part of the non-profit corporation Chanarambie Christian Camps. As a non-denominational ministry we welcome campers from all religious backgrounds. Our summer camps are at the heart of our existence offering fun-filled faith adventures for young people 9 - 19 years of age. We are funded by visionary individuals, committed churches and user fees. We are privileged to offer this facility as a tool to the local church ministries on a year-around basis. Please contact us for more information regarding your particular needs.

McLain Auto Center
201 Highway 91
Chandler, MN 56122
Phone: (507) 677-2276
Monogram Meat Snacks
521 5th Street
Chandler, MN 56122
Phone: (507) 677-2291
Web: www.monogramfoods.com

In May of 2006, Monogram Food Solutions continued to expand with the acquisition of Trail's Best Meat Snacks from Sara Lee Corporation of Chicago. Trail's Best is one of the nations largest manufacturers of quality meat snacks; including jerky, meat and cheese snacks, kippered beef sticks and pickled sausages. The manufacturing facility is located in Chandler, Minnesota. The new division is named Monogram Meat Snacks.

Schuur Concrete
300 Main Avenue
Chandler, MN 56122
Phone: (507) 677-2370
Web: www.schuurconcrete.com



We are a family business started in 1969 and have been making precast ever since. We have done countless hog confinement buildings and many cattle buildings. We pride ourselves on safety and swift work.

Senior Citizens Center
450 Main Avenue
Chandler, MN 56122
Phone: (507) 677-2553
State Bank of Chandler
342 Main Avenue
Chandler, MN 56122
Phone: (507) 677-2201
Web: www.statebankofchandler.com

The State Bank of Chandler is the oldest financial institution in Murray County, establishing it's charter in 1902. There is one thing that has not changed since our beginning - we were locally owned in 1902 and we remain that way today. Local ownership and management allows us to provide our customers with a full-service, modern banking environment in a community-minded and personal way.

T & R Construction & Cabinet
751 5th Street
Chandler, MN 56122
Phone: (507) 677-2508
US Post Office
211 4th Street
Chandler, MN 56122-1190
Phone: (507) 677-2530
Toll Free: (800) ASK-USPS
Web: www.usps.com
Valley Electric
351 5th Street
Chandler, MN 56122
Phone: (507) 677-2244
Van Dam Construction
638 56th Street
Chandler, MN 56122
Phone: (507) 677-2
Van Dyke Brothers Inc
753 56th Street
Chandler, MN 56122
Phone: (507) 677-2327
Web: www.vandykebros.com

Van Dyke, Inc. has built a reputation as a leader in industry among Heavy Haulers. Our diverse equipment enables us to haul a wide variety of heavy loads both over roads and bridges as well as within plant moves.

Van Dyke Grinding Company
10510 Chaney Avenue
Chandler, MN 56122
Phone: (507) 443-6421
---
---
Aerial Photo:
---
Topographic Map: [click map to enlarge, zoom in or zoom out]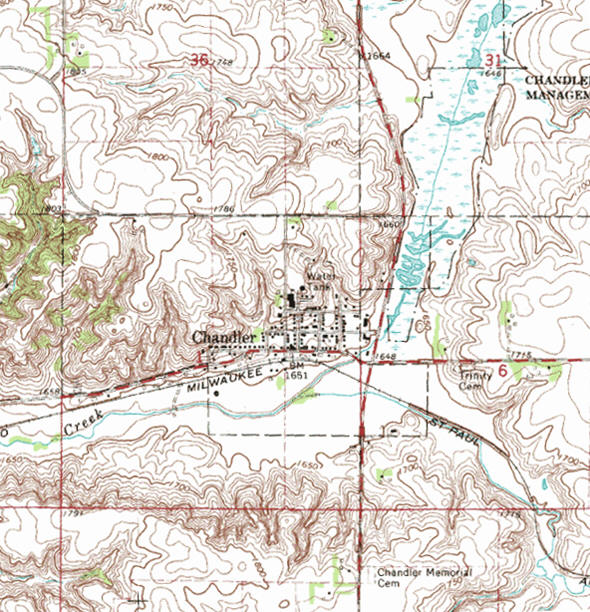 Topographic map is courtesy of the Minnesota DNR - click map to zoom or enlarge