Navigation
LakesnWoods.com
Home Page
Contact Us
Privacy
Minnesota History Shop

Visit The Minnesota History Shop
www.minnesotahistoryshop.com
Historic maps
Historic books
Historic framed art
Historic postcards
Clothing with historic images
And much more!!!


Bloomington Guide:
Photo Gallery
Location
Geography
Demographics
History
Government
Post Office
News
Weather
Street Map
Events
Attractions
Recreation
Lakes
Health Care
Schools
Churches
Media
Motels
Resorts
Campgrounds
Businesses
Aerial Photo
Topographic Map
© 2004-2022
Lakeweb1 Internet Services
All Rights Reserved
DCMA, Defamation, Copyright and Trademark Infingement Policy
WANTED!
Do you have photos, historical accounts or other items pertaining to the Bloomington area? Would you like to share this historical information with the world? LakesnWoods.com would like to publish your Bloomington photos (current or historical) or historical accounts on this website. Original materials can be returned and your privacy will be respected.


(design available on over 100 different items!)

Bloomington Minnesota Community Guide
---
Location:
---
Population:
Bloomington (city)
1970
1980
1990
2000
2007
(est)
1990-2000 Change
Actual
Percent
Population
81,970
81,831
86,335
85,172
85,504
-1,163
-1.35
Land Area (sq. mile)
37.10
36.99
35.53
35.48
--
-0.05
-0.14
Density (persons per sq. mile)
2,209.43
2,212.25
2,429.92
2,400.46
--
-29.46
-1.21
Housing Units
22,254
29,569
35,815
37,104
1,289
3.60
Households
--
28,660
34,488
36,400
36,791
1,912
5.54
Persons Per Household
--
2.82
2.47
2.30
2.28
-0.17
-6.98
---
Geography:
Bloomington is the fifth largest city in the U.S. state of Minnesota in Hennepin County, and the third core city of the Minneapolis-St. Paul-Bloomington, MN-WI MSA. Located on the north bank of the Minnesota River above its confluence with the Mississippi River, Bloomington lies at the heart of the southern metro area, 10 miles (16 km) south of downtown Minneapolis. According to the United States Census Bureau, the city has a total area of 38.4 square miles (99.4 km˛), of which, 35.5 square miles (91.9 km˛) is land and 2.9 square miles (7.5 km˛) (7.53%) water. The elevation is 827 ft (252 m).
From Wikipedia, the free encyclopedia.
---
Demographics:
As of the census of 2000, there were 85,172 people, 36,400 households, and 22,750 families residing in the city. The population density was 2,400.5 people per square mile (926.9/km˛). There were 37,104 housing units at an average density of 1,045.7/sq mi (403.8/km˛). The racial makeup of the city was 88.12% White, 3.42% African American, 0.35% Native American, 5.09% Asian, 0.03% Pacific Islander, 1.25% from other races, and 1.72% from two or more races. Hispanic or Latino of any race were 2.69% of the population. 25.4% were of German, 14.9% Norwegian, 8.9% Swedish, 8.5% Irish and 5.5% English ancestry according to Census 2000.
There were 36,400 households out of which 25.1% had children under the age of 18 living with them, 51.2% were married couples living together, 8.2% had a female householder with no husband present, and 37.5% were non-families. 29.6% of all households were made up of individuals and 9.9% of someone living alone who was 65 years of age or older. The average household size was 2.30 and the average family size was 2.87.
Ages were spread out, with 20.6% under the age of 18, 8.0% from 18 to 24, 29.4% from 25 to 44, 26.3% from 45 to 64, and 15.7% 65 years of age or older. The median age was 40 years. For every 100 females there were 93.4 males. For every 100 females age 18 and over, there were 90.5 males.
The median income for a household in the city was $54,628, and the median income for a family was $67,135. Males had a median income of $42,924 versus $32,606 for females. The per capita income for the city was $29,782. About 2.3% of families and 4.0% of the population were below the poverty line, including 4.2% of those under age 18 and 3.4% of those age 65 or over.
---
---
History:
In 1839, with renewed conflict with the Ojibwa nation, Chief Cloud Man relocated his band of the Mdewakanton Dakota from Lake Calhoun in Minneapolis to an area called Oak Grove in southern Bloomington, close to present-day Portland Avenue.[7] In 1843, Peter and Louisa Quinn, the first European settlers to live in Bloomington, built a cabin along the Minnesota River in this area.[8] The government had sent them to teach farming methods to the Native Americans. Gideon Pond, a missionary, who had been following and recording the Dakota language from Cloud Man's band, relocated later that year, establishing Oak Grove Mission, his log cabin. Pond and his family held church services and taught the local Dakota school subjects and farming. Passage across the Minnesota River in Bloomington came in 1849 when William Chambers and Joseph Dean opened the Bloomington Ferry. The ferry remained operational until 1889, when the Bloomington Ferry Bridge was built.
Following the Treaty of Traverse des Sioux in 1851, the territory west of the Mississippi, including Bloomington, was opened to settlers. A group of pioneers settled Bloomington, including the Goodrich, Whalon, and Ames families. They named the area Bloomington after the city they were from, Bloomington, Illinois, which means "flowering field." Most early jobs were in farming, blacksmithing, and flour milling.[9] The Oxborough family, who came from Canada, built a trading center on Lyndale Avenue and called it Oxborough-Heath. Today, the Cloverleaf Shopping Center rests on the old trading center site and the nearby Oxboro Clinic is named after them. The Baliff family opened a grocery and general store at what is today Penn Avenue and Old Shakopee Road, and Hector Chadwick, after moving to the settlement, opened a blacksmith shop near the Bloomington Ferry. In 1855, the first public school for all children was opened in Miss Harrison's house with the first school, Gibson House, built in 1859.[9] On May 11, 1858, the day the state of Minnesota was admitted into the union and officially became a state, 25 residents incorporated the Town of Bloomington. By 1880, the population had grown to 820.[10] In 1892 the first town hall was built at Penn and Old Shakopee Road. By then, the closest Dakota to Minneapolis lived at the residence of Gideon Pond.[7]
1900s to 1930s
After 1900, the population surpassed a thousand and Bloomington began to transform into a city. With rising population came conflict among citizens over social issues. Among the major issues during this period were parents' unwillingness to dissolve the individual schools for a larger, consolidated school, and the fear of mounting taxes. By 1900 there were already six rural schools spread throughout the territory with over 200 students enrolled in grades first through eighth. By 1917, the school consolidation issue had been settled. That year voters approved the consolidation of the schools and a year later secondary education and school bus transportation began throughout the city. Telephone service and automobiles appeared.
1940s to 1950s
During the twenty years from 1940 to 1960, the city's population increased to nine times that of the population at the turn of the century. During the 1940s the city's development vision was low-cost, low-density housing, each with its own well and septic system. The rapid growth in population was in part due to the post-World War II boom and subsequent birth of the baby boomer generation. In 1947 the first fire station was constructed and equipped at a cost of $24,000 and the Bloomington Volunteer Fire Department was established with 25 members.
The 1950s saw a considerable expansion of the city and its infrastructure, with the city shifting away from its small-town atmosphere and feel. In 1950, because of the increasing population, the first elementary school, Cedarcrest, was built. It was evident that one consolidated school could no longer serve the growing population, and ten new schools would be built in this decade as the school system expanded to meet the needs of the citizens. In 1952 the first large business, Toro Manufacturing Company, moved to Bloomington. The significance of this can be seen in Bloomington today, which is home to hundreds of businesses of all types.
In 1953, Bloomington changed from a township to a village form of government. This more professional approach to government was accompanied by open council meetings, land use plans, and published budgets. The effects of this new form of government began immediately, first with the formation of the city police department (at a cost of $2 per taxpayer) and secondly with the first park land acquisition. Both Bush Lake Beach and Moir Park were established at a cost of one dollar to each residence. Today, about half of the city's land area is devoted to city and regional parks, playgrounds, and open space. In 1956 the first city land-use plan was initiated with the construction of Interstate 35W and Metropolitan Stadium.
In 1958, the city changed from a village government to a council-manager form. One of the first policies adopted by the council was the encouragement of commercial and industrial development, low-cost housing, and shopping centers. Due to the rapid population increase during this time, police and fire departments changed to a 24-hour dispatching system, and the fire department (now made up of 46 members) converted a garage into the second fire station.
1960s to 1970s
The 1960s saw accelerated school and business growth throughout the city. On November 8, 1960, Bloomington officially became a city as voters approved the city's organizing document, the City Charter. The city charter provides for a Council-Manager form of government in which the city council exercises the legislative power of the city and determines all city policies (see City of Bloomington Government). In 1967, a second and third official fire station were approved and built to more effectively combat fires in the increasingly large city. In 1968, Normandale Junior College opened with an initial enrollment of 1,358 students. In 1974 it changed to its present name, Normandale Community College, to reflect expanded courses of study.
Owned by Minneapolis but located in Bloomington, major league teams played at the Metropolitan Stadium until it was demolished in 1985.
From 1961 to 1982, the city of Bloomington was home to all the major sports teams of Minnesota. In 1961, after the completion of Metropolitan Stadium in 1956, both the Minnesota Twins and Minnesota Vikings began regular-season play. Although Metropolitan Stadium was originally built for the American Association Minneapolis Millers, a minor league baseball team, Metropolitan stadium was renovated and expanded for Major League Baseball and Football. The first Twins game was held on April 21 (Washington 5, Twins 3) and the first Vikings game was held on September 17 (Vikings 37, Chicago Bears 13). In 1967, with the expansion of the National Hockey League, the Metropolitan Sports Center was built near the site of the Metropolitan Stadium and the Minnesota North Stars began play later that year.
A number of new city buildings were constructed in the 1970s. In 1970 Jefferson High School, Bloomington Ice Garden rink one, and a fourth fire station were built. In 1971, school enrollment peaked with 26,000 students, and the fire department had grown to a force of 105 men. (In 1974, after a six-hour city council meeting, women were allowed to join the Bloomington Fire Department, but the city's first female firefighter, Ann Majerus, would not join the department until 1984). In 1975 a second rink was added to the Bloomington Ice Garden and a fifth fire station built, and subsequently a sixth in 1979.
1980s to present

The 1980s brought a radical change to Bloomington with the departure of the Minnesota Twins and Vikings. In 1982, the last baseball game was played at Metropolitan stadium (Kansas City Royals 5, Twins 2) as the Twins and Vikings moved to the newly constructed Hubert H. Humphrey Metrodome in downtown Minneapolis. In 1985, the Bloomington Port Authority purchased the 86-acre (350,000 m2) Met Stadium site and in less than two years approved first site plans for the Mall of America. Two years later, ground breaking took place for the new megamall, and in 1992 it was opened to the public. Today, tenants of Mall of America, when combined, constitute the largest private-sector employer in Bloomington, employing about 13,000 people. In 1993, the Minnesota North Stars hockey team moved to Dallas, and a year later the Metropolitan Sports Center was demolished. In 2004, an IKEA store opened on the west end of the former Met Center site. The remainder of the property is planned to be the site for Mall of America Phase II. In May 2006 the Water Park of America opened, the ninth largest indoor waterpark in the United States.
From Wikipedia, the free encyclopedia.
---
Government:
Bloomington City Hall
1800 W Old Shakopee Road
Bloomington MN 55431-3027
Phone: (952) 563-8782
Fax: (952) 563-8754


Title
Term Ends
Name and Address
Phone
Mayor
12/31/2024
Tim Busse
2909 W 97th Street
Bloomington, MN 55431
(952) 457-7506
City Manager
appointed
Mark Bernhardson
1800 W Old Shakopee Rd
Bloomington MN 55431
(952) 563-8780
Council Member - District 1
12/31/2024
Dwayne Lowman
11217 Ewing Circle
Bloomington, MN 55431
(952) 270-2377
Council Member - District 2
12/31/2024
Shawn Nelson
5112 W 105th Street
Bloomington, MN 55437
(952) 479-0471
Council Member - District 3
12/31/2022
Jack Baloga
7123 Oak Pointe Curve
Bloomington, MN 55438
(952) 944-5194
Council Member - District 4
12/31/2022
Patrick Martin
8828 River Ridge Road
Bloomington, MN 55425
(952) 454-6657
Council Member - at large
12/31/2024
Jenna Carter
8813 Beard Avenue S
Bloomington, MN 55431
(612) 704-0942
Council Member - at large
12/31/2022
Nathan Coulter
10408 Upton Avenue S
Bloomington, MN 55431
(952) 239-0531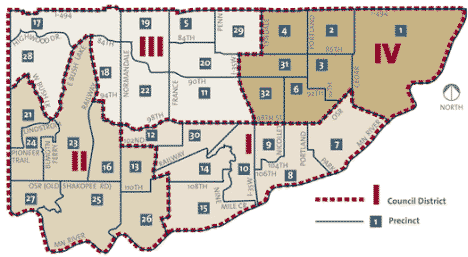 Bloomington Minnesota City Council District Map
---
Post Office:
US Post Office
9641 Garfield Avenue S
Bloomington, MN 55420-9998
Phone: (952) 884-5258
Toll Free: (800) ASK-USPS
Fax: (952) 881-5356
Web: www.usps.com

Regular Business Hours:
Week Days 8:30 am - 5:00 pm
Saturday 9:00 am - 1:00 pm
Latest Collection at Post Office:
Week Days 5:30 pm
Saturday 5:00 pm

US Post Office
6101 W Old Shakopee Road
Bloomington, MN 55438-9998
Phone: (952) 884-3698
Toll Free: (800) ASK-USPS
Web: www.usps.com

Regular Business Hours:
Week Days 8:30 am - 5:00 pm
Saturday 9:00 am - 1:00 pm
Latest Collection at Post Office:
Week Days 5:15 pm
Saturday 3:30 pm
---
Utilities:
| | | |
| --- | --- | --- |
| Utility Type | Utility Name | Utility Phone |
| Electricity | Xcel Energy | (800) 481-4700 |
| Natural Gas | Minnegasco | (800) 269-1114 |
| Wastewater | Metropolitan Council Environmental Svc | (612) 222-8423 |
| Water | Bloomington Public Works Dept | (952) 563-8700 |
| Telephone | CenturyLink | (800) 777-9594 |
| Cable TV | Comcast Cable | (612) 522-2000 |
---
Major Employers:
| | | |
| --- | --- | --- |
| Employer | Products/Services | Employees |
| Seagate Technology Inc | Computer & Peripheral Equipment Manufacturing | 2,300 |
| Bloomington Public Schools | Elementary & Secondary Schools | 1,700 |
| Express Scripts | Drugs & Druggists' Sundries Merch. Whole. | 1,700 |
| Health Partners Inc | Insurance Carriers | 1,540 |
| Donaldson Companies Inc | Industrial Machinery Manufacturing | 1,200 |
| Toro Co | Machinery, Equipment, & Supplies Merchant Wholesalers | 982 |
| Thermo King Corp | Hard., & Plumb. & Heating Equip. & Supplies Merchan | 950 |
| Holiday Companies | Gasoline Stations | 900 |
| Bloomington, City of | Executive, Legislative, & Other Gen. Govt. Support | 561 |
| Minnesota Masonic Home | Nursing Care Facilities | 540 |
| IKEA | Home Furnishings Stores | 525 |
| Normandale Community College | Colleges, Universities, & Professional Schools | 500 |
| VTC Inc | Semiconductor & Other Electronic Component Mfg. | 439 |
| Ceridian Corp | Computer & Peripheral Equipment Manufacturing | 435 |
| Ziegler Inc | Industrial Machinery Manufacturing | 435 |
| Jostens | Other Miscellaneous Manufacturing | 359 |
| Hitchcock Industries Inc | Foundries | 290 |
| Cypress Semiconductor Corp | Semiconductor & Other Electronic Component Mfg. | 280 |
---
---
News:
---
Weather:
---
Map:
City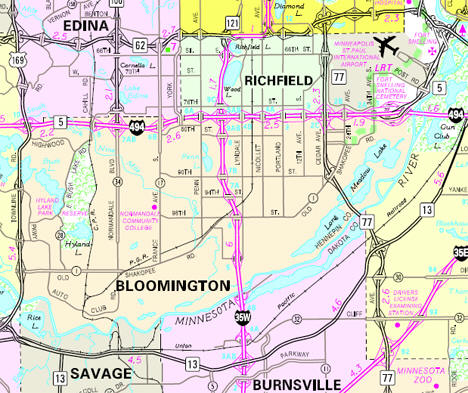 Minnesota State Highway Map of the Bloomington Minnesota area
---
Events:
---
---
Attractions:
---
Recreation:
---
Lakes:
---
Health Care:
---
Schools:
---
Churches:
---
Media:
---
Motels:
Check for motel rates and availability on:
---
Resorts:
---
Campgrounds:
---
---
Businesses:

The Bloomington Business Directory is Coming Soon!

---
---
Aerial Photo: City
---
Topographic Map: [click map to enlarge, zoom in or zoom out]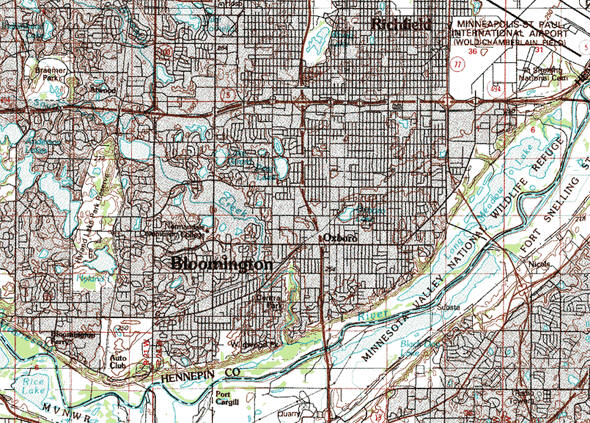 Topographic map is courtesy of the Minnesota DNR - click map to zoom or enlarge