Navigation
LakesnWoods.com
Home Page
Contact Us
Privacy
Minnesota History Shop

Visit The Minnesota History Shop
www.minnesotahistoryshop.com
Historic maps
Historic books
Historic framed art
Historic postcards
Clothing with historic images
And much more!!!


Blomkest Guide:
Photo Gallery
Location
Geography
Demographics
History
Government
Post Office
News
Weather
Street Map
Events
Attractions
Recreation
Lakes
Health Care
Schools
Churches
Media
Motels
Resorts
Campgrounds
Businesses
Aerial Photo
Topographic Map
© 2004-2023
Lakeweb1 Internet Services
All Rights Reserved
DCMA, Defamation, Copyright and Trademark Infingement Policy
WANTED!
Do you have photos, historical accounts or other items pertaining to the Blomkest area? Would you like to share this historical information with the world? LakesnWoods.com would like to publish your Blomkest photos (current or historical) or historical accounts on this website. Original materials can be returned and your privacy will be respected.

Blomkest Minnesota Community Guide
---
Location:
Located 13 miles south of Willmar on Highway 71 is the town of Blomkest. A city founded on small-town values that is able to offer a quiet lifestyle while still having all of the essentials. Businesses such as the local bank, beauty shop, church, cafe, gas station and car wash, as well as the plumbing and hardware store, serve the immediate needs with larger city access only 13 miles away. Blomkest also has a strong connection to the farming community which shines through in its hometown values and hardworking community.
Come to Blomkest during Blomkest Appreciation Day, the second Thursday in July, and you will find the entire town population, as well as the county folks, celebrating with a parade and a Firemen's Relief Supper. Small town events like the parade, fish fry and turkey Bingo are some of the pleasures of living in a small town—nobody is a stranger for long!
Courtesy Kandiyohi County Economic Devlopment Commission
---
Population:
Blomkest (city)
1970
1980
1990
2000
2010
2000-2010 Change
Actual
Percent
Population
172
200
183
186
157
-29
-15.59
Land Area (sq. mile)
1.00
1.15
1.03
1.03
1.03
0
0.00
Density (persons per sq. mile)
172.00
173.91
177.67
179.80
152.43
-27.37
-15.22
Housing Units
52
68
66
70
72
+2
+2.86
Households
--
64
63
66
68
+2
+3.03
Persons Per Household
--
3.13
2.90
2.82
2.31
-0.51
-18.09
---
Geography:
Blomkest is a city in Kandiyohi County, Minnesota. U.S. Route 71 and Minnesota State Highway 7 are two of the main routes in the community. According to the United States Census Bureau, the city has a total area of 1.03 square miles (2.67 km2), all of it land. The surrounding topography is marked by flat to slightly rolling fields, almost all of them farms. Big Kandiyohi Lake lies to the northeast of the town. The elevation is 1,135 ft (346 m).
From Wikipedia, the free encyclopedia.
---
Demographics:
As of the census of 2010, there were 157 people, 68 households, and 53 families residing in the city. The population density was 152.4 inhabitants per square mile (58.8 /km2). There were 72 housing units at an average density of 69.9 per square mile (27.0 /km2). The racial makeup of the city was 95.5% White, 0.6% Asian, 0.6% from other races, and 3.2% from two or more races. Hispanic or Latino of any race were 6.4% of the population.
There were 68 households of which 25.0% had children under the age of 18 living with them, 73.5% were married couples living together, 1.5% had a female householder with no husband present, 2.9% had a male householder with no wife present, and 22.1% were non-families. 17.6% of all households were made up of individuals and 10.3% had someone living alone who was 65 years of age or older. The average household size was 2.31 and the average family size was 2.60.
The median age in the city was 49.9 years. 17.2% of residents were under the age of 18; 3.7% were between the ages of 18 and 24; 17.3% were from 25 to 44; 40.1% were from 45 to 64; and 21.7% were 65 years of age or older. The gender makeup of the city was 53.5% male and 46.5% female.
---
---
History:
BLOMKEST, a city in Roseland Township, section 14, incorporated as a village April 7, 1952; it was platted in October 1926 and established on the Luce Line (Minnesota Western Railroad) as Kester in honor of C. E. Kester, then mayor of Hutchinson; however, confusion with a town called Kiester in Faribault County resulted in the name Kesterville, 1928-1943; that name, while used, was still not satisfactory, and when its post office began in 1928, it was called Blomkest, a name combining Kester with Blomquist, honoring Ole Blomquist (known as Blom Olof Anderson in his native Sweden), who was one of the early settlers of the community. The village had a station of the Minneapolis and St. Louis Railroad.
Courtesy Minnesota Historical Society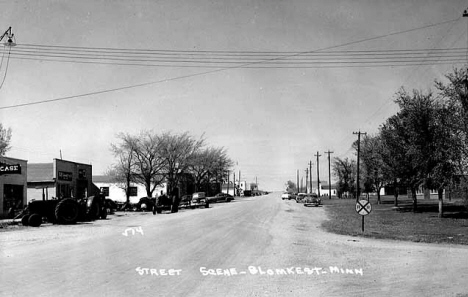 Street scene, Blomkest Minnesota, 1955
Courtesy Minnesota Historical Society - click image to enlarge
Visit The Blomkest Photo Gallery for more recent and historic area photos
---
Government:
Blomkest City Hall
8 Blomquist Street NW
PO Box 154
Blomkest, MN 56216



City Council meets at 7 p.m. on the second Monday of each month at the Community Center.




Title
Term Ends
Name and Address
Phone:
Mayor
12/31/2022
Travis Michael Daly
19 Blomkest Street NW
Blomkest, MN 56216
(320) 444-6273
Clerk
appointed
Barbara Gilberts
PO Box 154
Blomkest, MN 56216
(320) 995-6608
Council Member
12/31/2022
Jim Wittman
116 1st Avenue N
Blomkest, MN 56216
(320) 894-8717
Council Member
12/31/2022
Paulette Ascheman
231 1st Avenue NE
Blomkest, MN 56216
(320) 212-7139
Council Member
12/31/2024
Brian Solbrack
103 Main Street N
Blomkest, MN 56216
(320) 894-3904
Council Member
12/31/2024
Wayne Johnson
504 Evelyn Road
Blomkest, MN 56216
(320) 583-8036
---
Post Office:
US Post Office
2 NW Main Street
Blomkest, MN 56216-1101
Phone: (320) 995-6311
Toll Free: (800) ASK-USPS

Regular Business Hours:
Week Days 9:00 am - 1:00 pm
Saturday 9:00 am - 10:00 am
---
---
Utilities:
| | | |
| --- | --- | --- |
| Utility Type | Utility Name | Utility Phone |
| Electricity | Xcel Energy | (800) 481-4700 |
| Natural Gas | n/a | -- |
| Wastewater | n/a | -- |
| Water | n/a | -- |
| Telephone | Frontier Communications | (800) 435-1504 |
| Cable TV | n/a | -- |
---
Major Employers:
Employer
Products/Services
Employees

n/a
---
---
News:
---
Weather:
---
Map: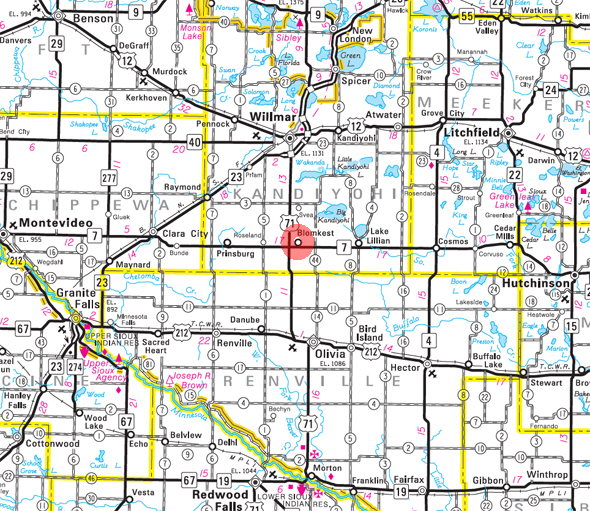 Minnesota State Highway Map of the Blomkest Minnesota area
---
Events:
---
---
Attractions:
---
Recreation:
---
Lakes:
---
Health Care:
---
Schools:
---
Churches:
---
Media:
---
Motels:
Check for motel rates and availability on:
---
Resorts:
---
Campgrounds:
---
---
Businesses:
Allied Grain Company
18750 Highway 71 S
Blomkest, MN 56216
Phone: (320) 995-6119
Web: www.alliedgrain.com
Anderson Enterprises
16920 15th Street SE
Blomkest, MN 56216
Phone: (320) 995-6588
Arlin Zuidema Farm
16111 15th Street SW
Blomkest, MN 56216
Phone: (320) 995-6460
Beauty Hill Farms Inc
3096 225th Avenue SE
Blomkest, MN 56216
Phone: (320) 995-6225
Blomkest Baptist Church
204 S Main Street
Blomkest, MN 56216
Phone: (320) 995-6446
Blomkest Beauty & Barber Shop
119 S Schendel
Blomkest, MN 56216
Phone: (320) 995-6234
Blomkest Elevator Inc
Railroad Avenue
Blomkest, MN 56216
Phone: (320) 995-6321
Blomkest Fertilizer Inc
365 Railroad Avenue
Blomkest, MN 56216
Phone: (320) 995-6211
CES Advertising
20421 15th Street SE
Blomkest, MN 56216
Phone: (320) 995-6141
Christianson Systems Inc
20421 15th Street SE
Blomkest, MN 56216
Phone: (320) 995-6141
Web: www.christianson.com

Christianson is a leading manufacturer of ship unloaders and pneumatic conveying systems for a wide range of bulk materials including feed and cereal grains, plastics and chemicals. The company's equipment operates in agriculture, commercial bulk handling, and marine port industries world-wide. Christianson's product line spans from small bulk seed conveyors to large ship unloaders for discharging ocean-going vessels at rates of 600 metric tons per hour.

Concorde Bank
16 SW Main Street
Blomkest, MN 56216
Phone: (320) 995-6111
Web: www.concordebanks.com

Concorde Bank is committed to providing quality financial services to our present and future customers. It is our mission to maintain a sound institution of high integrity with a friendly and professional staff that is responsive to the changing needs of the community. At Concorde Bank, we want you to bank in a way that best fits your needs. We offer products and services so you are able to bank when and where you need to, yet still receive the personal service you deserve in a safe and professional community bank environment. We invite you to come to one of our locations in Blomkest or Willmar and begin "Banking Your Way!"

Erickson Plumbing & Heating
101 N Main
Blomkest, MN 56216
Phone: (320) 995-6114
Web: www.ericksonph.net
Gorans Brothers Inc
14277 15th Street SE
Blomkest, MN 56216
Phone: (320) 995-6564
Hanegl Inc
PO Box 187
Blomkest, MN 56216
Phone: (320) 995-6211
Hurley's Tree Service
Blomkest, MN 56216
Phone: (320) 995-1426
Web: www.hurleystreeservice.com

Hurley's Tree Service of Blomkest, MN offers residential and commercial tree services at competitive prices. Our insured business is committed to providing first class tree services and satisfaction to our valued customers. At Hurley's Tree Service, we are prepared to meet and exceed your expectation.
Larsons Trucking
1508 124th Avenue SE
Blomkest, MN 56216
Phone: (320) 995-6131
Matson Insurance
16 NW Main Street
Blomkest, MN 56216
Phone: (320) 995-6111
MCSC Inc
102 Main Street
Blomkest, MN 56216
Phone: (320) 995-6451
Mel's 7-71 Truck Stop & Cafe
19450 Highway 71 S
Blomkest, MN 56216
Phone: (320) 995-6166
Mid Central Steel Erectors Inc
102 Main Street
Blomkest, MN 56216
Phone: (320) 995-6162
R & S Repair
14 NW Main Street
Blomkest, MN 56216
Phone: (320) 995-6387
Web: www.rsrepairmn.net

Welcome to R & S Repair: your one-stop, on-the-spot auto service headquarters for a complete line of quality tires and auto services. For years, we have provided the Blomkest, MN area with the latest products and unprecedented services for everything we sell. And for years, our customers have been coming back. Visit our online catalog for the tires you need or stop in and see us. Take a look around. If you don't find what you need, stop in and see us! We're conveniently located in Blomkest, MN.

Randy's Auto Sales
19650 Highway 71 S
Blomkest, MN 56216
Phone: (320) 995-6229
Robert D Schow Farm
590 195th Avenue SE
Blomkest, MN 56216
Phone: (320) 995-6370
Roseland Elevator
18701 County Road...
Blomkest, MN 56216
Phone: (320) 978-8030
Roseland Reformed Church
19385 County Road
Blomkest, MN 56216
Phone: (320) 978-8911
RSR Inc
PO Box 161
Blomkest, MN 56216
Phone: (320) 995-6451
Schow Brothers
520 188th Avenue SE
Blomkest, MN 56216
Phone: (320) 995-6580
Troy Simenson Livestock
16002 Highway 71 S
Blomkest, MN 56216
Phone: (320) 995-6414
US Post Office
2 NW Main Street
Blomkest, MN 56216-1101
Phone: (320) 995-6311
Toll Free: (800) ASK-USPS
Web: www.usps.com
Zuidema Farms Inc
20099 30th Street SW
Blomkest, MN 56216
Phone: (320) 978-8642
---
---
Aerial Photo:
---
Topographic Map: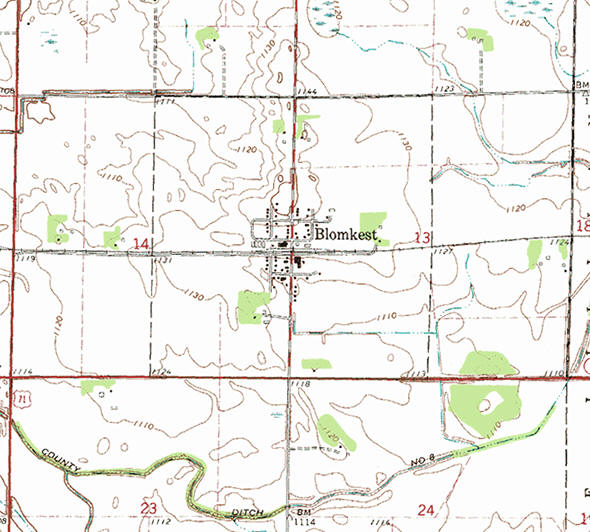 Topographic map is courtesy of the Minnesota DNR - click map to zoom or enlarge