Blackduck Minnesota History
Blackduck Home | Page 1 | Page 2 | Page 3 | Page 4
---
BLACKDUCK HISTORY
---
LIFE IN BLACKDUCK DURING THE TURBULENT 60s, EXCITING 70s, EVENTFUL 80s, AND PROSPEROUS 90s
Contributed by Avonel Kjellberg
Many of us in 2000 remember well the past 40 years. Following are contributions from people which will remind us of those days and record it for future generations as we settle into the twenty-first century.
---
BLACKDUCK BUSINESSES
---
THE AMERICAN
Contributed by Paula Baumann
For the past 100 years, the city of Blackduck has spread its wings and expanded in all directions and with it, its newspaper has too.
The American newspaper has served the Blackduck community for the past 100 years and is, today, Blackduck's oldest continuing business. Established in 1901 by the Oberg family, The American has evolved to be one of the state's best weekly newspapers.
The first edition of The American was printed by Ernst L. Oberg on December 11, 1901, and was printed by The American's competitor, The Blackduck Times. Oberg would later own those same presses, having bought them from Times editor, E.J. Taylor.
Taylor had brought the first press into Blackduck, "By much trouble and perseverance he succeeded in getting a press and some printing material on the ground from Moorhead." The press was brought by wagon.
"The American belongs to no one party although the editor has his own personal views. It will be independent and will endeavor to deal fairly with all .....The The American comes to Blackduck to be one of you and asks the patronage of her citizens." Oberg was quoted as from what was written in the first edition." While The American isn't locally owned today, it still belongs to the community and while the staff and owners have personal ideas of their own, the newspaper still adheres to Oberg's statement of being fair to all and continues to produce the quality its readers have come to expect.
When Oberg first began the newspaper, subscription rates were just $1.50. The paper was housed in the Bank of Blackduck building, which Oberg and his brother, Carl, founded. In April 1902, it moved from the bank across the street to the Scjei building, and in June of that same year, the newspapers were moved into a building opposite of the drug store on Summit Avenue between Main and First Streets. Later the building was moved to First Street East.
In 1930, W.L. "Lee" Oberg purchased partnership from his father. The elder Oberg died September 29, 1927, and following his father's death, Lee purchased the remaining half of the business from his mother, Grace.
It is said that the next move for The American was to a new building at 412 Main Street which it is said was to be where the old Blackduck Times was located. Lee died October 16, 1966. He had served as Minnesota Newspaper Association's president and with his wife's help, the paper won many awards including fire prevention newspaper campaign, a tradition which is still being kept today. The American, over the years, has won numerous writing awards and won awards for community service.
The newspaper was then purchased by the Bob Tuff family, April 1, 1965'. Between 1967-68, the paper went from "hot metal" printing to "offset" and was changed from a broadsheet format to tabloid size. At this time, the pages were put together in Blackduck and transported to Bemidji to The Pioneer for photographing and printing. The newspaper office was located in what is now Nenson Plumbing on Main Street.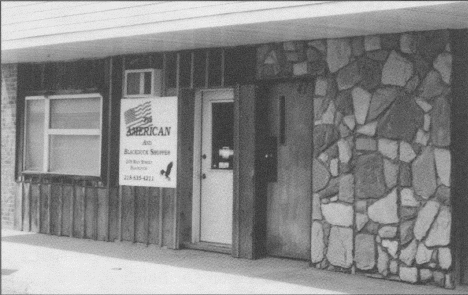 Blackduck American Office
In September 1974, enough equipment was purchased so that the newspaper was able to be pronged once again in Blackduck, and the plant was moved from its location at 412 Main Street, to the former Co-op Oil Building at 209 Main Street, where it remained until 1996. The Nendicks purchased the former newspaper office and used it for a display area for furniture and appliances, and for storage.
In February 1997, the newspaper's owners purchased The Kelliher Independent's paper and inventory when The Independent burned. This was not the first time that the Blackduck paper had bought the Kelliher publication.
At this time, a local subscription was $8.00 per year. In the beginning, the staff included the publisher, his wife and two employees. When the move was made to the old Co-op building, the staff was comprised of the publisher, his wife, plus 13 full and part time employees. Today, The American now carries a staff of two with numerous correspondents throughout the area.
Bernie Elhard and his wife, Kathy, bought the newspaper from the Tuffs in the 1980s and owned and operated it, along with The Northome Record. While the Elhards owned the newspaper, they also built up an outside printing business which made business cards, letterhead, envelopes, and the like. They also sold reams of paper and poster board and various other office supplies.
The Elhards sold the paper in the early 1990s to John Ainley of Bemidji. Ainley brought the newspaper back to broadsheet form and only had the paper a short time before it reverted back to the Elhards who, in turn, sold it again, this time to Park Newspapers, Inc. out of New York. Park also owned The Bemidji Pioneer. During that time, the company also purchased The Blackduck Shopper from Scott Balsiger. When Park dissolved its company, following the death of founder Roy Park, both publications were sold to Alabama Holding Company who, later that same year, sold them to Media General out of West Virginia.
---
The newspaper and shopper were then sold to Bill Marcil and family of Forum Communications, Inc. of Fargo, N.D. The Forum Company also owns The Bemidji Pioneer, Alexandria Echo Press, Detroit Lakes Tribune/Record, Hancock Record, Morris Sun/Tribune, Park Rapids Enterprise, Wadena Pioneer Journal, Willmar Tribune, and the Worthington Globe.
In 1996, The Forum sold the old newspaper building to Beck Oil Company and leases its present-day location at 33 Main Street Northwest from Richard Hentges. Even though The American is a part of Forum Communications, Inc., decisions concerning the publications are made in Blackduck by local management.
While the newspaper is not locally owned, it is still put together with a pride that comes from living in the Blackduck community and the surrounding areas, from living here and knowing the residents and listening to what they want in their local newspaper. Local subscriptions today cost $24.00 per year and is the bargain that it always was. Thanks to computer-age technology, all the newspaper components from stories to advertising is still done in Blackduck along with page layout.
With the purchase of digital camera equipment, The American boasts of colored front page pictures each week which still makes it Minnesota's best weekly newspaper and it will continue to grow and thrive in this community as it has for the past 100 years.
---
ANDERSON FABRICS
Contributed by D' Ann Anderson
Anderson Fabrics, Inc. is a nationally known workroom located in Blackduck, that has been sewing draperies, bedspreads, table linens, valances, and all accessories since June 1980. It began in downtown Blackduck in a basement which used to be the old bowling alley! There were seven sewing machines and eight employees the first summer. It has grown to be the largest workroom of its kind in the United States, with an operation about the size of three football fields - and is still expanding.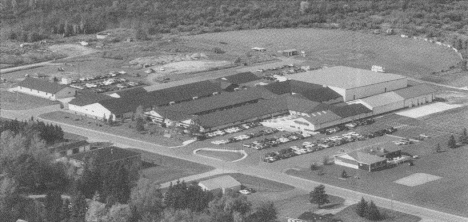 An aerial view of Anderson Fabrics, Inc.
Monday through Friday, approximately 400 employees work very diligently to produce about 450 packages which are shipped every day to their customers from coast to coast in the U.S.A. Several orders have been shipped internationally also.
A factory outlet store was opened in downtown Blackduck in 1985. It stocks remnants for "crafters" as well as thousands of yards of fabrics that can be used for almost anything you can think of for your home or business. There are many ready-made items in the store - or you can order any custom-made product.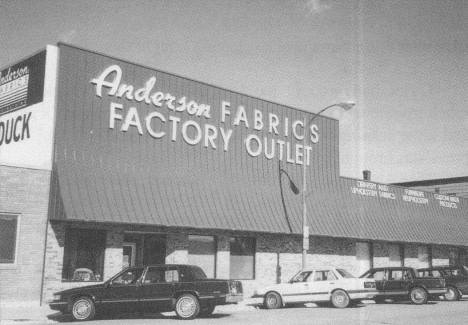 Anderson Fabrics Factory Outlet Store in downtown Blackduck
The Blackduck Americinn Motel opened the end of May in 1991. The accommodations include an exercise room, indoor pool, whirlpool, sauna, and a spacious lobby with a breakfast area. A complimentary, deluxe continental breakfast is served from 6:00-10:00 a.m., and guest appreciation snacks and beverages are served from 5:00-8:00 p.m.
All rooms have microwaves, refrigerators, coffee pots, and hair dryers. A conference room will accommodate 12-15 people and is equipped with a TV and VCR and an adjoining suite if needed. Fourteen of the thirty-three total rooms are suites; three of which contain a whirlpool tub. The pool and patio areas provide relaxing reception accommodations for reunions or weddings. There are smoking and no-smoking rooms and complete handicap facilities are available.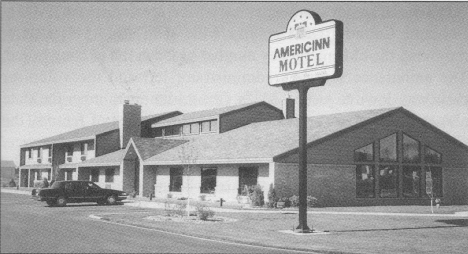 The Americinn Motel, decorated by Anderson Fabrics, Inc.
It is a motel that "feels like home" and is beautifully decorated by Anderson Fabrics, Inc. of Blackduck. It is conveniently located next to Highway 71 and is very close to a family restaurant, snowmobile trails, golf course, Blackduck Lake, and downtown Blackduck.
---
ANDERSON TV & APPLIANCE
Contributed by Roger & Celia Folstad
This business and property, originally known as Anderson Jewelry & TV, was purchased by Roger and Celia (nee Bogart) Folstad from the previous owners in 1977. After 21 successful years, the Folstads sold the building, and now rent space in the rear of the original building to operate their service business.
Even though the jewelry and gift ware lines have been discontinued, the Folstads take pride in and look forward to providing local area sales and service of top-quality products, such as, Dish Network Satellites, Zenith TV's and VCR's & Whirlpool appliances, well into this millennium.
---
BECK OIL COMPANY
Contributed by Kevin Beck
Beck Oil Company is directly descended from one of the earliest petroleum distributing companies in Blackduck, dating back to the mid 1920s.
The original company was named J.E. Fox, Ltd., and they distributed White Eagle gasoline, which was a product of Socony Vacuum Oil Co. Louis C. Beck was hired as an agent for the company in 1930. The owner then moved to St. Paul, leaving Louie to manage their company.
The company switched suppliers in 1934 and began distributing Phillips 66 products in the area. A steady, solid business was built by Louie, who also worked hard to establish a reputation of honesty and good service.
In 1946, Louie and Orin J. Wolden formed the partnership of Beck and Wolden and purchased the business from J.E. Fox, who wished to sell their interests in Blackduck.
Claude Anderson was hired as a driver-salesman and their sales territory was steadily expanded. Claude remained as driver-salesman until 1951 when he went into the cafe business. At this time Walt Hensel was hired to take Claude's place and Milton Beck was hired in 1954.
Louie retired in 1962 and a new partnership was formed between Orin J. Wolden and Milton Beck, who continued the company name of Beck and Wolden.
Hensel retired in 1966 and Gary Eklund was then driver-salesman.
Many changes have taken place since 1986.
In 1987, a NAPA Auto Parts Store was added to Beck's Auto Service, offering a complete line of auto and truck parts. In 1990, Blackduck Food-N-Fuel was purchased and in 1992, Barclay's Bait and Tackle. Today the two businesses combine to operate as Timberline Sports and Convenience.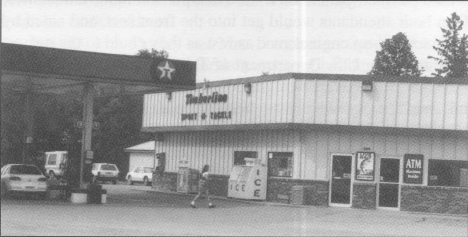 Timberline I Food & Fuel
In 1998, Texaco replaced Unocal as Beck Oil Co.'s primary petroleum supplier. Finally, Beck Oil purchased Cass Lake Mini Mart in 1999, bringing the total to three stores and two bulk plants under the management of Beck Oil Co., as they continue to grow along with Blackduck and its surrounding area.
---
BENSON TIMBER COMPANY
Contributed by Ethel Benson
In the 1930s, A & H Timber Company was started. The owners were Tom Abrahamson and Iver Houge. They began buying logs from farmers and loggers in the area, loaded the wood on cars, and shipped to various paper mills. At that time, business was booming as loading took place in Funkley, Hines, Tenstrike, and Blackduck. Tom Abrahamson retired in the 1940s and went to Norway, when the company was obtained by 0llie Jamtaas and his partner became Fred Benson.
The company was then known as B & J Timber Company. Together they continued buying wood from local farmers and loggers. Changes were taking place and the depots were closing. This made it necessary to hire trucks with pulp trailers to carry the wood to mills.
In 1973, 0llie retired and the company became Benson Timber Company. Owners, Nile and Ethel Benson ran the business. In 1995, Benson Brothers, Mike, Mark, and Kurt, joined their parents, and have helped in many ways. Kurt is the buyer and book-keeper. They have trucks and drivers that haul wood to ten different mills. Today, they are running the business. Father helps out with good advice - Mother is retired.
---
BLACKDUCK AMBULANCE
Contributed by Bryan Shastid
Imagine what it was like in the 1960s and earlier - what it must have been like to witness or be involved in a car crash! You would have to look up the telephone number of the Sheriff's office, and probably have to call "long distance" to reach them - then while waiting for deputies to arrive, the injured could only be aided through the good intentions of bystanders. The waiting often resulted in the injuries becoming more serious. Eventually, in some locations, .an "ambulance" furnished by a funeral home, would arrive. It sometimes had a light and siren, and was usually staffed by two attendants. They would put their patient on a stretcher, place it in the ambulance; then both attendants would get into the front seat, and aided by their souped-up engines race as fast as they could to the nearest hospital. The U.S. Department of Transportation (DOT), realized that people were dying needlessly on the way to the hospital, and began what has become our modern day EMS (Emergency Medical Services).
The Blackduck Ambulance Service has been in existence since 1972. It is unclear what was used for an ambulance before that time although some of the original ambulance attendants stated they took a three hour long first aid course to be certified as an attendant. In 1972, new laws were passed requiring ambulance attendants to complete and pass a 27-hour long Advanced First Aid Course. The City of Blackduck Ambulance Service had a crew of 12 volunteers, (all but one of which were firefighters) and one ambulance parked in the fire hall.
An addition was added to the city garage in 1977 that made a new home for the ambulance service until they moved to the current city hall. A fund-raiser basketball game against the ambulance crew was held as well as an open house with free-will donations that year. Requirements for training increased to an 84-hour EMT course (Emergency Medical Technician).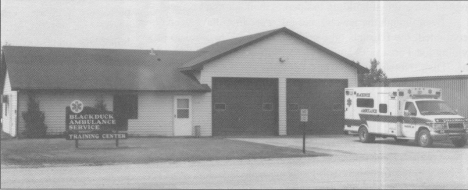 Blackduck Ambulance Service
The 1980s brought several changes to the ambulance service. In 1981, issues that continue to plague the service were addressed, one of which is the shortage of weekday volunteers. A full time administrator was hired by the city of Blackduck to help resolve that problem. New equipment was purchased, including Medical Anti Shock Trousers (MAST) as well as a new ambulance! In 1982, a benefit dinner / musical entitled, "I Do, I Do!" was held, which raised a thousand dollars for the ambulance service. A defibrillator was then purchased in 1983 and the ambulance service acquired a certified EMT instructor on staff in 1985 who was then able to teach the new 100-hour EMT class. The service quickly outgrew its space in the city garage and a new facility with a garage, office, and training room was built and opened in 1989.
Several major challenges faced the service in the 1990s. Beltrami Country went county wide with its 9-1-1 system, removing the old emergency number based at the nursing home. The ambulance service's administrator left and the volunteer crew was down to just 5 EMT's, (the minimum number the state allowed to keep a service open). Due to a host of factors, the City of Blackduck decided to dissolve its ambulance service. However, the volunteers, with help from the city, formed its own ambulance service which became the Blackduck Ambulance Association, Inc. in April of 1995. New classes were held which boosted the roster to nearly 20 volunteers. New ambulances were purchased to replace the older rigs and the association expanded its scope of practice to include IV's and certain drug administration, as well as advanced airway placement. Communications were also improved with two-way radios and alpha-numeric pagers. Inter-agency training also increased during this time. Donations were received from local groups such as the fire departments, VFW and Legion Clubs, as well as from private citizens, to allow for new equipment to be purchased.
The ambulance service's most recent challenge was in 1999 when, once again, they lost many members who covered shifts during the day nearly forcing it to close. The association went before the Beltrami County Board and obtained temporary funding to pay for full time positions to cover day shifts. A task force was formed to develop a permanent solution to this problem that had plagued the service nearly from its beginning.
Today, the Blackduck Ambulance Association has many goals, some of which include increasing the scope of practice to part time Advanced Life Support capabilities and eventually placing satellite stations throughout the area it serves. Other goals are promoting safety and good health to the community through appearances at health fairs, and presentations to young people during National EMS Week every May.
The Blackduck Ambulance is truly a community based, volunteer service. Without the support of the community, it would have vanished a long time ago and it could not function today without its volunteers. The Association states that as long as support and funding are there, it will respond when needed to provide the top notch, skilled, and professional pre-hospital care the community needs and expects.
---
BLACKDUCK / BLANDIN VISIONING -
BLACKDUCK / BLANDIN INVESTMENT PARTNERSHIP
Contributed by Avonel Kjellberg
Six people from Blackduck School District Area attended the Blandin Seminar on Visioning in the summer of 1990. After presenting the Blackduck / Blandin Visioning to the City Council, the group was directed to start the visioning process. After much work, the dedicated workers presented the vision to the council in 1992. The vision helped develop a dialogue between rural and city people and township governments. More people were now involved in community development.
In 1997, the Blackduck Visioning Committee, Blandin representatives and local residents from the Blackduck School District Area reviewed our vision. The groups decided that the two most important directives of the vision were in the areas of youth and economics.
In 1998, the Blackduck / Blandin Group joined with Blandin in the Blandin Community Investment Partnership. The basic philosophy of the partnership is one of mutual investment. Committees have a strong base of leaders who can recruit a diverse, multi-generational group of individuals and major stake holders committed to a process of identifying and taking action on significant community issues.
The community members must be willing to explore new ways of looking at issues and be committed to measuring results together with the Blandin Foundation.
In return, the Blandin Foundation will invest in the community by providing technical assistance and meeting facilitation with assessment tools, and resource materials; financial resources and convening of multiple communities to share the lessons learned in the partnership.
Each step of the process will help communities prepare grant applications for funding significant projects. All people from the Blackduck Area are welcome to attend.
Presently the group is planning the 2001 Centennial Celebration for the Blackduck Area. At a community meeting on May 9, 2000, volunteers were placed on many committees needed to make this year long celebration successful. The committee welcomes all interested volunteers!
---
BLACKDUCK COMMUNITY LIBRARY
Contributed by Nance Kunkel
The Blackduck Community Library started as an idea in 1908, when a group of young women formed a club known as the Young Ladies of Blackduck, for the purpose of establishing a library and reading room for Blackduck and the surrounding community. By March of 1909, the Library and Reading Room was up and running. These young women seemed, by all accounts, to be a tireless group, as they hosted events and fund raisers on an almost bimonthly schedule! One particular event, held in 1911, was a dance for twenty-five couples with "peace and harmony prevailing," at which they served "light refreshments" at midnight, and danced until 2:00! Another event, in December of that same year, included dancing after a show, and that time they danced until 4:00 a.m.!
The members of the YLB (also known as the Wild Bees) took turns caring for the library. Those who were unable to take their turn forfeited fifty cents to pay a librarian. The first to be librarian was Miss Nina Leak. This practice continued until 1918, at which time each member paid $1.00 per year to hire a librarian. Mrs. J.C. Parker was hired as the librarian. The library at this time was what was known as a subscription library, where patrons paid a yearly fee for the privilege of borrowing books. The reading room was located in the office building previously occupied by the Chicago Lumber and Coal Company, and this is where the old Ice Cream Chalet is now on Main Street. The rooms were open to the public every afternoon and evening, and books could be exchanged on Wednesday evening and Saturday evening. Many of the books were provided by "the traveling library company", others were donations from residents.
In 1913, Mrs. Dudley and Mrs. French were appointed to see what lot could be purchased for the purpose of building a library. A lot south of the Catholic Church, which would presently be the corner lot to the west of the Presbyterian Church, was purchased for $300.00, and George Horton erected the first library building there at a cost of $275.00. The new building was opened with a party on November 14th of 1914, with "tea and wafers" being served to the public. Many clubs and merchants provided financial support for the library. Wood for heating was donated by Mr. Alsop, and Mr. French sawed it free of charge.
One of their favorite and most successful fund-raisers for many years was what is known as a "tag day". This occurred each year on the first of May. The tags were little ducks and they were carried in May baskets. A "Tag Day" is similar to the American Legion's Poppy Day. The ladies often made $50.00-$60.00 with this fund-raiser.
In November of 1917, the voluntary organization known as the Blackduck Library Company was incorporated under the name Blackduck Public Library. This was done at the suggestion of Mr. Wilson, so that the organization could be legally recognized as a group, rather than individuals. Mrs. F.L. Kolden was the first president, holding office until 1924, when Mrs. William Cross took the office. Mrs. Cross was one of the original Young Ladies of Blackduck. She continued to be officially connected with the library until 1980, and remained a library supporter for many years after.
In 1917 and 1918, the group collected funds and books to send to the "soldiers and sailors serving our country." They collected $40.00, and 260 books, and provided the only such effort in Beltrami County.
A report for the year ending in April of 1921 shows a membership of 37, four traveling libraries of 50 volumes each, a building fund of $526.98, and a circulation for the year of 1911 books and 287 magazines, with 151 borrowers. In 1925, the building was enlarged and remodeled under the supervision of Joe Thullen. This was also the year that the Village Council took over the library, so that tax revenue could be used to partially support the library.
Mrs. Parker resigned as librarian in 1928, and Mrs. Wm. Cross took her place. Statistics show that in 1937 the library contained 1068 volumes for adults, and 273 for children. Mrs. Cross resigned as librarian in 1940, and was succeeded by Mrs. Grace Oberg, Mrs. James Angell, and Ms. Lorena Feenendahl. Between 1948 and 1958, other librarians were Mrs. Carl Gilstad, Mrs. Roy Balsiger, Mrs. Magda Bogart, and Ms. Jean Cox.
The Library continued to grow and to thrive. In 1953, the city decided to move the library into the City Hall building, which was a two story building located where the fire hall is now, in order to combine expenses. The board was extremely dissatisfied with that location, and after only a few months moved back into their building. In 1962, the building was totally redecorated, the front wall was remodeled, and a new window was installed. The Blackduck Garden Club donated and maintained a window box for flowers, and in 1963 took over the responsibility of beautifying the library property, a tradition that continues to the present day! Library hours at that time were from 2:30 to 5:00 every Wednesday and Saturday. Tri-Sigma Study Club initiated the first story hour for children, with an average attendance of 25 children. There has been some speculation that the Wild Bees of Blackduck evolved into the TriSigma Study Club.
During 1969, the Board held numerous special meetings to study the feasibility of membership in the Kitchigami Regional Library System. The members of the board approved of this, and with the encouragement of the village council members and county commissioners, the Blackduck Public Library became part of the Kitchigami Regional Library System on September 1, 1970. At this time, the hours were increased to five days per week, and the library got its first telephone! Librarians were Mrs. Wm Cross and Ardale Lausche. A disastrous explosion of the oil heater caused extensive soot damage in the fall of 1970. The library was closed for many weeks, during which time the building was repaneled, rewired, redecorated, and refurnished. The Library Board spent many hours cleaning the books, not wanting to trust such a delicate chore to the professional cleaners.
In 1974, Mrs. Cross and Mrs. Lausche resigned as librarians, and Marge Mack and Mrs. Keith Matson took their places. Mrs. Matson resigned in 1975, and was replaced by Mrs. Glen Stern. Mrs. Stern had been an active volunteer for the library. Ms. Mack remained librarian until 1993 when she retired.
By 1981 the city again was discussing moving the library to the city hall, which at that time was located in the old bank building on the corner on Main Street. The Library Board had sought an estimate on enlarging their building, and found that the building was no longer sound enough to add on to. This move occurred in 1982. The back two-thirds of the (present) city hall was given over to the library, with a half-wall and gate separating the two areas. This was not an ideal situation, but did provide more space for the library's increasing collection and circulation needs. This lasted about ten years, at which point the city needed increasingly more space, as did the library.
The library board began considering other properties which might be available. Two buildings which were seriously considered were the old Creamery (which at that time was the veterinarian's office, subsequently destroyed by fire, and the lot is now occupied by the Cease Funeral Home) and the former Big A Auto Parts Store. The Blackduck State Bank provided an excellent price on the Big A building, and that was purchased by the board for a new library building. The building (which stood where the new post office now is) was remodeled, and in May of 1993 the library moved into its new quarters, with a grand-opening celebration for the public. The building was well situated for a library, with an accessible entry, room for a study table, a separate children's area, and a "Secret Garden" provided by the Blackduck Garden Club. The library board had an agreement with the city to pay for the building through donations and fund-raising, over a period of five years. Because of the overwhelming level of support from the area served by the library, and several grants received, the $50,000 mortgage was put to rest in the fall of 1998. The library board held many fund-raising events, including several dances - but none of them lasted until 4:00 a.m.!!
During the summer and fall of 1997, automation was added to the services provided by the library. The remainder of the Kitchigami Regional Library System had long since gone on automation for requests, the card catalog, and other parts of daily operation. The Blackduck Community Library had to participate, or face the possibility of losing its place as a regional library. The city of Blackduck agreed to re-obligate the funds necessary, and by the end of September, the library was fully on-line. The Aurora System which was installed enables patrons to view the card catalogues of three Regional Library Systems, over 33 libraries, and also provides the ability to request books from all over the country, including the Library of Congress (which is celebrating 200 years of service in 2000!) Internet Service is available to the public at no charge, and a word-processing computer is also available.
To facilitate the city's effort to maintain a downtown location for the post office, the library building was sold in 1998. Many long discussions were held to determine the future location of the library. Because of the need to make the Post Office space available for construction, the library was moved in March of 1999 to a temporary downtown location in the former Anderson Jewelry building, next to the Northland Community Bank. The decision had been made to build a new facility for the library. Herb Lien of the Blackduck Telephone Company issued a "challenge grant" to the Blandin Foundation for $30,000.00. This challenge was met, and with the balance of the funds provided by the city of Blackduck, a new building was ready for occupancy by November. On December 5th, 1999, a grand-opening / birthday party was held at the new facility to celebrate the new building and the library's 90th year of service to the community. Everyone is very proud of the new facility, and plans are underway to landscape the property, with the help of the garden club, and financial support from the townships. Future plans for the Blackduck Community Library include finishing the landscaping, providing more computer workstations for the public, and enhancing the children's section of the library.


Blackduck Library
Statistics at the end of the 20th century show a collection of 17,070 items, with 572 borrowers on record. In 1999, a total of 16,733 items were circulated, with service to 4,884 adults, and 3,268 children. Twenty-two special tours and programs were hosted during 1999, with a total attendance of 350 persons.
Presently the Blackduck Community Library is open 20 hours per week, Tuesday through Saturday. Two librarians are on duty, Nance Kunkel and Michele Krueth. A monthly story hour is held during the school year, and a Summer Reading Program is held each summer, with attendance increasing over the past several years to 82 participants in 1999. The library board meets on a monthly basis, planning annual fund-raisers such as the Soup and Pie Fest each October, and a Pie Sale each November, as well as an annual Spring Fling Raffle and other efforts. The mission of the Blackduck Community Library remains "working together to enrich individual and community life, striving to provide equal access to information, ideas, and knowledge through books, programs, and other resources."
---
BLACKDUCK DENTAL CLINIC
Contributed by Dr Paul Bengtsen
Dentistry in Blackduck: Although it is not well documented, we know that in the early 1900s in Blackduck dental care consisted only of removal of offended or diseased teeth by whoever had skills and a pair of pliers available. The late Dr. Tuomy, a Bemidji dentist, recalled coming to Blackduck by train for afternoon dental visits in the teen and early 20s. In one memorable afternoon in 1920 he removed 186 teeth. He said that after the lumberjacks would get their anesthesia at the saloon, they would stumble over to have their teeth pulled.
The first permanent dentist I found record of was Dr. Louis Conley. He was born in Cannon Falls on June 3, 1880. He grew up in Cannon Falls, graduated from Carlton College, and finished his dental studies at the University of Minnesota School of Dentistry in 1908. He practiced in Kasson for four years and in Cannon Falls for twenty years. He moved to Blackduck in 1928 with his new wife, Maude. He put up his office on the second floor of his own house on North Main, across the street from what is now Bogart's Service Station.
In 1950 Dr. Conley moved in as an operator in Dr. Palmer's new clinic on Summit Avenue. It was there that he practiced until shortly before his death in 1961. In the late 1960s, Dr. Heglund, a Bemidji dentist, used the same operatory on a part-time basis.
In 1977, Dr. Paul Bengtsen came to Blackduck full time. He grew up in Bemidji, where his father was a dentist, and graduated in 1972 from the University of Minnesota School of Dentistry. He then spent three years as a dentist in Africa and two years in Sweden. In Blackduck, he initially opened a clinic in the house owned by the school district, which was recently vacated by superintendent Gene Kjellberg.
In 1978, he bought the old Blackduck liquor store on Summit Avenue, which he converted to a Dental Clinic. In 1982, he moved across the street, remodeling Dr. Palmer's clinic building. Dr. Bengtsen has been in Blackduck for 23 years and practices at Blackduck Dental Clinic to this day.
---
BLACKDUCK FAMILY RESOURCE CENTER 1995-Present
Contributed by Ruth Sherman
The Bemidji Area Council of Nonprofits and area residents began development of the Blackduck Family Resource Center long before a space or staff person came into the picture. In the early 1990s the Council of Nonprofits staff began discussions with member agencies of the Council regarding the need to expand the delivery of human services to residents of Northern Beltrami County. Member agencies were responding to the fact that the Bemidji area was developing a vast array of services that were not readily accessible to a large portion of the county. Upon agreement from member agencies, staff of the council contacted key community members in the Blackduck and Kelliher areas in order to receive input as to the desire and support of such an outreach project.
Residents of Kelliher and Blackduck responded to this outreach effort with a resounding "YES!" A steering committee was formed involving superintendents from Blackduck and Kelliher (Tom Hoppe and Larry Phillips), Blackduck City Planner (Jody Johnson), Blackduck Headstart Coordinator (Terry Leinbach), School Social Worker (Mary Aery), Zion Lutheran Church Pastor (Dean Oelfke), and others. The communities were combed for possible sites and a decision was made to locate within the community of Blackduck. Although Kelliher was in need of services, it was felt that the location was not central enough to Blackduck area residents and a suitable location there was not available. Upon deciding on a site for the Center, funding was secured by the Council of Nonprofits through the Emma B. Howe Foundation.
In the early planning stages the purpose of the Resource Center was simply to make space available to BACN agencies so that they could come into the community and provide their services. Essentially, it was a common location for multiple services allowing agencies to provide limited services without the cost of a lone office site.
During the first year of operation, agencies struggled with the marketing aspect of operating in Blackduck. No one was responsible for promoting the Center and agencies operating out of Bemidji were not familiar with the workings of small communities. Recognizing a need for adjustment, steering committee members worked out an agreement with the Northwoods Coalition for Battered Women to place a staff person (Brenda Cartwright) at the center a few hours a week in an attempt to "advertise" and coordinate Center services. At the end of the first year of operation, there was a question about whether the site could continue due to lack of use. Agencies were struggling to gather enough local business to justify the travel


Blackduck Resource Center

expense to Blackduck. A decision was made at that point to employ a halftime staff person to spend more time bringing service providers to the site.
In the fall of 1994, a Social Worker (Ruth Sherman) was hired by the Bemidji Area Council of Nonprofits to work at the Center. At that point, functions changed in several ways. The emphasis on collocating services remained intact. A focus of the new staff person was to establish agreements with service providers to help them deliver the services needed in the area and to market those services effectively. In addition, staff began making agreements with agencies to supply brochures, flyers, applications, and general informational materials about the programs available to the general public. This information was gathered at the Center and disseminated to those needing it. The assembly of all of this information allowed the staff person to meet with residents, listen to the needs they expressed and then provide them with a summary of the programs and services that would meet their needs.
This concept eventually became known around the county as "Service Access." This way of doing business quickly gained momentum, resulting in a need for expansion of the original Center site into two apartment units within the Pioneer Cross Apartment building in 1998.
Today, there are 8 agencies which deliver services out of the Center on a regular basis, supplying over 15 separate programs to area residents. Information and Referral is provided 4 days a week and is serving more than 50 people a month.
Area churches and youth groups meet at the Center on a regular basis. The Center has become known as a central site for area businesses and families to coordinate efforts for Holiday giving. In addition, the Center currently houses a small food shelf and a clothing resource. A schedule of seasonal events occurs at the site including such things as Tax Assistance in the spring, Home-Buying Programs each winter, Flu Shots in the fall, and more.
The Center remains open to local input through an active advisory team currently consisting of Pastor Dwight Warden, Donna Bodien, Terry Leinbach, Mary Aery, Edith Nelson, Linda Ferdig, Avonel Kjellberg, Lorraine Warden, Sandra King, Dennis Montgomery, Dr. Lisa Harmon, Leona Hand, and Ruth Sherman. Additional sites of Service Access are being developed in Bemidji and Kelliher.
* Member Agencies Include: Upper Mississippi Mental Health Center; Evergreen House; Path; BiCap; Annishnabe Legal Services; Planned Parenthood; April's Shelter; Headwater's Science Center; Pathways; Northwood's Coalition for Battered Women; Adult Day Services of Bemidji Area Council of Nonprofits; Bemidji Area Race Relations Council; Gilfillan Center; Headwaters School of Music and the Arts; Lutheran Social Services; Sexual Assault Program; Ours to Serve House of Hospitality.
---
BLACKDUCK FIRE DEPARTMENT
Contributed by Charlie Anderson
The Blackduck Volunteer Fire Department was organized in 1901, the same year the village was organized. Fire fighting methods used the first two years were bucket brigades. In 1903, a water tower and mains along the principal streets were completed, and a hose cart pulled by the firemen was used thereafter.
In 1902, a 300 pound bell for calling firemen to fires was purchased. The bell was located in the tower over the old city hall.
In August, 1902, the first fire ordinance was adopted by the village council. This ordinance restrained the use of stove pipes within the business district. In 1903, Articles of Incorporation for the Fireman's Association were filed. Also in that year, a forest fire from the southwest threatened the entire village again. In May 1904, the danger of losing the village came from the southwest. A special train brought companies from Bemidji and Tenstrike to help fight it. A train stood by to evacuate the village if necessary, but late in the afternoon the fire was brought under control near Stoner's Lake.
In those early years, the hose cart was pulled by the firemen or by a team of horses owned by the dray man. When the fire bell would ring, this team would take off for the fire hall as fast as they could go, not waiting for their owner, if he happened to be off the wagon. Upon arrival at the hall, firemen would hitch the hose cart behind the wagon and proceed to the fire.
Attending tournaments held each year was a big event for firemen in the early years. Teams from each department competed against each other in events such as ladder climbing, hook and ladder races, a wet test which was seeing who could get water coming out of the hose first, and many other events. Records show that the Blackduck firemen usually did well in these events. Serious practice and training were held often. In 1903, it was noted that firemen took picks and shovels to smooth Summit Avenue so practice could be held. Later, a special track for practice was constructed north of the school. These tournaments were held by the Northern Minnesota Firemen's Association. Blackduck attended in Park Rapids in 1903 and in Hallock in 1904.
In 1905, Blackduck had the honor of being host for this event, and newspaper articles state it was the most largest and most successful tournament up to that time, and had the largest crowd in Blackduck history. Two special trains, one from Walker and the other from Bemidji brought delegations into town. Three brass bands played every evening. This went on for three days.
The local department raised $1,600.00 to put on this event (a large sum in those days), and not one cent was donated. It was raised by holding dances, home talent plays, and operettas.
It wasn't until 1937 that the department became mechanized. A Chevrolet fire truck was purchased from the firemen's funds at no cost to the village, and this truck is still in the fire department's fleet. In 1958, another truck was purchased and
added to the department. In 1961, contracts were signed with the townships of Hines, Hornet, Langor, and Summit, and with the village of Tenstrike for fire protection. A rural fire truck waspurchased at this time for this purpose. Since then, five more townships have contracted for fire protection. Additional fire fighting equipment has been added.
Lewis F. Parker was the first Fire Chief and was instrumental in building the department. E.N. French was elected chief in 002, followed by J.M. Reed in 1907. William A. Cross became chief in 1908 and served until 1950, a total of 42 years. Herbert J. Lien was then elected chief and served until 1969 followed by ben Bergin who held the office until his retirement in 1972. ice Heieie served as chief in 1973 and upon his transfer to Grand Rapids, Melvin Gilstad became chief in 1974 until 1976.
Wolden took over as chief in 1977 until 1987. After Jim Wolden, Larry Falk was acting chief from 1988 to 1992, and Scott Palmer is the present chief and has been since 1993.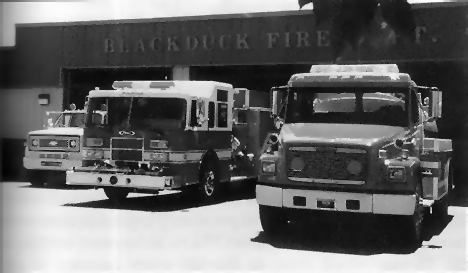 Blackduck Fire Department
In 1992, a new three-stall addition was added to the fire ill. In 1994, a 1250 gallon per minute pumper was purchased by the Rural Contract Association. A new 2100 gallon tanker was added in August of 1998. The current fleet includes two pumper trucks, two tankers, the 1937 truck, and a rescue vehicle bought with local donations.
In February 1998, the duties of the fire department expand-1 to include extraction and rescue of individuals in automobile accidents using a device called the Jaws of Life.
The Blackduck Fire Department presently consists of 25 volunteers and provides fire protection for 360 square miles plus the city of Blackduck. This includes three municipalities and ten townships.
---
BLACKDUCK FLORAL & GIFT
Contributed by Ron and Linda Schaefer
Blackduck Floral was purchased by Ron and Linda Schaefer from Robert Czech in July of 1981. Czech had operated shop in the Carpet Country building for about five years. Schaefers continued the floral business in the building until September of 1987, when they moved into a new building constructed just north on the former Co-op property. The new building is a 28' x 48' wood frame structure with handsome bay windows, gray vinyl siding, and an attached greenhouse, used `for seasonal bedding plants, shrubs, and Christmas trees.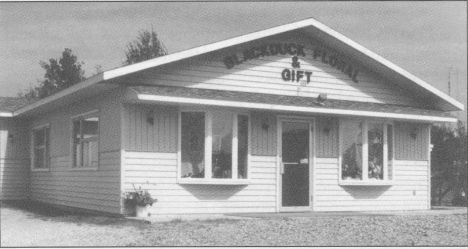 Blackduck Floral and Gift
Blackduck Floral & Gift offers a complete line of fresh and silk flowers for all occasions and green and blooming plants. Gift items include Precious Moments, plush animals, chocolates, ceramics, stone ware, helium balloons, and many other items. A nation-wide wire service (AFS) reaches loved ones out of town.
Ron is now retired after many years of teaching business at Blackduck High School. He keeps very busy managing the shop, making deliveries, and making many trips in the spring to keep the greenhouse stocked. He even manages to keep several lawn mowing jobs in his schedule. Linda works at the store full time. Employees include Lynn (Nagle) Boreen, Peggy Gross, Sandra Lien, Ginger Juelson, Jackie Barclay, and other part-time help during holidays and other busy times.
The Schaefer's sons, Paul and Brian, have put in a lot of time with the business delivering, stocking, and keeping the warehouse and the grounds in order. Their time is limited to weekends now when available, as both are college graduates and are involved with jobs and activities in Bemidji and Walker.
The business serves Blackduck, Northome, Kelliher, Squaw Lake, and the Bemidji area, and has grown considerably in the past years!
---
BLACKDUCK GOLF CLUB 1936-2000
Contributed by Dorothy Sonnek and Darlene Mathews
The Blackduck Golf Club was founded in 1936 when a group of businessmen met at the Blackduck State Bank and put in one dollar each to form the Club. These businessmen were Leonard Kolden, Anton Thompson, Chan Moon, Dr. S.L. Conley, James Sullivan, I.J. Hauge, O.E. Jamtaas, Lee Oberg, and James Johnson. O.E. Jamtaas was elected secretary-treasurer and he held this position for 40 years.
According to the late Lloyd Cox, they each put in $10 and purchased the title on 70 acres of tax title land next to the Pine Tree Park by Blackduck Lake, which was later turned over to the village of Blackduck.
The village was then successful in making a WPA project of the Golf Course.
O.E. Jamtaas, Harry Cann, and Lee Oberg, with a 100 foot surveyor's chain, measured and laid out the 9 hole course and Blackduck's First Hundred Years
this original arrangement has changed very little.
Harry Cann was foreman of the WPA crew that cleared, grubbed, and hand raked and seeded the fairways, and also gathered rocks to line the banks of the creek across four fairways, according to the late Lloyd Cox.
Clarence Collison was in charge of the building of the beautiful, log club house. The Federal Forest donated the pine logs and the Club furnished various other materials with WPA labor.
The course had sand greens which were later rebuilt into beautiful grass greens in 1960. To begin with there was a great deal of volunteer labor on the course, even mowing of the fairways. The village had purchased an adjoining 80 acres which was originally intended for an additional 9 holes, but since has been used for other purposes.
Through the years, the Blackduck Golf Club has been managed by Charlie Donager, Lloyd and Marge Cox, Darwin and Dorothy Anderson, Polly and Duane Beck, Elwyn and Ron Ruud, Dennis and Pat Grace, Fred and Pat Pfeiffer, Duane and Jane Dueffert, and Jodi and Ray Burmeister.
Looking back in history, in 1950, family membership dues were only $10.00. Dues then jumped to $35.00 in 1965, and are currently at $400.00 in 2000. A watering system was added to the course in the early 1960s and a sprinkler system was added in the early 1990s. In 1972, there was a large addition built on the clubhouse which had a beautifully carpeted and furnished dining area with a seating capacity of 100 and a modern equipped kitchen and pro-shop.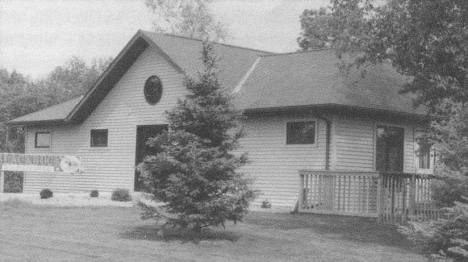 Blackduck Golf Course Club House
That structure was razed and in 1998 a new clubhouse was built on the same site. A unique, circular stained glass window was created and donated by Hilton and Maxine Beck, Jim and Judy Gorman, Bill and Colleen Balsiger, and Jeanne Mistic. Beautiful, oak kitchen cabinets were planned and built by Frank Guenther of Kelliher. The new Clubhouse consists of two levels with rental space on the top floor and the Pro Shop on the lower level. Additional sand traps have been added to the course in Blackduck Club House1999, and in 2000 the club purchased 12 new riding carts.
At present, the 2000 Golf Board consists of Gail Johnson, Diane McKean, Hal Mistic, Bob Cribb, Jim Hentges, Ron Kostohryz, and Lawrence Anderson.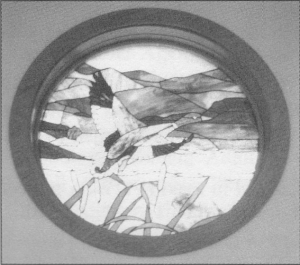 Stained Glass Window in the Blackduck Club House
The Ladies Golf League is active and the present officers are: President, Judy Ross; Vice President, Bev Bryant; Secretary, Val Hentges; and Treasurer, Nita Brown. The Men's League continues with play on Wednesdays with a Best Ball contest in the evenings. Local golfer, Leo Manthei, shot a course record of 32, which remained a record for many years.
Local members encourage others to come and enjoy our "Best Kept Secret" in northern Minnesota!
---
BLACKDUCK MEDICAL CLINIC
Contributed by Judy Mouser
Early in 1975, while visiting friends in Bemidji, Dr. Mouser learned that the city of Blackduck was looking for a medical doctor. Bill Balsiger was contacted and arrangements were made to visit with the search committee. Dr. Mouser accepted the position and plans were made to rent the building Dr. Palmer had been using. Dr. Mouser began seeing patients in October of 1975. Office visits were $7.50 per visit. Three employees were hired and office hours were from 10 a.m. to 5 p.m on weekdays. Dr. Mouser would drive to Bemidji every morning to see patients in the hospital and would sometimes have to drive back again in the evening if the patient had a specific need which couldn't be handled by phone. Before the new highway was completed, this was sometimes a difficult trip.
In 1984, the Blackduck Medical Clinic became too small a facility for the growing practice. B&F Construction was contracted to build a new building at the corner of Margaret Street and First Avenue West, where the clinic is today.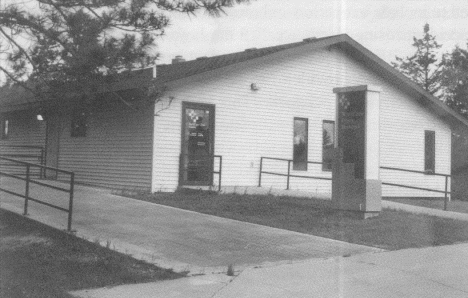 Blackduck Merit-Care Clinic
In 1996, the Clinic building was sold to the Blackduck Development Corporation. This committee leased the facility to North Country Regional Hospital, and later to Merit Care, who presently operate the business. Dr. Mouser continues to practice in Blackduck and is joined by Doctor Lisa Harmon, and Physician's Assistant, Patricia Burdick.
---
Continue to Blackduck History Page 4
---