Navigation
LakesnWoods.com
Home Page
Contact Us
Privacy
Minnesota History Shop

Visit The Minnesota History Shop
www.minnesotahistoryshop.com
Historic maps
Historic books
Historic framed art
Historic postcards
Clothing with historic images
And much more!!!


Benson Guide:
Photo Gallery
Location
Geography
Demographics
History
Government
Post Office
News
Weather
Street Map
Events
Attractions
Recreation
Lakes
Health Care
Schools
Churches
Media
Motels
Resorts
Campgrounds
Businesses
Aerial Photo
Topographic Map
© 2004-2023
Lakeweb1 Internet Services
All Rights Reserved
DCMA, Defamation, Copyright and Trademark Infingement Policy
WANTED!
Do you have photos, historical accounts or other items pertaining to the Benson area? Would you like to share this historical information with the world? LakesnWoods.com would like to publish your Benson photos (current or historical) or historical accounts on this website. Original materials can be returned and your privacy will be respected.

(design available on over 100 different items!)

Benson Minnesota Community Guide
---
Location:
---
Population:
Benson (city)
1970
1980
1990
2000
2010
2000-2010 Change
Actual
Percent
Population
3,484
3,656
3,235
3,376
3,240
-136
-4.03
Land Area (sq. mile)
1.70
2.45
2.51
2.48
3.02
+0.54
+21.77
Density (persons per sq. mile)
2,049.4
1,492.2
1,288.8
1,360.5
1,080.0
-280.5
-20.62
Housing Units
1,353
1,573
1,484
1,566
1,602
+36
+2.30
Households
--
1,498
1,382
1,451
1,469
+18
+1.24
Persons Per Household
--
2.38
2.26
2.24
2.21
-0.03
-1.34
---
Geography:
According to the United States Census Bureau, the city has a total area of 3.02 square miles (7.82 km²), all of it land. U.S. Route 12 and Minnesota State Highways 9 and 29 are three of the main routes in the city. The elevation is 1,047 ft (319 m) above sea level.
From Wikipedia, the free encyclopedia.
---
Demographics:
As of the census of 2010, there were 3,240 people, 1,469 households, and 828 families residing in the city. The population density was 1,080.0 inhabitants per square mile (417.0 /km2). There were 1,602 housing units at an average density of 534.0 per square mile (206.2 /km2). The racial makeup of the city was 97.2% White, 0.5% African American, 0.4% Native American, 0.2% Asian, 0.1% Pacific Islander, 0.6% from other races, and 1.0% from two or more races. Hispanic or Latino of any race were 2.6% of the population.
There were 1,469 households of which 24.8% had children under the age of 18 living with them, 44.7% were married couples living together, 8.0% had a female householder with no husband present, 3.7% had a male householder with no wife present, and 43.6% were non-families. 38.7% of all households were made up of individuals and 21.2% had someone living alone who was 65 years of age or older. The average household size was 2.14 and the average family size was 2.85.
The median age in the city was 43.6 years. 21.9% of residents were under the age of 18; 7% were between the ages of 18 and 24; 22.5% were from 25 to 44; 25.9% were from 45 to 64; and 22.5% were 65 years of age or older. The gender makeup of the city was 47.8% male and 52.2% female.
---
---
History:
This region was the disputed land of the Chippewa and Sioux Indians. Raiding parties of each tribe made life quite perilous for any person. The first white man to travel across the future Benson area was Gideon S. Pond, an Indian Missionary who accompanied an Indian hunting party up the Chippewa River in order to study their habits and customs. However, it was not until after the Great Sioux Uprising that western Minnesota was made safe for white settlement. The first white settler in the Benson area is thought to be Ole Corneiliusen, a Norwegian who arrived in 1866. By this time the railroad had been extended from Minneapolis to Delano. This resulted in more rapid settlement in western Minnesota.
Early development of Benson and the rest of Swift County was strongly related to the railroad. A.W. Lathrop and W.V. Lathrop opened the first general store in Benson in 1869 in anticipation of the arrival of the construction of trackage through the area. The railroad continue laying tracks in the westward direction and by 1870 they had reached the site that they had determined to be a trading center named "Benson" in memory of a prominent politican from Anoka.
Boom Time
After the tracks reached Benson, no additional tracks were laid for over a year. As end of the tracks, Benson became a lively trading center. It was the exchange point to the Red River Ox Carts. These two-wheeled carts were built entirely of wood and raw hide and pulled by a single ox. They usually traveled in a train and the squeak of their unoiled wheels could be heard for miles. The Red River Ox Carts carried goods from Benson to about 15 miles downstream from the present-day city of Wahpeton, North Dakota. During this time Benson served as a market for the territory 100 miles to the north, south, and west. Prices were high at this time with a barrel of pork costing $40.00, 100 pounds of flour for $5.00, very poor butter was $0.50 a pound, eggs were a luxury, and potatoes were very scarce.
Within five years the population of Benson had grown to 300 with four general stores, two drug stores, two machinery houses, three hotels, one bank, and two saloons. In one of the general stores, A.N. Johnson & Co., the sales ran up to $60,000 in the last eight months of 1875. It was distinctly a boom period.
Early Life
Early life in Benson also included some hardships such as the smallpox epidemic of 1872, the grasshopper plague of 1876, and the fire of 1880. The fire was started by a cigar butt which was dropped and rolled through a knothole in the floor of Joe Fountain's saloon. The smoldering cigar soon burst into uncontrollable flames that resulted in severe losses to 20 concerns, destroying an entire city block. As a result of the fire, a volunteer fire department was organized by the Village Council on June 18, 1881.
The Public Library was established in Benson in 1911 through a $7,500 donation from Andrew Carnegie and many generous gifts from local citizens. The following year the Swift County Hospital was constructed at a cost of $15,000 and had an original capacity of 20 to 25 patients. In 1949 a new City-County Hospital was constructed at a cost of $400,000. In 1971 a million dollar addition was added to the hospital and now offers Benson a modern 32 bed facility. The Benson Medical Center, a well-staffed group of family physicians, and Harley Clinic, a mental health clinic, are also housed in the facility. The Swift County-Benson Hospital celebrated its 75th Anniversary in 1987.
The first hotel, known as the Emigrant House, was constructed by the railroad company to accommodate railway workers and travelers. In 1876 an addition was made on the hotel and it was renamed the Pacific House. In 1900 the structure was moved to a lot behind the light plant and called the Columbia Hotel. The three story brick, 45 room Paris Hotel was then constructed on the previous site. This building remained as a landmark until it was destroyed by fire in September of 1976. The First Federal Savings Bank and the 1st American Financial Center now stand on that site.
Modern Conveniences
Public utilities and services have been available to Benson residents for many years. The waterworks was constructed in 1895. Cement sidewalks began to be constructed in 1901. The first telephone operated between the office and home of Dr. C.L. Scofield in 1893, three years before the original Bell patent expired. The power and light plant was built by private investors just before the turn of the century and was purchased by the City of Benson in 1902.
The turn of the century also saw the first "horseless carriage" in Benson. J.B.A. Benoit, who had been in the bicycle repair business, became interested in the new invention. In 1901 he purchased a lathe and began to build an automobile, completing it in April of 1902. This open two-seated rig was equipped with a five horse Dyke engine which could propel the car at the rate of four to twenty miles an hour. Its first run to Clontarf, a distance of about six miles, was completed in only 28 minutes.
Schools
The first school classes were held in the Emigrant House in 1870. The following year a one story frame structure was erected on the northeast corner of the courthouse block to serve as the school. This original school house of Benson has been restored and is open to the public. It is located at Ambush Park on West Highway 9. The first graduate received their diploma from Benson High School in 1890. In 1904 the Northside School (now the Junior High School) was constructed, following by the Southside School in 1913 and the Northside Elementary School in 1958. The new high school was constructed in 1965 and a major addition housing the vocational facilities and an indoor swimming pool was completed in 1976. An all-school reunion was held in 1990 to celebrate the Centennial of Education.
Courtesy City of Benson
BENSON, a city in sections 5-8 of Torning Township and named the county seat on February 18, 1870, was platted for the railway company by Charles A. F. Morris, for whom Morris in Stevens County was named, in the spring of 1870; it was incorporated as a village February 14, 1877, and as a city in 1908. The post office was established in 1870; it had a station in section 6 of the Great Northern Railway.
Courtesy Minnesota Historical Society

Pacific looking east, Benson Minnesota, 1908
LakesnWoods.com Postcard and Postcard Image Collection - click to enlarge
Visit The Benson Photo Gallery for more recent and historic area photos
---
Government:
Benson City Hall
1410 Kansas Avenue
Benson, MN 56215
Phone: (320) 843-4775
Fax: (320) 842-7151

Regular Business Hours:
Monday - Friday 8:00 am - 4:30 pm

City Council Meetings:
1st and 3rd Mondays of each month at 5:30 pm


Title
Term Ends
Name and Address
Phone:
Mayor
12/31/2021
Terri Collins
725 12th Street S
Benson, MN 56215
(320) 226-6086
City Manager
appointed
Rob Wolfington
1410 Kansas Avenue
Benson, MN 56215
(320) 843-5448
Council Member
12/31/2021
John "Jack" Evenson
308 9th Street N
Benson, MN 56215
(320) 843-4783
Council Member
12/31/2021
Mark Schreck
707 19th Street S
Benson, MN 56215
(320) 842-7561
Council Member
12/31/2023
Jon Buyck
1941 Countryside Drive
Benson, MN 56215
(320) 843-2867
Council Member
12/31/2023
Lucas Olson
609 11th Street S
Benson, MN 56215
(320) 843-9137
---
Post Office:
US Post Office
220 14th Street N
Benson, MN 56215-1105
Phone: (320) 842-4741
Toll Free: (800) ASK-USPS
Fax: (320) 843-2072

Regular Business Hours:
Week Days 8:30 am - 4:30 pm
Saturday 8:30 am - 9:30 am




---
---
Utilities:
---
Major Employers:
---
---
News:
---
Weather:
---
Map: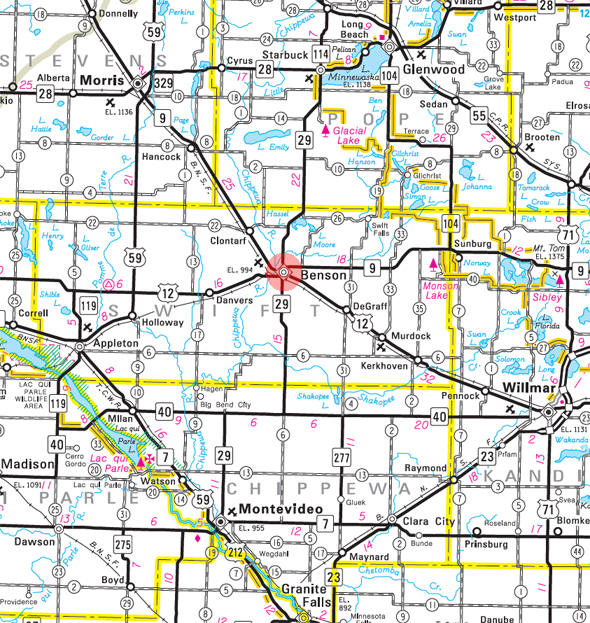 Minnesota State Highway Map of the Benson Minnesota area
---
Events:
Pioneerland Band Festival

On June 14, 1988, the first Pioneerland Band Festival was held in Benson, Minnesota. Some of the finest bands in the state gathered to celebrate the joy of music and our American Flag. Every Flag Day since, the celebration has continued to grow into one of the most enjoyable music celebrations in Minnesota. Each year a new Grand Marshall is selected; someone who has used music to influence the community in a positive way throughout their lives. This is one celebration you don't want to miss!

For more Benson area events, see the Benson Chamber of Commerce Events Calendar
---
---
Attractions:
Glacial Ridge Scenic Byway

The area lies within the Alexandria Glacial Moraine Complex laid down by the Wadena Lobe of the last glacier, 30,000 years ago. The massive amount of ice, thousands of feet in thickness and loaded with unnumbered tons of rock material, ceased its forward movement and melted. What remained after the ice melted was an extensive, wide, low ridge, an accumulation of boulders, stones, gravel and other debris formerly contained in the ice sheet. Blocks of ice, buried in the debris, melted to form many of the hundreds of small lakes, dotting the countryside. The Byway offers something for everyone, whether their interests are historical, cultural, recreational or a simple scenic drive. The Byway offers access to West Central Minnesota's abundant natural resources, recreational opportunities, historical and cultural character, all while offering modern, convenient travel accommodations.
---
Recreation:
Ambush Park

A Park for All Seasons. On the shores of the Beautiful Chippewa River. Blacktop & Primitive Camping Sites - Hot Showers Lighted Picnic Shelters - Picnic Tables and Grills at Campsites - Located along the Banks of the Chippewa River - Large Bonfire Ring near South Shelter Historic School House - Horseshoe Pits - Basketball Court - Extensive Hiking Trails - Sand Volleyball Court - Canoeing - Fishing On Site - Park Supervisor - Sanitation Station - Adjacent to Outdoor Swimming Pool and 18 Hole Golf Course

Benson Golf Club
2222 Atlantic Avenue
Benson, MN 56215
Phone: (320) 842-7901
Web: www.bensongolfclub.com

At Benson Golf Club the golfer will feel right at home. We offer the finest in golf and dining. Beginning with a traditional, full service golf shop which attends to the golfer's every need, Benson Golf Club provides a first quality golf experience. From comfortable dining facilities which serves both light and hearty fare, to a golf shop laden with carefully selected apparel and equipment and staffed by professionals committed to providing the best possible golf experience, to beautiful manicured tees, fairways and greens….

Swift Falls Park

The Swift Falls County Park is located on the banks of the Chippewa River in Swift Falls, Minnesota (the best little town by a dam site.) The community was so named because of the falls that were created when the Chippewa was dammed to provide power for a grain mill once located there. Nestled in rolling hills created by long ago glacial activity the park gives one a sense of serenity and pleasure with each visit. Spend an hour, a day or a week and you will understand the pleasure derived from visits to the Park area residents have enjoyed for years. The Park is open for camping mid-May to mid-October.
---
Lakes:
Lake Name
Size
(acres)
Lake info
Lake Map
Rec Map
Topo Map
Frovold
Hassel
Johnson
Moore
---
Health Care:
Affiliated Community Medical Center
1805 Wisconsin Avenue
Benson, MN 56215
Phone: (320) 843-2030
Web: www.acmc.com

The ACMC network is a regional leader in West Central and Southwest Minnesota's health care delivery system. Our 11-clinic network, which serves six local hospitals and about 103,000 patients throughout the region has over 170 physicians and mid-level practitioners and features more than 35 specialty departments with over 800 support staff. The heart of ACMC is providing compassionate, quality care for our patients.

Swift County Benson Hospital
1815 Wisconsin Avenue
Benson, MN 56215
Phone: (320) 843-4232
Toll Free: (800) 324-0787
Web: www.scbh.org

The Swift County-Benson Hospital has been in operation since 1912 and has a strong tradition of excellence in our community. A well-staffed group of family practice physicians, nurse practitioners and outreach specialists work together to provide a wide range of medical services for Benson and the surrounding area. In fact, for two years in a row, Swift County-Benson Hospital was selected as one of the Top 100 Small Hospitals in the US. Swift County-Benson Hospital is a facility that lives its mission: to provide quality personalized health care, locally accessible and responsive to community needs.
---
Schools:
---
Churches:
---
Media:
---
Motels:
Benson Inn
620 22nd Street South
Benson, MN 56215
Phone: (320) 842-6990
Toll Free: (877) 747-8713
Web: reservation.magnusonhotels.com

Just minutes to Lake Hassel, the Benson Inn is close to many state parks and lakes. Come and enjoy hiking, swimming, boating, golfing, and biking at Glacial Lakes State Park, Lac Qui Parle State Park, and Sibley State Park. This Magnuson Hotels affiliate offers free wireless internet and plenty of parking for your RV or boat. Sorry no pets allowed.

Country Inn
300 14th Street S
Benson, MN 56215
Phone: (320) 843-4395
Web: www.countryinn-benson.com

Located in Benson, Minnesota, Country Inn Benson is within driving distance of many cities in the southwestern Minnesota area, including Morris, Montevideo, Willmar, Spicer, and Appleton. Our staff takes pride in our well-maintained hotel grounds, our friendly and efficient service, and our multiple amenities, including a connected restaurant. Feel free to ask about using our hotel grounds and pool for birthday parties, weddings and other events.
Check for motel rates and availability on:
---
Resorts:
---
Campgrounds:
Ambush Park

A Park for All Seasons. On the shores of the Beautiful Chippewa River. Blacktop & Primitive Camping Sites - Hot Showers Lighted Picnic Shelters - Picnic Tables and Grills at Campsites - Located along the Banks of the Chippewa River - Large Bonfire Ring near South Shelter Historic School House - Horseshoe Pits - Basketball Court - Extensive Hiking Trails - Sand Volleyball Court - Canoeing - Fishing On Site - Park Supervisor - Sanitation Station - Adjacent to Outdoor Swimming Pool and 18 Hole Golf Course

Swift Falls Park

The Swift Falls County Park is located on the banks of the Chippewa River in Swift Falls, Minnesota (the best little town by a dam site.) The community was so named because of the falls that were created when the Chippewa was dammed to provide power for a grain mill once located there. Nestled in rolling hills created by long ago glacial activity the park gives one a sense of serenity and pleasure with each visit. Spend an hour, a day or a week and you will understand the pleasure derived from visits to the Park area residents have enjoyed for years. The Park is open for camping mid-May to mid-October. 15 camping sites, restrooms, showers, electricity, stream fishing, wooded hiking trails, foot bridges, picnic shelters, waterfall
---
---
Businesses:
A Wireless
1314 Atlantic Avenue
Benson, MN 56215
Phone: (320) 843-1711
Abner Sales
513 Highway 29 N
Benson, MN 56215
Phone: (320) 843-3699
Web: www.abnersales.com



Abner Sales is a major distributor for fertilizer and spray parts located in Benson, Minnesota. Abner Sales was started in 1983 by Mick Abner and has since become known as one of the largest distributors for agricultural parts in the upper midwest. Abner Sales take pride in our business and the relationship we have with our customers. We have been committed over the years to providing you with the best quality parts and equipment available in the industry. Our number one goal is customer satisfaction!

Affiliated Community Medical Center
1810 McKinney Avenue
Benson, MN 56215
Phone: (320) 843-2030
Web: www.acmc.com



ACMC Health is a multi-specialty health network in West Central and Southwest Minnesota with over 180 physicians and advanced practice providers in 40 specialty areas. ACMC is committed to improving the health of our communities and maintaining its role as the healthcare leader of choice.

Agrilite Electric Co-op
320 US Highway 12 SE
Benson, MN 56215
Phone: (320) 843-4150
Web: http://www.agralite.coop



Agralite Electric Cooperative is a locally owned progressive utility providing dependable electric service and other consumer related products to improve the quality of life in our region.

Agvise Laboratories
902 13th Street N
Benson, MN 56215
Phone: (320) 843-4109
Web: www.agvise.com



AGVISE Laboratories provides a complete line of agricultural testing services and technical support to the United States and Canada. With laboratories in Northwood, North Dakota, and Benson, Minnesota, we are a leader in the area of soil testing and plant analysis. Our testing services include GLP and Non-GLP analysis.

Alsaker Tax Service
201 12th Street N
Benson, MN 56215
Phone: (320) 843-4266
American Family Insurance
1215 Pacific Avenue
Benson, MN 56215
Phone: (320) 843-4323
Web: agent.amfam.com



As your American Family Insurance agent, I can offer you dependable auto, home, business, health and life insurance, as well as other insurance products.

Amundson Peterson
380 Atlantic Avenue
Benson, MN 56215
Phone: (320) 843-2610
Web: www.amundsonpeterson.com



Benson, Minnesota John Deere dealer for Lawn Mowers, Tractors, Combines, Tillage, Hay Balers, and Sprayers is Amundson Peterson, Serving your new and used equipment needs from Elbow Lake, Morris, Benson, Madison, Minnesota.

Amundson Violin
1328 Atlantic Avenue
Benson, MN 56215
Phone: (320) 314-8500
Web: http://www.amundsonviolin.com



At Amundson Violin we specialize in quality violins for classical performers, country, and blue grass players. We carry a nice selection of unique, quality vintage instruments in addition to a line of new Snow Violins. New or used, you're sure to find the violin that will be a perfect complement to your musical career.

Anderson Lumber
710 Atlantic Avenue
Benson, MN 56215
Phone: (320) 843-3415
Web: www.andersonlumbermn.com



Since 1984, we have been providing building materials to residential, commercial, and industrial customers. We proudly serve the Central Minnesota area, and we deal with homeowners who live on lakes, farms, and in small towns.

Antolik Construction LLC
212 US Highway 12 SE
Benson, MN 56215
Phone: (320) 843-5050
Web: www.antolickconstruction.com



Established in 1973; Antolick Construction, LLC has been proudly serving West Central Minnesota; providing quality products and service for over 40 years. We specialize in grain storage systems; ranging from 50 bushel corn stove hoppers to Sioux Steel Commercial Grain Storage Systems, with a capacity of more than 1 million bushels!

Auto Value Benson
213 14th Street N
Benson, MN 56215
Phone: (320) 843-2810
Web: www.autovaluestores.com/benson



From headlights to tailpipes, Auto Value prides itself on providing the parts you need at prices you can afford. Whether you are looking for a brand name or Parts Master® product, our friendly and knowledgeable parts professionals will help you find what you need to get the job done right.

BackStreet Printing
1324 Atlantic Avenue
Benson, MN 56215
Phone: (320) 842-9173
Web: www.backstreetprinting.com



A full range of b/w and color printing services from high speed digital copying to 4-color press work is available at your fingertips. Let BackStreet Printing print your brochures, flyers, newsletters, business forms, booklets, catalogs, manuals, stationery, custom greeting cards, postcards and any other printing you may need.

Bank of the West
1302 Atlantic Avenue
Benson, MN 56215
Phone: (320) 843-2233
Web: www.bankofthewest.com



Today, Bank of the West operates more than 600 retail, wealth, commercial and business banking offices in 23 states. Prudent credit underwriting, a diversified loan portfolio, and careful risk management have allowed us to grow to more than $80.7 billion in assets. It is one of the nation's largest banks, yet it preserves its local feel and its award-winning style of relationship banking that ensures superior customer service.

Benson Agency
1201 Pacific Avenue
Benson, MN 56215
Phone: (320) 314-8118
Benson Air-Ag Inc.
330 20th Street NW
Benson, MN 56215
Phone: (320) 843-4300
Benson Area Chamber of Commerce
1224 Atlantic Avenue
Benson, MN 56215
Phone: (320) 843-3618
Web: www.bensonareachamber.com



Our mission is to unify, support and promote growth of the businesses and to enhance the quality of life for the entire community. We strive to create a spirit of cooperation, actively represent the member's interests, provide leadership in the community and to plan and develop strategies to strengthen the community. Benson, Minnesota is one of the most progressive manufacturing cities of its size in all of Minnesota. Residents and visitors enjoy the quality of life a small town provides with modern technology available at their fingertips.

Benson Bakery
1305 Pacific Avenue
Benson, MN 56215
Phone: (320) 843-4681
Web: www.bensonbakery.com



We use 80 plus years of production and design experience to create the finest, all natural cakes baked just for your special celebration. We value our reputation as the area's leading maker of wedding cakes. We work closely with you to create a cake that reflects your personality, suits the style of your wedding and feeds everyone who attends. At the Benson Bakery we use only the finest and freshest ingredients available and the utmost care for design and detail. Our cakes are created and decorated by experienced artisans with your special day in mind.

Benson Bowler
2205 Minnesota Avenue
Benson, MN 56215
Phone: (320) 843-4040



Benson Bowler is a local bowling alley that proudly provides great bowling and serves delicious, fresh food to the residents of Benson, Minnesota. Our bowling options and diverse menu is guaranteed to have something that will appeal to everyone. If you choose to host an event at our facility, we promise you will have a great time! We have spent careful time crafting the perfect atmosphere, and we are proud to provide a family friendly bowling alley that is also perfect for corporate events and league nights!

Benson City Armory
203 14th Street S
Benson, MN 56215
Phone: (320) 843-5305
Benson City Offices
1410 Kansas Avenue
Benson, MN 56215
Phone: (320) 843-4775

Benson Electric Motor Company


1910 Atlantic Avenue
Benson, MN 56215
Phone: (320) 842-7681
Benson Family Dental
210 13th Street S
Benson, MN 56215
Phone: (320) 843-4191
Web: www.bensonfamilydental.com

When you visit our dental office, your smile is our top priority. Our entire team is dedicated to providing you with the personalized, quality dental care that you deserve. When you visit our office you will experience all that modern dentistry has to offer, including a comprehensive list of general, restorative and cosmetic dental services to meet the needs of the whole family. Our goal is to assist each patient in achieving and maintaining long term dental health and a beautiful smile.
Benson Family Eye Care
219 14th Street S
Benson, MN 56215
Phone: (320) 842-4131
Web: www.familyisourfocus.com



Because we know how much your eye health & appearance can mean to the quality of your life – we are committed to excellence in servicing your complete eye care needs.

Benson Fire Hall
1415 Kansas Avenue
Benson, MN 56215
Phone: (320) 843-4790
Benson Golf Club
2222 Atlantic Avenue
Benson, MN 56215
Phone: (320) 842-7901
Web: www.golfbenson.com



Benson Golf Club is a public golf course featuring smooth, rolling greens and fairways lined by beautiful, mature trees. The Chippewa River winds through the course providing a fair and challenging test to golfers of all abilities. Benson Golf Club features the best practice facilities in the area, full service banquet facilities, and a fully stocked Golf Shop.

Benson Liquor Store
102 10th Street N
Benson, MN 56215
Phone: (320) 843-3810
Benson Public Library
200 13th Street N
Benson, MN 56215
Phone: (320) 842-7981
Web: www.benson.lib.mn.us
Benson Ready Mix
902 13th Street N
Benson, MN 56215
Phone: (320) 843-4177
Web: www.dconcrete.com/brm.html



We excavate and process our own aggregates to top standards to assure that the best materials are used in producing a product that will give your concrete project strength, beauty, and durability for years to come. Our friendly, knowledgeable personnel, with years of experience, will provide you with quality concrete mix designs, great dependable service, and technical guidance.

Benson Refrigeration
206 18th Street N
Benson, MN 56215
Phone: (320) 843-3390
Benson Senior Center
218 13th Street N
Benson, MN 56215
Phone: (320) 842-4410
Benson Speedy Print
513 Highway 29 N
Benson, MN 56215
Phone: (320) 843-3699
Benson Veterinary Clinic
1440 Minnesota Avenue
Benson, MN 56215
Phone: (320) 842-7501
Bluestem Dental
210 13th Street S
Benson, MN 56215
Phone: (320) 842-4191
Web: www.bluestemdental.com



At Bluestem Dental . . . it is important to us that you are comfortable and feel respected. We are honored to be entrusted with your care and strive to provide quality service. It is our goal to respond to your trust by treating you with the same respect and care we give to our own family members. We want to work with you in maintaining your beautiful smile.

Breen's Thrifty White Pharmacy
1207 Pacific Avenue
Benson, MN 56215
Phone: (320) 842-4221
Brink Beerjoint and Grill
203 Danelz Avenue
Benson, MN 56215
Phone: (320) 843-4900



Brinks beer Joint bar and grill is a very fun family friendly place, tucked away in the hills of Swift county. Ben Honebrink and his crew go out of there way to provide good food and great service to everyone

Bugs and Flowers
1224 Atlantic Avenue
Benson, MN 56215
Phone: (320) 842-5050



Specialty gift shop, unique gifts for all ages, home décor, garden décor, seasonal gifts, clothing, jewelry, handbags, hats, scarves, baby and kid gifts, bridal registry available. Share space with Swift Weavers two great stores, one location!

Burger King
206 14th Street N
Benson, MN 56215
Phone: (320) 843-2505
Web: locations.bk.com/mn/benson



Every day, more than 11 million guests visit over 13,000 Burger King® restaurants near them in 97 countries around the world. And they do so because our fast food restaurants are known for serving high-quality, great-tasting and affordable food. The Burger King® restaurant in Benson, MN serves burgers, breakfast, lunch and dinner prepared your way.

Chevalier Insurance Agency
1209 Pacific Avenue
Benson, MN 56215
Phone: (320) 843-4344
Chippewa Valley Ethanol Company
270 20th Street NW
Benson, MN 56215
Phone: (320) 843-4813
Web: www.cvec.com



Chippewa Valley Ethanol Company (CVEC) began as the dream of two Benson, MN, men more than a decade ago. Today, CVEC has the capacity to produce 50 million gallons of ethanol annually. It is still a small-town Minnesota company, but has grown to 975 cooperative owners. Thanks to its culture of innovation, CVEC is recognized at both the federal and state levels for efficient production and leadership in shaping ethanol policy.

Clark's Rexall Drug Store
1214 Atlantic Avenue
Benson, MN 56215
Phone: (320) 842-3221



Community pharmacy with compounding, medication therapy management, immunizations, free delivery, natural medicines, hometown variety, arts and craft supply. Large enough to serve you- Small enough to know you.

CNH America
260 US Highway 12 SE
Benson, MN 56215
Phone: (320) 843-2713
Conway Deuth and Schmiesing PLLP
1209 Pacific Avenue
Benson, MN 56215
Phone: (320) 843-2302
Web: www.cdscpa.com/locations/benson



Conway, Deuth & Schmiesing, PLLP is one of the top 25 CPA Firms in Minnesota. At CDS, taking care of our clients is our number one priority. We have a team of professionals who are qualified, capable and eager to provide you with a high level of service. You can rely on us to be your trusted advisor.

Cooperative Credit Union
1501 Minnesota Avenue
Benson, MN 56215
Phone: (320) 843-4210
Web: www.co-opcreditunion.com



Our top priority is to provide a variety of valuable services and resources to our members so that they feel confident and secure with the Co-op Credit Union as their financial home.

Country Inn Benson
300 14th Street S
Benson, MN 56215
Phone: (320) 843-4395
Web: www.countryinn-benson.com



Located in Benson, Minnesota, Country Inn Benson is within driving distance of many cities in the southwestern Minnesota area, including Morris, Montevideo, Willmar, Spicer, and Appleton. Our staff takes pride in our well-maintained hotel grounds, our friendly and efficient service, and our multiple amenities, including a connected restaurant.

Countryside Public Health Service
201 13th Street S
Benson, MN 56215
Phone: (320) 843-4546
Web: www.countrysidepublichealth.org



Countryside Public Health is a five county Community Health service agency serving the counties of Big Stone, Chippewa, Lac qui Parle, Swift and Yellow Medicine in western Minnesota. There are offices located in Ortonville, Montevideo, Madison, Benson and Granite Falls.

Craig's Inc.
2015 Minnesota Avenue
Benson, MN 56215
Phone: (320) 843-4385
Web: www.craigsinc.com



For expert heating and cooling service in Benson, MN and surrounding areas, Craig's Inc. is the one to call. Our certified technicians don't just install and repair; we work hard to make sure your system is running at peak efficiency, saving you money and extending the life of your system.

Crossroads Counseling Center
1120 Atlantic Avenue
Benson, MN 56215
Phone: (320) 314-2438
Web: www.crossroadscounselingcenters.com



Crossroads Counseling Centers, Inc. is a multi-specialty mental health counseling agency dedicated to serving individuals, couples, and families of all ages, stages, and struggles. Crossroads is a Christian based counseling facility that endeavors to provide a comfortable and inviting atmosphere for all members of our community. We openly embrace individuals who do not describe themselves as Christian; and the beliefs of our staff and counselors are not forced upon anyone.

Culligan Water Conditioning
409 14th Street
Benson, MN 56215
Phone: (320) 842-5851
Web: www.culliganwaterminnesota.com



We are Culligan of Benson, your water technology experts proudly serving southwestern Minnesota. Our dealership specializes in providing water softeners, reverse osmosis systems, water coolers, bottled water, water filtering and softener salt delivery service to area homes and businesses.

Custom Roto Mold
555 22nd Avenue S
Benson, MN 56215
Phone: (320) 842-3056
Web: www.customrotomold.com



Custom Roto-Mold is an ISO 9001 certified manufacturer providing custom plastic solutions. Using the latest rotomolding technology, tooling and turn-key services, we create an exceptional customer experience.

Dairy Queen
2232 Atlantic Avenue
Benson, MN 56215
Phone: (320) 843-3939
Web: www.dairyqueen.com



For more than 70 years, the DQ® system's recipe for success has been simple. It's been a combination of hardworking people who own and operate restaurants, and great-tasting food and tempting treats served in our establishments.

Dakota Storage Buildings
503 14th Street
Benson, MN 56215
Phone: (320) 322-0527
Web: www.dakotastorage.com



Each storage building we make is made from premium wood and hardware. We use higher-quality components and assemble each shed with great care using old-school, hand-crafted techniques. We build our products this way because it's how we've always done it. And because we believe that using better materials and time-tested construction methods provides more value for our customers' hard-earned dollar.

Darold's SuperValu
200 12th Street
Benson, MN 56215
Phone: (320) 842-7261
Web: www.daroldssupervalu.com



Darold's has been serving the city of Benson, MN for over 60 years. Our family owned and operated grocery store enjoys supporting the community daily. Our friendly and knowledgeable staff strive to provide you with the highest quality of customer service and products. Our outstanding prices on your favorite family products and fresh produce show why we are the community favorite! Stop in today for savings!

Dave's Repair
204 10th Street NE
Benson, MN 56215
Phone: (320) 843-4851
DeMarce Theatre
1320 Atlantic Avenue
Benson, MN 56215
Phone: (320) 842-6871
Web: www.demarcetheatre.com



DeMarce Theater has been operating at this location since 1925. We recently purchased the business and hope to continue to provide a great & affordable movie experience for our guests. (AND, the popcorn is the BEST in town!!!)

Design Electronics
1202 Atlantic Avenue
Benson, MN 56215
Phone: (320) 368-3422
Web: www.desrs.com/benson-mn

Design Electronics carries a large selection of Verizon, RadioShack, LG, GE, Dish Network and Samsung products, among others. In store, we have a complete selection of items to enhance your living room, laundry room, kitchen and more. With technology constantly changing, we can offer you the newest products and services. If you would like to learn more about our extensive products, call your local Design Electronics location or stop by to talk to our trained team members.
Diamond Bride and Tux
1074 55th Street NE
Benson, MN 56215
Phone: (763) 550-3992
Divine Home Care
112 13th Street S
Benson, MN 56215
Phone: (320) 843-9178
Web: www.divinehomecare.com/benson-office



Our Benson staff provide care for clients in Western Minnesota, including Swift, Pope, Grant, Traverse, Big Stone and Chippewa counties. We are located behind Patrick's Pub & Grill.

DoMat's Family Foods
2004 Minnesota Avenue
Benson, MN 56215
Phone: (320) 842-7221
Web: www.domats.com



We are your local community connection for high quality foods, friendly service and great prices. Our family-owned store offers a convenient one-stop shop where you can find everything you need from the everyday essentials to specialty items from around the world. Our friendly staff is here to help you find exactly what you're looking for and to offer you assistance regarding all the products we carry. We take pride in our community and appreciate your business. We know that you have many options for food purchases and want you to know that we're working hard each day to continue to earn your business.

Don's Flooring
1230 Atlantic Avenue
Benson, MN 56215
Phone: (320) 843-3754
E & M Electric LLP
909 13th Street N
Benson, MN 56215
Phone: (320) 842-5291
Web: www.emelectricbenson.com



Experienced Electrical Help for Home Farm Business Electrical services for home are important. With E & M Electrical, ff you aren't fully satisfied for any reason, we'll make it right. Your satisfaction is 100% guaranteed. It's the small things we do that end up making the BIG difference for you. General Troubleshooting Emergency Electric Service Electrical Panel Service Ceiling Fan Installation Lighting and Outlet Installation .

Eden's Green
1550 Minnesota Avenue
Benson, MN 56215
Phone: (320) 843-3331



We Do: seeding ,sodding, tree trimming, bush trimming, landscape, planting, lawn care We have: trees, fruit trees, shubs, annuals, perennials, shrub roses

Edward Jones
1309 Pacific Avenue
Benson, MN 56215
Phone: (320) 843-4570
Web: www.edwardjones.com



As an Edward Jones financial advisor, I believe it's important to invest my time to understand what you're working toward before you invest your money. It's also important to understand the level of risk you're comfortable accepting when investing so we can balance it with the steps necessary to reach your long-term goals.

Enviro-Dyne Industrial Services
213 Sanford Road
Benson, MN 56215
Phone: (320) 444-6739
Web: www.enviro-dyne.com



Enviro-Dyne is a Minnesota based company that specializes in Water Jetting and Remediation services for ethanol plants, food processing plants, power plants, refineries and municipalities. We are your resource to ensure efficiency with regular maintenance and cleaning of your toughest tasks.

Erickson's Photography
701 13th Street S
Benson, MN 56215
Phone: (320) 843-3678
Eric's Motor Sports
2005 Minnesota Avenue
Benson, MN 56215
Phone: (320) 842-4853
Web: www.ericsmotorsports.com



You will only find quality products from industry leaders like Lehman, Champion,Stihl, Simplicity, Snapper, Grass Hopper, Hustler and other trusted manufacturers here. We specialize in customer service to make you a lifelong customer. No need to hassle with the "Big Box Store". Our expert staff gives each customer the personal attention you deserve. After serving many repeat customers, old and new. Our customer's look to us for great sales and incredible service. We will deliver on these expectations every time

Family Dollar Store
204 14th Street S
Benson, MN 56215
Phone: (320) 842-4254
Web: locations.familydollar.com/mn/benson/24846



Your neighborhood Family Dollar store has low prices on a wide assortment of items, including cleaning supplies, discount groceries, and seasonal items and toys. You'll also find great deals on kitchen essentials, laundry supplies, and food and beverages, including the basics like milk, eggs, and bread. Plus, you can use your Family Dollar app and easily clip Smart Coupons – our exclusive digital coupons – for even greater savings on your next shopping trip.

Farmers Union Insurance
1430 Utah Avenue
Benson, MN 56215
Phone: (320) 843-2422
Web: www.mnfuia.com



Farmers Union Insurance Agency was established in 1947 to meet the insurance needs of Minnesota Farmers Union membership. Over our 65+ years of existence, the agency has broadened its markets to include all of rural Minnesota, the urban market, and the businesses which serve them.

First Security Bank
215 13th Street S
Benson, MN 56215
Phone: (320) 843-4411
Web: www.firstsecuritybanks.com



First Security Bank in Benson, Minnesota is a full-service bank, offering consumer and commercial products specializing in Ag banking and small business lending. Our product lines include savings accounts, checking accounts, multiple loan programs including home equity lines of credit, e-statements, internet banking, bill pay and more.

Flower Basket
850 Atlantic Avenue
Benson, MN 56215
Phone: (320) 843-3900
Web: www.bensonmnfloral.com



At The Flower Basket we are committed to quality and service. Our 100% Satisfaction Guarantee is our personal commitment to creating long term relationships with our customers. Your satisfaction is our Number One priority, not just because it's our job, but because we care. We choose only the freshest, highest quality flowers and our shop has a professional and caring staff to serve all your floral needs. Your gift will arrive beautifully presented and personalized with your message

Flower's Auto Repair
455 State Highway 29 SE
Benson, MN 56215
Phone: (320) 843-4100
Web: www.napaautocare.com



From routine maintenance to major repairs, we've got you covered. Our ASE-certified technicians use high-quality NAPA parts and provide exceptional work; work that you can feel confident about, knowing it's backed by our 24 month, 24,000 mile Nationwide Peace of Mind Warranty.

Focus Financial
1209 Pacific Avenue
Benson, MN 56215
Phone: (320) 843-4855
Food Shop of Benson
1331 Minnesota Avenue
Benson, MN 56215
Phone: (320) 843-2160



Shell Gas, Diesel,E85 available. Picidilly Circus Pizza, Chester Fried Chicken, Fresh made subs, cookies and a whole lot more. Lazer Wash 4000 Touch Free Car Wash.

Gary's Menswear
1317 Pacific Avenue
Benson, MN 56215
Phone: (320) 842-5811
Gateway Residential Service
701 14th Street S
Benson, MN 56215
Phone: (320) 843-4808
Glacial Grain Spirits
270 20th Street NW
Benson, MN 56215
Phone: (320) 842-3255
Web: www.cvec.com



Established in 1998,Glacial Grain Spirits (GGS) manufactures industrial, food grade ethyl alcohol and beverage neutral spirits. These products are used in everything from food and beverages to cosmetics and pharmaceuticals. GGS remains one of the only farmer-owned manufacturers of industrial and beverage alcohol products in the U.S. Prairie Spirits, a subsidiary of Glacial Grain Spirits, manufactures our certified, organic alcohol products.

Glacial Plains Co-op
716 Atlantic Avenue
Benson, MN 56215
Phone: (320) 843-3999
Web: www.glacialplains.com



Glacial Plains business philosophy is to concentrate on our local trade area. We will strive to become more competitive and offer the highest levels of service all the while maintaining profitability so that we can continue to return cash to our owners. It's your cooperative that looks to return the money from profits that result from you entrusting us with your business and it's the one thing that you won't get back from many of our competitors. Thank you for your business.

Goff Masonry and Construction
1008 Church Street
Benson, MN 56215
Phone: (320) 842-3161
Web: http://www.bizyellow.com/businesses/goff-masonry-construction



Free estimates and projects described in full detail without the missing options you are going to want included for the very best end result for quality and apperance

Grossman Plumbing and Heating
200 13th Street S
Benson, MN 56215
Phone: (320) 843-4848
H & H Veterinary Service
170 State Highway 9 NW
Benson, MN 56215
Phone: (320) 842-5960
Web: www.hhvetservice.com



Boasting a combined 38 years of doctoral veterinary care, the friendly doctors at H & H truly know your pet's health best!

H & R Block
106 13th Street N
Benson, MN 56215
Phone: (320) 843-3380
Web: www.hrblock.com

When it comes to tax preparation services, the H&R Block tax professionals located at 106 13th St N in Benson, MN are here to meet all your tax needs. Need help filing taxes, including your federal tax return and state tax return? We're here to help. Looking to find every last available tax deduction to minimize your taxes and maximize your tax return? We're experts at it. Want the peace of mind that comes with knowing you won't have to face an audit alone? We've got your back.
Hair Hut
1203 Pacific Avenue
Benson, MN 56215
Phone: (320) 843-2021
Harrison Company
112 13th Street S
Benson, MN 56215
Phone: (320) 842-7303
Web: www.theharrisonco.com



For over 30 years, with only a few exceptions, The Harrison Company has worked exclusively in farms, farm land, hunting farms and recreational land. So we decided to use "We Sell Farms" in our marketing to summarize what we do. We are dedicated to helping our clients buy and sell farmland and hunting land all over Minnesota.

Hawley's Inc.
218 14th Street S
Benson, MN 56215
Phone: (320) 843-2222
Web: www.hawleysinc.com



If we don't provide what you need and want, we're not doing our job. Second, we work with the leader in home heating and cooling equipment, Bryant. Third, we train each employee to see your job through from start to finish, making sure the unit or system performs up to your expectations. Finally, we provide quick, professional service and complete service plans to keep your systems operating at peak efficiency. It's all part of our tradition of service-assuring your complete satisfaction.

Heartland Girls Ranch
185 State Highway 9 NE
Benson, MN 56215
Phone: (320) 843-4815
Web: www.heartlandgirlsranch.org



Heartland Girls' Ranch serves an average of 60-70 girls each year providing housing, supportive services, mental health, therapeutic equine programming and a dedicated school for the girls in our programs.

Heartland Motor Company
1428 Atlantic Avenue
Benson, MN 56215
Phone: (320) 842-4004
Web: www.heartlandmotor.com

Welcome to Heartland Motor Company, a Chevy dealer serving Minnesota! We pride ourselves on offering the best customer service around -- and our customers have responded by returning to us again and again, even generations down the line. From friendly and courteous team members to complimentary refreshments and service center pick-ups/drop-offs, we go the extra mile to make sure you're being treated like the valuable customer you are.
Holiday Stationstore
315 14th Street S
Benson, MN 56215
Phone: (320) 843-2018
Web: www.holidaystationstores.com



Holiday Stationstores continues to provide customers with a shopping experience that is unique to the convenience store industry.....big stores, wide aisles, wide product selection and friendly employees. Easily accessible from many major highways and interstates throughout the midwest and northern states, Holiday Stationstores features a variety of food offerings from our exclusive Holiday Pantry® sandwich and salad line. Major brand products from Coca-Cola, Pepsi-Cola, Kraft, Nestle's, Kellogg's, General Mills, Campbells, Tropicana, Gatorade and more provide our customers with the quality product they want......everyday!

Homestead Place North
257 State Highway 29 N
Benson, MN 56215
Phone: (320) 843-3774



When you need in-home care for yourself or a loved one, Homestead Place North offers a full-range of services as well as a compassionate, skilled staff. Assistance includes help with daily activities, personal care, and respite. Homestead Place North also offers assisted living, independent living, in-home care and rehab. For seniors who cherish their independence but still need a helping hand with daily activities, an assisted living program is designed for exactly such a lifestyle. Come experience true freedom, but one with compassionate care always nearby!

Huston - Vadnais LLC
1317 Pacific Avenue
Benson, MN 56215
Phone: (320) 843-2590
Jaeger Trucking
1007 12th Street N
Benson, MN 56215
Phone: (320) 843-4663
Jax of Benson
1615 Minnesota Avenue
Benson, MN 56215
Phone: (320) 314-8086
Web: www.k-bid.com



On line Auction Service with real time bidding on 1,000s of items daily. Log into K-Bid register for a bidding number and enjoy great deals on many new and used items from fire arms to comic books and even the occasional kitchen sink. Or stop in and I can help you sell your items and turn it into quick cash.

Jed Aire Aviation
340 20th Street NW
Benson, MN 56215
Phone: (320) 843-4461
Web: www.jed-aireaviation.com

I

n March 2006, I decided to become a businessman and I opened my own Aircraft Maintenance Facility. Obtaining my Aircraft mechanics Certificate in 1991 and my Inspectors Certificate in 2001, I have held many jobs and had many experiences with different types of planes. Most recently, I worked at a Mooney Service Center where I quickly excelled my knowledge of the Mooney Aircraft line as I attended Mooney Maintenance School and other aircraft and engine schools. My personal relationships with many different aircraft owners opened my options to perform maintenance on many different types of aircraft.

Jerry's Body Shop
907 13th Street N
Benson, MN 56215
Phone: (320) 843-2036
Jim's Diesel Service
320 20th Street NW
Benson, MN 56215
Phone: (320) 843-4870
Jim's Upholstery
503 19th Street N
Benson, MN 56215
Phone: (320) 843-4979
Jimmy's Pizza
917 13th Street S
Benson, MN 56215
Phone: (320) 564-3737
Web: www.jimmyspizza.com/benson



From Pizza and Pasta to Salads and Appetizers we've got what you're craving! Yes, we deliver! Tasty Pizza, Hot and Fresh. Order Online for Pickup or Delivery!

Kennedy Excavating and Motor
250 US Highway 12 SE
Benson, MN 56215
Phone: (320) 842-4911
KSCR Radio
105 13th Street N
Benson, MN 56215
Phone: (320) 843-3290
Web: www.935kscr.com

Swift County Radio Live. Local. Variety.
Hank Williams to Luke Bryan Diana Ross to Taylor Swift The Rolling Stones to AC/DC If you can't find music you like on KSCR.... Then you don't like music
Lange Associates Insurance
1402 Atlantic Avenue
Benson, MN 56215
Phone: (320) 843-2272
Web: www.langeassociates.com



The source for all your insurance needs in central Minnesota. Lange Associates proudly serves Benson, Appleton, Morris, Glenwood, Starbuck, Villard, Alexandria, Sauk Centre, Parkers Prairie and surrounding communities. Offering personal auto, home, life, farm, crop and commercial insurance to central Minnesota since 1980.

Larson Associates Insurance
1216 Atlantic Avenue
Benson, MN 56215
Phone: (320) 843-4030
Web: www.larsonassociatesinc.com



"Insurance is very important in today's world. Big or small you need to protect what is yours. We are dedicated to making sure you have the coverage you need to manage your risks. Working with several different insurance companies makes it possible for us to find the best deals and suitable plans for you and your family."

Lenarz Farm and Auto
176 State Highway 9 NE
Benson, MN 56215
Phone: (320) 843-4699
Lewis Family Drug Store
1805 Minnesota Avenue
Benson, MN 56215
Phone: (320) 842-3221
Web: www.lewisdrug.com

Since 1942, shoppers have trusted family-owned Lewis as their neighborhood store and pharmacy. With 45 stores conveniently located throughout South Dakota, Iowa and Minnesota! In addition to quality prescription and non-prescription drugs, Lewis has a huge selection of everyday basics, plus name brands and specialty items—always at affordable prices.
Lillehaugen Inn Bed & Breakfast
440 70th Street NE
Benson, MN 56215
Phone: (320) 843-4135



Lillehaugen Inn Bed and Breakfast has three rooms namely CoraLea, Julianna, and Kristopher's Cove. Rooms feature king sized bed, queen sized bed, and shared bath. The inn serves lunch and evening dinners. It also provides facilities for wedding receptions, groom's dinners, business meetings and all type of gatherings for family and friends. Outside activities includes golf, fishing and swimming, walking and biking, and canoeing.

Loen Electric Inc.
2125 Minnesota Avenue
Benson, MN 56215
Phone: (320) 843-4636
Web: www.loenelectric.com



Since 1950, Loen Electric, Inc. has provided professional services specializing in commercial, industrial, farm and residential wiring to Benson and the surrounding area. As second generation owners (Gary, Kevin and Steve), we continue in the tradition of developing long term partnerships and satisfied customers. Our company is known for it's integrity, efficient service, and support of various community activities.

Mark Frank State Farm Insurance
205 14th Street N
Benson, MN 56215
Phone: (320) 843-3310
Web: www.statefarm.com



Being a good neighbor is about more than just being there when things go completely wrong. It's also about being there for all of life's moments when things go perfectly right. With a passion for serving customers and giving back in our communities, we've been doing well by doing good for almost 100 years. And we're happy you decided to get to know us better.

Mattiesen Disposal Inc.
126 20th Avenue NE
Benson, MN 56215
Phone: (320) 634-4790
McKinney's on Southside
300 14th Street S
Benson, MN 56215
Phone: (320) 842-4900
Metropolitan TV Sales and Service
1118 Atlantic Avenue
Benson, MN 56215
Phone: (320) 843-4640
Mike's Guns and Sporting Goods
116 14th Street S
Benson, MN 56215
Phone: (320) 843-2921
Web: www.mikesgunssportinggoods.com



Mike's Guns & Sporting Goods offers guns for buy, sell or trade in Benson, MN. We have all of your hunting equipment including ammo, reloading supplies, and guns. Buy, sell or trade Hunting guns Gunsmithing Ammo Reloading supplies Predator hunting equipment Clay pigeons and target thrower rental

Minn Dak Insulation
1005 Pacific Avenue
Benson, MN 56215
Phone: (320) 843-4868



MinnDak Insulation is a small town business offering quality and professionalism for over 29 years. We strive for high standards, value, safety, and on-time dependability, with an array of insulation services. MinnDak Insulation is willing to travel and works with both residential and commercial buildings.

Minor Drywall and Stucco
409 14th Street N
Benson, MN 56215
Phone: (320) 843-4431
Molden Concrete Construction
455 US Highway 12 SW
Benson, MN 56215
Phone: (320) 843-2678
NAPA Auto Parts Store
1110 Atlantic Avenue
Benson, MN 56215
Phone: (320) 843-2161
New Beginnings Waivered Service
216 18th Street N
Benson, MN 56215
Phone: (320) 843-4955
New Paris Apartments
1901 Countryside Drive
Benson, MN 56215
Phone: (320) 843-4344
Web: www.sherman-associates.com/newparis



New Paris Apartments offer affordable one and two-bedroom homes in the close-knit community of Benson, Minnesota. Each home features spacious living areas, new kitchen appliances, walk-in closet in the master bedroom, air conditioning, and central heat. Outside each building residents enjoy complimentary private parking, bike racks, and large, grassy areas with picnic tables that are perfect for entertaining guests.

North Star Management Services
1209 Pacific Avenue
Benson, MN 56215
Phone: (320) 843-4344
Northview Court Townhouses
1011 13th Street N
Benson, MN 56215
Phone: (320) 843-4440
O'Leary Chiropractic
1213 Pacific Avenue
Benson, MN 56215
Phone: (320) 843-4477
Parkview Manor
300 13th Street N
Benson, MN 56125
Phone: (320) 842-8481
Web: www.bensonmn.org



Parkview Manor is a 7 story, 61 unit apartment building located 1 block from the downtown business district. Three of the units have been adapted especially for the handicapped. Exterior patios at the ends of the corridors are available on each floor.

Patrick's Pub and Grill
1301 Pacific Avenue
Benson, MN 56215
Phone: (320) 843-2777
Pioneer Fabrication
102 20th Avenue NE
Benson, MN 56215
Phone: (320) 843-3335
Prairie 5 Community Action
Highway 12 E
Benson, MN 56215
Phone: (320) 842-8565
Web: www.prairiefive.com/swift.html



Prairie Five Community Action, Inc. is a private non-profit agency designated as a 501(c)3 by the IRS. Community Action is not part of the state, federal, or county government. Prairie Five employees are not state or federal employees. The Prairie Five board governs the agency and applies to various federal and state organizations and foundations to obtain funding and grants to meet the needs as determined by local communities.

Primerica Financial Services
1325 Pacific Avenue
Benson, MN 56215
Phone: (320) 843-3656
Web: www.primerica.com/ronholtan



For 40 years we've had a simple philosophy: just do what's right. And that starts every time we sit down with a family – like yours – to educate them about how money works and to offer products and services to help them meet their goals. Primerica helps people learn how to make their money work for them using simple financial concepts. The wealthy have used these principles for decades to achieve success, yet these concepts aren't taught in schools. Primerica bridges that education gap, empowering the families we serve to make better financial choices and to use the products and services we offer to reach their goals.

Red River Women's Clinic
512 1st Avenue N
Benson, MN 56215
Phone: (701) 298-9999
Web: www.redriverwomensclinic.com



Red River Women's Clinic of Fargo, North Dakota offers high-quality affordable abortion and family planning services to the women of the Fargo-Moorhead area, all of North Dakota, northwestern Minnesota and northern South Dakota. Our convenient downtown location offers easy, anonymous entry into our warm and attractive offices. Our highly experienced and well-trained staff provide comfort, support and understanding along with the highest quality medical services.

Reid's Welding and Custom Manufacturing
905 13th Street N
Benson, MN 56215
Phone: (320) 843-2892
Reuss Bookkeeping
106 13th Street N
Benson, MN 56215
Phone: (320) 843-4838
Rice Hospice
2125 Minnesota Avenue
Benson, MN 56215
Phone: (320) 843-1308
Web: www.ricehospice.com



For over thirty years, Rice Hospice has provided end-of-life care to residents of west central Minnesota. Every day, compassionate people living in your community – nurses, social workers, hospice aides, support staff, clergy, and volunteers – offer care and peace of mind to those who have reached the end of their journey.

RiverWood Bank
1329 Pacific Avenue
Benson, MN 56215
Phone: (320) 843-3330
Web: www.riverwoodbank.com



RiverWood Bank is a network of community banks located in 9 different communities in Northern and Central Minnesota. The original banking charters were formed in the 1920s in Bemidji and Morris as state chartered local building and loan associations. The present charter is a national savings and loan association regulated by the Office of the Comptroller of the Currency (OCC). The banks have had a long history of meeting the needs of our communities in both the Consumer Banking and Home Lending Services.

Ron's Clock Repair and Jewelry
1309 Pacific Avenue
Benson, MN 56215
Phone: (320) 843-3382
Runnings
1920 Minnesota Avenue
Benson, MN 56215
Phone: (320) 842-6351
Web: www.runnings.com



For over 65 years, Runnings has proudly served customers with a wide selection of trusted brands, quality merchandise and hometown-friendly customer service. We work very hard to offer a fair price on quality, durable and trusted merchandise including clothing, footwear, automotive, sporting goods, farm supplies, lawn and garden, toys, housewares, tools, pet and animal supplies and more. In addition, 22 stores sell firearms. The Runnings team is now over 1,800 strong and the company continues to call Marshall home to its corporate office and flagship store.

Sandy's Cafe
1601 Minnesota Avenue W
Benson, MN 56215
Phone: (320) 843-2125
Scofield Place
1725 Wisconsin Avenue
Benson, MN 56215
Phone: (320) 843-4728
Web: www.scofieldplace.com



Scofield Place is a two-story, 30-unit senior apartment building east of the Swift County-Benson Hospital. We are connected to the hospital as well as Affiliated Community Medical Center by an enclosed link so you can make it to your medical appointment without going outside. Our warm, comfortable community and friendly staff and residents are waiting to welcome you. We provide housekeeping, security and convenience. We have fun and stimulating activities like exercise, card games and bingo - just to name a few.

Shelter House
301 14th Street N
Benson, MN 56215
Phone: (320) 842-3206
Snap Fitness
110 14th Street S
Benson, MN 56215
Phone: (320) 843-2127
Web: www.snapfitness.com



Our mission is to change lives with our result-driven culture both inside and outside our gym walls. Our goal is to encourage, motivate and drive our members to success. We are here to show support and ensure every member reaches his or her potential.

Southside Body Shop
225 State Highway 29 SE
Benson, MN 56215
Phone: (320) 843-2775
Web: www.southsidebodyshopandglass.com
State Bank of Danvers
2010 Minnesota Avenue
Benson, MN 56215
Phone: (320) 843-3828
Web: www.sbdanvers.com



At the State Bank of Danvers our friendly staff is always ready to offer you the best in personal service for your banking needs. Our menu of deposit account offerings is complete enough to serve your needs yet simple enough to make choosing the right one easy. Choose from the following or call us to help you find the right account for you.

Stony Ridge Foods
715 Atlantic Avenue
Benson, MN 56215
Phone: (320) 842-3401
Web: www.stonyridgefoods.com
Subway Restaurant
301 14th Street S
Benson, MN 56215
Phone: (320) 843-3666
Web: local.subway.com



Whatever you're in the mood for, SUBWAY® has a wide variety of Subs, salads, and sides to choose from. And every one of our Subs is made fresh in front of you, exactly the way you want it!

Swift County Abstract and Title
1120 Atlantic Avenue
Benson, MN 56215
Phone: (320) 843-4630
Swift County Courthouse
PO Box 207
Benson, MN 56215
Phone: (320) 843-2744
Web: www.swiftcounty.com
Swift County Historical Society
2135 Minnesota Avenue
Benson, MN 56215
Phone: (320) 843-4467
Web: www.swift-museum.org



The Swift County Historical Society was founded in November, 1929. Its mission is to discover and collect any materials which may help to establish or illustrate the history of Swift County, preserve the materials, and to disseminate the information gathered from these materials to the general public through museum exhibits & archives, programs, tours, publications, and historical markers.

Swift County Homes Inc.
1650 Stone Avenue
Benson, MN 56215
Phone: (320) 843-3509
Swift County Monitor-News
101 12th Street S
Benson, MN 56215
Phone: (320) 843-4111
Web: www.swiftcountymonitor.com
Swift County Real Estate
202 13th Street S
Benson, MN 56215
Phone: (320) 843-2924
Web: www.swiftcountyrealestate.com
Swift County-Benson Hospital
1815 Wisconsin Avenue
Benson, MN 56215
Phone: (320) 843-1311
Web: www.scbh.org



Swift County-Benson Health Services is committed to providing you with high quality, personalized patient care using state-of-the-art equipment and technology. Our team of healthcare professionals works together to keep you and your loved ones healthy today and in the future.

Swift Machine and Fab LLC
2220 Hall Avenue
Benson, MN 56215
Phone: (320) 843-2330
Web: www.swift-llc.com



Located in Benson, Minnesota, Swift Machine & Fab, LLC is your select destination for quality CNC precision parts, welding, and fabrication needs!

Taurus Commodities
1402 Atlantic Avenue
Benson, MN 56215
Phone: (320) 843-4010
Thrivent Financial
218 14th Street S
Benson, MN 56215
Phone: (320) 843-2981
Web: connect.thrivent.com/michael-berreau



What are your goals and values? What worries keep you up at night? What dreams keep you going? Working together, we'll build a financial strategy around what's important to you. Because life isn't just about making more, it's about doing more with what you have. Our goal is to help you reach a place where you feel like you have enough for yourself – and to share.

Tom's Service
208 14th Street S
Benson, MN 56215
Phone: (320) 843-2380
Web: www.tomsservice.net

Tom's Service, Inc. has been providing quality tires, used tires, auto repair and auto service to Benson, MN and the surrounding areas of Danvers, Clontarf, DeGraff, Murdock, Montevideo, Holloway, Appleton, Kerkhoven, and Morris since January 1993. Tom's Service Inc. has been a NAPA AutoCare Center since 1995 and won the 2005 Tire One Dealer of the Year. We are a family owned and operated business.
Trends
1226 Atlantic Avenue
Benson, MN 56215
Phone: (320) 843-2313
Ulmaniec Law Office PLLC
1216 Atlantic Avenue
Benson, MN 56215
Phone: (320) 843-9119
Unique Boutique
1314 Atlantic Avenue
Benson, MN 56215
Phone: (320) 314-8700
Web: www.bensonuniqueboutique.com



Stop in for Unique Selections. Women's clothing from todays Hottest Fashions. Dresses, Shirts, Coolest shoes, Miss me Jeans, Fashion Scarves. we also have Plus sizes in todays Hottest Fashions. Small, medium, large, extra large and Plus sizes 1,2,3.

US Post Office
220 14th Street N
Benson, MN 56215
Phone: (320) 842-4741
Web: www.usps.com
VFW Post 1403
1135 Pacific Avenue
Benson, MN 56215
Phone: (320) 843-4106



The VFW strives to do good things for deserving people; particularly veterans, their families, and their communities. From local grassroots ideas to national influence, we work everyday to make a difference. It's our strength as an organization. And, with each individual membership, we only grow stronger.

Vintage Beauty
104 13th Street N
Benson, MN 56215
Phone: (320) 843-2313



We have many services to offer at our salon. It is a newly remodeled salon with a cozy atmosphere. We have been in the business for over 9 years and love our jobs and hope you come and visit us :)

Vollmer Travel
2045 Prairie View Circle
Benson, MN 56215
Phone: (320) 314-8400
Wallace Auto and Collision
249 20th Street NW
Benson, MN 56215
Phone: (320) 760-7971
Web: wallaceautoandcollision.com



Wallace Auto and Collision is dedicated to quality and customer service. We are a family-owned business that specializes in auto body and auto mechanics repair. Our 7,500 sq ft facility is outfitted with the latest technology and training available. Our number one priority is customer satisfaction. As Jim always tells his customers, "I guarantee it will be fixed right, and you will be happy."

Web Livestock Auction LLC
235 20th Street NW
Benson Minnesota, 56215
Phone: (320) 843-2718
Web: www.weblivestock.com



Licensed and bonded livestock auction barn located in Central Minnesota selling all classes of Cattle, Sheep, Hogs and Goats. Whether buying or selling, integrity and customer service are our priority. ​ We have a growing competitive market drawing buyers and sellers beyond statewide.

Westwood Manor
2000 Hall Avenue
Benson, MN 56215
Phone: (320) 842-8481
Web: www.bensonmn.org



Westwood Manor is a 3 story, 39 unit apartment building. Four of the units are adapted especially for the handicapped, two of which have modified bathrooms. The other two have both kitchen and bathrooms modified. Clothes lines and garden plots are available.

Whistle Stop
1220 Atlantic Avenue
Benson, MN 56215
Phone: (320) 843-3800



Stop by and have breakfast or lunch with us in the historic train car in downtown Benson.

Wilcox Law Office LLC
1150 Wisconsin Avenue
Benson, MN 56215
Phone: (320) 842-5391
Web: www.bensonmnlaw.com



Wilcox Law Office, P.A. is a family-operated law firm having roots in Benson, Minnesota since 1979. The firm was originally founded in 1943 by Carl Holmquist, but now consists of attorneys Donald A. Wilcox, his son Benjamin R. Wilcoxand office manager Kerry Wilcox, Benjamin's wife. Wilcox Law Office offers a variety of legal services but excels in Estate Planning and Probate, Business and Commerical Law and Real Estate. They are the attorneys for civil matters for the City of Benson and many other surrounding towns.

Willmar Fabrication LLC
2205 Hall Avenue
Benson, MN 56215
Phone: (320) 214-6446
Web: www.willmarfab.com



Willmar Fabrication, LLC is a leader in spray drift reduction technology. Along with the Redball Spray Monitor, Willmar Fab engineers the original Redball-Hooded™ Sprayers and Spray Hoods to minimize concerns about agriculture spray drift and to help control resistant weeds. Willmar Fab has a strong focus on customer service and support, and is committed to develop innovative products that solve real-world problems.

Woodland Centers
1209 Pacific Avenue
Benson, MN 56215
Phone: (320) 843-2061
Web: www.woodlandcenters.com



A non-profit organization, Woodland Centers focuses its efforts on providing comprehensive mental health services to meet varied community needs. In 1958, Woodland Centers became the first community mental health program to begin operating as a result of the Minnesota Community Mental Health Act. We have offices in the counties of Chippewa, Kandiyohi, Lac qui Parle, Meeker, Renville, and Swift.

Zielsdorf Auction and Real Estate
119 3rd Street N
Benson, MN 56215
Phone: (320) 843-3003
Web: www.zielsdorfauctions.com



At Zielsdorf Auction and Real Estate Services located in Benson, MN, you can count on our staff of professionals to make your auction experience one you will remember and pass on to others. We provide a wide range of services to insure a trouble-free selling experience.

Zniewski Funeral Home
505 13th Street N
Benson, MN 56215
Phone: (320) 842-8811
Web: www.zniewskifuneralhome.com



Providing you the very best in compassionate and professional service is your right and our first priority at Zniewski Funeral Home & Cremation Services. We believe a funeral service should be as unique as the person honored. Our goal is to provide a space for family and friends to come together to remember, honor, support, and pay tribute to those we have loved and lost.

Zosel's True Value Hardware
1221 Pacific Avenue
Benson, MN 56215
Phone: (320) 842-7581
Web: ww3.truevalue.com/zoselstruevalue
---
---
Aerial Photo:
---
Topographic Map: [click map to enlarge, zoom in or zoom out]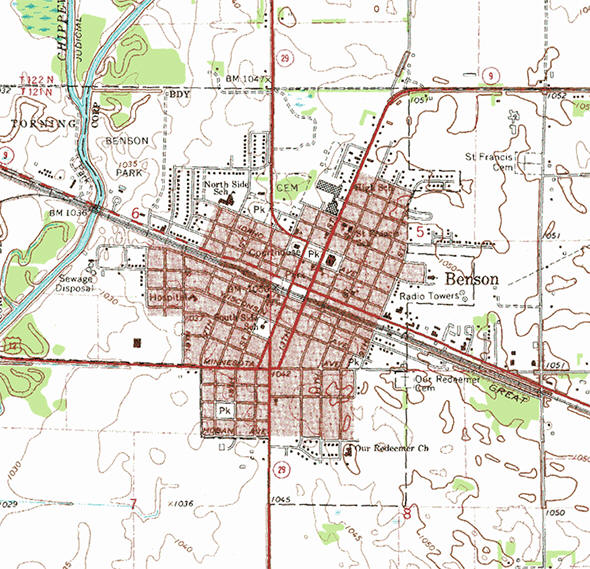 Topographic map is courtesy of the Minnesota DNR - click map to zoom or enlarge