Navigation
LakesnWoods.com
Home Page
Contact Us
Privacy
Minnesota History Shop

Visit The Minnesota History Shop
www.minnesotahistoryshop.com
Historic maps
Historic books
Historic framed art
Historic postcards
Clothing with historic images
And much more!!!


Bellingham Guide:
Photo Gallery
Location
Geography
Demographics
History
Government
Post Office
News
Weather
Street Map
Events
Attractions
Recreation
Lakes
Health Care
Schools
Churches
Media
Motels
Resorts
Campgrounds
Businesses
Aerial Photo
Topographic Map
© 2004-2023
Lakeweb1 Internet Services
All Rights Reserved
DCMA, Defamation, Copyright and Trademark Infingement Policy
WANTED!
Do you have photos, historical accounts or other items pertaining to the Bellingham area? Would you like to share this historical information with the world? LakesnWoods.com would like to publish your Bellingham photos (current or historical) or historical accounts on this website. Original materials can be returned and your privacy will be respected.

Bellingham Minnesota Community Guide
---
Location:
---
Population:
Bellingham (city)
1970
1980
1990
2000
2010
2000-2010 Change
Actual
Percent
Population
263
290
247
205
168
-37
-18.05
Land Area (sq. mile)
0.60
0.39
0.40
0.40
0.40
0
0.00
Density (persons per sq. mile)
438.33
743.59
617.50
512.76
420.00
-92.76
-18.05
Housing Units
105
123
129
112
106
-6
-5.36
Households
--
112
103
93
82
-11
-11.83
Persons Per Household
--
2.59
2.40
2.20
2.05
-0.15
-6.82
---
Geography:
Bellingham is a city in Lac qui Parle County, Minnesota. US Highway 75 and County Road 30 are major routes in the community. According to the United States Census Bureau, the city has a total area of 0.40 square miles (1.04 km2), all of it land. The elevation is 1,050 ft (320 m).
From Wikipedia, the free encyclopedia.
---
Demographics:
As of the census of 2010, there were 168 people, 82 households, and 52 families residing in the city. The population density was 420.0 inhabitants per square mile (162.2/km2). There were 106 housing units at an average density of 265.0 per square mile (102.3/km2). The racial makeup of the city was 100.0% White. Hispanic or Latino of any race were 1.2% of the population.
There were 82 households of which 18.3% had children under the age of 18 living with them, 50.0% were married couples living together, 4.9% had a female householder with no husband present, 8.5% had a male householder with no wife present, and 36.6% were non-families. 31.7% of all households were made up of individuals and 15.9% had someone living alone who was 65 years of age or older. The average household size was 2.05 and the average family size was 2.50.
The median age in the city was 53.8 years. 16.7% of residents were under the age of 18; 4.9% were between the ages of 18 and 24; 13.8% were from 25 to 44; 35.6% were from 45 to 64; and 29.2% were 65 years of age or older. The gender makeup of the city was 51.8% male and 48.2% female.
---
---
History:
BELLINGHAM, a city in Perry Township, sections 3, 4, 9, and 10, incorporated as a village on May 5, 1890, and platted by the owners, William R. and Mary P. Thomas and Robert and Phebe (Morse) Bellingham (d. 1889). The county newspaper first suggested the name Perry after its township name, but Phebe (Morse) Bellingham named it for her father-in-law, Charles Thomas Saker Bellingham (b. 1823, England; d. 1905, Bellingham), the patriarch of the large Bellingham family (seven sons, one daughter), who lived in the area. The Great Northern Railway came in 1887, and the depot was built in 1888. Banker Hans M. Hagestead was the first postmaster when the post office opened in 1887, and he later was township manager and brought the newspaper to the village in 1891.
Courtesy Minnesota Historical Society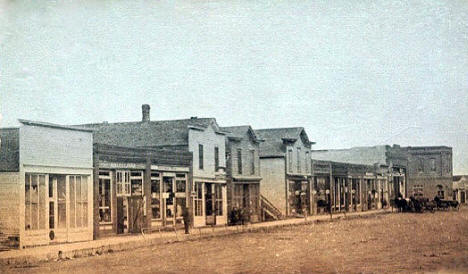 Main Street, Bellingham Minnesota, 1919
LakesnWoods.com Postcard and Postcard Image Collection

Visit The Bellingham Photo Gallery for more recent and historic area photos
---
Government:
Bellingham City Hall
207 Main Avenue
PO Box 356
Bellingham, MN 56212
Phone: (320) 568-2508

Regular Business Hours:
Mondays 8:00 am - 12:00 pm and by appointment

City Council Meetings:
2nd Tuesday of the month at 7:00 pm
Title
Term Ends
Name and Address
Phone
Mayor
12/31/2022
Randy Larson Jr.
301 1st Street
Bellingham, MN 56212
(320) 305-1704
Clerk
12/31/2024
Tammy Jorgensen
116 1st Avenue
Bellingham, MN 56212
(320) 568-1112
Treasurer
12/31/2024
Kurt Varien
112 2nd Avenue
Bellingham, MN 56212
(651) 428-1636
Council Member
12/31/2022
Brian Haugen
226 2nd Street
Bellingham, MN 56212
(320) 568-2617
Council Member
12/31/2024
Jim Schake
21 3rd Street S
Bellingham, MN 56212
(320) 568-2405
Council Member
12/31/2024
Linda Hoffman
211 1st Avenue
Bellingham, MN 56212
(320) 568-1111
---
Post Office:
US Post Office
305 2nd Street S
Bellingham, MN 56212-1000
Phone: (320) 568-2504
Toll Free: (800) ASK-USPS

Regular Business Hours:
Week Days 12:30 pm - 4:30 pm
Saturday 10:00 am - 11:30 am
---
Utilities:
---
Major Employers:
Employer
Products/Services
Employees

n/a
---
---
News:
---
Weather:
---
Map: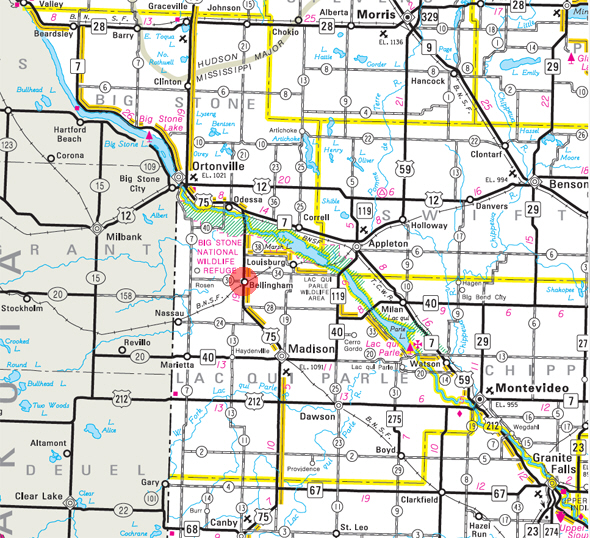 Minnesota State Highway Map of the Bellingham Minnesota area
---
Events:
---
---
Attractions:
---
Recreation:
---
Lakes:
Lake Name
Size
(acres)
Lake info
Lake Map
Rec Map
Topo Map

none
---
Health Care:
---
Schools:
Bellingham Elementary School
522 1st Street
Bellingham, MN 56212
Phone: (320) 568-2118
Fax: (320) 568-2230

Grades: PK-6
Students: 47
---
Churches:
St Joseph's Catholic Church
1271 340th Street
Bellingham, MN 56212
Phone: (320) 568-2478

Pastor:
Sunday Mass:

St. Paul's Lutheran Church
1611 280th Street
Bellingham, MN 56212
Phone: (320) 568-2474

Pastor:
Sunday Worship:
---
Media:
---
Motels:
Check for motel rates and availability on:
---
Resorts:
---
Campgrounds:
---
---
Businesses:
Bellingham Farmers Co-Op Fuel
300 Railroad Street
Bellingham, MN 56212
Phone: (320) 568-2126
Bellingham Elevator
400 Railroad Street
Bellingham, MN 56212
Phone: (320) 568-2216
Web: www.bellinghamfarmerscoop.com
Bellingham Insurance
201 Main Street
Bellingham, MN 56212
Phone: (320) 568-2220
Bellingham Legion Club
414 2nd Street S
Bellingham, MN 56212
Phone: (320) 568-2237
Bellingham Village Shop
203 5th Avenue
Bellingham, MN 56212
Phone: (320) 568-2113
Borgerson Trucking
PO Box 6146
Bellingham, MN 56212
Phone: (320) 568-2115
Carol Larson Farm
1060 340th Street
Bellingham, MN 56212
Phone: (320) 568-2445
Charles Mork Farm
3021 211th Avenue
Bellingham, MN 56212
Phone: (320) 568-2284
Checkered Flag
Main Street
Bellingham, MN 56212
Phone: (320) 568-2120
Country Style Salon
3626 Highway 75
Bellingham, MN 56212
Phone: (320) 568-2261
CSC Consulting Inc
3178 Highway 75
Bellingham, MN 56212
Phone: (320) 568-2515
Doug Adelman Farm
1176 370th Street
Bellingham, MN 56212
Phone: (320) 839-2084
Farmers Cooperative Elevator
300 Railroad Street
Bellingham, MN 56212
Phone: (320) 568-2127
Farmers Mutual Telephone Company
301 2nd Street S
Bellingham, MN 56212
Phone: (320) 568-2105
Web: www.farmerstel.net

Farmers Mutual Telephone Company provides reliable and affordable communications services to meet the needs of our members and subscribers while offering employees fulfilling careers.

Fredrichsen Air Conditioning
PO Box 312
Bellingham, MN 56212
Phone: (320) 568-2233
Gary's Sinclair
121 1st Avenue
Bellingham, MN 56212
Phone: (320) 568-2217
GCC Consolidated Ready-Mix Inc
1011 330th Street
Bellingham, MN 56212
Phone: (320) 568-2211
Mielitz Brothers
1085 340th Street
Bellingham, MN 56212
Phone: (320) 568-2419
Ohm Construction
107 3rd Avenue
Bellingham, MN 56212
Phone: (320) 568-2527
Our Place
206 Main Avenue
Bellingham, MN 56212
Phone: (320) 568-2122
Rien Farms
222 2nd Street N
Bellingham, MN 56212
Phone: (320) 568-2177
Roehl Kimber Plumber
305 1st Avenue
Bellingham, MN 56212
Phone: (320) 568-2537
St Joseph's Catholic Church
1271 340th Street
Bellingham, MN 56212
Phone: (320) 568-2478
St. Paul's Lutheran Church
1611 280th Street
Bellingham, MN 56212
Phone: (320) 568-2474
State Bank of Bellingham
201 Main Avenue
Bellingham, MN 56212
Phone: (320) 568-2519
Stolpman Insurance
307 2nd Street South
PO Box 277
Bellingham, MN 56212
Phone: (320) 568-2101
Web: www.bigstonelake.com/stolpman_insurance.htm

The Stolpman family has been insuring this area since 1932. Today insurance can be confusing. We are ready to help make it simple. We have many, many years of experience behind us, and we will use that to help you whenever you need us! When you call, you will receive the personal attention that you want. You are a valued customer, not an "account number." You are a familiar face, a valued friend, and a neighbor. The "800" number insurance companies can never care for you like your local agent can. We will be there for you personally when you need us most!

Ton Long Hunting Camp
3493 Highway 75
Bellingham, MN 56212
Phone: (320) 273-2356
---
---
Aerial Photo:
---
Topographic Map: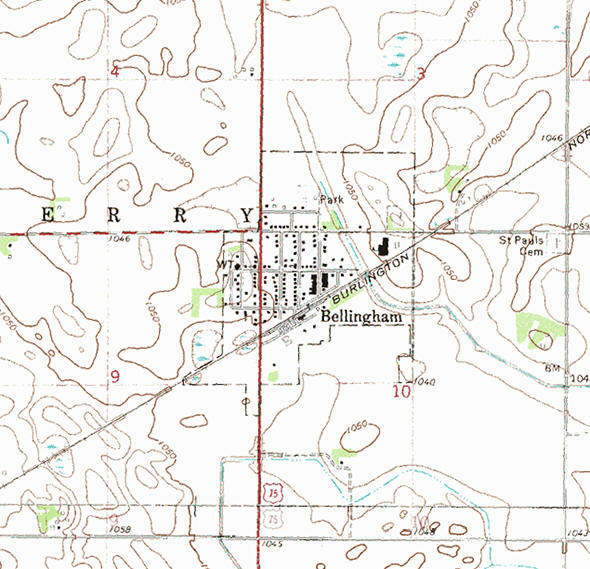 Topographic map is courtesy of the Minnesota DNR - click map to zoom or enlarge