Navigation
LakesnWoods.com
Home Page
Contact Us
Privacy
Minnesota History Shop

Visit The Minnesota History Shop
www.minnesotahistoryshop.com
Historic maps
Historic books
Historic framed art
Historic postcards
Clothing with historic images
And much more!!!


Adrian Guide:
Photo Gallery
Location
Geography
Demographics
History
Government
Post Office
News
Weather
Street Map
Events
Attractions
Recreation
Lakes
Health Care
Schools
Churches
Media
Motels
Resorts
Campgrounds
Businesses
Aerial Photo
Topographic Map
© 2004-2023
Lakeweb1 Internet Services
All Rights Reserved
DCMA, Defamation, Copyright and Trademark Infingement Policy
WANTED!
Do you have photos, historical accounts or other items pertaining to the Adrian area? Would you like to share this historical information with the world? LakesnWoods.com would like to publish your Adrian photos (current or historical) or historical accounts on this website. Original materials can be returned and your privacy will be respected.

Adrian Minnesota Community Guide
---
Location:
Adrian is a small but progressive community located in the western portion of Nobles County in Southwestern Minnesota. The City was established in 1876 as an expansion of the St. Paul-Dakota Railroad and was named in honor of Adrian Iselin, the mother of one of the railroad company's directors. Over the years, Adrian has maintained a solid economic base due to its agricultural ties and over eighty businesses which provide employment. The City itself is administered by a five member council, consisting of five council persons and a presiding mayor. Various city departments and appointed boards assist the council in the delivery of needed services to the community. In addition to the City's efforts there are numerous clubs, organizations, churches, and school which all play an important part in moving the community forward and enhancing the quality of life in Adrian.
Courtesy City of Adrian
---
Population:
Adrian (city)
1970
1980
1990
2000
2010
2010-2010 Change
Actual
Percent
Population
1,350
1,336
1,141
1,234
1,209
-25
8.15
Land Area (sq. mile)
0.80
0.86
0.86
1.11
1.11
0
0.00
Density (persons per sq. mile)
1,687.50
1,553.49
1,326.74
1,111.51
1,089.19
-22.32
-0.20
Housing Units
464
528
515
527
537
10
1.87
Households
--
512
473
493
491
-2
-.01
Persons Per Household
--
2.51
2.32
2.40
2.46
+0.06
+2.50
---
Geography:
Adrian is a city in Nobles County, Minnesota. Interstate 90 and Minnesota State Highway 91 are two of the main routes in the city. According to the United States Census Bureau, the city has a total area of 1.11 square miles (2.87 km2), all of it land. The elevation is 1,562 feet (476 m).
From Wikipedia, the free encyclopedia.
---
Demographics:
As of the census of 2010, there were 1,209 people, 491 households, and 333 families residing in the city. The population density was 1,089.2 inhabitants per square mile (420.5 /km2). There were 537 housing units at an average density of 483.8 per square mile (186.8 /km2). The racial makeup of the city was 95.3% White, 0.4% African American, 1.2% Asian, 1.1% from other races, and 2.1% from two or more races. Hispanic or Latino of any race were 4.1% of the population.
There were 491 households of which 29.3% had children under the age of 18 living with them, 56.4% were married couples living together, 7.3% had a female householder with no husband present, 4.1% had a male householder with no wife present, and 32.2% were non-families. 28.1% of all households were made up of individuals and 12.6% had someone living alone who was 65 years of age or older. The average household size was 2.41 and the average family size was 2.94.
The median age in the city was 42.6 years. 25.1% of residents were under the age of 18; 6.8% were between the ages of 18 and 24; 21.7% were from 25 to 44; 28.2% were from 45 to 64; and 18.2% were 65 years of age or older. The gender makeup of the city was 49.0% male and 51.0% female.
---
History:
Chosen as a town site by the St. Paul and Dakota Railroad Company and developed by the Catholic Church, Adrian is one of many Minnesota towns that owes its existence to that peculiar combination of railroads and religion.
O.D. Brown of the Railroad Company surveyed the original 16-block town site May 23-29, 1876, but the town didn't begin to develop until the track-laying crews reached the location in August with their branch of the Sioux City and St. Paul Railroad. Shortly thereafter, on August 28, the city's plat was dedicated. It was filed another month later on October 4.
Adrian was named after Mrs. Adrian Iselin, mother of Adrian C. Iselin, one of the directors of the Sioux City and St. Paul Railroad Company. For a time, this claim offended the sensibilities of people who preferred to believe the more inspiring story that the town was named in honor of St. Adrian, the celebrated warrior and Catholic bishop whose name was adopted by the local parish. But since the naming process was well documented, and Adrian received its title in 1876, while St. Adrian Church was not founded until 1877, most of the conflict eventually disappeared. A portrait of the austere Mrs. Adrian together with an article now adorns the wall of her namesake's City Hall.
Adrian prospered early in its life, shipping 100,000 bushels of grain from the station during 1877, the year after its founding. That prosperity was due in large part to the colonizing efforts of John Ireland, third bishop of the St. Paul Diocese. Bishop Ireland used his personal wealth and the power of the Catholic press to attempt to lure Catholic settlers from the eastern cities. In 1877, he bought 20,000 acres (80 km˛) of land in the Adrian vicinity. Seven months later he purchased another 35,000 acres (140 km˛) for resale to the settlers.
As went the church and railroad, so went the town of Adrian. Its population totaled 193 people in 1880; by 1882 the local parish reported 250 Catholic families living in the area. The number of people in town jumped to 671 in 1890, and positively soared up to 1,258 in 1900. By this time, however, the young towns of Ellsworth, Lismore and Wilmont had grown to claim some of Adrian's railroad trade area. Adrian had also lost a bid to claim the title of Nobles County Seat from Worthington in 1883, and when it failed in an attempt to split the county in 1893, Adrian's future as a small town was set.
But Adrian's population stagnation didn't prevent the town from enjoying some of the most prosperous years of its history. The landmark buildings, which still stand in town, were all built within a ten-year period, beginning in 1891. The first floor of A.M. Becker's massive general store was constructed in 1891, followed by a second in 1895. George Slade and his wife built their 36 room, electric-lit hotel for $22,000 in 1891. The Adrian State Bank building went up that same year, and the town's first telephone office moved upstairs December 10, 1897. When the first St. Adrian Catholic Church burned to the ground Christmas Eve, 1899, the town responded by completing the present edifice in 1901.
During the years from 1910 to 1980, the City of Adrian welcomed automobiles, tractors and all sorts of electrical gadgets. Four times it sent its sons to war, fighting first to end war, then to preserve democracy and after that for reasons over which honest, serious people still disagree. And at 2:00 p.m., November 4, 1967, the section of Interstate Highway 90 passing Adrian officially opened to traffic.
The interstate was to become Adrian's main artery of transportation, replacing the railroad as the source of the town's lifeblood. But even with the new highway, the town continued to fall from the apex of commercial success it had known at the turn of the century.
By the early 1980s, it became clear to town leaders that deliberate planning was required to rejuvenate the city's Maine Avenue. They created the Housing and Redevelopment Authority in response and in 1983 were successful in obtaining a $600,000 grant from the federal department of Housing and Urban Development. Those funds financed "The Domino," a project in which five old Maine Avenue buildings were demolished and replaced with new facilities.
From Wikipedia, the free encyclopedia.
ADRIAN, a city on the border of Olney and West Side Townships, the main street being the boundary of the two townships, platted in May 1876, and incorporated November 17, 1881, was named in honor of Adrian Iselin, who was the mother of Adrian C. Iselin, one of the directors of the St. Paul and Sioux City Railroad. In the vicinity of Adrian a Catholic colony of immigrant farmers was founded by Archbishop John Ireland in 1879. The city developed when the St. Paul and Sioux City Railroad came in 1876 and was aided by the Catholic colonization project. The post office began as Hibbards in 1872 in section 20 of West Side Township, with William F. Hibbard as postmaster, changing to Adrian in 1876 and located at that time in George H. Carr's general store, the first merchant in the community; the city had a station of the Chicago, St. Paul, Minneapolis and Omaha Railroad.
Courtesy Minnesota Historical Society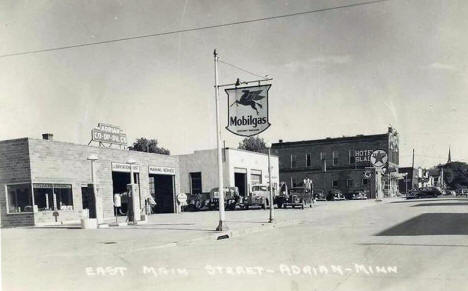 East Main Street, Adrian Minnesota, 1940s
From the LakesnWoods.com Postcard and Postcard Image Collection - click to enlarge
Visit The Adrian Photo Gallery for more historic and recent area photos
---
Government:
Adrian City Hall
209 Maine Avenue Suite 106
PO Box 190
Adrian MN, 56110
Phone: (507) 483-2849
Fax: (507) 483-2005

Regular Business Hours:


City Council Meetings:
4th Monday of each month at 7:00 pm


Title

Term Ends

Name
Phone
Mayor
12/31/2022
John W. Faber
108 W 7th Street
Adrian MN, 56110
(507) 483-2456
Administrator/Clerk/Treasurer
appointed
Bruce A. Heitkamp
209 Maine Avenue
Adrian MN, 56110
(507) 483-2849
Council Member
12/31/2022
Joe Hornstein
305 Pennsylvania Avenue
Adrian MN, 56110
(605) 941-2032
Council Member
12/31/2022
Ron Lonneman
643 Maine Avenue
Adrian MN, 56110
(507) 483-2624
Council Member
12/31/2024
Tracy Kunkel
723 Maine Avenue
Adrian MN, 56110
(507) 483-2420
Council Member
12/31/2024
Dean Von Holtum
706 Pennsylania
Adrian MN, 56110
(507) 483-2900
---
Post Office:
US Post Office
209 Maine Avenue Suite 104
Adrian MN, 56110-1071
Phone: (507) 483-2725
Toll Free: (800) ASK-USPS

Regular Business Hours:
Week Days 8:00 am - 11:00 am
12:15 pm - 3:45 pm
Saturday 8:00 am - 9:00 am




---
Utilities:
---
Major Employers:
---
---
News:
---
Weather:
---
Map: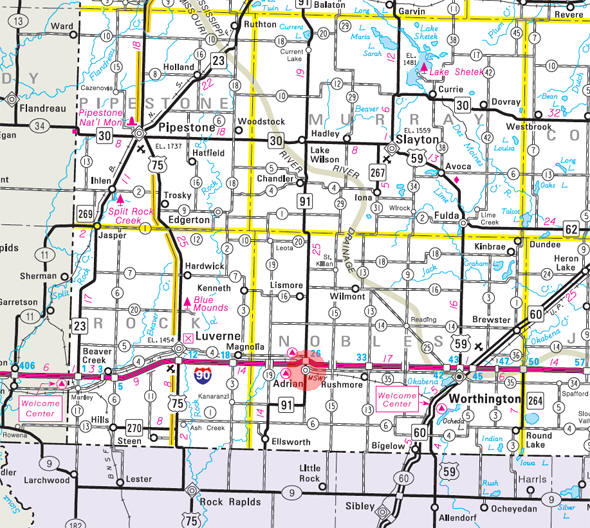 Minnesota State Highway Map of the Adrian Minnesota area
---
Events:
---
---
Attractions:
---
Recreation:
Adrian Country Club
849 Maine Avenue
Adrian, MN 56110
Phone: (507) 483-2722
Web: www.adriancountryclub.com



The Adrian Country Club was constructed in 1994 and has quickly become known as one of the most well-manicured courses in Southwest Minnesota. Adrian Country Club utilizes a unique course setup which includes 9 holes and 18 tee boxes to provide a variety of tee shots and approach shots for golfers of all skill levels. The course measures 6,841 yards from the back tees, 6,304 yards from the middle tees, and 5,144 yards from the front tees. We also pride ourselves in our practice facilities which include a full length driving range and a putting and chipping green.
---
Lakes:
Lake Name
Size
(acres)
Lake info
Lake Map
Rec Map
Topo Map
none in the immediate area
---
Health Care:
Sanford Health
603 Louisiana Avenue
Adrian, MN 56110
Phone: (507) 483-2668
Web: www.sanfordhealth.org

At Sanford Health in Adrian, MN, we combine a tradition of transforming health care with ensuring that every community member has access to the highest quality care and services close to home. Since 1994, we've been proud to be part of the Adrian community. We celebrate life and join together to tackle the toughest of challenges.
---
Schools:
Adrian School District #511
410 Kentucky Avenue
PO Box 40
Adrian, MN 56110
Phone: (507) 483-2266
Fax: (507) 483-2342
Web: www.isd511.net

Grades: PK-12
Students: 634

Adrian Middle/High School
415 Kentucky Avenue
Adrian, MN 56110
Phone: (507) 483-2232
Fax: (507) 483-2375

Grades: 6-12
Students: 308

Adrian Elementary School
515 Oklahoma Avenue
PO Box 40
Adrian, MN 56110
Phone: (507) 483-2225
Fax: (507) 483-2461

Grades: PK-5
Students: 261
---
Churches:
First Baptist Church
9 Oklahoma Avenue
Adrian, MN 56110
Phone: (507) 827-2753

Pastor: Rev. Timothy Barr
Sunday Worship: 11:00 am

St. Adrian Catholic Church
512 Maine Avenue
PO Box 475
Adrian, MN 56110
Phone: (507) 483-2317
Web:

www.stadriancluster.org

Pastor: Father Andrew Beerman
Saturday Mass: none
Sunday Mass: 10:30 am

St. Adrian Catholic Church is a rural parish of 364 families located in Adrian, Minnesota in Nobles County. The parish was founded in 1877. The present church building was erected in 1900 and stands in the community as a testimony to the strong faith of the Catholic community. Visitors and new members are always welcome to come and worship with us.

United Methodist Church
301 Oklahoma Avenue
Adrian, MN 56110
Phone: (507) 483-2490

Pastor: Rev. Kristi Franken
Sunday Worship: 10:30 am

Zion Lutheran Church
409 Indiana Avenue
Adrian, MN 56110
Phone: (507) 483-2661
Web: hkz.lutheranweb.net/zion

Pastor: Rev. Kerry Boese
Sunday Worship: varies - call
---
Media:
---
Motels:
Check for motel rates and availability on:
---
Resorts:
---
Campgrounds:
Adrian Campground

Nestled in the northwest corner of town, Adrian's Campground offers a quiet night's rest. Electric/water hookups, pull thru sites, laundry, showers, playground, free swimming. Easy access off I-90, exit 26, one block south, two blocks west. Adrian's campground offers 100 RV sites, 100 with electric and water hookups and a dump station. Sewer, and Cable TV is available along with 50amp upon request. A shelter house and playground are located just east of the grounds, along with horseshoes, volleyball, basketball, baseball. Just added a professionally designed 18 hole Disc Golf Course. A Disc Golf Pro-Shop was also added to the Campground/Parks Office. Retail stores include a drug store and hardware store, which carry necessities and gift items. Also available, beauty/barber shops, gas stations, liquor stores, meat market, antique shop, medical facilities and more. Two restaurants and steakhouse will satisfy your appetite or, if you prepare your meals, local grocery stores will service your needs. If it's a round of golf you crave, the course located on the south edge of Adrian will challenge your skills. Adrian also offers tennis.
---
---
Businesses:
Adrian Auto Service
47 Maine Avenue
Adrian, MN 56110
Phone: (507) 483-2688
Adrian City Hall
209 Maine Avenue Suite 106
PO Box 190
Adrian MN, 56110
Phone: (507) 483-2849
Fax: (507) 483-2005
Web: www.adrian.govoffice2.com
Adrian Community Education
410 Indiana Avenue
Adrian, MN 56110
Phone: (507) 483-2098
Adrian Concrete Products
104 W Pearl Street
Adrian, MN 56110
Phone: (507) 483-2333
Adrian Cooperative Elevator
100 E 1st Street
Adrian, MN 56110
Phone: (507) 483-2348
Adrian Cooperative Oil
221 N Maine Avenue
Adrian, MN 56110
Phone: (507) 483-2822
Adrian Country Living Nursing Home
603 Louisiana Avenue
Adrian, MN 56110
Phone: (507) 483-2580
Adrian Country Living Cottages
200 W 7th Street
Adrian, MN 56110
Phone: (507) 483-2511
Adrian Fire Department
310 N Maine Avenue
Adrian, MN 56110
Phone: (507) 483-2849
Adrian Funeral Home
109 N Maine Avenue
Adrian, MN 56110
Phone: (507) 483-2700
Web: www.adrianfuneralhome.com

Adrian Funeral Home is honored to serve Adrian and the surrounding communities. We are owned by your friends and neighbors residing in the communities of Adrian, Lismore, Wilmont and Ellsworth. We offer traditional funeral services, cremation services and pre-planning from our location on Maine Street in Adrian.

Adrian Glass
101 E Pearl Street
Adrian, MN 56110
Phone: (507) 483-2228
Adrian Hardware
201 Maine Avenue
Adrian, MN 56110
Phone: (507) 483-2137
Adrian Insurance
322 Maine Avenue
Adrian, MN 56110
Phone: (507) 483-2447
Adrian Library
214 Maine Avenue
Adrian, MN 56110
Phone: (507) 483-2541
Fax: (507) 483-2541
Web: www.plumcreeklibrary.org/adrian

The Adrian Branch Library was born in 1943. It is a one-room library with a collection of over 10,000 items, children's play area, periodic Storytime, a summer reading program for children, an annual writing contest for teens, and a winter reading program for adults. We are fortunate to have multiple public computers with free internet access.

Adrian Mini Mart Pizza & Subs
301 N Maine Avenue
Adrian, MN 56110
Phone: (507) 483-2607
Adrian Plumbing & Electric
200 W 1st Street
Adrian, MN 56110
Phone: (507) 472-8205
Adrian Police Department
310 N Maine Avenue
Adrian, MN 56110
Phone: (507) 483-2525
Adrian Public Utilities
20 Maine Avenue
Adrian, MN 56110
Phone: (507) 483-2680
Adrian State Bank
322 Maine Avenue
Adrian, MN 56110
Phone: (507) 483-2447
Web: www.adrianstatebank.com

Adrian State Bank is reputed to be the oldest operating business in Adrian. It has the reputation of being conservative and safe. President Eickhoff and his father attribute much of the bank's longevity to scores of dedicated employees over the years. The building that housed the "first" Adrian State Bank was erected by the organization in 1891 and resembled every other bank constructed at that time. It is still an arresting site on its corner. It displays a metal roofed turret, tan brick walls and an old burglar alarm. Two blocks down from this structure is the present Adrian State Bank building which was constructed in 1969.

Adrian Veterinary Medical Center
311 Maine Avenue
Adrian, MN 56110
Phone: (507) 483-2200
American Legion Argonne Post 32
109 Maine Avenue
Adrian, MN 56110
Phone: n/a
Archer's Rebuilders
101 W Pearl Street
Adrian, MN 56110
Phone: (507) 483-2037
B & H Electric
200 W 1st Street
Adrian, MN 56110
Phone: (507) 483-2664
Big Orvs
217 Maine Avenue
Adrian, MN 56110
Phone: (507) 483-2885
Bullerman Farms LLC
21614 State Highway 91
Adrian, MN 56110
Phone: (507) 483-2200
Bullpen Sports Bar & Grill
306 N Maine Avenue
Adrian, MN 56110
Phone: (507) 483-2960
Carl's Farm Store Inc
313 W Pearl Street
Adrian, MN 56110
Phone: (507) 483-2468
Web: www.carlsfarmstore.com

Carl's Farm Store is a agri-business dedicated to providing the best products and excellent service to all our customers, local farmers and the surrounding Adrian area. Carl's Farm Store consists of; feed milling, swine management, livestock investments, grain storage, sales and construction of grain equipment for storage, handling, and drying. With modern technology available to us today Carl's Farm Store is able to maintain the quality that are customers have come to expect. Our goal is to be the most respected agri-business in our area.

Cenex
221 N Maine Avenue
Adrian, MN 56110
Phone: (507) 483-2822
Chick's Building & Remodeling
513 Arkansas Avenue
Adrian, MN 56110
Phone: (507) 483-2924
City of Adrian Ice Rink
420 Delaware Avenue
Adrian, MN 56110
Phone: (507) 827-1089
Closet To Closet Consignment Store
200 Maine Avenue
Adrian, MN 56110
Phone: (507) 483-2050
Cook Farms
13774 230th Street
Adrian, MN 56110
Phone: (507) 483-2760
Countryside Inn Steakhouse
208 N Louisiana Avenue
Adrian, MN 56110
Phone: (507) 483-2735
County Seed & Cropping
205 County Road 35 E
Adrian, MN 56110
Phone: (507) 483-2442
Cox Realty & Land Service
102 E Pearl Street # 103
Adrian, MN 56110
Phone: (507) 483-2218
Web:

www.coxrealtyandlandservices.com





ALAN & CINDY COX formed Cox Realty & Land Services LLC to provide clients with a honest approach to purchasing or selling their property. The relationship between a home buyer or seller and their agent is based on trust, shared goals and understanding.

Crystal of Adrian
306 N Maine Avenue
Adrian, MN 56110
Phone: (507) 483-2960
D & D Tax Service
119 Maine Avenue
Adrian, MN 56110
Phone: (507) 483-2431
De Beer Farms
14155 300th Street
Adrian, MN 56110
Phone: (507) 967-2480
Denny's Plumbing & Repair
209 W 6th Street
Adrian, MN 56110
Phone: (507) 483-2294
Dent Works LLC
310 E 1st Street
Adrian, MN 56110
Phone: (507) 483-2955
Designs By Denise
102 E Pearl Street # 102
Adrian, MN 56110
Phone: (507) 827-2200
Dingmann Funeral Home & Cremation
109 E 7th Street
Adrian, MN 56110
Phone: (507) 483-2761
Web: www.dingmannandsons.com

The Dingmann Funeral Home is available to assist you 24 hours a day, every day of the year. Our telephone is always answered. You can rely on our four generations of experience in funeral service to help you during the loss of your loved one. We can assist you in planning a funeral service that will be meaningful to you. We are always honored to assist you, whatever your needs or wishes may be. We thank you for placing your trust in us. We pledge our complete service to you.

DJB Farm LLC
307 W 2nd Street
Adrian, MN 56110
Phone: (507) 827-2873
Don's Appliance
806 Maine Avenue
Adrian, MN 56110
Phone: (507) 483-2488
Don's Body Shop
305 Arkansas Avenue
Adrian, MN 56110
Phone: (507) 483-2399
Egan's Market
208 Maine Avenue
Adrian, MN 56110
Phone: (507) 483-2024
Elias Shop
23704 Cory Avenue
Adrian, MN 56110
Phone: (507) 483-2847
Expert Auto Body & Restorations
212 Kentucky Avenue
Adrian, MN 56110
Phone: (507) 827-2400
Hallum, Carl DDS
113 Maine Avenue
Adrian, MN 56110
Phone: (507) 483-2101
Heidebrink & Associates
216 Maine Avenue
Adrian, MN 56110
Phone: (507) 483-2223
Henning Construction
201 Louisiana Avenue
Adrian, MN 56110
Phone: (507) 483-2486
Hermeling Farm
27707 Edwards Avenue
Adrian, MN 56110
Phone: (507) 483-2193
Honermann Cabinets
300 E 1st Street
Adrian, MN 56110
Phone: (507) 483-2572
Keith's Grocery & Bake Shoppe
219 Maine Avenue
Adrian, MN 56110
Phone: (507) 483-2959
Kum & Go
305 N Maine Avenue
Adrian, MN 56110
Phone: (507) 483-2634
Web: www.kumandgo.com
Kunkel's Auto Repair
116 E 2nd Street
Adrian, MN 56110
Phone: (507) 483-2275
Lakes Gas Company
103 W Pearl Street
Adrian, MN 56110
Phone: (507) 483-2014
Lendert Nagel Farm
19060 210th Street
Adrian, MN 56110
Phone: (507) 483-2419
Lyle Boots Pioneer Seeds
100 Maine Avenue
Adrian, MN 56110
Phone: (507) 483-2570
McCarthy's Floral
718 Maine Avenue
Adrian, MN 56110
Phone: (507) 483-2063
Michael J Taylor Construction
513 Louisiana Avenue
Adrian, MN 56110
Phone: (507) 483-2201
Midwest Country Feeds LLC
630 Pennsylvania Avenue
Adrian, MN 56110
Phone: (507) 827-9083
Mork Darling & Hagemann
322 1/2 Maine Avenue
Adrian, MN 56110
Phone: (507) 483-2227
Neat Ideas
103 E Pearl Street
Adrian, MN 56110
Phone: (507) 483-2501
Nobles County Library
214 Maine Avenue
Adrian, MN 56110
Phone: (507) 483-2541
Fax: (507) 483-2541
Web: www.plumcreeklibrary.org/Adrian/

The Adrian Branch Library was born in 1943. It is a one-room library with a collection of over 10,000 items, children's play area, periodic Storytime, a summer reading program for children, an annual writing contest for teens, and a winter reading program for adults. We are fortunate to have multiple public computers with free internet access. There is a staff of two, plus a volunteer staff of wonderful helpers who fill in as needed. We could not function as well without our loyal patrons and library volunteers! They have made us one of the better one-room Libraries west of the Mississippi River!

Nobles County Review
100 Maine Avenue
Adrian, MN 56110
Phone: (507) 483-2213
Web: www.noblescountyreview.net
Pat's Electric
320 Delaware Avenue
Adrian, MN 56110
Phone: (507) 483-2857
Portraits By Michele
117 Maine Avenue
Adrian, MN 56110
Phone: (507) 483-2929
Web: www.micheleinc.com

There are so many things we can pursue in our lives. If you can find that one special thing you love and it makes even a small difference in someone, then you found your gift. I love to see people smile, see them feel their best. I hope to give that to you. Michele

Proud Image
204 Louisiana Avenue
Adrian, MN 56110
Phone: (507) 483-2022
R & R Trucking
19885 Durfee Avenue
Adrian, MN 56110
Phone: (507) 472-8745
Randy's Welidng & Repair
100 Nevada Avenue
Adrian, MN 56110
Phone: (507) 483-2194
Reflections of Adrian
112 Indiana Avenue
Adrian, MN 56110
Phone: (507) 483-2619
Reker Construction
22119 State Highway 91
Adrian, MN 56110
Phone: (507) 483-2544
Rupp Trucking
612 Nevada Avenue
Adrian, MN 56110
Phone: (507) 483-2987
Rustic Razor Barber & Beauty
119 Maine Avenue
Adrian, MN 56110
Phone: (507) 483-2011
Sailor Plastics Inc
8 Maine Avenue
Adrian, MN 56110
Phone: (507) 483-2469
Web: www.sailorplastics.com

Sailor Plastics is a plastics manufacturer with many years of experience in creating plastic containers for the food industry. Sailor Plastics offers a variety of plastic containers. Find the perfect container for all your marketing needs for honey, BBQ sauce, syrups, juices, water, marinades, dressings, rice, popcorn, salsa, jams and jellies. Or come up with your own unique and creative idea. Also look for matching caps and lids to fit your container. We are sure you will find the best container to display your product.

Sanford Adrian Care Center
601 Louisiana Avenue
Adrian, MN 56110
Phone: (507) 483-2668
Schuur Concrete
100 County Road 35
Adrian, MN 56110
Phone: (507) 483-2690
Senior Citizens Center
120 N Maine Avenue
Adrian, MN 56110
Phone: (507) 483-2588
Shear Shop
301 Maine Avenue
Adrian, MN 56110
Phone: (507) 483-2244
Slade Apartments
120 N Maine Avenue
Adrian, MN 56110
Phone: (507) 483-2934
Son-D-Farms
25751 State Highway 91
Adrian, MN 56110
Phone: (507) 483-2243
Southwest Mutual Insurance
216 Maine Avenue
Adrian, MN 56110
Phone: (507) 483-2222
Web: www.southwestmutual.com

Southwest Mutual has been serving Adrian and the surrounding communities for over 100 years. Local service is a key to providing exceptional service. Find out why over 3,000 of your friends and neighbors have chosen Southwest Mutual to insure their farms and homes. We offer the most competitive rates in the area and the coverage you need at the time of a loss.

Sports Page Bar
225 Maine Avenue
Adrian, MN 56110
Phone: (507) 483-2888
Sterling Drug
209 Maine Avenue
Adrian, MN 56110
Phone: (507) 483-2332
Web: www.thedrugstorewithmore.com


Subway
303 N Maine Avenue
Adrian, MN 56110
Phone: (507) 483-2759
Web: www.subway.com
T3 Fitness Center
212 Maine Avenue
Adrian, MN 56110
Phone: (507) 827-2415
Thrifty Nickel
217 Maine Avenue
Adrian, MN 56110
Phone: (507) 483-2885
TNR Trophies Plus
608 W 3rd Street
Adrian, MN 56110
Phone: (507) 483-2828
Trophies Plus
500 County Road 35 E
Adrian, MN 56110
Phone: (507) 483-2828
US Post Office
209 Maine Avenue Suite 104
Adrian MN, 56110-1071
Phone: (507) 483-2725
Toll Free: (800) ASK-USPS
Web: www.usps.com
Victoria's Visions
620 W 2nd Street
Adrian, MN 56110
Phone: (507) 483-2359
Voss Lumber
203 E Pearl Street
Adrian, MN 56110
Phone: (507) 483-2340
Watry Brothers
26324 Durfee Avenue
Adrian, MN 56110
Phone: (507) 483-2936
Wee Dragons Preschool
415 Kentucky Avenue
Adrian, MN 56110
Phone: (507) 483-2672
Wieneke Dairy
19738 State Highway 91
Adrian, MN 56110
Phone: (507) 472-8290
Wood Mat Gallery
300 E 1st Street
Adrian, MN 56110
Phone: (507) 483-2573
---
---
Aerial Photo: [click photo to enlarge, zoom in or zoom out]
---
Topographic Map: [click map to enlarge, zoom in or zoom out]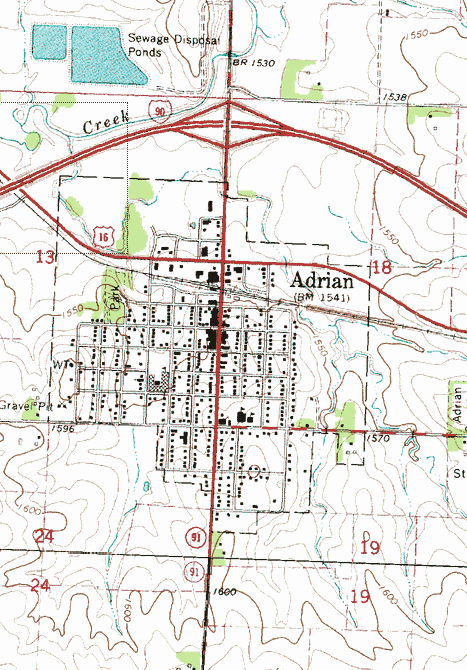 Topographic map is courtesy of the Minnesota DNR - click map to zoom or enlarge